2017 was a great year for equities as the global economy continued its recovery and started showing legitimate signs of stability. In a year where major U.S. stock indexes rose above 20% (with dividends) investors are often eager to pour money into the market in almost any sector as the likelihood of a positive return is extremely high relative to an average year. The financial sector has been at the heart of this bull market for the last few years as the Federal Reserve has hiked interest rates several times and has plans to continue along that trajectory. Financials is a rather broad sector but the large retail and investment banks often hog most of the spotlight. A subsector that deserves more attention, especially in times of frequent equity purchasing, is the investment managers. The stocks of many of these companies have done well as they've ridden the wave led by the "name brand" financials and the Federal Reserve. At this point in the rally investors need to separate the good investments in a hot sector from those less attractive ones. Eaton Vance (NYSE:EV), an investment management firm, falls into the latter category after enjoying a year where its stock rose over 30%.
Any stock that rises 30% in a year requires its shareholders to circle back and reevaluate its prospects.
Company Performance
Eaton Vance's fiscal year is staggered two months from the calendar, meaning its FY2017 has already come to a close. Adjusted diluted EPS increased 16% year over year and the company ended the year with internal record levels for managed assets, annual net inflows and quarterly earnings rate. The diagram below shows the jump in AUM that occurred in 2017: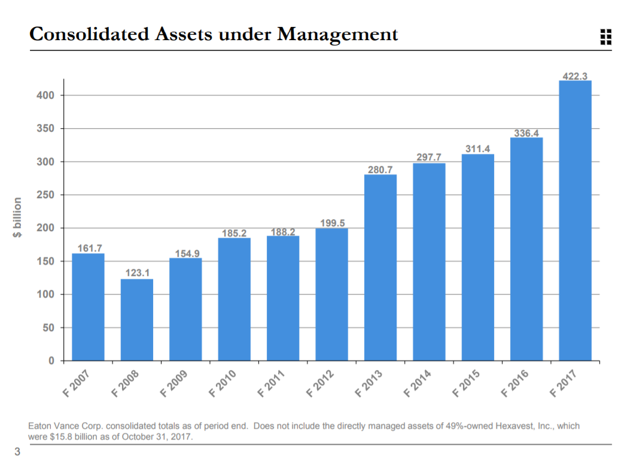 Source: Eaton Vance Q4 2017 Earnings Presentation
There was a clear uptrend over the last five years but the massive increase this past year drove much of the success enjoyed by EV. Eaton's funds are placed in a variety of investment vehicles and is weighted towards equity investments with the remainder fairly diversified. Although equity generated 49% of revenue, no other area commands more than 20%. There is definitely a reliance on fee revenue from equity investments but the revenue mix from EV's remaining business lines provides some insulation. Still, ultimately Eaton needs strong performance in the equity business to continue its stock's climb. Another thing to note is that although revenue growth of 14% is excellent, it is much less beneficial for the company when expenses grow almost in lockstep at 13%.
Headwinds
There's one major headwind that all investment managers face and that is a market crash. A crash or even a major pullback would arguably hit Eaton Vance harder than the broader market because all that needs to happen is for investor confidence to become rattled for cash outflows to increase. I would like to clarify this is not a comment about the likelihood or magnitude of a crash/pullback but strictly a perspective on how it would affect EV. If there's a temporary 10% selloff in the S&P 500 it might not affect the market dramatically over the course of an entire year but it would affect the mindset of investors which in turn, negatively affects Eaton Vance. Continuing along that point, there are other external factors that could affect investor confidence to no fault of Eaton Vance. If the incredibly tense relationship with North Korea goes one tweet too far we could see severe geopolitical conflict subsequently followed by a mass exodus in the stock market amid broad panic. The same kind of thought process applies to the GOP tax plan. The overwhelming consensus is that the bill's passage will be beneficial for stocks and investors alike. While I agree with that conclusion the risk of that not being true must be acknowledged.
Valuation
As I mentioned at the beginning of this article, valuations can become stretched after extended upward momentum, even for solid companies like Eaton Vance. The gains in 2017 were primarily driven by 25% growth in EPS; double digit growth figures will be required to keep this stock on the rise. The table below shows earnings estimates from the Wall Street Journal for FY17 and the next three years, accompanied by the corresponding price to earnings multiple and the year over year projected EPS growth.
| | | | |
| --- | --- | --- | --- |
| | EPS | P/E | EPS g |
| FY17 | 2.47 | 23.9 | - |
| FY18E | 3.08 | 19.2 | 25% |
| FY19E | 3.53 | 16.8 | 15% |
| FY20E | 3.67 | 16.1 | 4% |
The p/e multiples point to the stock being overvalued at current levels. The EPS growth tells an interesting story when viewed in tandem with p/e. A 1-year forward p/e multiple of 16.8x is high but definitely acceptable from an investor's perspective due to the 15% EPS growth. However, stocks are a function of future growth so FY2020 estimates must be considered as well. Why would an investor pay 16.8x earnings one year early just to see that earnings momentum putter out the following year? EV is overvalued when looking a few years out and therefore is not a long position I would recommend at these levels. Even owning it for the short term would be questionable at best with the stock is trading at 23.9x earnings on a ttm basis. Wall Street analysts echo that perspective; the average analyst price target is $56.22 according to WSJ, below where the stock currently trades.
Conclusion
Eaton Vance is a top investment management firm whose performance in FY2017 was very good. The company's next fiscal year is expected to continue along that trajectory only to come to a near dead halt. Stocks are inherently a relative investment vehicle and must be viewed as such. Despite recent performance, I recommend not buying EV due to valuation concerns.
Disclosure: I/we have no positions in any stocks mentioned, and no plans to initiate any positions within the next 72 hours. I wrote this article myself, and it expresses my own opinions. I am not receiving compensation for it (other than from Seeking Alpha). I have no business relationship with any company whose stock is mentioned in this article.