1. Conclusion on Credit Suisse Analysis
Our fundamental and technical analysis shows that Credit Suisse (US: CS, Switzerland: CSGN) is correctly priced at this point. It appears that the market has reacted rationally to improved financial results, and the stock price increased along with the positive news.
Fundamental valuation shows intrinsic values that are close to the current market pricing of CSGN stock. Technical analysis indicates that we might expect some more appreciation in the share price. However, given the currently available information, there seems to be a lack of fundamental foundation for further increases, and they might be based mostly on sentiment.
An excel spreadsheet model of Credit Suisse used for this article can be found in my GitHub repository.
2. Catalysts
The main catalyst for the price changes for Credit Suisse stock will likely be its earnings report. Given the strong correlation between the market value and intrinsic valuation, the firm's ability to generate earnings in the future will determine the share movements. If CSGN continues to deliver with its restructuring through 4Q17 and 2018, there should be price movements. However, given the current expectations are already high due to strong recent track record, the financial developments will need to be strong enough to indicate future return on equity increasing quicker and above the consensus. Next earnings report for CSGN 4Q17 is scheduled on 2018-02-14.
It appears that issues of regulatory capital requirements are less of a risk now as the group has raised its ratios above the minimum levels with a strong margin. Tier-1 (look-through) has been reported at 19.4%, while CET1 at 13.2% as of 3Q17. The requirement under Swiss law is to raise 14.3% of Tier 1 by the end of 2019, indicating that CSGN is well above the requirements.
2.1. Factors to Monitor About the Company Going Forward
Important factors to follow will be strongly related to financial performance:
Growth in AUM - growing assets under management is one of the core future goals of Credit Suisse. Improvements in this part of the business, especially beyond current consensus, should result in price increases.
Growth in interest generating assets - interest generating assets are mostly composed of loans financed by customer deposits currently. These assets generate around 30% of Credit Suisse revenues. Positive growth in the assets as well as in margins should provide a boost for the stock price.
Cost/Income ratio - changes in the ratio will determine the firm's efficiency and profitability going forward. Credit Suisse is focused on value creation (Return on Equity) more than top-line growth, thus efficiency and profitability is likely to have a direct relationship with the stock performance.
3. Forecasts and Assumptions
3.1. Macroeconomic Environment
Credit Suisse has several revenue generating business lines. The management targets the firm to become a wealth manager with substantial investment banking capabilities. Broadly, we see GDP and High Net Worth Individuals' (HNWI) wealth growth to be the most significant macroeconomic indicators in determining the estimates of growth of deposits and loans and assets under management, respectively.
Credit Suisse separates 4 main geographical regions of its global operations: Switzerland, Europe, Middle East and Africa (EMEA), Americas, and Asia Pacific. The following chart shows CSGN revenue composition by region for the past full 4 years reported.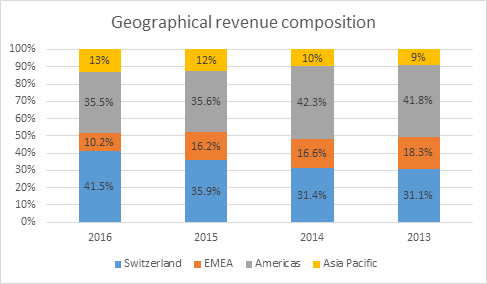 Source: Credit Suisse Group 2013 - 2016 Annual Reports
We used GDP forecasts for each country available in the World Economic Outlook issued by the IMF. The countries were combined into relevant regions to calculate the weighted average expected GDP growth rates.

Source: author, based on IMF forecasts
The table above also indicates, which division of Credit Suisse the regions correspond to. The growth rates in the table were used to forecast loan growth of the respective divisions. Unsurprisingly, Asia Pacific has strongest growth forecasts, which is in line with the general consensus and recent history of economic expansion in the area. EMEA & Americas constitute of mature countries as well as growing economies in South and Central America as well as Africa, hence combined growth rates are relatively high.
Credit Suisse is increasingly more focused on wealth management globally. As a proxy for the firm's growth in this business area, we used the wealth forecasts of High Net Worth Individuals as well as private financial wealth. Since such data is much scarcer than GDP, to form our estimates we referred to wealth reports published by Capgemini, Boston Consulting Group, and Knightfrank. The following table outlines our expectations of High Net Worth Individuals' wealth growth by the relevant region 4 years ahead.

Source: author, based on wealth reports by Capgemini, BCG, Knightfrank
3.2. Financial Forecasts
Our financial forecasts are made using a combination of top-up macroeconomic analysis, bottom-up historical results as well as judgment. The forecasting and modeling was done on a quarterly basis, while here, annual forecasts are presented. Modeling is performed on each division separately, and combined group results are shown.
Assumptions:
Revenue forecasts are produced differently for different divisions.

Swiss Universal Bank (SUB), International Wealth Management (IWM), and Asia Pacific (NASDAQ:APAC) divisions share similarities, as large part of income of these divisions are dependent on interest income and on revenues from wealth management such as commissions and fees. For each of these divisions, we forecast revenues assuming the growth of loans and assets under management will resemble growth forecasts of GDP and HNWI wealth, respectively, in the relevant regions. Net interest income and wealth management revenues are assumed to retain the same average proportion of loans and AUM, respectively, as they did in the recent periods.
Notably, to simplify forecasting, we estimate loans as the main asset and deposits as the main financing source for that asset. In reality, it is likely that part of these might be replaced e.g. by investments in corporate bonds financed by long-term loans. Nonetheless, the purpose of generating net interest margins remains the same, while financial characteristics of the balance sheet should be little changed. Thus, not trying to guess the target future proportions the forecasting is simplified.

Credit Suisse explains changes in equity markets' activity revenues by changes in the markets' volatility. This implies that large part of the income from markets departments is based on derivative instruments, as well as that there is some short-term trading activity, which also heavily relies on volatility.

Apart from activities discussed above, Asia Pacific also has pure investment banking and proprietary trading operations. Positive trends are expected in equity revenues in Asia, as volatility in the region, although down from 2016, is still relatively high. In addition, bull market continues, and many Asian economies are expected to continue growing rapidly beyond our forecast period.
In line with the above, we also see bull markets in equities in the U.S. and Europe. However, volatility indexes indicate volatility in these two regions is at its lowest in the last 11 years, providing less room for derivatives trading income. Bull markets for equities in turn suggest lower price appreciation income from debt instruments in the Global Markets department. Following the declining volatility, we forecast a slowdown in the GM net revenue. However, we estimate that the slowdown rate will be half the size at which this division has been contracting for the past two years. The reasoning for this is expected performance improvements led by completed right-sizing of this department.
Investment Banking & Capital Markets (IB&CM) revenue forecasts are based on historical development of the segment. We estimated the average growth rate of income in the 2013-2017 period to be at the rate of 1.7%. We expect this rate to continue further, which is relatively conservative, given that the sole factor of growing inflation could push the rate up in the future.
Coming up with Strategic Resolution Unit (SRU) and Corporate Center financials' forecasts could prove exceptionally challenging using public information. Therefore, we base our estimates for revenues and costs directly on the target numbers for these divisions published by Credit Suisse.
SRE forecasts are based on the guidance of Pre-tax loss of CHF 1.4bn in 2018 and CHF 500 in 2019. As historically adjusted profits have been at a proportion of 80% of unadjusted, the corresponding amounts used are around CHF 1.75bn for 2018 and CHF 625m for 2019.

Divisions' costs estimates are in part based on the company's guidance and targets on costs. Looking at the recent track record of costs savings, Credit Suisse delivered on its promises with a positive margin and continues to set more optimistic targets.

Cost/Income ratio of the four closest quarters to come at SUB is expected to be the same as in corresponding quarters a year ago with a 10% downward adjustment. The adjustment follows from Credit Suisse targets of 2018 total adjusted pre-tax profit of CHF 2.3bn (CHF ~2.1bn in unadjusted terms). Forward cost income ratio is expected to be at 63% in 4Q17 (compared to 70% in 4Q16). Average C/I of 60% is expected for the next 4 quarters at SUB. We assume that further cost efficiencies will be achieved in the future, and C/I will decline by 10 basis points each quarter going forward.
IWM division has shown a decreasing C/I ratio since 2013 with temporary fluctuations. We assume that the ratio for this division will continue its decline at the 2013-2017 rate of decline of ~3% annually.
CSGN runs APAC division with a strong growth focus, reaping the benefits of the expansion in Asian economies. Hence, there is less effort to minimize costs at this stage, especially given that Cost/Income ratio stands at, arguably, satisfactory level of around 80%. We estimate a geometric average past 4 quarters Cost/Income ratio to of 79% to continue going forward.
GM division C/I ratio is estimated the same way to reflect the higher importance of more recent quarters. However, we expect the ratio to decline in the future due to further focus of Credit Suisse in keeping the division efficient. The ratio is estimated at 88% declining by 2% each year.
Investment Banking & Capital Markets department has a history of volatile but on average mostly unchanged Cost/Income proportion since 2013. We are somewhat optimistic given the strong declines of this efficiency measure in the recent quarters. Therefore, we use an identical estimation to that of GM C/I ratio to reflect the expected gradual growth of margins.

Since the financial crisis of 2008, regulatory requirement for banks has grown substantially. New major piece of regulation Basel III is set to come in force on 31 March 2019. Credit Suisse, however, is subject not only to Basel III but also to stricter Swiss regulation of "Too Big to Fail" banks. The requirements allow for a phase-in period, when each year, requirements for ratios are stricter, until the final level is reached.
The requirement is for Credit Suisse to reach Tier 1 capital ratio of 14.3% by the end of 2019. Minimum CET1 ratio requirement is 10% of the Tier 1 capital. With CET1 of 13.2% and Tier 1 of 17.8% Credit Suisse is already well capitalized and in early compliance with 2020 requirements. Based on our forecasts, CSGN will continue to have a CET1 ratio above their target of 12.5% and will easily meet the requirements. This warrants less focus on capital raising and more focus growing the business.
Dividend forecasts have a subjective element in them. Since capital is not a core concern for Credit Suisse as stated above, there is availability to distribute more capital to shareholders. Recent dividend distributions ranged from payout ratios of almost zero to 150% and dividend payments even after negative earnings.
Given these numbers and the data presented in the chart below, it is reasonable to assume, that Credit Suisse would attempt to raise their dividends closer to historical levels.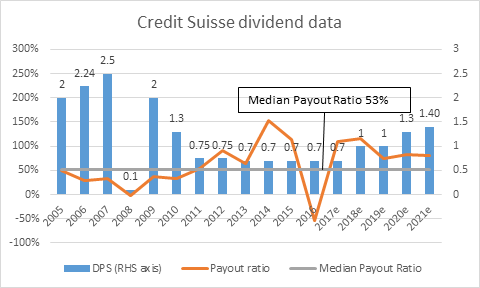 Source: author based on Credit Suisse financial reports
We expect Credit Suisse to start raising its dividends starting from 2018. Based on our estimates raising the dividend to CHF 1/share from CHF 0.7/sh. in 2018 would result in a payout ratio of 96%, while there would be no risk for the firm's capital position. Later increases put even less pressure on growing earnings, as payout ratio becomes lower and overall DPS moves closer to historical levels.
Group and division level selected financials of Credit Suisse are summarized below. Data in blue represents forecasts. Financials and forecasts correspond to non-adjusted results of Credit Suisse.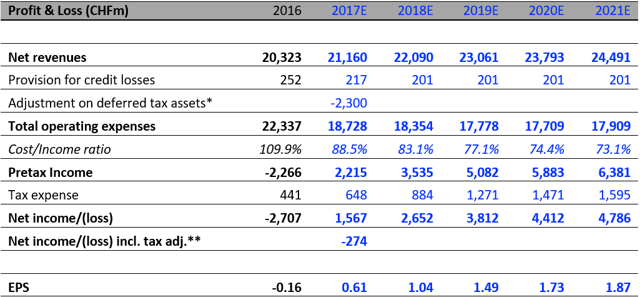 Source: author, financial reports of Credit Suisse
*Following results do not include the adjustment, as it is purely accounting based. It should be exactly offset by higher future tax savings.
**Estimated Net Income with the tax adjustment. Corporate tax for the quarter is assumed to be zero.

Source: author, financial reports of Credit Suisse.
From the above, it is visible that stable growth in revenues is above the expected increases in operating expenses, hence the declining C/I ratio. This is in line with the strong recent performance of Credit Suisse as well as with its financial targets. The latter trends are expected to translate into strong growth of the bottom line.
Balance sheet forecasts show a relatively quick growth of the asset base, which starts to approach historically higher asset base of Credit Suisse.
We also included the CHF 2.3bn downward adjustment of deferred tax assets that is guided by Credit Suisse following the U.S. tax reform. However, besides the additional Net Income figure, the Profit & Loss statement does not include the adjustment as it is purely accounting based and should not have any significant economic impact.
In the balance sheet, we reduced assets by CHF 2.3bn against shareholders' equity. However, we made an adjustment so that regulatory capital is affected to a lesser extent, as per the comments of Credit Suisse.
Additional data on capital ratios and growth rates, including estimated AUM growth follows: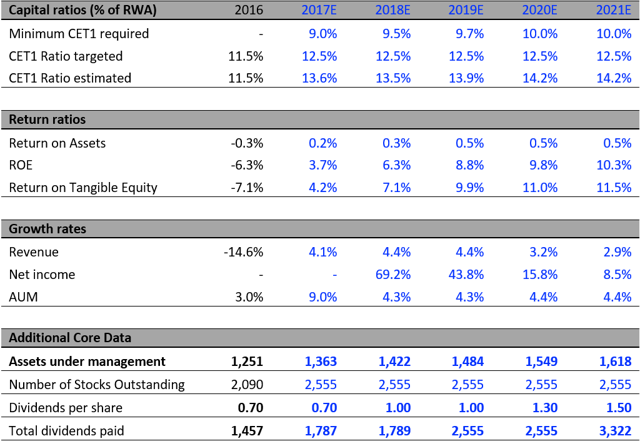 Source: author, financial reports of Credit Suisse
4. Valuation
Several valuation models were applied on Credit Suisse to determine the intrinsic value. We used Residual Income Model (RIV) valuation and Dividend Discount Model ((NYSEARCA:DDM) valuation. Additionally, non-mainstream (for banks) ROIC has been applied.
4.1. Residual Income Model Valuation
Residual Income Valuation is based on the difference between required minimum net income to pay for the equity capital and income that is earned above that. It assumes that if the company earns exactly the income that is required its market share price should equal the book value.
Assumptions
Beta was derived from the regression of monthly returns of CSGN stock against the S&P 500 index. Using a 5-year period we estimate beta of 1.5, which is statistically significant at 95% level of confidence. The magnitude of beta seams adequate for a mature blue-chip company. Even though S&P 500 index might not be perfect for a global company, it should be a relatively good and well-known proxy of global markets.
Risk-free rate was based on 10-year U.S. Treasury bill yield. Equity risk premium was estimated as an average of:

Long-term (22 years) annual excess return of S&P 500.
Implied equity risk premiums of Switzerland and the U.S. calculated by Prof. Damodaran.

The latter averaging helps smooth out the expectations on a very sensitive input.
Using CAPM, the required rate of return on the stock of CSGN was calculated at 10.2%.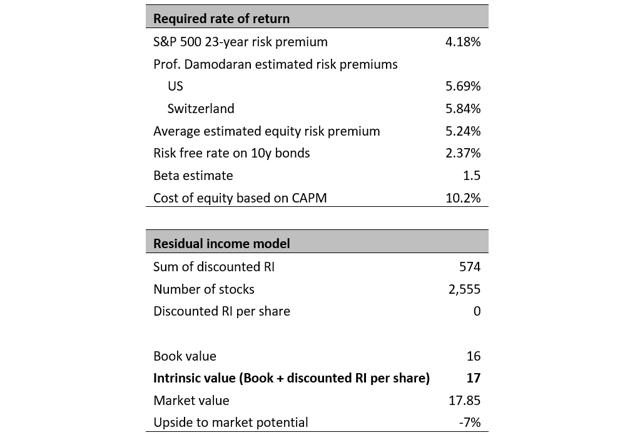 Source: author
The table above shows an estimated value of Credit Suisse share of CHF 17. RIV model implies that the stock is trading slightly above its intrinsic value. However, in most cases with valuation, uncertainty about estimates is relatively high. Therefore, the value estimated is approximate only. Given the insignificant difference between the market price and the estimate, we can draw a conclusion that market participants continue to price Credit Suisse stock correctly and close to its book value. The likely reason for this is that in the medium term, Credit Suisse is expected to destroy value by generating ROE below its cost of equity. Although this is on track to reverse, the value created in the near future only marginally offsets the value that will be destroyed until the creations starts.
4.2. Dividend Discount Model Valuation
Assumptions
Required rate of return on equity computed in the residual income valuation was used in the DDM (10.2%).
Long-term growth rate of 3% is assumed, which is in line with long-term sustainable nominal economic growth.
The following model has some upside given that in the medium term dividends might grow at a higher rate slowing down to 3% perpetual growth only later.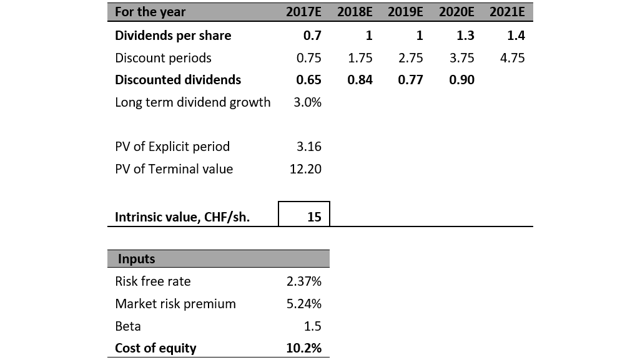 Source: author
The table above present the Dividend Discount Model valuation results. The estimated intrinsic value stands at CHF 15/share, which is 15% below the market price. Although this indicates that Credit Suisse is overpriced currently the estimated difference is not too large.
For retail and non-controlling investors DDM is sometimes considered more appropriate than other valuation models. Motivation of the latter statement is that dividends reflect the actual cash returns that the stock can generate for a non-controlling investor. However, given that in practice, dividend payout ratios are not 100% and investors do not hold stocks for perpetuity, there is also return realized from the appreciation in stock price.
4.3. Non-mainstream ROIC Valuation
We also attempted to apply a valuation of Return on Invested Capital, which is not often used to value banking institutions due to the difficulty to separate the capital that is invested into operating activities and the one that is purely financial. The approach has similarities to the residual income valuation. Since it was used just to get an additional perspective, we will not dive into details here apart from presenting the results.

Source: author
ROIC provides results that are not much different from other valuations. Notably, of course, these valuations are largely based on the same estimates resulting in a potential bias towards the same estimated value.
4.4. Final Valuation (Summary)
To summarize the valuations, we provide a short sensitivity analysis on the RIV and DDM models as well as on estimates.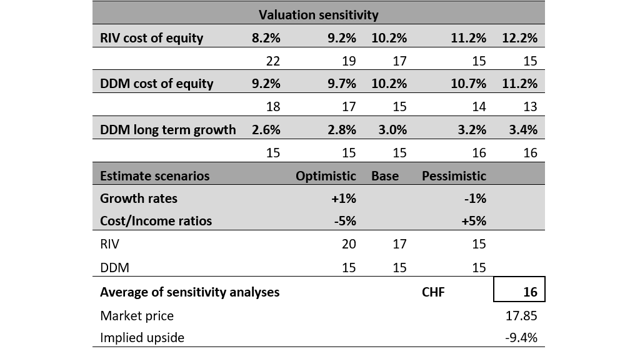 Source: author
It is clear, that RIV model valuation is much more sensitive to an equal upside than downside input changes. Therefore, we remain optimistic that Credit Suisse stock price reaction to positive news will be stronger than to negative announcements.
Taking into account both models and their sensitivity analysis the final valuation stands at CHF 16 per share, again confirming our stance of correct market pricing of CSGN.
4.5. Market Multiples
To select the peer comparable companies, we used firms listed in Credit Suisse financial reports under competitive benchmarking section. The following table shows multiples for CSGN and its peers. CSGN multiples from public sources are also shown separately.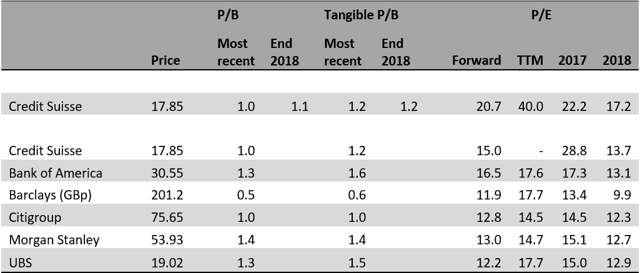 Source: author (first row), Bloomberg, Reuters (remaining rows)
The multiples table shows some interesting information. Differences in our multiples and public source multiples are likely due to the publicly available sources using adjusted results or the numbers being update with a lag.
Using the data from public sources for comparison, it seems that the market has higher conviction in CSGN than its peers. The pricing is not too distant, however, some premium indicates that there is confidence for the company to continue improving its results in the future.
5. Risks and Potential Mitigation
We discuss several important risk to our valuation below.
Some fears of slowing down Asian economies have been expressed in the media. In fact, there is some decline in growth rates e.g. in China. In case these fears would materialize, there would be risk for CSGN stock to decline due to decreased expectations about its Asia Pacific division. However, this risk is mitigated by the firm by diversification and a balanced approach of focus on developed and emerging markets.
Our estimates reflect expectations that Credit Suisse will continue improving its financial situation and value creation just like it has been doing for a couple of recent years. However, if the company has exhausted these improvements and the positive developments largely cease, the stock price is likely to show strong negative reaction. It is challenging to anticipate these developments as companies often are biased to present their results with a positive perspective. To mitigate the risk from an investor's perspective, close monitoring of future financials will help. Furthermore, as this is a non-systematic risk, simple portfolio diversification will work as a mitigating factor.
There is inherent cyclicality in financial companies. Around 10 years have passed after the last financial crisis. Business cycle has been estimated to last 7-12 years on average. This information warns about potential overpricing of equity markets and Credit Suisse among them. It is a significant challenge for any company to reduce the risks. Investors on the other hand can diversify among asset classes.
Notably, valuation models used in this article are sensitive to inputs such as beta, cost of equity, and long-term growth rate. There is a risk that our estimated inputs are inaccurate leading to incorrect valuation. Although we attempted to perform a diligent analysis, we cannot guarantee the correctness of this information.
6. Technical View
We looked at several technical indicators for Credit Suisse stock to have an additional perspective of on the price action.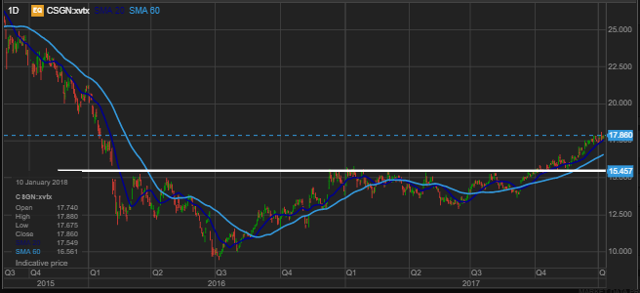 From the above chart, it is visible that the stock price action is quite positive, the share has climbed above its 20-day moving average (dark blue line) as well as being above its 60-day moving average (light blue line). This indicates some acceleration in the price growth. Upward stock movements is also supported by the breakout above resistance level around CHF 15.50 marked by the white horizontal line, which has been tested several times since 2Q16.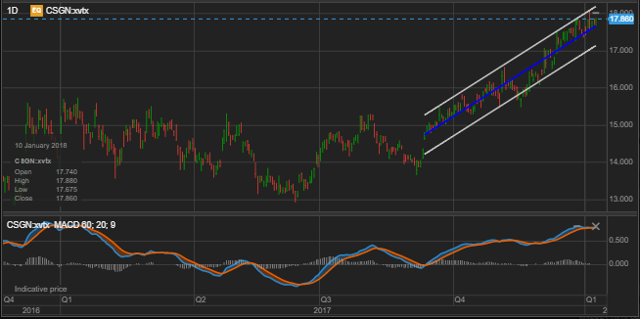 The chart above shows a linear regression based trend line fitted for the recent increase in CSGN stock. It seems that standard deviation of the price and slope of the trend is unchanged since mid-3Q17, implying that this may start to evolve into a rather strong trend.
MACD indicator in the bottom panel of the chart shows positive momentum in the stock price. However, the momentum does not seem much stronger than has been recorded in earlier price fluctuations.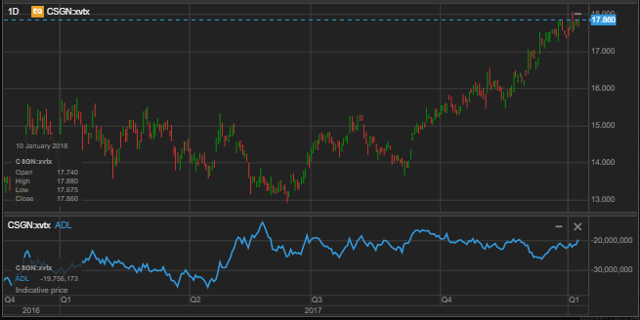 Lastly, we see an Accumulation/Distribution line below the price chart. Broadly looking, the line has edged up in the recent year meaning the volume on up days has been higher than on down days. However, recently the indicator has leveled out and is largely unchanged. Therefore, looking at the shorter-term Accumulation/Distribution line is relatively indecisive.
Overall, according to the technical analysis, the recent price growth resembles a relatively strong trend, while the indicators draw an optimistic picture looking ahead.
To conclude, while the competition in the market remains high, macroeconomic trends are favorable. Credit Suisse showed significant improvements in financials, achieved strong capital ratios, and recovered its bottom line growth. As a result, expectations on the performance of Credit Suisse have improved, and we estimate continuation in cost savings and growth, with anticipated dividend step-up as soon as 2018. Despite the favorable outlook, Residual income and DDM valuations point to an intrinsic value of CHF 16/share, which implies correct market valuation. The correct pricing indicates that the market reacted rationally to improvements in Credit Suisse business and financials, and the stock appreciated as a result. Furthermore, as technical analysis points to further stock increases, which is not fully in line with fundamentals, we conclude that further growth in the stock price, if any, will be mostly based on sentiment.
Disclosure: I/we have no positions in any stocks mentioned, and no plans to initiate any positions within the next 72 hours.
I wrote this article myself, and it expresses my own opinions. I am not receiving compensation for it. I have no business relationship with any company whose stock is mentioned in this article.