With the global economy on sound footing, 2018 stands to see further unwinding of highly accommodative monetary policies. We have long noted the distortive effects of quantitative easing (QE) and how it would likely produce unintended consequences. As some central banks tiptoe away from these extraordinary measures, we are assessing how the process may unfold and its potential impact on financial markets.
The Delicate Dance of Policy Normalization
Monetary policy normalization is already under way, with the Federal Reserve (Fed) gradually raising interest rates and beginning to reduce its balance sheet. Chris Diaz, CFA, Head of Global Aggregate, says many investors don't believe the process will be disruptive given the Fed's proposed pace of balance sheet reduction, which he describes as "glacial." Yet, Mr. Diaz views the market's prevailing mood with trepidation. "The market is pretty complacent, but an exit of this nature is uncharted territory," he cautions.
A Glacial Balance Sheet Reduction
The Fed's plan indicates an extremely gradual pace with a yet-to-be defined long-term level of assets maintained on its balance sheet.

Source: Federal Reserve Bank
Note: MBS denotes mortgage-backed securities
*Estimated
We believe that the Fed will first focus on balance sheet reduction before revisiting the cadence of interest rate hikes. Nick Maroutsos, Portfolio Manager of the Absolute Return Income strategy, says, "The Fed would be risking policy error if it surprised markets with more aggressive than expected hikes at the same time it's trimming its balance sheet." Darrell Watters, Head of U.S. Fundamental Fixed Income, believes that, at most, the Fed will raise interest rates three times by the end of 2018. Citing recent history, Mr. Maroutsos adds:
In 2015, the Fed forecast four rate hikes; we got one. The same happened in 2016. Even with 2017's hikes, the Fed has consistently erred on the side of dovishness.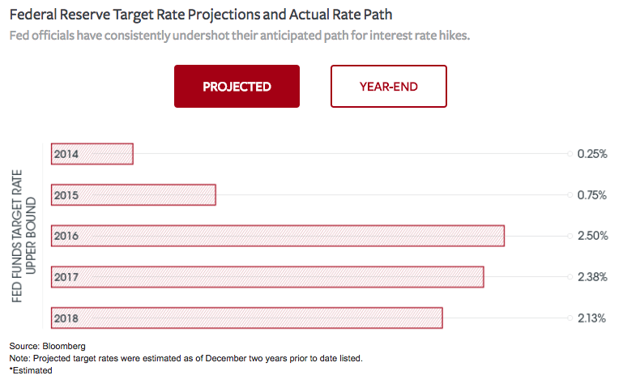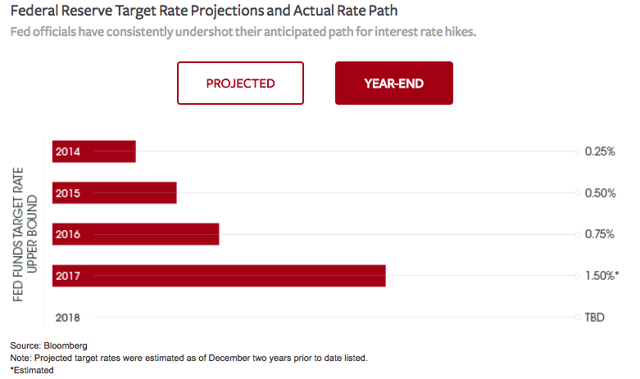 This measured approach could help keep a lid on bond yields. Bill Gross, Portfolio Manager of the Global Unconstrained Bond strategy, sees longer-term rates likely rising in 2018, but at a measured pace. Mr. Watters concurs that a slight upward move in bond yields, especially in intermediate-dated maturities, should be expected, but adds it would not be disruptive to riskier segments of the fixed income market.
The Conundrum of Financial Conditions
Less clear is whether financial conditions merit a hike. By most measures, they remain easy. As Mr. Diaz notes,
Despite incrementally raising rates, Treasury yields have stayed contained, credit spreads have narrowed, the dollar has weakened and stocks have gone up. In fact, financial conditions are almost as loose as they have been at any time since the financial crisis.
Financial Conditions and Fed Rate Hikes
Financial markets and lending have become more welcoming since the Fed began tightening in December 2015.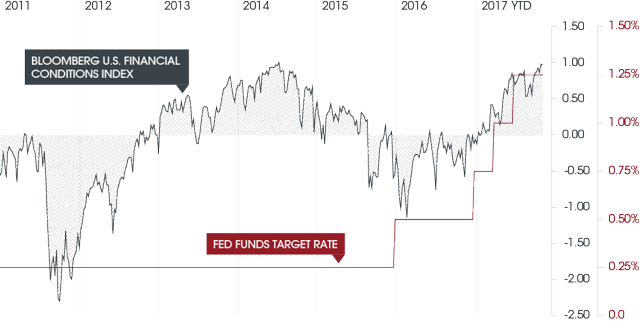 Source: Bloomberg. Data as of 10/31/2017
Note: The Bloomberg U.S. Financial Conditions Index tracks the overall stress in U.S. money, fixed income and stock
markets. A positive figure indicates accommodative financial conditions when compared to pre-crisis norms.
Too Much - or Too Little - Inflation
With the U.S. unemployment rate under 5%, a rate hike would seem justified. The wild card, however, is inflation. Core inflation is well below the Fed's 2% target, but little certainty exists about where prices are headed.
Mr. Diaz frames one side of the argument: "Two-thirds of U.S. nonfarm business costs are wages; as the pool of available labor shrinks, companies typically must bid up the price of labor to entice new hires. That has yet to happen." The Fed has explained away recent weak wage growth and inflation to a series of one-off developments. That rationale implies that wage-driven inflation may be on the horizon.
On the other hand, Mitul Patel, CFA, Head of Interest Rates, notes that inflation targets look unachievable in many countries. Highlighting the puzzle of wage pressure, he says, "Although central banks continue to expect tighter labor markets to lead to higher inflation, recent evidence does not give much support to that theory." Drilling into the root causes, Mr. Maroutsos adds,
Much of what's happening in the economy is deflationary, whether it's technological advances making workers more efficient, globalization or the disruptive forces occurring within the consumer space.
A Question for Policy Makers
Another hurdle for central bankers is economic growth. "To the extent that nominal growth around the world is reaching 4% to 5%, higher interest rates are not a problem," Mr. Gross says. The problem is the real interest rate, which should equal real GDP growth. Mr. Gross continues, "No one knows what the correct short-term, real interest rate should be. It used to be 2%, but now -1% is needed to stimulate the economy." Consequently, Mr. Gross believes that central banks will cautiously disengage from QE as their models - meant to determine the rate that catalyzes economic growth without spurring inflation or unemployment - have largely proven ineffective.
Real Interest Rates Fail to Match Real GDP Growth
Loose monetary policy has suppressed real interest rates, likely a factor in many investment dollars remaining on the sidelines.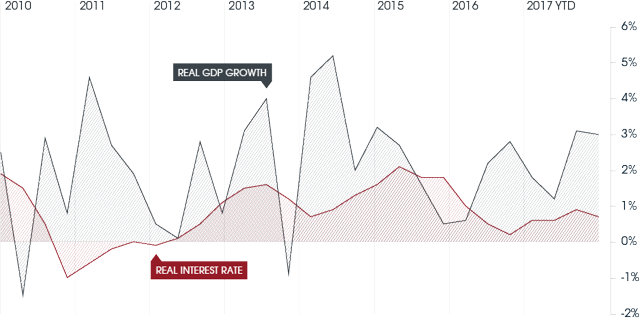 Source: Bureau of Economic Analysis, Bloomberg. Data as of 9/30/17.
Mr. Diaz adds another reason why central banks should approach rate hikes with caution: "They have to be very careful not to kill the global recovery, as they often do." Concerning Mr. Diaz most is the specter of deflation. Outlining the spiral of a deflationary trap, he adds, "If you have already hit the zero-bound in interest rates, it is very difficult to incentivize consumption if prices continue to fall."
Mr. Watters notes that investors must also be aware of the nexus between crude oil, interest rates and the dollar. He believes that much depends upon oil producers maintaining access to financing. Should the high-yield segment of the market shut down, marginal drillers would likely be unable to maintain production, weighing on U.S. output. This could drive crude prices upward and nudge headline inflation higher. Conversely, if financing remains available, production could continue to rise and keep crude prices contained. Mr. Watters states,
This matters a lot. If the U.S. can produce more of its incremental demand, fewer dollars would flow offshore, likely keeping inflation under 2% and interest rates range-bound.

The U.S. used to be 60% of the global economy; now it's roughly 26% and falling, meaning the dollar becomes ever so slightly less relevant every day.
Status Quo at the Fed?
Concerns about a policy shift at the Fed were recently quelled with the nomination of Jerome Powell as chairman. Mr. Diaz states, "Mr. Powell will likely follow the path charted by Janet Yellen, as low inflation will allow the Fed to raise rates in a gradual manner." President Trump often criticized the Fed during his campaign, but Mr. Maroutsos believes that the president now realizes he needs rates and the dollar to stay low. "Filling out the remaining vacancies at the Fed will allow the president to further his pro-growth agenda," Mr. Maroutsos says. Legislative achievements also could impact monetary policy. Mr. Maroutsos notes, "If tax reform passes, resulting in higher growth, the Fed can be more aggressive in normalizing interest rates." He remains cautious, however, citing other stalled policy initiatives.
Next in the Normalization Queue
Recent actions by the European Central Bank (ECB) and the Bank of England (BOE) signal a divergence in policy. Should central banks continue to move sequentially rather than in lockstep, the environment would likely remain supportive of global growth. Mr. Maroutsos worries that the global economy could face unintentionally concurrent unwinding as several banks may be forced to tighten for their own, unique reasons.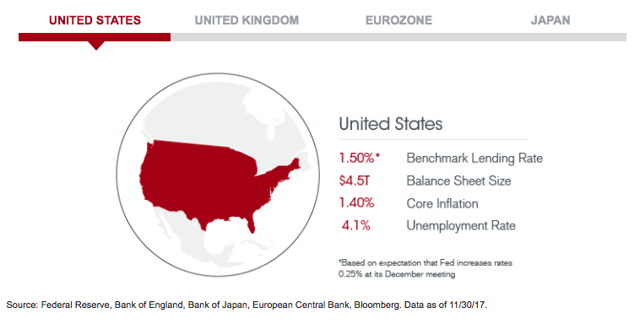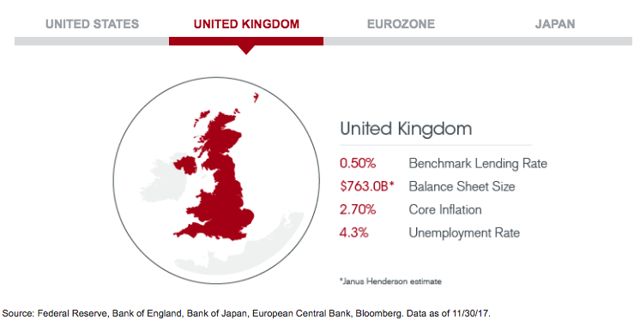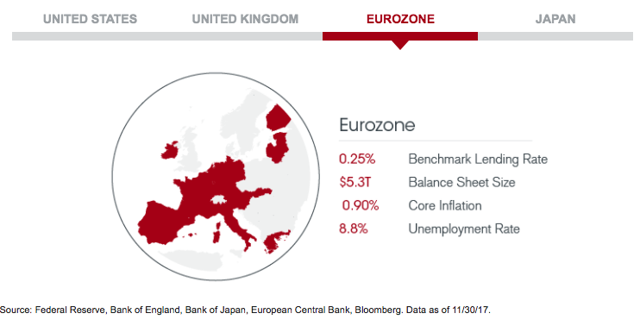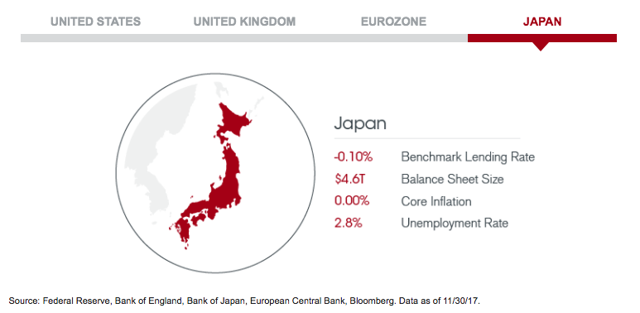 In the UK, Brexit looms large. Jenna Barnard, CFA, Co-Head of Strategic Fixed Income, states, "The Bank of England has recently changed its stance on Brexit, viewing it as damaging to the country's long-term growth rate." But an uptick in inflation due to a weaker sterling has forced the BOE to raise interest rates for the first time in a decade. This move backtracks from the rate cut it implemented in the wake of the Brexit vote.
The ECB has reiterated a more dovish tone. "The ECB recently decreased the level of monthly asset purchases, but it extended the program's duration. The extension is partly due to weak inflation, but the smaller quantities may be due to a limited number of securities available for purchase rather than any underlying optimism," says Mr. Diaz. The program's extension likely signals that the ECB doesn't have sufficient confidence in the currency bloc's recovery to raise interest rates in 2018.
The Bank of Japan (BOJ) will likely be the last major central bank to step away from accommodation. Persistently weak growth and an ongoing battle with deflationary forces suggest the economy will need significant monetary support for some time.
The Breakdown of Central Banks' Econometric Models is Impacting Monetary Policies
So when John and I look across central banks in the developed world, we see a huge amount of divergence in terms of interest rate policy. If you take Australia as an example, they really step back from the hawkish rhetoric in the summer and the RBA held the line that they wouldn't be in the queue to hike interest rates soon. We actually think the RBA will probably cut rates before they hike, it is a function of the travails of their economy.

And the Bank of England has done a U-turn, they initially cut interest rates on the back of Brexit, they have now hiked, saying that Brexit will reduce spare capacity in the economy and cause inflation to pick up. So there is no consistency here. I think central banks have got asset prices in the back of their mind. They are keen to raise rates while they can, but as I said, there are many economies that will be at the back of this queue and may not even raise rates this cycle, for example, Australia.

So I think the simple narrative of a train, US Fed being at the front of the train and pulling these central banks up in terms of interest rate cycle. That doesn't work in this day and age and there are huge opportunities for bond investors that can look at these different markets. That narrative is too simple and we actually think there is a good chance that the US Fed gets pulled down in its interest rates policies to where the rest of the developed world.

So this convergence may happen one of two ways, interest rates going up elsewhere, or interest rates getting pulled down in the US. So it is not a simple narrative, it is not obvious to us and yet I think the industry, yet again, has got over its skis, talking about interest rate hikes in Europe, for example, talking about the ECB tightening policy, when they are actually still loosening in 2018. I think we need a little bit of realism here.

The short bond narrative that everybody hopes every year will come to fruition has failed in 24 of the last 26 years. That is how often consensus has forecast higher bond yields in the US. So we have a different view of the world, we see many opportunities in different divergent economies, and as I said, it is not a simple narrative.

- Jenna Barnard, CFA, Co-Head of Strategic Fixed Income
Stepping into the Void
Financial markets are sure to be impacted by less-accommodative policy. "During the era of QE, the market operated under the assumption that the so-called Fed put [the central bank supporting financial asset prices] was in place. That is going away," Mr. Maroutsos says. An unanswered question is whether a new marginal buyer will emerge.
Mr. Diaz highlights the issues facing Europe, where much debt still generates negative yields. "The only reason someone would buy a bond with a negative yield is that he or she believes it will become more negative," he says. While the ECB has an explicit policy objective when making such purchases, traditional bond buyers may be less likely to step into the void.
Mr. Watters highlights the risk in Japan, where the BOJ owns roughly 30% of the country's equities. "What are you going to do when you hear that the BOJ is starting to sell? You're going to get out," he says.
Disclaimer: Please consider the charges, risks, expenses and investment objectives carefully before investing. Please see a prospectus or, if available, a summary prospectus containing this and other information. Read it carefully before you invest or send money.
The views presented are as of the date published. They are for information purposes only and should not be used or construed as an offer to sell, a solicitation of an offer to buy, or a recommendation for any security or market sector. No forecasts can be guaranteed. The opinions and examples are meant as an illustration of broader themes, are not an indication of trading intent, and are subject to change at any time due to changes in market or economic conditions. There is no guarantee that the information supplied is accurate, complete, or timely, nor are there any warranties with regards to the results obtained from its use. It is not intended to indicate or imply in any manner that any illustration/example mentioned is now or was ever held in any Janus Henderson portfolio, or that current or past results are indicative of future profitability or expectations. As with all investments, there are inherent risks to be considered.
Janus Henderson Investors © 2001-2018. All rights reserved.