Investment Thesis
Both Tesla (TSLA) bulls and bears have dug in their heels. One side will prove wrong, and as a bull, I believe a short squeeze will mark the end in the coming quarters, not years.
Short Interest Remains High
Nasdaq last night released the latest short interest data, which showed a slight decrease: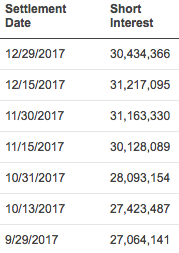 The key investor takeaway is that, although slightly lower than the previous data point, the short interest in Tesla remains above 30 million shares, which is historically high even for this company. At today's prices, this represents a short interest of more than $10.5 billion.
I'm not aware of a large capitalization company, in the history of the stock market, that witnessed such strong short interest. Tesla bears have surely proven to be more resilient than I previously thought.
What's Driving The Record Short Interest?
Many bears believe the company's equity is worthless, that the company is structurally unprofitable, and that the company is headed for a brick wall. Other bears even claim that the multi-national company is run by a dishonest CEO.
Bears do not believe me when I tell them the company will turn profitable in 2H18, which I will soon revise.
I expect Tesla to continue to execute on its Model 3 production plan and move toward building even better products after its revolutionary product. Even if I'm eventually proved wrong, however, bulls and at least some bears agree that this is a dangerous stock to short, and this is why: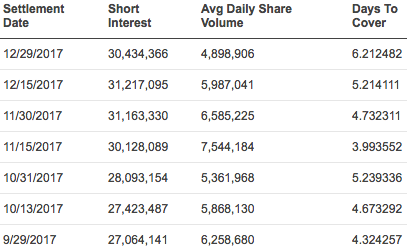 The last column in the above table shows that it would take more than a week for shorts to cover their positions. That calculation, however, assumes that shorts can soak up all of the volume in a trading day, which is unrealistic.
If we assume shorts can take up only one quarter of the daily volume, without triggering a massive short squeeze, this could mean bears would need to sneakily start closing out of their positions a month in advance.
That is the kind of foresight and discipline that would be... surprising.
Instead, I expect bears to stick to their preconceived notions that Tesla will never make a profit, that the Model 3 will never sell profitably, that Elon Musk will quit the company, the SEC will find some accounting irregularity, and so on and so forth, until the stock goes through a short squeeze. Even then, bears will say TSLA only rose because of irrational exuberance, and that the company's equity will prove worthless at some point in the future, and claim victory the next time TSLA drops by 10%. To each their own...
Upcoming Triggers
I see several potential triggers for a short squeeze:
First, Model 3 production is ramping, albeit slowly. As I explained last week, I believe market participants are vastly underestimating Model 3's average selling price, and thus its profitability. I expect this to become clear in the next earnings call.
Second, oil prices continue to rise, as I have predicted in more than four dozen articles, which you can find on my author page. As a reminder, each $1 per gallon increase in the price of gasoline increases the relative value of purchasing an all-electric vehicle as opposed to spending money on higher and higher gasoline prices. I expect oil prices to grind higher throughout the coming months and quarters: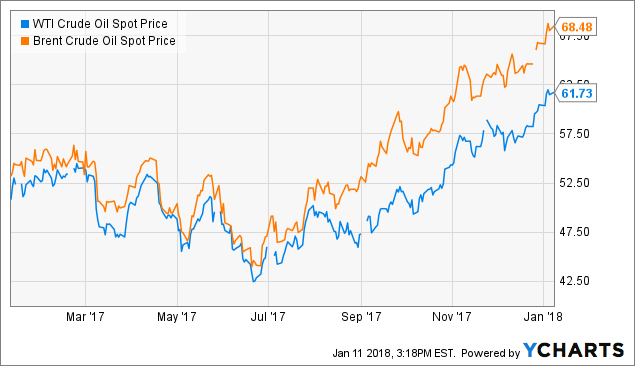 Third, Tesla bears have started the year with large losses, as our referee reminds us weekly: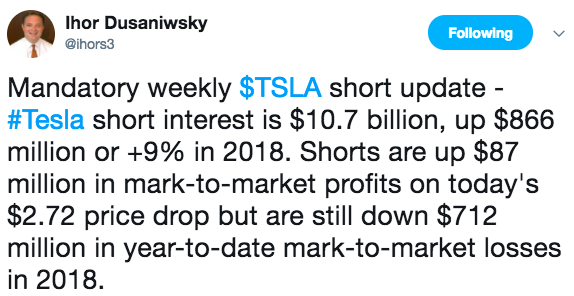 Ouch.
Fourth, Tesla is not only ramping up Model 3 production, but also the Solar Roof is now coming online as well at Tesla's Gigafactory 2 in Buffalo, New York. I believe the potential of this product is vastly underestimated by the market as I explained in Solar Roof Projections: Jan 2018 Update.
Bottom Line
I continue to expect 2018 to be the year of the Model 3, but Tesla Energy also may surprise. In the meantime, Tesla bears' losses are racking up, as I patiently sit on my hands. I'm a long-term investor, so whether a short squeeze ever happens or not is besides the point, as long as the stock price continues to grind up throughout 2018 and beyond. Having said that, however, unless bears (or bulls) throw in the towel soon, there is only one logical conclusion.
Follow For Free Articles
If you enjoyed this article, please scroll up to the top of the page and click the "Follow" button next to my name. Your support will allow me to invest further time and resources into creating proprietary research for you.
Premium Research
If you're interested in learning about my investment methodology as well as high-quality fundamental research on Tesla, its competitors, and many other companies, join Tesla Forum. I'm confident that you will find my research to be very insightful, and I look forward to discussing ideas with you.
Disclosure: I am/we are long TSLA. I wrote this article myself, and it expresses my own opinions. I am not receiving compensation for it (other than from Seeking Alpha). I have no business relationship with any company whose stock is mentioned in this article.