Arena Pharmaceuticals (ARNA) is setting itself up for an interesting start to 2018. The company presented at the 36th Annual JP Morgan Healthcare Conference on January 10th and outlined its initiatives for the year which include some compelling binary events. These types of events can provide a great investment opportunity for a savvy trader as well as a longer term player.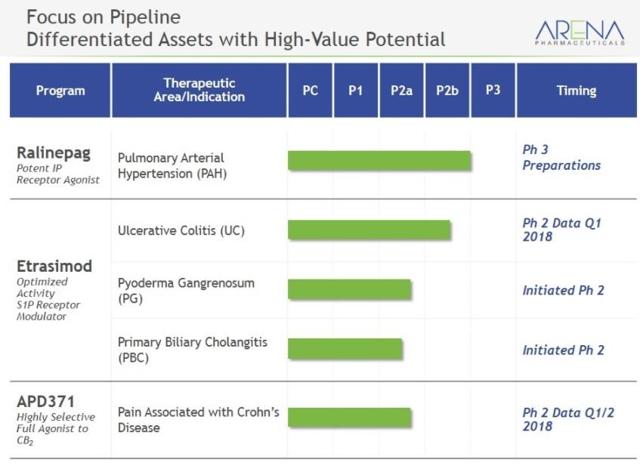 Chart Source - Arena Pharmaceuticals
Management at Arena is particularly interested in advancing its pulmonary arterial hypertension drug Ralinepag into phase 3 clinical trials. According to CEO Amit Munshi, the drug has the potential to be a best-in-class candidate. His reasoning for this is simple. Prostacyclin is considered the gold standard for the treatment of PAH and intravenous prostacyclin is the only therapeutic that's ever shown impact on changes and mortality.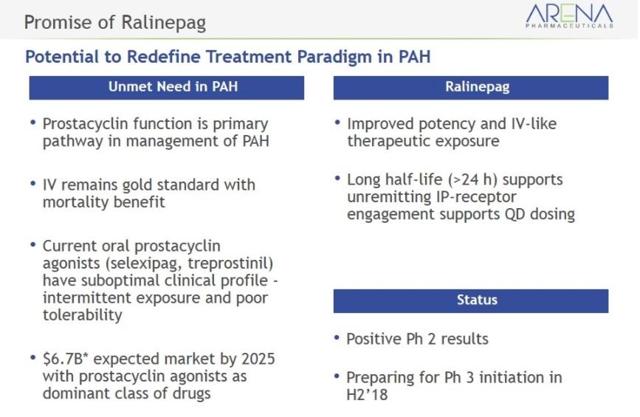 Chart Source - Arena Pharmaceuticals
The problem is that intravenous therapy is difficult to administer for many patients and they must therefore rely on pumps, etc., to get the drug into their system. This can present a situation where the quality of life of a patient is impacted. Munshi believes that Arena's Ralinepag can be a once per day pill that delivers results similar to that seen in an IV process without the need for an IV or pump.
According to Munshi, Ralinepag delivers a 6.5 fold improvement in potency over a competing drug from Johnson & Johnson (JNJ) called Salexipag. Salexipag launched in January 2016 in the US and saw sales of about $250 million in its first year with nearly $90 million coming in Q4 of 2016. The confidence management has in Ralinepag is high, and with planned head-to-head trials against competing products, the value of the drug may increase from here.
Arena is expecting to publish phase 2 data on a second drug candidate called Estrasimod. This drug will be initially used for treatment of ulcerative colitis, but has the potential to be an effective treatment for other autoimmune diseases as well. Positive results in the phase 2 data readout in the current quarter could provide a catalyst for the drug as well as the equity.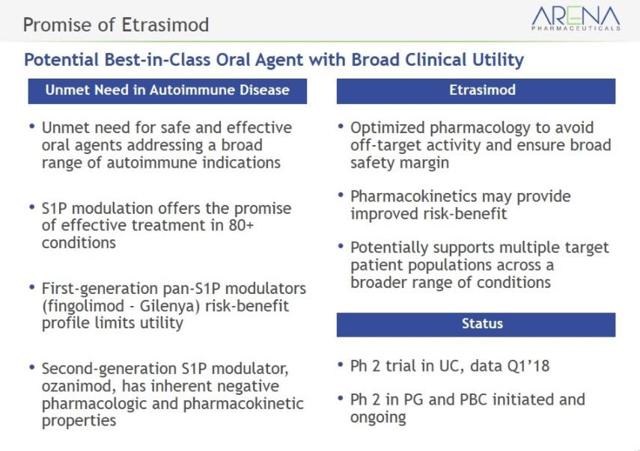 Chart Source - Arena Pharmaceuticals
Arena also is driving clinical trials for Etrasimod in primary biliary cholangitis (PBC) and pyoderma gangrenosum (PG). In addition, the company considers that there are at least 80 viable targets for a drug like Etrasimod which targets the S1P1 receptor.
Many analysts compare Etrasimod to Ozinamod, which is a product that drove a $7.3 billion buyout of Receptos by Celgene (CELG). It is believed that Ozinamod could generate over $2 billion in sales. Arena believes that its candidate has several advantages over the Celgene offering
The last compound that will have data available in the near term is APD-371 which targets pain associated with Crohn's Disease. Arena expects a phase 2 readout in the first half of 2018, presenting yet another binary event for investors to play.
No matter what your investment strategy is, Arena offers some very real potential. Any time that a readout on clinical trial data is pending, there will be a response. As long as a company can present the data in a positive light, its equity tends to see a bit of a run. The more positive the data, the bigger the run. If indeed these drug candidates prove to be very commercially attractive, the equity could hold those gains and the company could find itself entertaining offers of a buyout.
In my opinion the compelling story with Arena in the near term is the number of binary events that can stack news upon news. This puts Arena in the headlines more often, and could shake up the landscape with potential partners or buyers. Positive stock traction also makes raising additional capital (if needed) much easier. Easier capital raises or taking on new debt are usually much more shareholder friendly than with a less established company lacking leverage. With a market cap of $1.5 billion there is room to grow provided the data on upcoming trials is as advertised. Simply stated, the downside risk exposure is limited while the upside potential could be quite attractive. This equity was more than $40 a share early in 2018, and is currently trading at an attractive $37 per share. In my opinion this equity is worth a serious look based simply on the binary event potential, and worth a look as a longer term play simply based on the drug candidates in the pipeline. Stay tuned!
Disclosure: I am/we are long ARNA. I wrote this article myself, and it expresses my own opinions. I am not receiving compensation for it (other than from Seeking Alpha). I have no business relationship with any company whose stock is mentioned in this article.
Additional disclosure: I have no position in JNJ or CELG