The market is an interesting place. I'm fascinated how people look at companies. How" pros" are making the world shake upon good or bad news… sometimes in opposite directions! My goal today is to take away a part of that noise and offer you 3 picks I would definitely add to my portfolio in 2018 and 3 that I would drop in a second if I had them.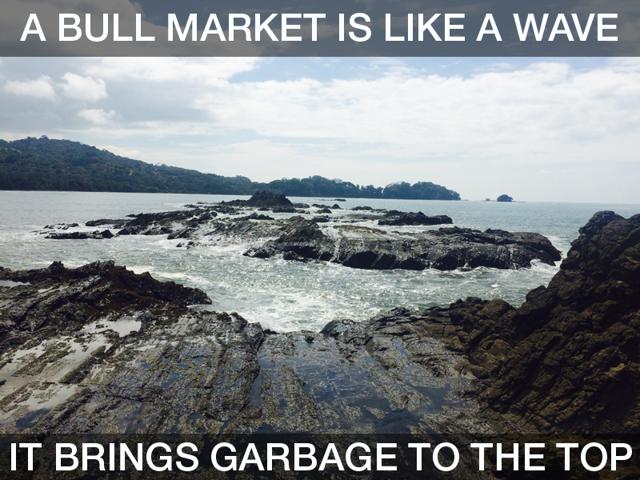 Top Stocks
The reason why I selected those companies is because they have either been ignored by the market or dropped dead on the side of the road. For that reason, I think they will all bounce back this year.
1. Walgreens (WBA)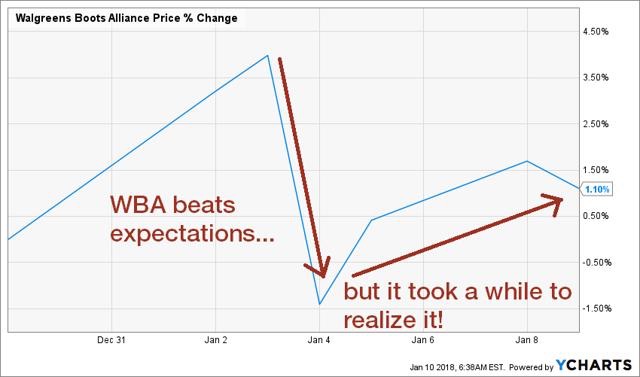 Source: Ycharts
WBA continues to walk under the Amazon (AMZN) cloud as it is waiting to get struck by lightning. I don't believe this will happen. In fact, Walgreens posted solid results at the beginning of the year showing strong sales in the pharmacy business. The U.S. pharmacy retail business is doing well! Comparable sales were up by +4.7% while total sales jumped by 8.9%. Lower prices on generic drugs kept hurting WBA results, but the company found other ways to improve its sales and overcome this headwind. Both international retail and pharmacy wholesale posted revenue increase of +4.1% and 5.6% respectively.
Going forward, I believe the acquisition of 1,932 Rite Aid's pharmacy stores will add to the existing wide network. WBA is covering a large part of the U.S. population. As Americans age, I don't think they will order their medicine online. I think they will use the physical stores to seek additional services and advice. Those will be found at Walgreens pharmacy stores. Amazon can't provide this service.
The company has also made an acquisition in China. WBA acquired 40 percent of Sinopharm Holding Guoda Drugstores Co., Ltd., a leading retail pharmacy chain in China. I think it's a good way to use their expertise and expand in another country.
2. Gentex (GNTX)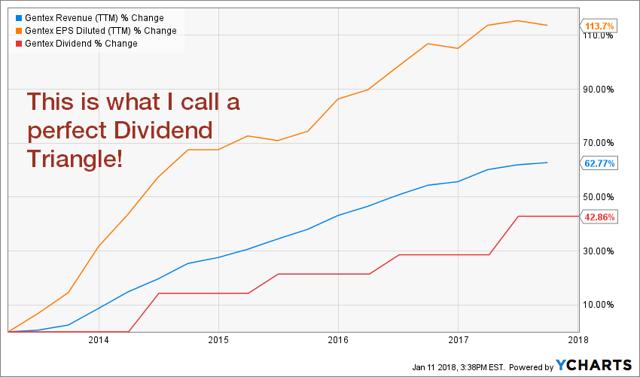 Source: Ycharts
The company is small and is often left out with barely no interest form the public. Gentex dominates a small for fast growing market: auto dimming mirrors. The company owns about 90% market share in this field and only 25% of existing cars have these type of mirrors. This market will continue to grow for decades as such improvements is encouraged in the automotive industry.
The company can also count on dimming aircraft window technology as another growth vector. This new type of windows makes the flight experience more likable as passengers don't suffer from sun glaring in their eyes. This technology is used by Boeing.
Another usage of their auto dimming technology is found in car beam. SmartBeam is currently sold in Europe as this market is slowly opening. I believe this technology will be added to more luxury vehicle as it improves security on the roads.
Finally, Gentex shows little debt and strong cash flow generation abilities. The company healthy balance sheet will help going through any economic downturns.
3. Starbucks (SBUX)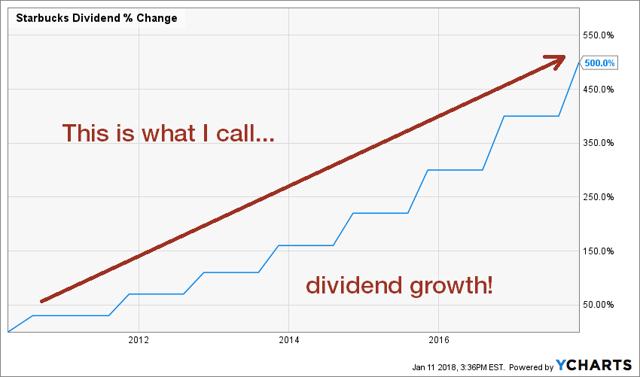 Source: Ycharts
In my view, Starbucks suffers from the A-class student. Nothing is good if it doesn't bring back A+'s home. Starbucks didn't have the most amazing year in 2017, but that's not a reason to ditch it on the side of the road.
SBUX quickly adapts to its clientele as it remains in constant communication with its customers. Through its fast growing membership programs and its phone app, Starbucks knows its clientele taste and purchase habits. It helps developing the right menu and the right store size. This is how it is going from a morning coffee shop to an all-time around small restaurant.
Starbucks is also growing quickly in China with comparable sales growth of 8% in their latest quarter. China is obviously a huge market to develop for SBUX. Like their coffee or not, the company is able to make lots of people enjoy" their coffee experience".
Finally, SBUX hasn't only grow its business in a dramatic way over the past decade, it has also transformed the business into a super powered dividend growth stocks. It shows 7 consecutive dividend increases and will shortly be part of the Dividend Achievers. The Dividend Achievers Index refers to all public companies that have successfully increased their dividend payments for at least ten consecutive years. At the time of writing this article, there were 265 companies that achieved this milestone. You can get the complete list of Dividend Achievers with comprehensive metrics here.
Top Drops
As opposed to my top stocks, my top Drops are companies that are liked and praised on the market even when they show" okay" to bad results. Here are three companies I would drop in a second if I had them in my portfolio.
1. IBM (IBM)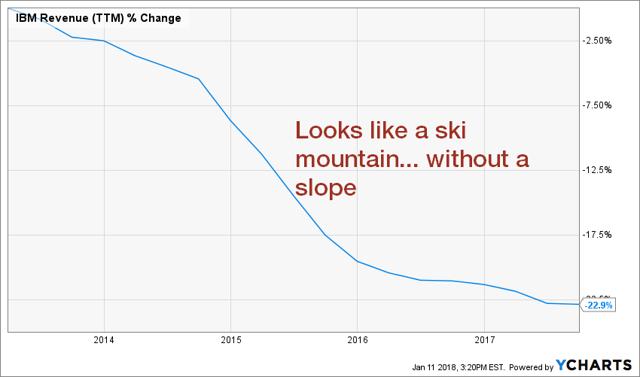 Source: Ycharts
Big Blue celebrated its 22 nd consecutive quarter with a revenue decrease. As you can see on the graph, this doesn't look good. Lots of investors are excited by the 3.65% dividend yield and the book of promises offered by management.
IBM keeps talking about its Strategic Imperatives success in the cloud business, management can't seem to turn the company business model around fast enough. It is a slow and complicated transition toward the new buzz word in the techno industry. While Microsoft (MSFT), Cisco (CSCO) and Amazon are all succeeding somewhere in the cloud, IBM is struggling to find its new identity.
The stock pays a nearly 4% yield and it keeps raising it. However, IBM payout ratio was around 20% in 2010 and it is about to reach 50% in 2018. There is nothing alarming yet, but do you really think this situation can continue for another decade?
2. Caterpillar (CAT)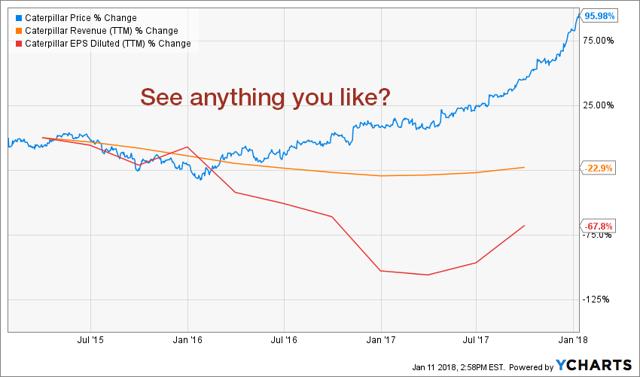 Source: Ycharts
If you hold Caterpillar still… I think this is the perfect timing to drop it. The stock surged like there is no tomorrow in the past 12 months. While earnings are going back to growth mode, we are still far from 2015 numbers.
I don't think CAT is going to hit a wall and die tomorrow morning. However, I hardly see how the company can provide any more value in the upcoming 2-3 years. Where is the limit for CAT price?
At the moment, everybody is holding hands and signing" Kumbaya" but the song will eventually ends and the market will get into a correction. Do you think CAT has the stomach to go through it without dropping by 30% in value? Fast rise often pairs with fast drops…
3. General Electrics (GE)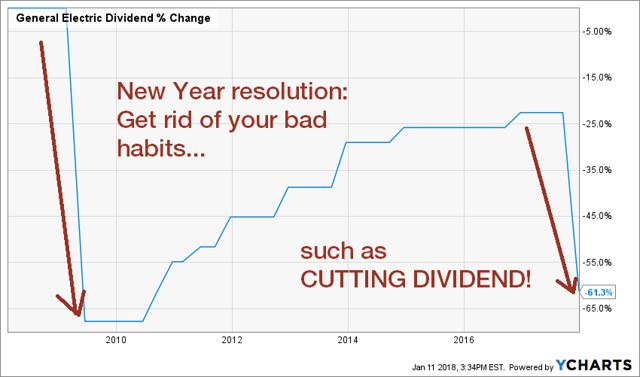 Source: Ycharts
Back in February 2017, I wrote a piece about GE and how it will fail their investors. I received my fair share of rocks for it. Funny enough, I was more than right about it (hey! I can't always be wrong… or right!).
GE cut their dividend when it hit major headwinds during the latest financial crisis. GE capital was a big part of the company's problems back then. Over the past few years, GE got rid of its highly profitable, but also highly volatile division. Unfortunately, it found other ways to struggle.
Now that the company has become too big to be managed, management comes with a new idea: how about cutting the dividends and getting rid of some bad divisions? Is it me or is this the same old song?
In my book, a dividend cut is an automatic sell. I don't know what 2 dividend cuts would mean…
Final Thoughts
I hold shares of WBA, GNTX and SBUX in my Dividend Stocks Rock portfolio mainly because I believe in their business model. I think they are dominant players in their market, they have strong growth vectors and they will continue to raise their dividends for many years to come. To be honest, I'm not too convinced the latest 3 companies share the same points.
Seriously, if you made it this far, it' s because you liked what you read. Don' t be a stranger; leave a comment and tell me what you think! I' m asking you one more thing; click on" follow" button (it's orange, you can't miss it!) and you will get notified each time I write a great piece like this one.
Disclosure: I do hold WBA, GNTX, SBUX in my DividendStocksRock portfolios.
Additional disclosure: The opinions and the strategies of the author are not intended to ever be a recommendation to buy or sell a security. The strategy the author uses has worked for him and it is for you to decide if it could benefit your financial future. Please remember to do your own research and know your risk tolerance.
Many investors focus on dividend yield or dividend history. I respectfully think they're making a mistake. While both metrics are important, aiming at companies that have and show the ability to continue raising their dividend by high single-digit to double-digit numbers will make your portfolio outperform others. When a company pushes its dividend so fast, it's because it is also growing their revenues and earnings. Isn't this the fundamental of investing – finding strong companies that will grow in the future? If you are looking for a great combination of dividend and growth, check out my picks at Dividend Growth Rocks.
Disclosure: I am/we are long WBA, SBUX, GNTX.
I wrote this article myself, and it expresses my own opinions. I am not receiving compensation for it (other than from Seeking Alpha). I have no business relationship with any company whose stock is mentioned in this article.