2017 was certainly an uneventful year for North American investments and unfortunately The Toronto Blue Jays.
The S&P 500 set records for low volatility and it was the first time in market history that every month was positive for that index. Now US stocks 'going up' by over 20% in one year is certainly nothing to sneeze at, but it was certainly a nice and pleasant snoozefest. As I demonstrated in this article Buying Dividend Achievers Without Looking Beats the Market in 2017 it was a good year for Dividend Achievers, Dividend Aristocrats and for the top holdings of the Achievers Index.
Canadian stocks had a solid year. Though they were down for much of the year, they finished strong with the TSX 60 increasing by 9.58% for 2017. The Canadian Dividend index that I would use as a benchmark, The Vanguard High Dividend Index delivered 8.4% in 2017. My Canadian Wide Moat 7 delivered 9.2% in 2017. Those 7 companies are the three biggest Canadian banks in Royal Bank of Canada (RY), TD Bank (TD), Bank of Nova Scotia (BNS), pipeline and energy utilities TransCanada (TRP), Enbridge (ENB), and the modern utility telcos of Bell Canada (BCE) and Telus (TU).
The iShares 1-5 Year Laddered Corporate Bond Index ETF (CBO on the TSX) delivered another dismal year. It offered lower unit prices and falling income; what's not to love? I like the lower risk aspects of a short term bond ladder, and the fund originally delivered a somewhat generous yield of 4.5%, but it all continues to grind lower. It should potentially respond over time in a rising rate environment, with the ability to somewhat quickly pick up bonds offering higher yields as rates march higher. While there were some modest rate increases in Canada and the US in 2017, I am not holding my breath waiting for those significantly higher rates and yields. While I don't hold my breath, I continue to hold this bond ETF.
Here's what the cash distributions look like for 2017. Help! They've fallen and they can't get up.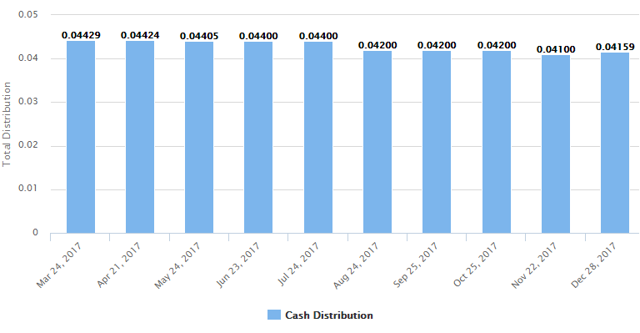 But net net, when you put it all together in a balanced portfolio of Canadian companies, US companies and those bonds, we see some very solid returns for the year. I manage my personal RSP (retirement) portfolio, plus my wife's personal individual RSP portfolio and spousal RSP portfolio.
Here are the annual returns for my person portfolio. The return for 2017 was 8.84%. Of course past performance does not guarantee future returns. That portfolio began the year with a 36.7% bond component and ended the year with a 31.7% bond component. This portfolio is over weighted to those Canadian Wide Moat 7 at 41.9%, while the US stocks are at 26.3%. The US stock component includes the Achievers of CVS Health (CVS), Johnson & Johnson (JNJ), Pepsico (PEP), Qualcomm (QCOM), 3M (MMM) and Wal-Mart (WMT). The US portfolio also includes stock picks Apple (AAPL) and BlackRock (BLK). Those two picks were a source of alpha for the portfolio delivering returns over double of that of the S&P 500.
My portfolio is in purple, the S&P 500 in Canadian dollars in red, the Canadian TSX index in dotted blue. We can see that not much happened until the fall. Also you will notice that the returns for the S&P 500 are much lower in Canadian dollars due to the declining US dollar. While Canadians have mostly enjoyed a portfolio US currency boost over the last several years, 2017 offered a currency drag.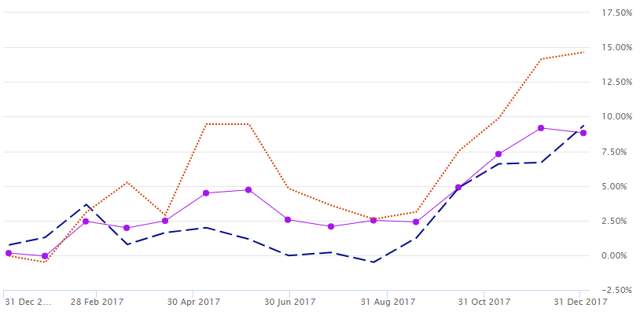 And here are my wife's accounts. First up is her RSP individual account. The return for the year was 10.7%. This account holds the bond ladder ETF, the Vanguard Canadian High Dividend Yield ETF (VDY on the TSX), plus the Achievers of Abbott Labs (ABT), Colgate Palmolive (CL), Medtronic (MDT), Microsoft (MSFT), Nike (NKE) and Texas Instruments (TXN). The account is currently 31.8% bonds, 33.6% Canadian stocks and 34.6% US stocks.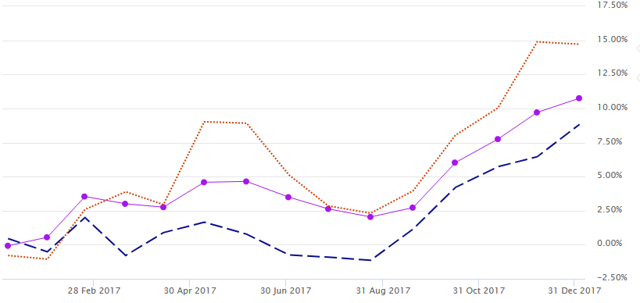 And here is the Spousal Account. The returns for the year were a very modest 5.9%. That account holds the bond ladder ETF, the TSX 60 index ETF and stock pick Berkshire Hathaway (BRK.B), Lowe's (LOW), United Technologies (UTX) and Walgreens (WBA). Walgreens is one of 2 Dividend Achievers that is negative from portfolio inception in early 2015, was negative again in 2017 and hence it has an exaggerated effect on the returns due to the concentrated portfolio. That said BRK is overweighted in the portfolio and has a greater value than the combined 3 Achievers. The bond component is currently 37.2%, the Canadian stock component is 16.1%, the US stock component is 46.7%. The greater bond component also suppresses the returns in that account as well.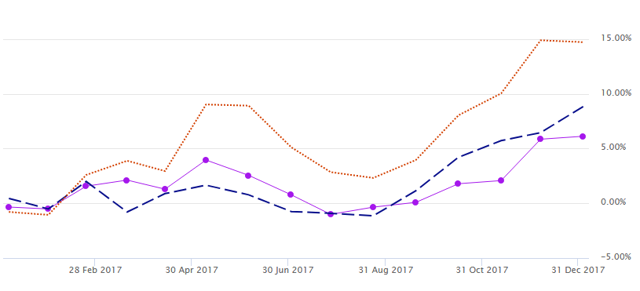 The weighted combined returns for my wife's two accounts was 8.9%. What's 'incredible' is that those weighted returns are almost identical to my personal portfolio returns even though there are some different stocks and ETF assets and weightings. But net net the portfolios hold a mix of the same bond fund, then Canadian stocks and US stocks. The stock to bond ratios are very close. The returns are very close. As you may know the basic asset allocation will be responsible for some 90% of portfolio returns and characteristics, 'the rest' is just shading. The above portfolios might be another clear demonstration of that event. That said, while the basic asset allocation will do most of the work, we should always attempt to shade the results to the best of our ability. That may mean trying to simply boost total returns, or attempt to find greater financial stability in preparation of a market correction, or find better risk adjusted returns, greater income, and on and on.
It was a simple mission accomplished in 2017. The goal is not the greatest overall portfolio growth, but growth with enough capital preservation and potential lower volatility in a major market correction. Our portfolios have come full circle. Back in 2012-2013 the portfolios, in anticipation of a semi-retirement phase were moved to a very conservative stance of 65% bonds and 35% stocks. I would admit that was much too conservative and there have been some opportunity costs. But life circumstances can change. Instead of scaling back freelance work, I took a full time job over 5 years ago at age 50. But semi retirement (new work life stage) always calls and that will become a reality much sooner than later. My wife may continue to work for 3-5 years.
From 2012-2013 all portfolio income and some very minor contributions have been allocated to the stock portion only. No bond units have been sold, so that potential block of stability remains, but there have been no additional bond units purchased. I have consistently executed an all-equity glide path. The portfolios are now in a balanced growth mode. Rebalancing to a more conservative approach is a consideration once again, or share harvesting may come into play as I trim assets and turn them into cash to help fund that semi retirement stage. But given our no debt situation, we are in a good place. I do not know the exact dollar amount that may be required from my investment portfolio.
I hope 2018 is just as boring. I am a boring guy. I have a boring portfolio.
"Be boring, make money" comes to us by way of Mawer Investments. I love that mantra. On that, thanks for reading. I hope this wasn't all too boring for you.
Please always know and invest within your risk tolerance level. Always know and understand all tax implications and consequences.
Happy Investing, and all the best of personal and financial health in 2018 and beyond.
Dale
Disclosure: I am/we are long AAPL, NKE, BCE, TU, ENB, TRP, CVS, WBA, MSFT, MMM, CL, JNJ, QCOM, MDT, BRK.B, ABT, PEP, TXN, WMT, UTX, LOW, BNS, RY, BLK.
I wrote this article myself, and it expresses my own opinions. I am not receiving compensation for it (other than from Seeking Alpha). I have no business relationship with any company whose stock is mentioned in this article.
Additional disclosure: Dale Roberts is an Investment Funds Advisor at Tangerine Investment Funds Limited a subsidiary of Tangerine Bank, wholly owned by Scotia Bank; he is not licensed to provide professional advice on stocks. The opinions expressed herein are Dale Roberts' personal opinions relating to his experience as an investor and are not those of Tangerine Bank or its subsidiaries and/or affiliates. This article is for information purposes only and does not constitute investment advice or an offer or the solicitation of an offer to buy or sell any securities. Past performance is not a guarantee and may not be repeated. Investment strategies are not suitable for everyone and you should always conduct your own research or speak to a financial advisor.