2017 in review
In 2017, stock markets had an easy ride. The MSCI World index rose every month, something that has never happened before.
The VIX index measuring market volatility returned to pre-financial crisis levels.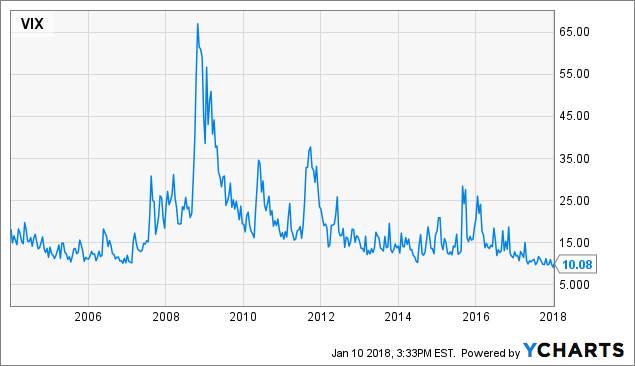 The smooth ascent of the markets can be explained by favorable politics and a tailwind from still accommodative central banks. French elections in early 2017 produced a positive outcome, as Emmanuel Macron was elected with a healthy majority. At the same time, central banks continued either to stay on hold or to tighten policy very gradually. The U.S. Federal Reserve increased rates three times as expected, while the European Central Bank kept its rates on hold.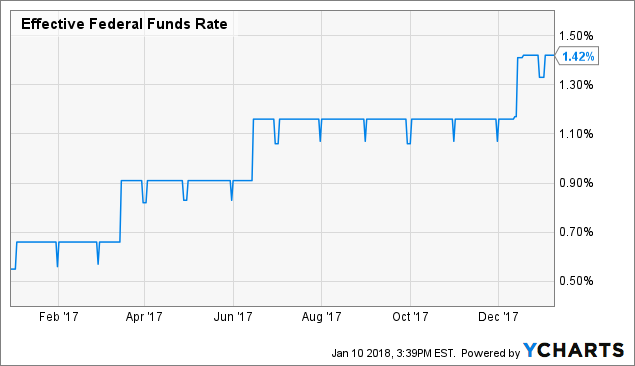 Stock markets in all geographies gained in 2017. On top of the leaderboard were emerging markets and Europe. Emerging markets were boosted by a weak U.S. dollar and an improvement in the Chinese economy, while the French elections already mentioned helped European shares. The technology sector performed especially well, with leading Chinese companies such as Tencent (OTCPK:TCEHY) and Alibaba (BABA) doubling in price.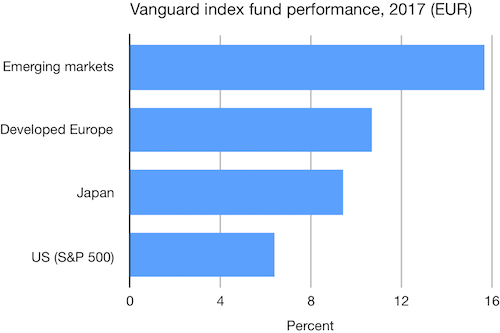 Source: Vanguard
2018 theme 1: Italian elections
Going into 2018, a key test for the European stock market will take place on March 4, when Italy goes to the polls. The vote is expected to produce a hung parliament.
Italian politics has never been stable. From 1946 to 2017, Italy had a total of 65 governments - an average of almost one every year. The current government is headed by Paolo Gentiloni, who was appointed in December 2016 after the resignation of the previous prime minister, Matteo Renzi.
The past few years have seen the emergence of a new party in Italy, the Eurosceptic Five Star Movement (M5S). M5S has said that if it wins power, there may be a referendum on Italy's membership of the euro if the party does not get the concessions it wants from the EU.
The run-up to the election on March 4 is likely to generate negative headlines and, in turn, market volatility. In our view, this volatility will best be ignored. After the noise from the election dies down, it is fundamentals that will determine the direction of the market. This was seen in 2016 after the Brexit vote, when markets initially nosedived but then quickly recovered because the economy, against some predictions, did not crash. The same happened again after Donald Trump's election victory.
The good news is that economic fundamentals in Italy are improving. GDP grew 1.7% YoY in 3Q 2017. High-frequency indicators published since then suggest that growth has accelerated further in the fourth quarter.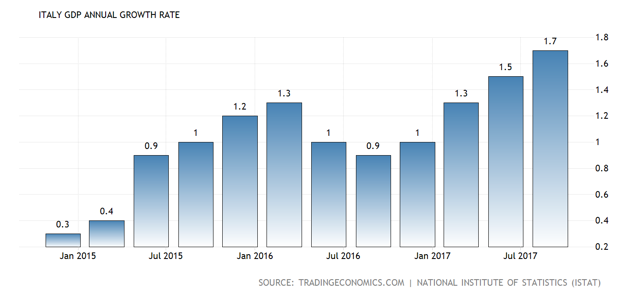 Thus, we are of the view that the Italian elections in 2018 may turn out to be like the French elections in 2017. Markets dipped briefly in early 2017 as uncertainty about the election outcome increased, but soon rallied after the election result became clear. We would not be surprised if the same occurred again this year.
2018 theme 2: Higher interest rates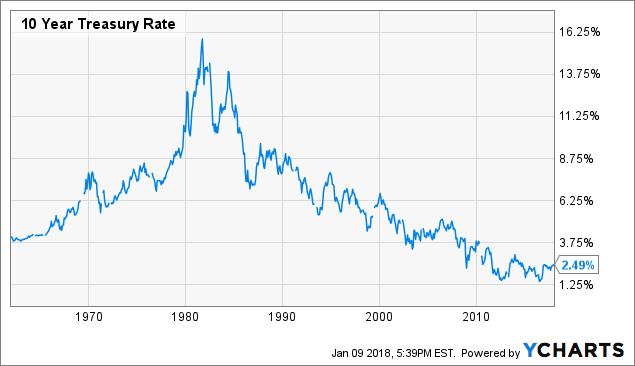 There are a number of reasons why the 30-year trend towards lower interest rates could finally be coming to an end.
In 2017 economic growth accelerated around the globe. The U.S. Federal Reserve hiked interest rates three times. U.S. unemployment hit a 17-year low.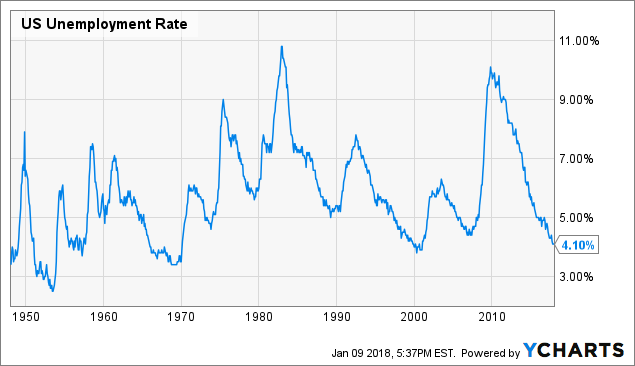 Bond yields usually go up when the economy improves. But the U.S. 10-year bond yield ended 2017 at 2.40%, essentially unchanged for the year.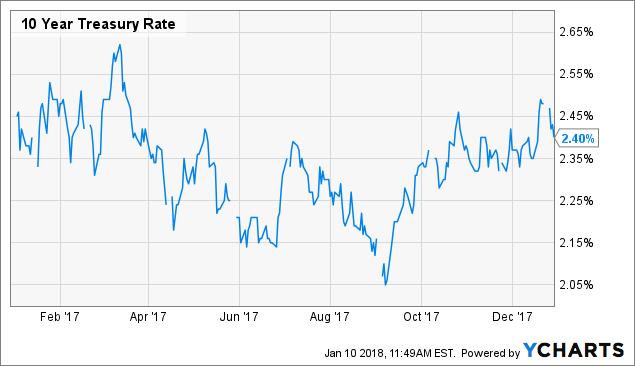 This outcome may not repeat in 2018. The supply of sovereign bonds is set to increase this year due to increased issuance and the U.S. tax reform passed in December. At the same time, demand for bonds from central banks is waning.
Most important, there are finally signs of inflation pressures building up in the United States. The New York Fed's Underlying Inflation Gauge (UIG) has historically led inflation by 18 months. The UIG recently reached a multi-year high and is indicating U.S. inflation could gradually start moving towards 3% in the course of 2018.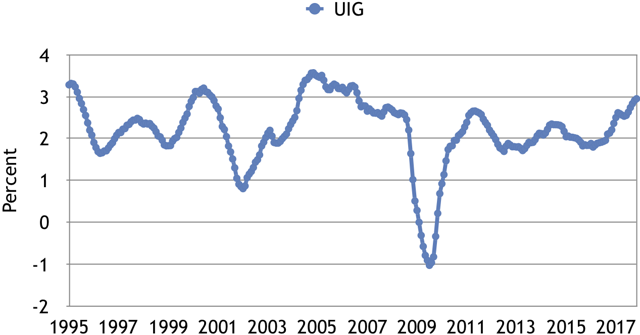 Source: New York Fed
An increase in inflation should cause the Federal Reserve to continue on its rate hiking path. The Fed projects that rates will be increased three times this year and another two-three times in 2019.
The trend towards higher interest rates is also spreading from the United States to other countries. The central banks of Canada and the United Kingdom are predicted to increase interest rates a couple of times this year. The European Central Bank, for its part, could end its Quantitative Easing program this year before hiking rates in 2019. It is not out of the question that the Bank of Japan, too, might surprise the markets by increasing its interest rate targets.
Positioning for higher interest rates
At the moment, we find the most value in Financial sector stocks.
These stocks - banks, insurers and brokerage companies - typically perform well when interest rates go up. This is because their income is, in part, derived from interest that other sectors of the economy pay them. As interest rates go up, this income increases.
The two charts below show how, when interest rates increase, the Financial sector (XLF) outperforms the Consumer Staples sector (XLP).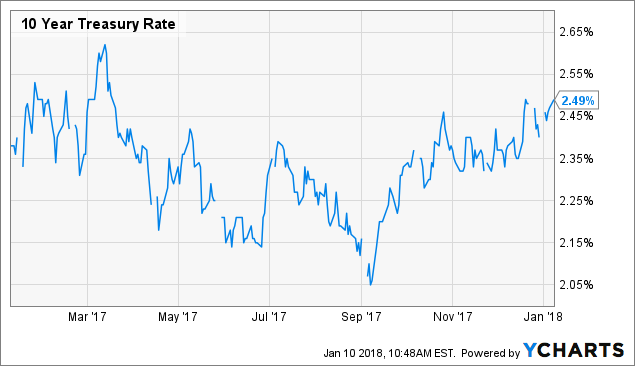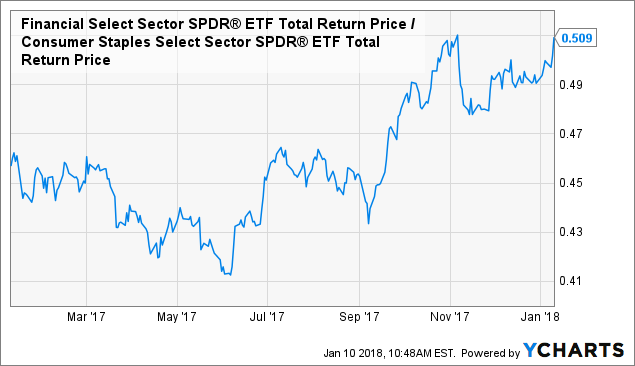 Another point in favour of Financial stocks is that they still trade at lower valuations than before the financial crisis. Many investors were burned by terrible losses in Financials in 2008-2009. The painful memory of those losses still lingers.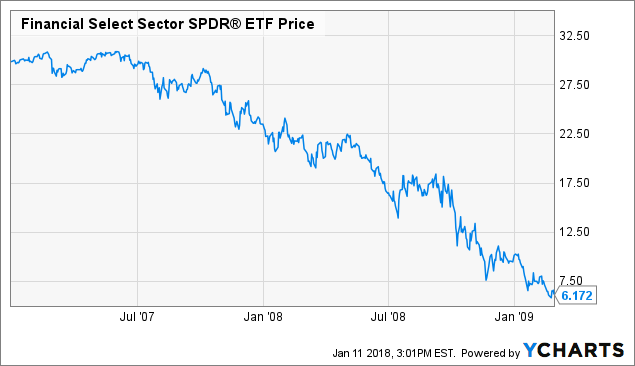 Yet if viewed objectively, the financial system seems safer than before. The financial crisis led global regulators to propose a set of reforms called Basel III. The new rules were finalised in December 2017. This means there is much more capital in the banking system to absorb losses. This should make a repeat of the 2008 crisis less likely.
Picking Financials to buy
Within the Financial sector, we pick stocks based on valuation vs peer group, capital adequacy and operational trends.
Keycorp (KEY) is a U.S. regional bank that has a number of tailwinds going for it. The company's 2018 earnings will benefit from U.S. tax reform, higher interest rates and the integration of FNFG, an acquired business. Despite favourable trends, Keycorp's valuation lags that of its peer group.
Synchrony Financial (SYF) is a credit card issuer that Warren Buffett's Berkshire Hathaway also likes. It is a massive beneficiary of U.S. tax reform and trades at less than 10x 2019 earnings.
Moving to Europe, BNP Paribas (OTCQX:BNPQY) is the biggest French bank. The French economy is doing well and Emmanuel Macron's government is gradually lowering the corporate tax rate. The bank trades at only 11x forward earnings, while earnings are predicted to grow rapidly over the next few years.
For those who have a positive view on Italy, Unicredit (OTCPK:UNCFY) offers compelling value at 0.7x book. The bank has been considered to be saddled with too many bad loans, but its latest investor presentation shows that it should have sufficient capital to withstand upcoming capital requirement increases from European regulators.
More cheap banks can be found in Asia. KB Financial (KB), from South Korea, trades at <9x 2018 earnings, while South Korea has just embarked on a cycle of interest rate increases. The bank also trades at a discount to its book value.
Japanese banks, such as Mitsubishi UFJ Financial Group (MTU), are also worth considering. They trade at cheap price-to-book ratios and offer plenty of leverage to rising interest rates. If the Bank of Japan does increase its interest rate targets this year, this would probably boost the yen, providing a further benefit for investors in Japanese banks.
Disclaimer: This article is provided for informational purposes only. It is not a recommendation to buy or sell any security.
Disclosure: I am/we are long KEY, SYF, BNPQY, UNCFY, KB, MTU. I wrote this article myself, and it expresses my own opinions. I am not receiving compensation for it (other than from Seeking Alpha). I have no business relationship with any company whose stock is mentioned in this article.