Resentment is like drinking poison and waiting for the other person to die. "
- Carrie Fisher
Approximately 90% of my articles on Seeking Alpha are around the biotech sector. On other channels like Real Money Pro, I touch on a greater variety of investment topics. One part of the market I have been discussing consistently over the past two years is housing and home building stocks. Outside biotech, homebuilders have been my second largest allocation within my own personal portfolio for some time now.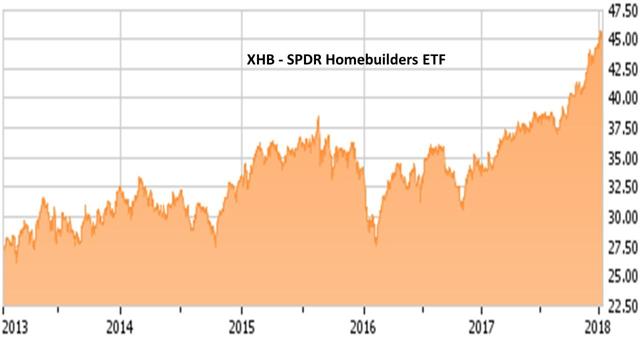 They have had a nice run over that time frame. While not as cheap as they were 18-24 months ago, I still see value in this part of the market even as I am putting new money currently primarily into energy, financials, and other parts of the economy that will be the primary beneficiaries of the 40% cut in the corporate income tax rate that takes effect this year.
Obviously, being domestically focused firms, homebuilders will also see a 'Yuge' drop in their effective tax rate. In addition, while the lowering of the cap for mortgage interest deduction to $750,000 from $1 million might have a marginal impact on the top-end builders; that should not impact the homebuilders I have holdings in. These include LGI Homes (LGIH) and AV Homes (AVHI). They are primarily located in fast-growing states where housing affordability is not an issue like Arizona, Texas, Colorado, and North Carolina.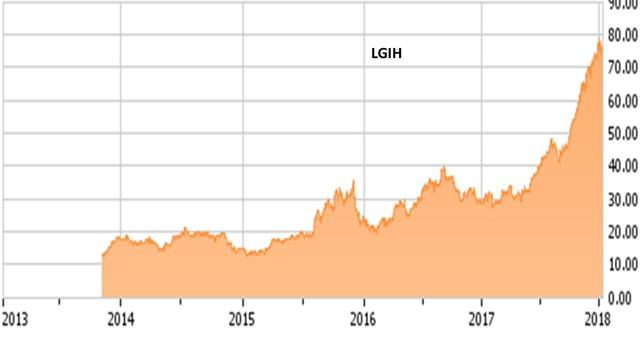 I have been profiling LGI Homes for over two years now both on Seeking Alpha and consistently on Real Money Pro. All the stock has done over that time period is move from $20.00 a share to nearly $75.00 a share. The company should clock in another 20% plus year for revenue growth in 2018. Earnings should rise 25% to 30%. While not cheap at it was a few years ago, the stock sells at roughly 13 times forward earnings.
There are myriad reasons I am still high on the homebuilders going forward.
Homebuilder Confidence is at its highest level this century.
Economic growth is trending up to the three percent range after a decade struggling to produce 2% GDP growth.
While rising slowly, mortgage rates are near historical lows.
Unemployment is at just over four percent, and wage growth is finally starting to accelerate.
Even as the housing market has slowly improved over the past few years, housing starts are still significantly under their long-term trend as they have been for over a decade now. Pent-up demand should be a nice tailwind for the foreseeable future.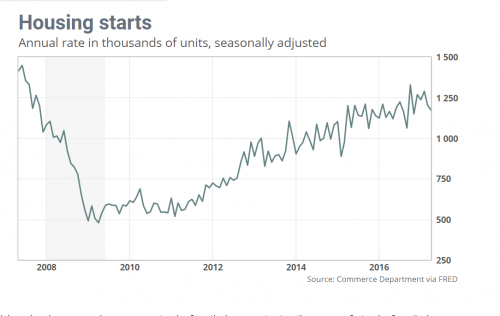 The current problems in the housing market revolve around housing supply and not demand.
Finally, even before tax reform impacts bottom line earnings, results we are getting from early fourth quarter reports from homebuilders are encouraging. Lennar (LEN) posted numbers that beat revenue estimates by more than $200 million the other day. This equates to almost 12% year-over-year growth. Earnings slightly missed estimates, but only because the company put off booking a transaction in the fourth quarter to the first quarter for more favorable treatment. KB Home (KBH) rose over 12% in trading yesterday after easily stepping over fourth quarter expectations.
Given most builders have effective tax rates in the low to mid 30s, cutting the federal corporate tax rate to 21% is going to have a big impact to bottom line numbers in 2018. The potential impacts on earnings from the 40% drop in the corporate tax rate are demonstrated nicely by the chart below. It is just one more reason to continue to overweight this sector as the housing market continues to recover.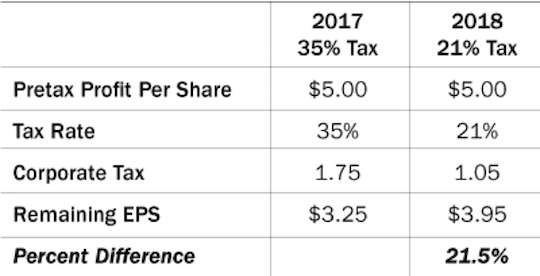 Nothing is as obnoxious as other people's luck." - F. Scott Fitzgerald

Author's note: To get these types of articles and Instablogs as soon as they are published, just click here for my profile. Hit the big orange "Follow" button and choose the real-time alerts option.
Disclosure: I am/we are long AVHI, LGIH. I wrote this article myself, and it expresses my own opinions. I am not receiving compensation for it (other than from Seeking Alpha). I have no business relationship with any company whose stock is mentioned in this article.