All amounts in C$ unless otherwise noted.
Welcome to Part II of our Cannabis Series. In Part I of the Series - Product Cost, we compared cash cost and all-in cost among the top 4 largest publicly traded cannabis companies in Canada. We found that Aphria (APHQF) is the lowest cost producer while Aurora (ACBFF) has the highest cash cost among the top 4 producers. In Part II of the series, we will continue our discussion using same 4 companies to understand how companies report capacity and implications for investing in the sector. Before we dive in, let's understand why production capacity matters:
Currently, there is a strong indication that most companies are valued and traded based on capacity, rather than cash flow or earnings. One possible explanation is that because of the upcoming legalization in Canada and investors focusing on market potential rather than current earnings, which are purely based on medical marijuana market ("MMJ"), a much smaller market compared to the recreational market ("RMJ")
Licensed capacity determines a company's ability to expand and represents a significant barrier of entry. Applicants have to commit significant resources in order to pass a stringent set of rules and reviews before receiving a licence from Health Canada to produce and sell marijuana
Licensing Process Overview
In Canada, to become a licensed producer of marijuana, the applicant must go through a stringent set of rules, coupled with lengthy reviews and inspections. The current application process involves the following steps:
Intake and Initial Screening
Detailed Review and Initiation of Security Clearance Process
Issuance of Licence to Produce
Introductory Inspection (as cultivation begins)
Pre-Sales Inspection
Issuance of Licence to Sell
According to Health Canada, as of May 2017 (most recent data), only 25% of the applications remain in progress with the rest being refused, withdrawn or returned. The application process requires significant resources due to the strict security and quality control implemented by Health Canada. For example, after a producer receives license to produce, it will then start cultivation before receiving another inspection. A final pre-sales inspection is eventually carried out before the issuance of a sales license.
1,665 applications received
265 have been refused
428 applications are in progress
69 have been withdrawn
858 were incomplete and have been returned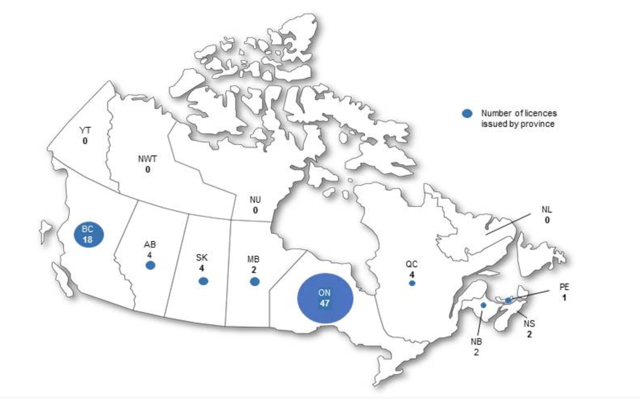 Source: Health Canada
Canopy Growth (TWMJF) (WEED.TO)
Canopy was the first LP to receive license to sell medical cannabis in Canada and was the first cannabis company to trade on the TSX. Canopy current has (through acquisitions) licensed production capacity of 20,650 kg per year and has announced expansions plans to increase its production capacity from 600k sq. ft. to over 2.4 million sq. ft. over the new few years. We have summarized its current licensed production and announced expansions below.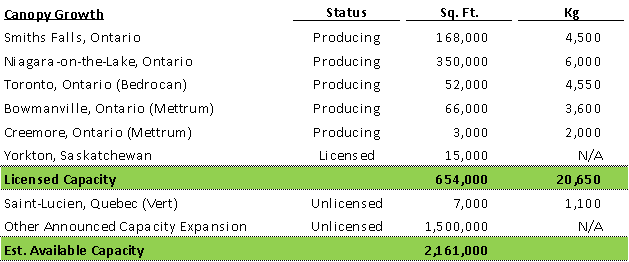 Source: Cornerstone Investments, Company reports
Smiths Falls
Canopy houses its largest production facility in Smith Falls, Ontario. The Smiths Falls facility comprises 40 acres of land with over 500,000 sq. ft. of available space for future development. Canopy's head office is also here.
Tweed Farms (Niagara-on-the-Lake)
Located at Niagara-on-the-Lake, Ontario, Tweed Farms is one of the largest marijuana-producing greenhouse in the world. On September 8, 2017, Canopy Growth announced that Tweed Farms acquired a parcel of land adjacent to its current facility, including an operational 458,000 sq. ft. greenhouse. In addition, the Company announced that construction had commenced on an additional 212,000 sq. ft. of greenhouse on the current Tweed Farms property, to be completed by April 2018. Eventually, Tweed Farms will be home to over 1,000,000 sq. ft. of greenhouse space under glass, plus post-harvest facilities, including a recently renovated 10,000 sq. ft. of updated space for new drying rooms and an upgraded laboratory.
Toronto, Ontario (Bedrocan)
Came with the acquisition of Bedrocan in August 2015, this indoor facility leverages indoor standardized cannabis growing experience of Netherlands-based Bedrocan International BV. The facility exclusively cultivates Bedrocan Canada strains, one of the brands owned by Canopy.
Bowmanville, Ontario (Mettrum)
Canopy announced the acquisition of Metrrum in 2016. The acquisition brought in a licensed production site with 60,000 sq. ft. of growing room. The Bowmanville South facility sits on a 7-acre site which provides the opportunity for future expansion. Canopy is currently planning an expansion by up to 100,000 sq. ft. of growing capacity. In addition, on October 6, 2017, Canopy acquired a parcel of land next to the Bowmanville South location to add approximately 33 acres for future expansion.
Yorkton, Saskatchewan
As known as Tweed Grasslands, the facility is 90,000 sq. ft. of which approx. 15,000 sq. ft. is currently licensed. Canopy has the ability to expand operations to over 300,000 sq. ft. on the parcel of land if necessary. First harvest is expected in Q4 2017.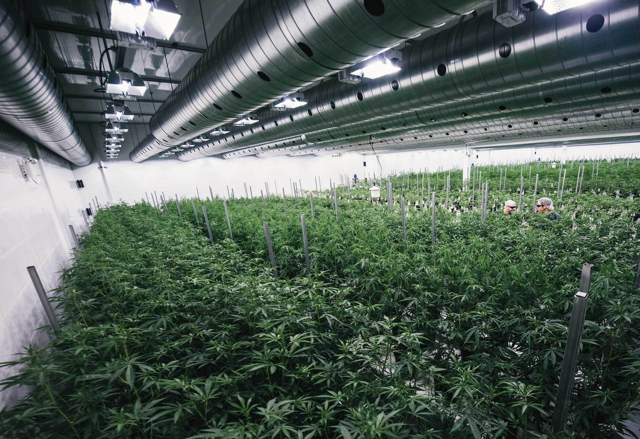 Source: Company reports
Aurora Cannabis (ACBFF) (ACB.TO)
Aurora received its license from Health Canada to sell medical cannabis under the ACMPR on November 27, 2015, and generated its first product sale on January 5, 2016. In January 2017, the Company obtained its cannabis oil sales license and commenced the sale of cannabis oils in April 2017. Aurora currently has two licensed facilities in production totaling 95,200 sq. ft and 8,800 kg of nameplate capacity. Third facility, "Aurora Sky", is a 800,000 sq. ft. new constructed facility with over 100,000 kg annual capacity expected. Aurora is well-funded with over $300 million cash on balance sheet, well over the $80 million capex required at Aurora Sky facility.

Source: Cornerstone Investments, Company reports
Mountain View County, Alberta
Aurora also has 7.7 million square feet of land available at the Mountain View site for potential future expansion. Alberta is an ideal production location due to low energy, labor, and tax costs, and Aurora is well-positioned to continue expanding this facility given the land availability.
"Aurora Vie" facility in Pointe-Claire, Quebec
During Q1 2018, Aurora completed the construction upgrades at and received the cultivation license from Health Canada for the purpose-built indoor facility, Aurora Vie, in Pointe-Claire, Quebec, in six months. Aurora anticipates shipping genetics shortly and first harvest in the first quarter of calendar 2018.
"Aurora Sky" facility in Edmonton, Alberta (Under Construction)
During Q1 2018, Aurora reported that the construction of the Aurora Sky facility is progressing well. At 800,000 square feet, with modern technology and automation, Aurora Sky is expected to produce over 100,000 kilograms annually and deliver significant economies of scale for Aurora. Located on Edmonton International Airport land, with access to ample power, Aurora Sky is ideally positioned for increased domestic and international distribution. To date, over 400,000 square feet of structure has been erected, 80% of which has its specialty glass installed, and many sub-systems have been delivered to the site. The Company anticipates the first bays to be completed and ready for planting before the end of calendar 2017, with the first harvest in the first half of 2018, and full completion of the construction project by mid-2018.
Acquisition of Larssen
On November 23, 2017, Aurora announced the acquisition of Larssen, an engineering and design firm focused on greenhouses. Larssen is involved in the design and construction of Aurora's "Aurora Sky" facility as well as a dozen other projects around the world. Aurora is strategically positioning itself by acquiring an essential vendor in the cannabis value chain. Larssen provides Aurora with access to the latest greenhouse technology and relationships with cannabis companies globally.
Aphria (APHQF) (APH.TO)
Aphria has branded itself as one of the lowest cost producer in the industry. A big part of Aphria's low cash cost is that its use greenhouses for all its productions. Aphria has claimed that greenhouse is a far superior technology to indoor growing both from initial capex and production costs. Interestingly, Aphria houses all its production facilities in Leamington, Ontario, unlike other producers that have been expanding nationally. Leamington's Part I and II constructions are now complete, with Part III/IV underway with expected sales start in May 2018 and January 2019, respectively.
In May 2017, Aphria received its amended license for the Part II expansion project. It currently has licensed capacity of ~9,000 kg per year. With Part III/IV expansion projects underway, Aphria is expected to reach ~1 million sq. ft. and 100,000 kg annual production capacity by early 2019.

Source: Cornerstone Investments, Company reports
Aphria has also purchased a piece of land approximately 5 kms from their existing facilities as a potential additional production facility. Aphria intends to watch the development of the recreational market before deciding to apply to Health Canada for a license alongside a Part V build-out.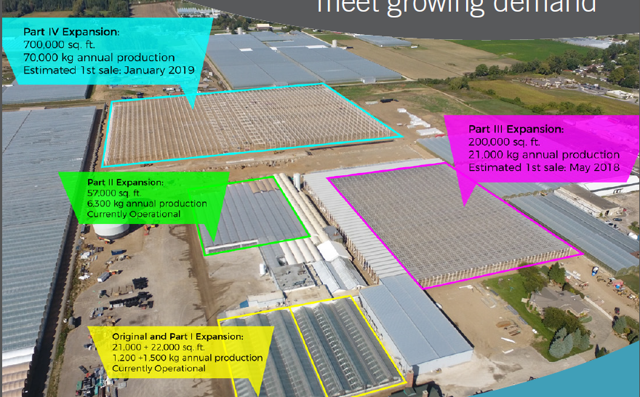 Source: Company reports
MedReleaf is the 4th largest publicly traded cannabis company in Canada. MedReleaf operates two facilities in Markham and Bradford.

Source: Cornerstone Investments, Company reports
Markham
Facility Size: 55,000 square feet
Nameplate Capacity: 7,000 kg annually
Bradford
Facility Size: 210,000 square feet
Nameplate Capacity: 28,000 kg annually

Source: Company reports
Putting Everything Together
So, what do these production numbers mean to investors? How do we think about the current market in the context of legalization this summer? Let us start with some observations after examining the top 4 producers:
Licensed vs. Expansion: licensed production is a more accurate measure of company's market potential. Capacity expansions can be reported loosely, and sometimes, companies report expansions by quoting total available land area. Arguably, the only barrier of entry to the marijuana market is license from Health Canada. With easy access to capital and abundant land supply, anyone could acquire the assets and properties to start cultivating marijuana. Expansion plans are helpful in showing company's ability to meet future demand and production needs, but before a license is received, we view them with a much discounted lens and certainly not part of any valuation.
Regional vs. National: One thing that stood out for us was the different strategies employed by the top 4 producers in terms of location. Canopy has most of its facilities in Ontario but also acquired capacities in Saskatchewan and Quebec. Aurora has facilities in Quebec and Alberta but no facilities in Ontario, the largest market in Canada. Aphria had all its greenhouses all located around each other. MedReleaf also has both of its facilities in Ontario. Whether local market will have a preference for local producers is yet to be tested. Ontario is the largest market in Canada, so it makes sense that most producers are located in the province. Aurora claims Alberta has the lowest utilities cost and is constructing an 800k sq. ft. facility there, but whether it will put Aurora at a disadvantage supplying provinces such as Ontario is an interesting question that remain to be seen as supply agreements are announced throughout the months before legalization.
The key takeaway for investors is that licensed production represents a true barrier of entry for the cannabis industry. Licensing process is rigorous and lengthy and requires significant investments and resources. But in order to put these production capacity numbers into perspective considering the existing medical marijuana market and upcoming legalization of recreational marijuana market, one will need to understand the market supply and demand.
In the upcoming Part III of the Cannabis Series, we will examine existing supply and expected future demand for the Canadian marijuana market. We will build upon today's discussions around capacity to draw meaningful conclusions for the industry in 2018 and beyond. Follow us to receive alerts when the next article comes out.
Afterwords
You can read Part I of the Cannabis Series below:
To learn more about Canopy Growth, our top cannabis pick
Editor's Note: This article discusses one or more securities that do not trade on a major U.S. exchange. Please be aware of the risks associated with these stocks.