Last year, I wrote that BlackRock (BLK) could reach $500 in 2017. Now I think it's in line to reach $600 as the market keeps jumping around like kids high on sugar during a birthday party. The world's largest asset manager just published its year-end report. The company finished the year with growth on all sides: earnings, revenue, and dividend growth.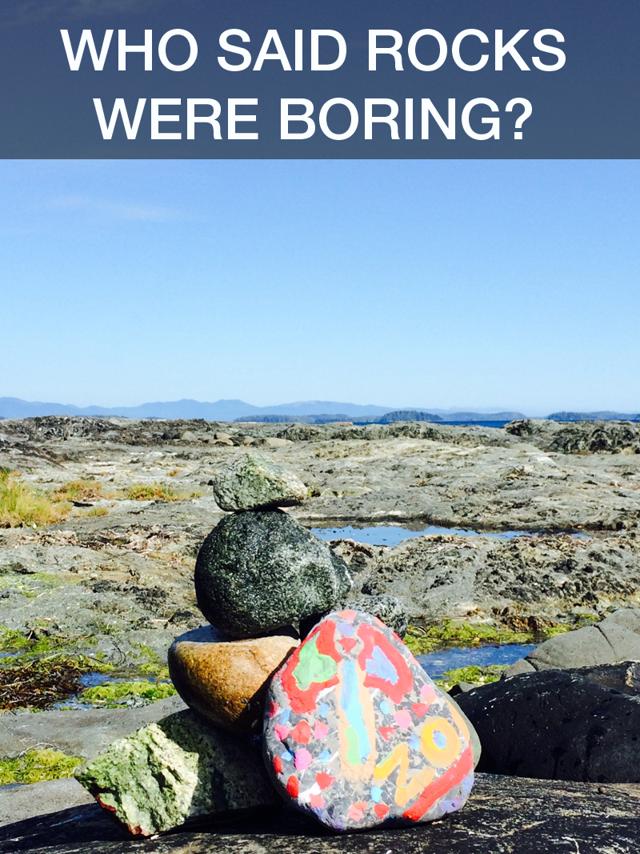 Understanding the Business
In short, BlackRock owns the market when you talk about investing. BLK is the world's largest asset manager and it also happens to be the world's largest ETF manufacturer through its iShares division.
The company is built to benefit from both bullish and bearish market. During the good times, assets under management (AUM) rise like flowers during springtime. The company counts on a large portion of institutional clients representing 64% of its AUM. They are less likely to drop their asset manager quickly during market downturns. Speaking of which, when the market goes down the drain, BlackRock opens its wide product variety booklet and offer investors fixed-income and other safer possibilities. While the company will make less money from such products compared to actively managed portfolios, that proves its ability to retain its business in the meantime.
An Eye on the Latest Quarter
BlackRock did well with another strong quarter. Before I jump into the earnings and revenue, I have to say that what impresses me the most is BLK's ability to generate net inflows. As the bulk of its business model revolves around its AUM, the fact this number grows from net inflows is a lot better than if it was purely the bull market pushing assets value higher. BLK posted a record year of $367 billion net inflows and $103 billion this quarter.
If you were searching for a winner from the Tax Cuts & Jobs Act, you found one with BlackRock. The company reported an EPS jump of +59%, which should be 17% once adjusted. The most important part for any dividend growth investors is that the board approved a 15% dividend increase! Here are a few quotes I found interesting from the press release:
Full-year net inflows represented 7% organic asset growth and were positive across client types, asset classes, major regions and investment styles.

iShares ETFs generated $245 billion of full year net inflows, as an increasingly diverse set of institutional and retail clients are using ETFs for asset allocation and alpha generation.

Technology and risk management revenue, powered by Aladdin®, increased 14% for the full year, and demand remains strong across our full range of capabilities.
Growth Vectors
Regulations have been quite a help for BlackRock lately. Everybody is familiar with the ETF investing trend, as many mutual fund holders are selling their units to invest in low-fee ETFs. Well, regulators are helping investors as they now "invite" advisors to favor their clients' best interest. In other words, your advisor better have a really good reason if he wants to select a 2% MER fund over ETFs. BLK makes sure to help advisors in their work as it built a selling platform, Aladdin, offering investing solutions to their clients. Therefore, BLK is very well positioned to surf this tailwind.
BLK benefits from a strong reputation among its clients and across the financial markets. Its wide variety of products ensures the company will capture any growth when there is interest in investing on the stock market. Being the largest player in this playground is definitely a plus as it benefits from economies of scale.
Dividend Growth Perspective
Blackrock has had nine consecutive years of dividend increases, if you include the one coming this May. This makes it only one year away from making the elite Dividend Achievers list. The Dividend Achievers Index refers to all public companies that have successfully increased their dividend payments for at least ten consecutive years. At the time this article was written, there were 265 companies that achieved this milestone. You can get the complete list of Dividend Achievers with comprehensive metrics here.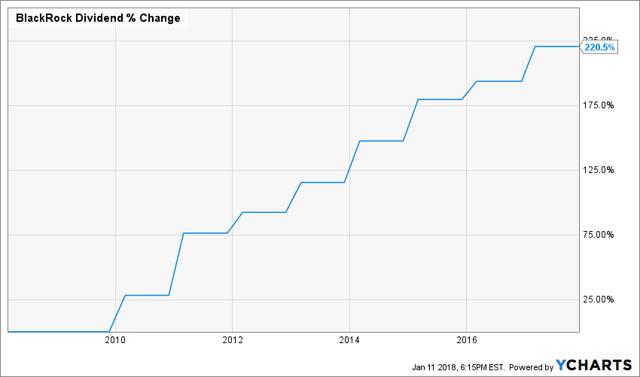 Source: Ycharts
BLK shows a dividend CAGR of 8.16% over the past five years. At the current pace, the company can double its dividend every nine years or so.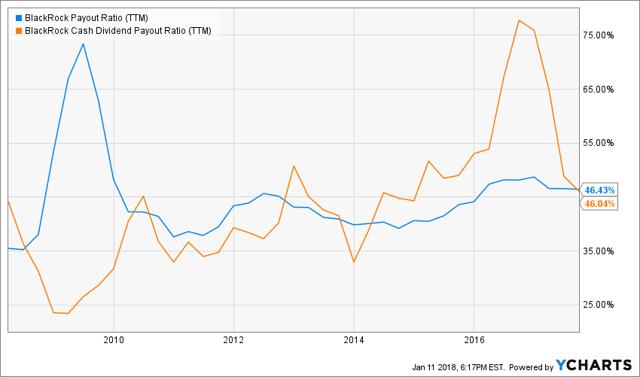 Source: Ycharts
As everything goes well in the rest of the world, BlackRock shows very low payout ratios. The company has plenty of room to keep up its dividend increase streak alive for several years. There is no doubt that BLK meets my seven dividend growth investing principles.
Potential Downsides
The main problem around BLK right now is its ridiculously high price. The stock jumped by more than 40% in the past 12 months. We are talking about some serious hype here.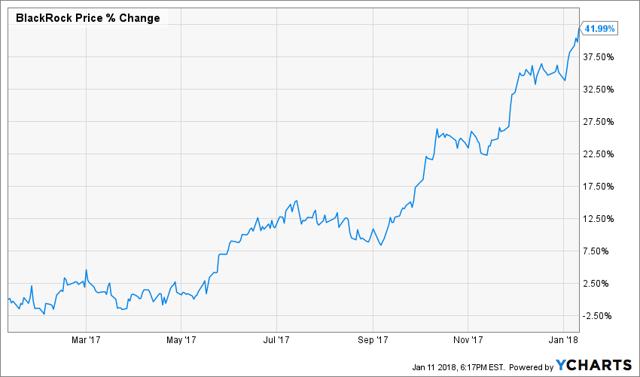 Source: Ycharts
While I love the company, I would bet that BLK will be among the biggest losers in the event of a market correction. After all, it's a double loss for asset managers. The more the market drops, the less they make money.
Also, BLK could very well be a victim of its own success. Since the market is shifting toward cheaper and more efficient investing products, BLK's actively managed products could end up on the losing side while its less-profitable products (ETFs) will grab market share.
Valuation
As I just mentioned, valuation is currently a concern around BlackRock. As much as the company is dominant and shows strong growth vectors, there is also a limit on the price you should pay for a "premium stock." The company is currently trading at its highest post-2008 crisis level: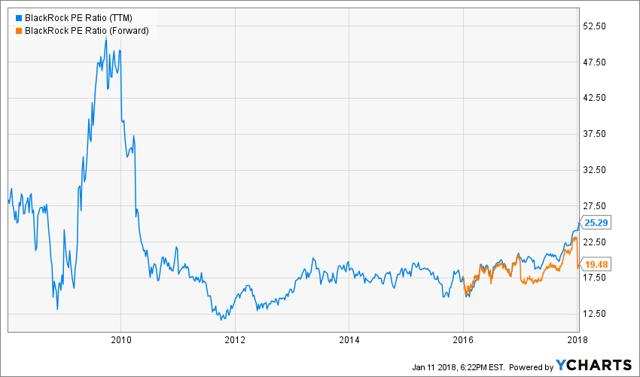 Source: Ycharts
I tried to make more sense of a $500+ stock price for BLK with the dividend discount model. Unfortunately, this approach doesn't seem to make sense either:
Input Descriptions for 15-Cell Matrix

Inputs

Enter Recent Annual Dividend Payment:

$11.52

Enter Expected Dividend Growth Rate Years 1-10:

10.00%

Enter Expected Terminal Dividend Growth Rate:

7.00%

Enter Discount Rate:

10.00%

Discount Rate (Horizontal)

Margin of Safety

9.00%

10.00%

11.00%

20% Premium

$955.72

$631.30

$469.37

10% Premium

$876.07

$578.69

$430.25

Intrinsic Value

$796.43

$526.08

$391.14

10% Discount

$716.79

$473.47

$352.03

20% Discount

$637.15

$420.86

$312.91
Please read the Dividend Discount Model limitations to fully understand my calculations.
The reason why I use a 10% discount rate is because BlackRock is a growth stock, in my opinion. It shows strong growth perspectives, but will also be proven highly volatile if the market goes into a correction. For those who don't remember, BLK lost over 50% of its value at the bottom of the last crisis: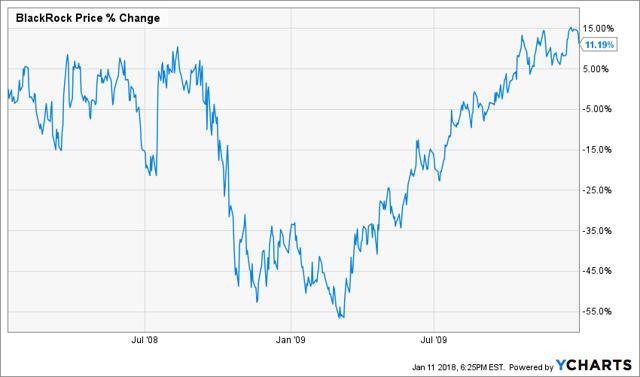 Source: Ycharts
Final Thought
I think BlackRock is a great company with a dominant business model. I'm glad to have it in my Dividend Stocks Rock portfolio since 2013 because I would certainly not buy it today. While the company is great, I just don't see how the stock could go any higher and make sense in terms of its valuation.
Disclaimer: The opinions and the strategies of the author are not intended to ever be a recommendation to buy or sell a security. The strategy the author uses has worked for him and it is for you to decide if it could benefit your financial future. Please remember to do your own research and know your risk tolerance.
If you made it this far, it's because you liked what you read. Don't be a stranger; leave a comment and tell me what you think! I'm asking you one more thing: Click on the "follow" button (it's orange, you can't miss it!) and you will get notified each time I write a great piece like this one.
Many investors focus on dividend yield or dividend history. I respectfully think they're making a mistake. While both metrics are important, aiming at companies that have and show the ability to continue raising their dividend by high single-digit to double-digit numbers will make your portfolio outperform others. When a company pushes its dividend so fast, it's because it is also growing their revenues and earnings. Isn't this the fundamental of investing - finding strong companies that will grow in the future? If you are looking for a great combination of dividend and growth, check out my picks at Dividend Growth Rocks.
Disclosure: I am/we are long BLK.
I wrote this article myself, and it expresses my own opinions. I am not receiving compensation for it (other than from Seeking Alpha). I have no business relationship with any company whose stock is mentioned in this article.
Additional disclosure: I hold BLK in my DividendStocksRock portfolios.