I've just listened to Colette Kress of Nvidia Corporation's (NVDA) presentation at the Bellagio dated January 9. It's clear from listening to her talk that Nvidia is an excellent business, with many profitable growth drivers behind it. In this article, I'm going to splash some cold water on the happiness around this opportunity, though, by honing in on the stock. I'm not saying that the opportunities in AI, gaming, driverless cars, etc., aren't going to be immensely profitable. My message is to the marginal investor, to people who don't yet own the stock but are considering it. In my view, it makes little sense to buy the shares at these levels. If someone is interested in accessing the growth of driverless cars etc., there are far less obvious, far less expensive ways to do it.
Financial Snapshot
Nvidia's financial history has been impressive in many ways. Revenue and net income are up quite dramatically, especially in FY 2017. The impressive growth seems to be continuing in light of the fact that revenue, net income, and free cash flow per share also are up nicely in the first nine months of fiscal 2018. I'm also impressed by the fact that the dilution that's been underway for a few years seems to have abated somewhat, with a share count down for the first time since 2014. Specifically, over the past five years, revenue has grown at a remarkable CAGR of about 10%, while free cash flow per share is up at a CAGR of an astonishing 17%. Nvidia has grown very nicely over the past several years, and shareholders have been rewarded accordingly.
Turning to the capital structure briefly, Nvidia is unlike a large number of growth companies in that it has a stellar balance sheet. The asset side of the balance sheet isn't littered with too many intangibles, and the level of debt and other obligations is quite low relative to the massive cash hoard. In addition, the interest rate of about 2.08% is quite low. This suggests that the company would be wise to not pay it down, since they are earning more from that capital than they are paying for it. Finally, the vast majority (91%) of the debt is due in four years time or later. Thus, there's virtually no risk from the balance sheet that I can see.
Finally, Nvidia is different from many growth companies in that it has paid a dividend consistently for years. Although the share count has expanded, the dividends per share have grown at a CAGR of about 43%. The rate of growth has slowed recently, obviously, but given the low payout ratio, there may be room for continued dividend hikes in the coming years.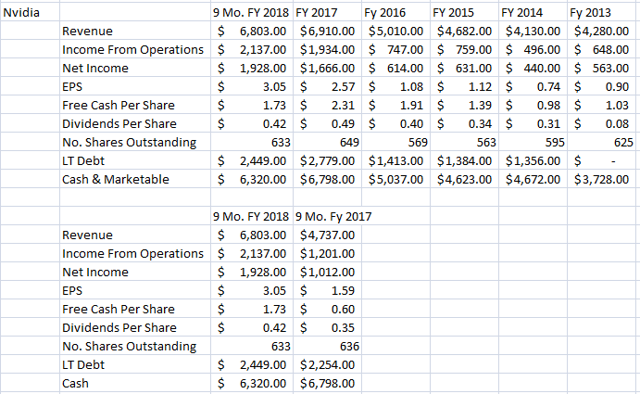 Source: Compay Filings, 10-K, 10-Q
The Stock
In my view, the optimism embedded in the stock is the biggest single risk. It's a truism of investing that the stock that supposedly represents a proxy for the fortunes of the underlying business sometimes (often) acts according to rules relating more to the mood of the crowd, at least in the short term. In my view, the crowd has driven the shares to excessive levels here, and the marginal buyer will eventually suffer. I'll go through my reasoning below by quantifying the level of optimism embedded in the shares.
Whenever I try to gauge the optimism embedded in the share price, I turn to Stephen Penman's excellent "Accounting for Value." In this book, professor Penman describes how an investor can use the share price as a source of information. By applying a relatively standard finance formula (and some basic algebra), we can isolate the "g" variable, thus determining how much growth the market is assuming for the company going forward.
At the moment, the shares of Nvidia are priced as if the firm will grow at a CAGR of 8.75% in perpetuity. It may be the case that revenue grows from the current $6.9 billion to $15.9 billion, and then on to $37 billion in 20 years, but it's not likely. It is a very rare company indeed that maintains its technical and market lead for that long a stretch. The methodology demonstrated by Penman is not great at determining what price to pay for a stock. Its power lies in its ability to actively question the market's assumptions to the point where we can profitably take bets against ludicrous assumptions, or avoid likely capital loss.
Price to free cash flow.
For those who prefer a more standard analysis of the expensiveness of a stock, the proof of overvaluation also is found in the price to free cash flow. Focusing in on cash, rather than accruals, is a reasonable thing to do given the research. Cash flow obviously matters. The problem with Nvidia is that investors have bid up the price of these cash flows. As the chart below demonstrates (take it back to 2012), this isn't the most expensive price to free cash flow in the company's history, but it is very much on the high side.
Risks To My Thesis
Every investment has risk, and not taking a risk also is a risk. For that reason, I should go through some of the obvious risks to my "avoid Nvidia" thesis.
First, this is a very profitable business. The stock may rise in price from here on the back of growing profits, or on the back of increased shareholder mania. It probably will, but the continued rise is driven by mania, and in my view, any gain received in the interim will be ultimately given back. This all means, though, that I strongly advise against buying puts on this or, God help us, short the name. In my view, avoidance is the best option.
Also, the fact that this fast growth company that pays a dividend. That dividend has grown robustly, suggesting that the firm has treated shareholders very well. In my view, the dividend should provide some support to the stock.
Conclusion
Investing is an innately relativistic game. This means that we are always choosing between many different options presented to us. If we buy X, we must by definition eschew a host of "Y"s. In my view, the best option is always to spend the least amount of money for the same future cash flows. This enhances return and reduces risk. If we can tap into some of the growth drivers that people are rewarding shares of Nvidia for (we can) at a lower price, it makes sense for us to do so. For that reason, I strongly suggest that people start to examine other, cheaper ways that they can participate in the driverless car trend, and others.
Nvidia's business is in many ways bulletproof for the moment. It is massively profitable, and seems to be treating shareholders well with a dividend and a nascent share buyback program. At the end of the day, though, the more you pay for something, the lower your subsequent returns are going to be. At the moment, shares of Nvidia are trading as if the company will enjoy a perpetual growth rate of about 8.75% a year. This growth path is well beyond any reasonable growth expectation of the overall economy, and so makes no sense. When the stock is priced for perfection as this one clearly is, investors are faced with a negatively skewed risk-reward scenario. If the company continues to deliver well, expectations will simply be met and not much may happen to the shares. If, as is more likely in my view, a combination of increased competition attracted by profits, regulatory hurdles, some production misstep or any of a host of other potential issues unfold, the shares will drop precipitously. In my view, the risk-reward doesn't make sense here. Gaming is huge and growing. Driverless cars are huge and growing. I think we'd be wise to find cheaper ways to access those economic tailwinds.
Disclosure: I/we have no positions in any stocks mentioned, and no plans to initiate any positions within the next 72 hours. I wrote this article myself, and it expresses my own opinions. I am not receiving compensation for it (other than from Seeking Alpha). I have no business relationship with any company whose stock is mentioned in this article.