Introduction
Since I first wrote about BorgWarner (NYSE:BWA) as an investment idea two years ago, it has had a good run: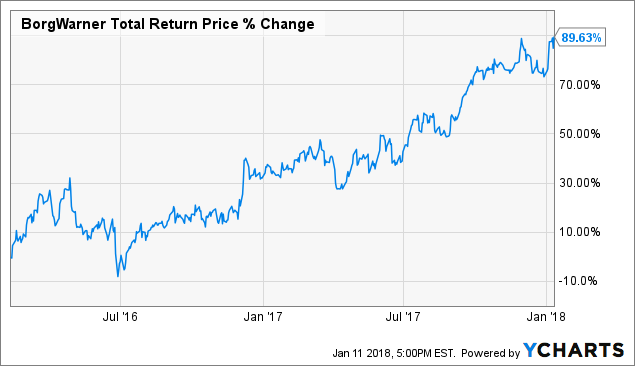 It has performed almost exactly as I predicted it would, and it remains a wonderful company. However, I recently wrote an article about Chicago Bridge & Iron (CBI) titled "How Investors Could Have Easily Avoided Chicago Bridge & Iron's Recent Sell-Off". It was a different style of article than I had previously written for Seeking Alpha. Typically I write about value stocks that I have previously purchased and the articles explain why I purchased them. In this case, however, I hadn't purchased CBI even though it met many of my basic criteria for a cyclical investment, and I wanted to share the reasons why I hadn't purchased the stock with readers.
The most common critique of the article came from CBI shareholders who had purchased the stock at significantly higher prices and who were sitting on gigantic losses. Their complaint was that my article didn't do them any good now the that price had already dropped. While I still thought my article offered value for potential future purchases they may make, I think they had a reasonable point. An article that pointed out CBI's potential price decline before it happened may have been helpful to some investors who were not aware of CBI's historical price cycles. So, while I am not able to say when a cyclical stock's price will decline using my historical research on price cycles, I can give investors an idea of what the magnitude of those declines might be.
With this goal in mind, I have decided to write a series of articles that focus on popular cyclical stocks that are near historic highs and offer some insight into how far they could drop based on past down-cycles. At the very least, it should give investors an idea of a likely down-side scenario so that they won't be taken completely off-guard if the economy should begin to contract.
I've learned from past articles that shareholders can be a little, shall we say, prickly, when it comes to potential negative forecasts about stocks they already own. So I've decided to kick off the the series using a stock that I have owned--and preferred to keep owning--in an effort to show the potential usefulness of this exercise in helping to decide whether or not one should hang on, or sell, a recent cyclical winner.
Story of BorgWarner and My Focus on Cyclical Investing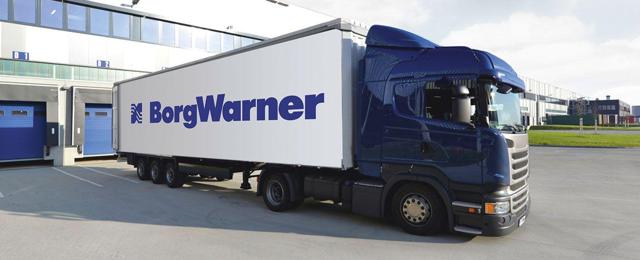 I started researching cyclical investments because of a mistake. I had purchased a quality company in the oil & gas sector after it had declined 30% during the beginning of the last down-cycle and it looked like a great value. Then the investment proceeded to rapidly decline another 40-50%. Ouch!
Even if I was determined to wait it out until the cycle turned up again, I still wanted to know how I had been so far off the mark in my assessment of value for my initial purchase of the stock. That research led me down a fascinating path toward cyclical investing, and I became a bit obsessed with understanding various historical cycles, how they overlap and interact with one another, and ultimately how it all affects stocks prices.
My formal background in social science, history, and political theory meshed well with my research on market cycles, because I learned to view market prices as mostly a product of social forces and rather than mathematical forces. (Side note: There has been a movement in political science to move more in the direction that economics has over the past several decades, creating complicated statistical and mathematical models in an effort to better explain politics. I fortunately recognized early on the futility of such an approach because of the over-simplistic assumptions required in order for the models to work. I noted that history was actually a better indicator of the future than it had been given credit for when dealing with incredibly complex webs of human interactions that comprise both the ebbs and flows of markets and politics.) Ultimately this led to my assumption that previous market prices were a good guide to future market value for a sub-set of stocks I broadly call 'cyclicals'. Why? Because people haven't changed a whole lot in the past 2,000 years, and western markets haven't changed much for 300 years. Eventually, all other things being similar, similar conditions will arise that have arisen in the past and those conditions will be reflected in stock prices.
BorgWarner was the first stock I found that looked like it was potentially near the bottom of a cycle, and I thought there was a high probability it could double from the price it was trading at around $30 per share back in 2016. That was two years ago, and now the price has almost doubled and we are several years into a long bull market. What I need to do now, is invert my process and see if holding out for my full 100% return goal is worth the risk, or if I should take profits now.
Risk vs. Reward
My original investment strategy with BWA was to achieve a 100% return within 5 years. It has been almost 2 years, and I'm at a ~90% gain as of the writing of this article. This means I potentially have 3 years left in order to gain that last 10%. Since I sell after a 100% gain using this strategy, 10% is my maximum upside potential. Let's compare that to the potential downside.
The broad US stock market has had a near historic bull-market run that has lasted almost a decade.
Part of that likely has to do with the slow pace of the recovery from the Great Recession, but I think even taking that into consideration we would be hard-pressed to find many people who think we aren't in the later innings of the the expansion. With that in mind, when I look three years into the future, I think the odds are better that the economy turns negative at some point than that the economy continues to expand at a rapid rate. The fact that the Federal Reserve is now clearly in a tightening phase with regard to interest rates while consumer credit is consistently expanding leads me to think that we will have some sort of contraction within the next 3 years.
If the odds are in favor of a market pull-back at some point over the medium-term, and the best return I can expect on this investment is 10% if I stick to my strategy, what is the down-side risk alternative?
Answer: It's Big
During the Great Recession, BorgWarner lost over 70% of it's value. And just as importantly, it lost that amount of value in less than a year. That is a lot of potential downside in a short period of time.
Of course, the Great Recession was named "The Great Recession" for a reason. It was unprecedented in most of our lifetimes', and perhaps not a good indicator of what the next potential recession will look like. So let's look at what happened to BorgWarner during the recession before that, which may have been a more typical recession and might better reflect our near future conditions:
This time BWA's decline preceded the official recession by a year or so but the decline of 50% was still significant, and it happened with little or no warning. Now let's look at BWA's most recent sell-off which also happened without a contraction in the over-all economy and also occurred over a very short period of time:
After review of the last three BWA sell-offs, I think it's fair to say we could expect a rapid decline in stock price of 40-70% depending on the severity of an economic contraction, and whether or not that potential contraction coincides with a deterioration of BWA's earnings growth. It also is possible that BWA's growth could slow without a widespread or severe contraction.
The question I must consider is what are the odds of achieving my last 10% upside before BWA's growth slows or the overall economy contracts? Right now, I would say the odds are even, or maybe a slight bias towards hitting that extra 10%. On the other hand, though, if we use the optimistic downside potential of a 40% drop, then I think the decision is clear: It's time to take profits in BorgWarner. And I have done so, accepting that I'm 10% short of my goal.
Conclusion
In 2016, I wrote about and bought 5 deep cyclical value stocks, all of which had a goal of a 100% gain within 5 years. In less than two years 3 out of those 5 have been sold for a 100% gain and, one, BWA, has now been sold for a 90% gain. The last remaining pick from 2016 was Mylan (MYL).
Unfortunately, soon after I wrote about it, Mylan ran into some trouble with its Epi-Pen product and that delayed its recovery for over a year. Fortunately, it now seems to have put that set-back behind it, and the price is now beginning to recover:
Needless to say, with 4 out of 5 of the 2016 cyclical ideas returning an average of over 50%+ annualized return, I've been quite pleased with the cyclical strategy so far. That said, it's getting pretty tough to find those values in the bull market we have going right now, so my next few articles are going to focus on the potential downside for some of the cyclical stocks that have run up to all-time highs. The goal will be to inform investors of some of the steep downside risk those stocks currently have so that they can perform their own assessment like I performed in this article on my BorgWarner investment. Maybe a few will take profits before it's too late.
If you would like to receive updates on when I publish new articles, please click the orange "Follow" button at the top of the page.