Friday morning, GameStop (NYSE:GME) issued a press release reporting 2017 holiday sales results. The full press release can be found on its website. Any investor worth their money will do themselves a favor of reading the entire text, so I'll refrain from needlessly repeating much of the information. Instead, I can sum up the results with two statements:
Sales across nearly the entire business increased versus 2016 sales with the critical exception of Technology Brands.
Technology Brands at GameStop has become a massive failure.
GameStop reiterates its 2017 annual guidance for the company and for Technology Brands
GameStop as a whole is still operating in line with overall management expectations. Throughout 2017, management issued and has reiterated adjusted earnings guidance of $3.10 to $3.40 per share. That has held true following its holiday sales. The main change is that it's given clarity that the final result will be in the middle of the range.
For our purposes throughout the rest of this article, I will assume GameStop will report adjusted earnings of $3.25 per share. I will also ignore the difference between GAAP earnings and non-GAAP earnings. Although they are different with GameStop's reported numbers, they are sufficiently close together that my analysis will not be impacted by using one number over the other.
Our focus of this article is Technology Brands. Technology Brands was guided in 2017 to earn between $75 and $90 million. This number was affirmed by GameStop's management in its most recent earnings release. So, no change on the surface. However, there has been a significant deterioration underlying this business, as I break down in the next section.
GameStop is writing off $350 million to $400 million of equity value from the Technology Brands business.
There really is no better way to discuss this besides quoting directly from the source press release:
"...the Company expects to record non-cash impairment charges in the range of $350 million to $400 million, primarily related to its Technology Brands business. The impairment charges are primarily due to the negative impact of a longer upgrade cycle for new mobile devices and the changes made by AT&T to the compensation structure in 2017."
Now, let's examine this announcement in detail. First, the impairment charge is not solely related to the Technology Brands business. That's important because it introduces some uncertainty in our analysis. We can't just assume a $400 million write-off of the Technology Brands business.
However, we do have some further information. The Technology Brands is the primary contributor. We also know both from this press release and from previous earnings reports that the changes in AT&T's (NYSE:T) compensation structure have been having a negative influence for some time.
Let's consider some alternative impacts that might be included in this write-off. Our clue is directly in the press release. We're told that the year-end guidance excludes both store closings and tax effects from the Tax Cuts and Jobs Act of 2017. Tax effects are a cash-based impairment, which is specifically excluded, so the only other main item is likely related to store closings.
We know that GameStop is consistently closing between 1% and 3% of its store base each year as it trims the fat from its overhead. Money-losing stores are cut and the highest profitability stores are kept. I would guess that we might see a significant additional effect here in the Technology Brands business. The negative change in AT&T's compensation structure makes Technology Brands stores a target for closings not only in 2017 but also all future years as they have a new lower baseline of profitability.
In conclusion, although store closings are undoubtedly an included item here, evidence would suggest that it's a relatively small item of this $350-400 million range due to the compensation structure and iPhone effects occurring later in the year. Therefore, I will assume the Technology Brands write-off is exactly $350 million for 2017 throughout the remainder of the article.
An asset impairment charge of $350 million completely eliminates all of GameStop's 2017 reported profit
Do NOT underestimate the effect of this impairment charge. Although GameStop has actively been lowering its outstanding number of shares, recent data suggest that 101.5 million shares remain outstanding per the below chart.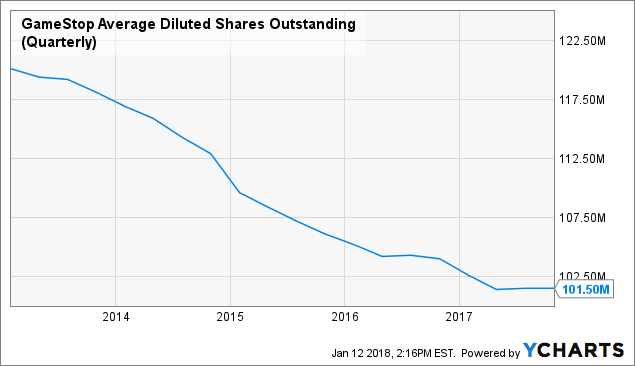 The $3.25 per share adjusted earnings figure that we determined earlier in the article and some basic math allow us to compute a pre-impairment charge annual earnings figure of $329.9 million. If you subtract an asset impairment charge of $350 million, GameStop is looking at posting an annual LOSS of (-$20.1 million) for the fiscal year 2017.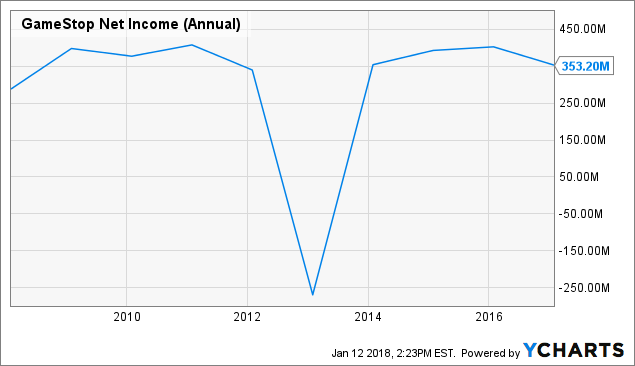 As you can see by the above earnings chart, it's been nearly five years since GameStop last reported an annual loss in net income. This is a significant event that every investor should be cautious to ignore. In addition, I've been conservative with my assumptions and only used the $350 million impairment figure. If GameStop reports an asset write-down in the high end of this range, you should expect a much larger annual loss for fiscal 2017.
What does this mean?
Any investor, bull or bear, who expects GameStop to report a profit for 2017 when it reports annual earnings in March is in for a rude awakening. This is a potential negative catalyst for the stock price, as many individual investors are likely to be taken off guard by the reported figures.
Stock Price Impact of this Impairment Charge
The initial market reaction has been fiercely negative. Over 10% of the stock price has been wiped out in a single day as of the time of this writing.
Before any bull claims this is an overreaction, there is a very good reason for this decline. GameStop's market cap prior to the announcement was trending right around $2 billion for the equity. An impairment charge like this is a direct subtraction from the equity value of the business. The charge below shows how this one-day impact has already changed the market cap of the company.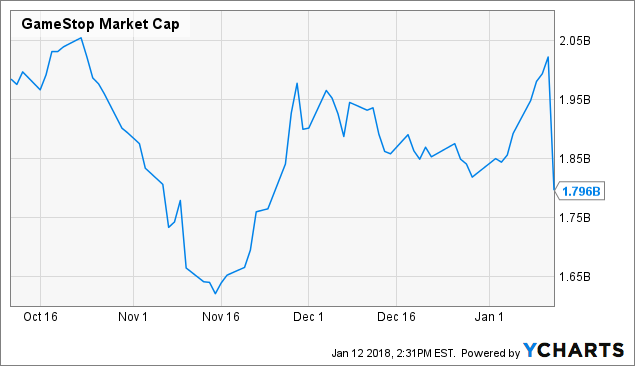 As you can see, the new market cap is trending around $1.8 billion instead of $2 billion. In the short term, this should be concerning for GameStop bulls. If you assume that GameStop's equity was fairly valued at $2 billion prior to the impairment, then you could rightly make an argument that the new fair value of the equity is approximately $1.65 billion. Instead of the current nearly $18 per share, this would expect the stock to be valued as low as about $16 per share.
Before I create a storm of negative one-sided comments from GameStop bulls, recognize that the above assumption about GameStop being fairly valued at $2 billion is not implicit within my analysis of GameStop's value. I simply am making the point that an investor needs to analyze this impairment as a direct loss of equity value.
How should an investor value the Technology Brands business now?
One key skill investors should remember is that impairment charges are usually related to acquisition costs, whether direct or indirect. In this case, the Technology Brands business was directly acquired through purchases of other companies. GameStop has spent at least $784 million in stockholder money to acquire the Technology Brands business over the past four years.
Again using our benchmark of $350 million impairment to the Technology Brands segment, we can see that GameStop's management views the business as having lost at least 44% of its value ($350 million/$784 million = 44%).
I think using round numbers is beneficial here, so the assumption I would make is a direct 50% drop in any Technology Brands expectations that you've seen previously. Considering management viewed Technology Brands as a growth engine for the company, I would also assume that view has changed considerably.
If I'm a bull or a bear investor in GameStop, I would assume that Technology Brands sees zero growth or negative growth into the future based on this announcement. Clearly, the change in compensation structure from AT&T has permanently destroyed the value of this business. The slow iPhone roll-out may have affected annual sales, but the key is this compensation level change, as it affects long-term sales.
The Bull Case for GameStop investors has definitely weakened
In summary, there is no doubt that GameStop is a weaker company after this announcement than it was beforehand. 20% of GameStop's market cap has been written off by management as a complete loss. I would argue that Technology Brands was even more important to the future of GameStop than this 20% suggests because it was one of only two growth engines for the company.
Previously, GameStop was a company facing secular decline, but with two growth engines in Technology Brands and Collectibles. Now, it's a company facing secular decline, but with only a single growth engine.
Is there still hope for bulls? Absolutely.
Collectibles are projected to become an even larger industry than the video game industry, and GameStop shareholders own a key player with its subsidiary ThinkGeek. This is a key asset and anyone who analyzes its products knows that it has hit a goldmine. However, the diversified growth nature is gone.
I'll finish up with just a couple key bull arguments that still hold:
1. GameStop is still priced at a low P/E ratio for future looking profits.
2. GameStop offers a high dividend that continues to look sustainable.
Unfortunately, that's really the saving grace for the bulls. Will that be enough? Please share your views in the comments below.
If you found this article valuable, please hit the "Follow" button next to my name and choose "Real Time Updates" for the fastest updates to my most recent content. My goal is to continue to provide timely and relevant content to readers like you.
Disclosure: I am/we are long GME.
I wrote this article myself, and it expresses my own opinions. I am not receiving compensation for it (other than from Seeking Alpha). I have no business relationship with any company whose stock is mentioned in this article.
Additional disclosure: I owned GameStop shares prior this announcement. I also purchased additional GameStop shares following this announcement but prior to the publication of this article.