Breakout Forecast Selections for Week 3:
This week I have selected two of the 8 breakout stocks to share from the subscription Breakout Portfolio. Healthcare biotechnology and technology stocks were the largest representation of breakout stocks in my screener for this week. Detailed charts for each stock are at the end of the article.
The new selections of positive momentum stocks for this week include:
AVEO Pharmaceuticals (AVEO) - Healthcare / Biotechnology
Caladrius Biosciences (CLBS) - Healthcare / Biotechnology
Breakout Forecast Performance Results:
Total Breakout portfolio returns by week for the past 5 weeks (t-5) are listed below through the end of Week 1 to illustrate the rolling returns of prior top performers and total portfolio returns:


| | |
| --- | --- |
| Breakout Forecast | Portfolio gains past 5 weeks / Top 3 Performing Stocks |
| Week 2 (t-1) | +1.11% / (IDRA) +9.69%, (NH) +7.10%, (KEM) +4.10% |
| Week 1 (t-2) | +14.14% / (GALT) +75.75%, (VCEL) +21.56%, (CVEO) +17.22% |
| Week 50 (t-4) | -1.20% / (XXII) +26.04%, (ADVM) +14.49%, (CLBS) +10.27% |
| Week 49 (t-5) | +5.15% / (WTI) +39.83%, (NE) +29.37%, (FET) +16.44% |

For those that are new to this short-term selection method I would highly recommend that you review the end of year performance summary and the links to methodology articles about how these high volatility, typical low cap, breakout selections work. Basically, I am trying to maximize the frequency of substantial positive returns using the parameters that resulted from my published doctoral research by focusing on the most volatile sector of stocks.

The following chart shows the cumulative return from a 1-Week holding period for the first two weekly breakout forecast reports of 2018.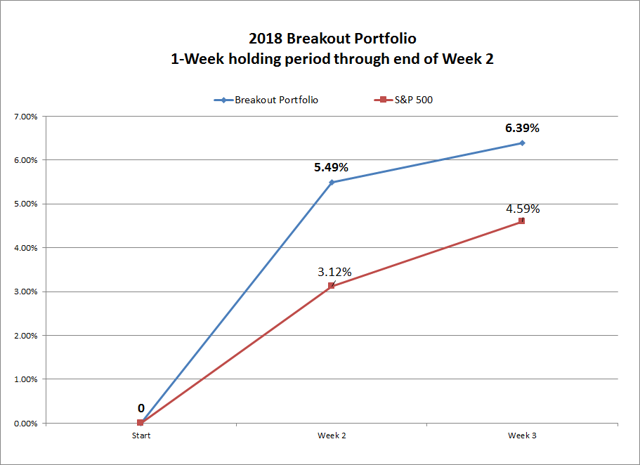 This second chart shows the cumulative return from a 2-week holding period for the first (odd) weekly breakout forecast report of 2018. When the Week 2 forecast completes a 2-week holding period it will begin the cumulative (even) weekly graph for comparison. It will become more clear as additional data points are added throughout the year. So far (with very few data samples), there is a clear advantage to holding for a 2-week period over a 1-week holding period.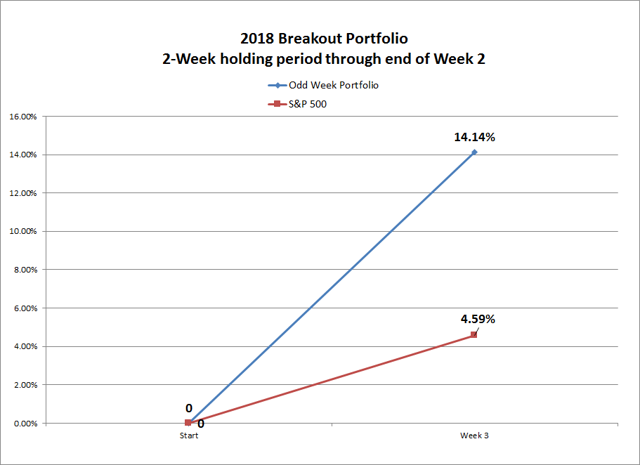 Results from Week 1 Breakout (2 weeks duration)
No.
Ticker
Company
Price
Shares
Cost
Gain%
1.
(VCEL)
Vericel Corporation
6.63
2,294
5.45
21.56%
2.
(GALT)
Galectin Therapeutics
5.87
3,743
3.34
75.75%
3.
(ADMA)
ADMA Biologics
3.57
3,894
3.21
11.21%
4.
(GFN)
General Finance Corporation
6.90
1,838
6.8
1.47%
5.
(SNOA)
Sonoma Pharmaceuticals
5.32
2,294
5.45
-2.39%
6.
(CVEO)
Civeo Corporation
3.20
4,579
2.73
17.22%
7.
(AZRX)
AzurRx BioPharma
3.50
3,434
3.64
-3.85%
8.
(VTVT)
vTv Therapeutics
5.54
2,080
6.01
-7.82%
Total
8 Stocks
14.14%
These stocks are not necessarily recommended for long term buy/hold unless you are comfortable with very large price swings. As I continue to observe, strong momentum events usually last from one to three weeks and may encounter some substantial decline before returning again to positive gains. These are among the most volatile selections I offer from among all the different portfolios at Value & Momentum Breakouts.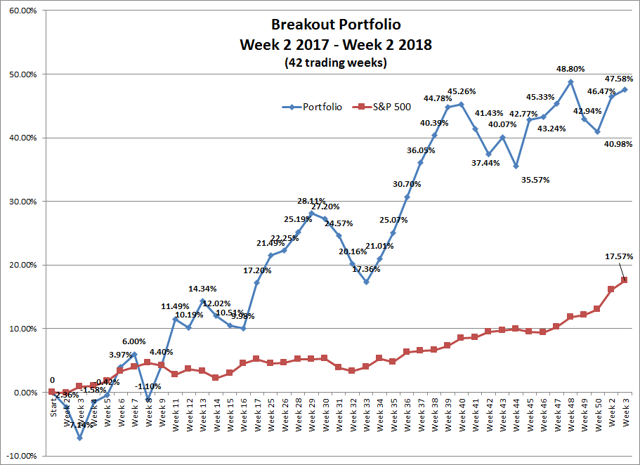 Proposed entry points for each of the selected stocks are as close to the highlighted prices in yellow on the charts at market open. All stocks are selected for high short-term breakout results over one to three weeks. I will be measuring 1 week returns and 2 week returns for each Weekly Breakout Stock Forecast portfolio.
Breakout Stock Charts for Week 3
Pick #1: AVEO Pharmaceuticals (AVEO) - Healthcare / Biotechnology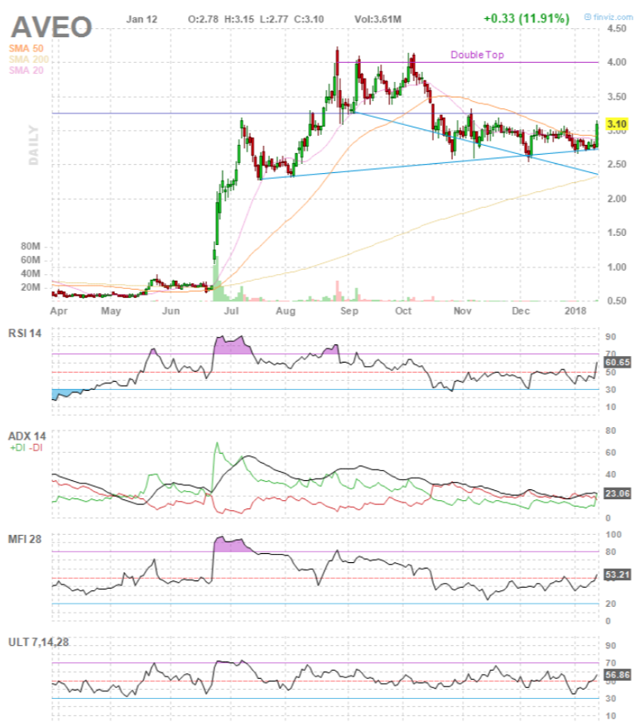 AVEO highlights:

1. Significantly positive signals in multiple technical breakout indicators
2. Low float and low short float - moving on positive news not squeeze play
3. Sales Q/Q 360.00%
4. Analyst Target Price 5.67

AVEO Pharmaceuticals, Inc., a biopharmaceutical company, develops targeted therapies for cancer and related diseases. The company's pipeline of product candidates include Tivozanib, a vascular endothelial growth factor (VEGF) to optimize VEGF blockade; Ficlatuzumab, a hepatocyte growth factor (HGF) inhibitory antibody, which has completed Phase II trial that inhibits the activity of the HGF/c-Met pathway; and AV-203, an anti-ErbB3 specific monoclonal antibody that has completed a Phase I dose escalation study. Its development programs also comprise AV-380, a humanized IgG1 inhibitory monoclonal antibody for the treatment or prevention of cachexia; and the AV-353 platform for the potential treatment of pulmonary arterial hypertension.

Pick #2: Caladrius Biosciences (CLBS) - Healthcare / Biotechnology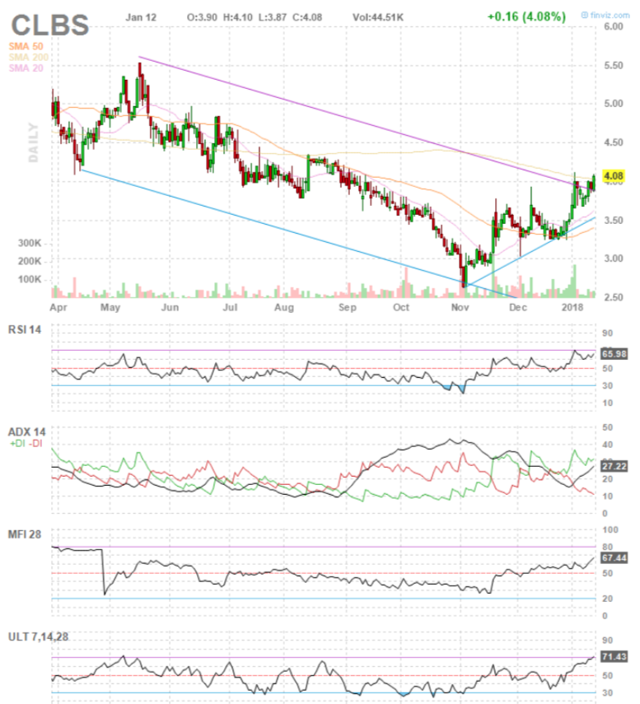 CLBS highlights:

1. Significantly positive signals in multiple technical breakout indicators
2. Low float and low short float - moving on positive news not squeeze play
3. EPS Q/Q 60.50%
4. Analyst Target Price 5.00

Caladrius Biosciences, Inc. provides development and manufacturing services to the cell therapy industry in the United States. The company offers process development and clinical manufacturing services for therapeutic candidates in various stages of development. It is also developing CLBS03, a T regulatory cell clinical Phase II therapy targeting adolescents with type 1 diabetes. Caladrius Biosciences, Inc. has a strategic collaboration with Hitachi Chemical Co. America, Ltd. and Hitachi Chemical Co., Ltd. The company was formerly known as NeoStem, Inc. and changed its name to Caladrius Biosciences, Inc. in June 2015.

Additional Value and Momentum Portfolios include:
The new actively-traded V&M Premium Portfolio for 2018 began trading on Tuesday, January 2nd and is already up +5.17%. Stock selections for this 2018 portfolio are exclusive to subscribers and will be actively traded throughout the year.
Three of the five different portfolio categories were first offered in July of 2017. The Weekly Breakout Forecast was started in week 2 of 2017 with 40 weeks of breakout stock trading. The Breakout Forecast last year achieved 154 stocks with greater than 5% returns in a trading week and 79 stocks with greater than 10% returns in less than five days. Returns for each of the portfolios through yesterday are shown below, most have six months of performance results: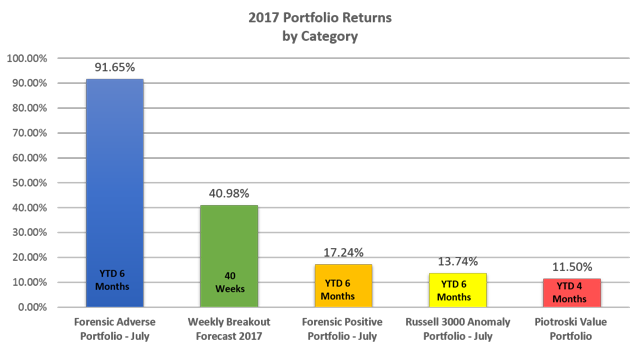 Additional articles on the different categories of portfolios and samples of research provided to subscribers are listed in my public research profile.

If you are interested in subscribing to any of the Value & Momentum Breakout portfolios offered you can visit my subscription page here. Otherwise please click the "Follow" button at the top of the page and enjoy free updates on the progress of each of the different portfolios I offer that are outperforming the S&P 500 in each of their respective time periods.

As always, I wish you the very best in all your investments!


JD Henning, PhD, MBA, CFE
Disclosure: I am/we are long XXII, GALT, NH,ARDM, VCEL, UBIO, KEM, VJET, VTVT, PFNX. I wrote this article myself, and it expresses my own opinions. I am not receiving compensation for it (other than from Seeking Alpha). I have no business relationship with any company whose stock is mentioned in this article.
Additional disclosure: I may initiate additional positions in some of the stocks mentioned in this article.
Editor's Note: This article covers one or more microcap stocks. Please be aware of the risks associated with these stocks.