MLPs had their best week since…last week, up each day this week for another 4.6% since last Friday. It was a fifth straight positive week, the first such streak since April 2016. The Index is now 19% higher than the end of November recent bottom.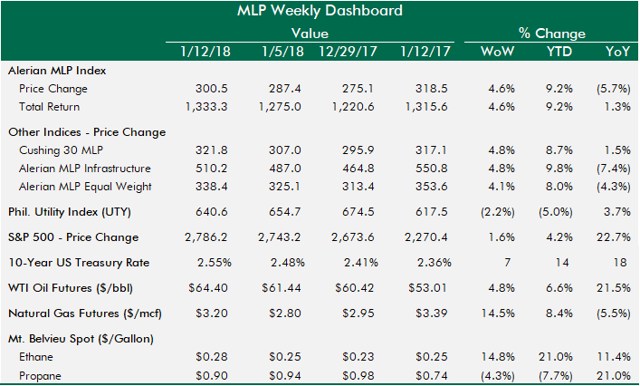 MLP strength this week was helped by higher oil prices, higher broad stock market, and what I perceive to be a combination of fresh fund flows and rotation from other income-oriented stocks like REITs and utilities after the tax bill has stimulated a hunger for growth or a fear of rising interest rates. MLPs have been good defense for when defensive sectors are trading down over the last month.
Fundamentals continue to be supportive. A big crude oil draw and a record natural gas draw boosted prices this week. Also, it was reported this week that the U.S. has become a net natural gas exporter for the first time in 60 years.
The regulatory environment is worth monitoring, however. Some uncertainty is quietly looming related to: (1) FERC potentially going after natural gas pipeline tariffs after tax reform and ruling on liquids marketing activities, (2) state and local opposition to pipeline projects, and (3) NAFTA, which was in the news this week.
Technical Levels Achieved, New Level Unlocked
Dips are being bought with gusto in the recent rally. MLPs threatened to be lower on Friday, trading down 0.4% intra-day at one point, before oil, the broad stock market and MLPs roared back to finish the day up 0.9%, and AMZ breached 300 for good in the last hour of the day. Early in the week, the index broke through its 200-day moving average. MLPs have now passed through a few key technical levels, and if MLPs rise a bit more, they will enter a "bull" market, unlocking another level.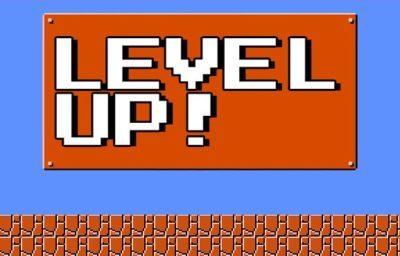 It reminds me of playing video games like Tony Hawk pro skater in my youth and unlocking new levels. The new levels were unlocked with success in accumulating achievements, and the new levels would tend to be more challenging.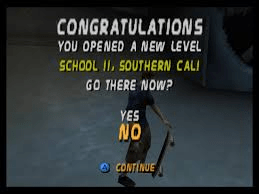 MLPs still have some work to do on their financial and operating achievements, and as the rally extends, expect more progressively more challenging gains. Like Mike Tyson said: Everyone has a plan until they get punched in the mouth, and MLPs will invariably be punched in the mouth.
Next week, scheduled company-specific news machine gets fired up again with Kinder Morgan (NYSE:KMI) earnings and Antero (NYSE:AR) analyst day, along with ongoing distribution announcement season (that kicked off this week). It's unlikely these initial announcements will be the punch that throws off the steady rise of MLPs, but earnings season has generally led to some volatility as the market adjusts to company guidance or M&A/growth projects. So, stay alert.
Winners & Losers
Thinly-traded compression MLP CCLP led the way this week, up 17.4% on no news. SUN's successful bond issue attracted investor attention, sending its shares up 10.8%, the best showing of any MLP Index constituent this week. The bottom 5 included two propane MLPs, perhaps reflecting milder weather this week. Smaller refinery-backed MLPs HEP and DKL also underperformed the group.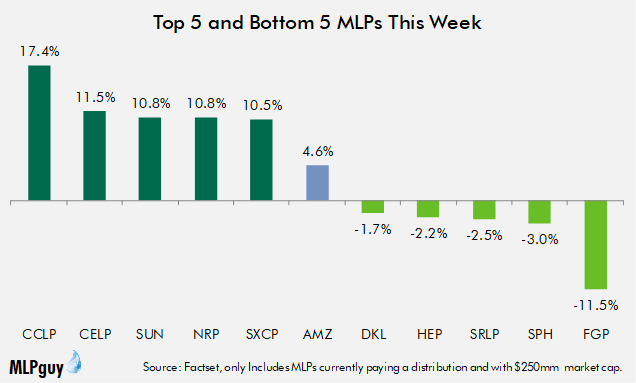 CNXM's rally continued this week, establishing itself as the only non-compression midstream MLP in the top 5 on the YTD leaderboard. FGP is the only MLP with a negative stock price so far this year while TEP caught a bid to pull out of the bottom spot.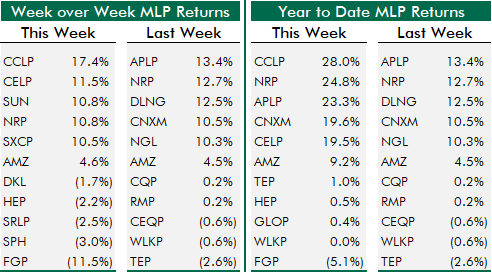 General Partners & Midstream Corporations
Midstream corporations and general partners underperformed MLPs for a second straight week. AROC bounced back hard from last week's negative reaction to its MLP buy-in announcement. Joining AROC in the top 5 were Permian-levered names NSH, TRGP and PAGP. Gas-focused names like LNG, AMGP, WMB and KMI were laggards.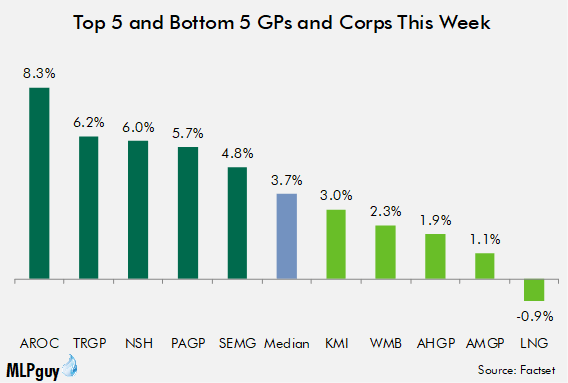 Year-to-date, this group hasn't had the same juice as the MLPs, but has still managed median gains of 6.6%. OKE's nearly 10% gain and rally through $1bn offering has been impressive.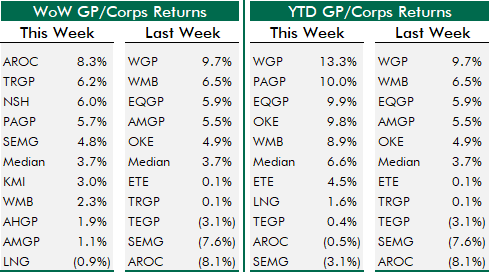 Canadian Midstream Corporations
Canadian midstream companies have lagged their U.S. counterparts to start the year after outperforming in 2017. Weakness continued this week, with NAFTA commentary seeming to play a role on Wednesday. Canadian midstream stocks seem to have more of a following among income investors and the weak performance is likely also some extension of selloffs in utilities and REITs in North America of late. Smaller names have outperformed in Canada, and the smallest two of the group led the way this week as well.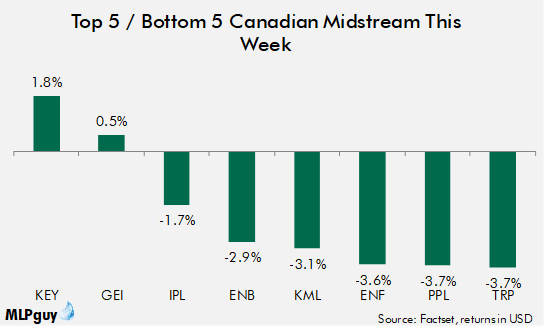 ENB has seen some catch up relative to big-cap peers TRP and PBA after its equity raise in December, and ENB is the third best performer so far this year.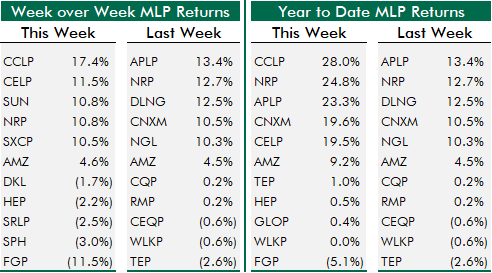 News of the (Midstream) World

Capital Markets
Sunoco priced private offering of $2.2bn of senior notes at par, upsized from $1.8bn originally offered (press release)

$1bn of 4.875% notes due 2023

$800mm of 5.500% notes due 2026

$400mm of 5.875% due 2028

GasLog Partners (NYSE:GLOP) priced public offering of 4.0mm units of its 8.200% Series B Cumulative Redeemable perpetual fixed to floating rate preference units at $25/unit (press release)

GLOP plans to list the units on the NYSE
Growth Projects/M&A
Other
Enterprise Products, Plains All American (NYSE:PAA), TransCanada (TRP-CA), and others asked FERC to reject Magellan Midstream's (NYSE:MMP) request for a hearing on its proposal to establish a marketing arm (Reuters)

PAA and other competitors argue that MMP is trying to expand beyond MMP's own case which could have potential implications on several companies' marketing segments

Commentary: Resolution not expected anytime soon on the FERC marketing issue, and potential implications for oil and NGL midstream players warrant ongoing monitoring

Shell Midstream (NYSE:SHLX) announced CEO John Hollowell will retire effective March 31, 2018 (press release)

VP of Shell Pipeline Company LP, Kevin Nichols, will succeed Hollowell
Distribution Announcements