Investment Thesis
Facebook's (FB) moat is deep and wide, providing the company with significant leeway in the shorter term to steer the long-term direction of the company to the benefit of consumers; and therefore, the long-term shareholders.
Stock Overreacts, Again
On Friday, FB dipped by a significant percentage with significant volume:

Friday's volume was nearly 5 times FB's daily average volume, which makes you wonder what in the world happened. Did Zuckerberg announce his retirement? No... here's what happened:
Major changes are coming to Facebook as Mark Zuckerberg prioritizes "meaningful social interactions" on the platform's News Feed versus "relevant content."
Every time Facebook tweaks its news feed, consumers and investors both panic. Remember the uproar when Facebook first implemented the news feed? Who would have thought that it would be so addicting, and so lucrative?
Mr. Market Is Controlling
Like Warren Buffett, I prefer to be a passive investor in the companies that form my portfolio. I do not know the social media business better than Mark Zuckerberg does; and it is unreasonable to think that any of the sell-side analysts, bunch of whom panicked on Friday, do.
I trust, but verify, that management knows what's in the best interest of the company's long-term shareholders. This is why:
I spend considerable amount of time measuring management's performance against my and market participants' expectations; and
Management's ownership stake in the company is an important factor I consider in my investment process.
Moat
There is no other company that better exemplifies the meaning of network effect than Facebook:
A network effect (also called network externality or demand-side economies of scale) is the positive effect described in economics and business that an additional user of a good or service has on the value of that product to others. When a network effect is present, the value of a product or service increases according to the number of others using it.
I discussed this important investment concept in Does Snapchat Stand A Chance Against Instagram? back in July of 2017, and said:
It makes very little sense to leave Facebook, for example, and join another up-and-coming social network, because all of your friends are at Facebook and not many people are at the other service.

Can businesses with large network effects never be disrupted? Of course they can be, as Napster and Hotmail investors will tell ya, but it's just exponentially more difficult as the network effect serves as a valuable moat.
Since then, Snap (SNAP) has struggled to gain ground against Facebook's Instagram, and its stock has greatly trailed:
I expect this trend to continue until Snap can show that it can take market share, and do so profitably.
Having Said That...
Facebook is a mega tech company whose market capitalization is already high, which will limit its upside potential in the coming years: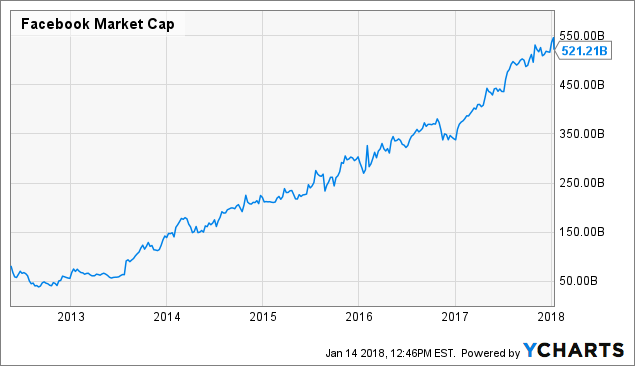 As the above graph shows, the company's market cap has increased by more than an order of magnitude in five years. The company's substantial earnings power, supported by the wide moat, supports this rise: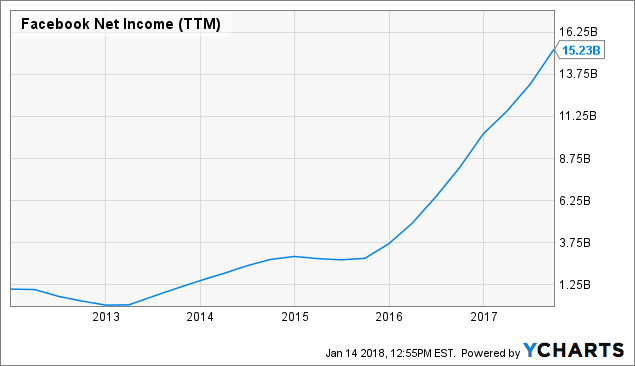 Facebook, however, may be limited by total addressable market. In the end, companies only spend so many dollars on advertising, and although Snap may never get as big as Facebook, an increasing number of social media platforms will increasingly target Facebook's leading market share.
The total addressable market limitation is also what the well-known investor Bill Miller pointed to in early 2017, just a few months before FB essentially stalled:
Facebook's total addressable market is in the hundreds of billions, but Amazon's is in the trillions.
I agree.
Bottom Line
Mr. Market is being silly, controlling and temperamental, and this time is no different. Facebook investors should take advantage of the recent dip by adding shares, but must keep in mind that the next five years will likely not be as lucrative as the past five years.
Follow For Free Articles
If you enjoyed this article, please scroll up to the top of the page and click the "Follow" button next to my name. Your support will allow me to invest further time and resources into creating proprietary research for you.
Premium Research
If you're interested in learning about my investment methodology as well as high-quality fundamental research on Tesla, its competitors and other energy companies, join Tesla Forum. I'm confident that you will find my research to be very insightful, and I look forward to discussing ideas with you.
Disclosure: I am/we are long TSLA, FB. I wrote this article myself, and it expresses my own opinions. I am not receiving compensation for it (other than from Seeking Alpha). I have no business relationship with any company whose stock is mentioned in this article.