Introduction
While this article may present an investment thesis that is higher-risk than many readers' risk appetites, it is worth consideration for a small portion of one's portfolio. The potential stock recommendations in this article are more on the speculative side. The large sustained increase in cobalt prices over the last two years has opened the eyes of many prospectors, and has lead to the market success of many cobalt-centric mining companies.
Industry Overview
The applications of cobalt can be broken into two sectors:
Used for rechargeable lithium-ion batteries in laptops, phones, PCs, and electric vehicles. This accounts for over 50% of cobalt demand, and it projected by 2020 to account for 62% of demand.
Used in high temperature superalloys and hard materials. Needed for defense, aerospace, carbide and diamond tools and magnets, etc.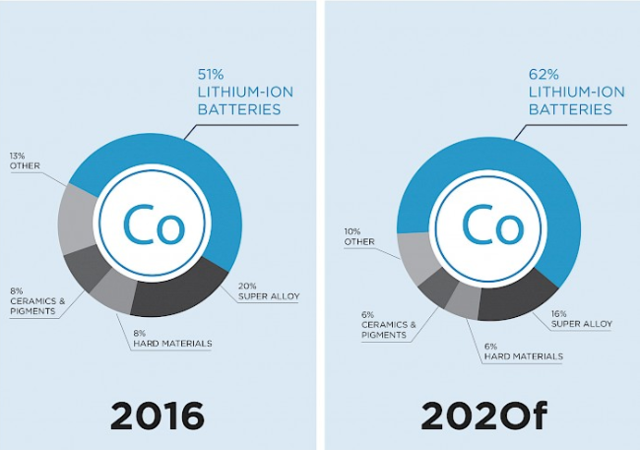 Cobalt Usage | Source: Global Energy Metals Corp.
Cobalt reserves are most prominently found in the Democratic Republic of Congo (DRC), which produces approximately 53% of all cobalt. The second and third largest producers are China and Canada, both with approximately 6.5% shares of production. The DRC is a war-torn and politically unstable country, with many other issues related to cobalt mining which will be discussed in the next section.
Cobalt is different from other base metals in that 98% of mined cobalt is obtained as a by-product of nickel and copper. Only 2% of cobalt is currently obtained from primary cobalt mines. This means that supply of cobalt is largely determined by the production of copper and nickel.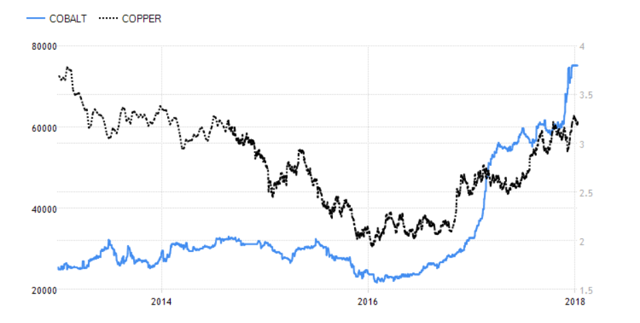 Cobalt vs Copper Prices | Source: TradingEconomics
Cobalt Price and Usage Projections
A supply deficit is expected for many years to come due to supply that is predicted to increase at a slower rate than demand for the medium term. Any first year economics student can tell you that an excess of demand will lead to price increases. In fact, while supply is expected to increase only slightly for the next 7 years, demand is forecasted to grow at high rates as electric vehicle market shares continue to increase (i.e., Tesla (TSLA) and Nissan (OTCMKTS:OTCPK:NSANY) use rechargeable lithium-ion batteries in their electric vehicles). Car manufacturers (specifically BMW, Mercedes-Benz, and Jaguar) have stated at this year's Frankfurt Auto Show 2017 that every model will have an electric version by 2025 and that they are looking for electric vehicle battery options that "don't give unwanted gifts to our Chinese friends" (China owns most of the mining operations in the DRC). The other main usage of cobalt, smartphones and computers, is also projected to continue increasing for years to come. Shown below is the projected number of smartphone users in billions.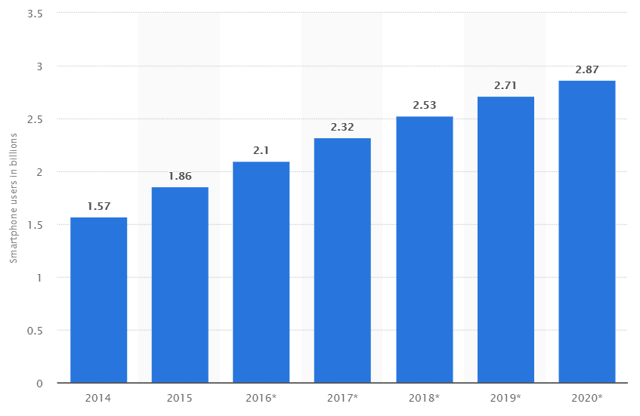 Source: Statista
It is also important to note that cobalt is not at or near its all-time high. In fact, while demand has increased greatly, it is still more than 30% below all-time high prices.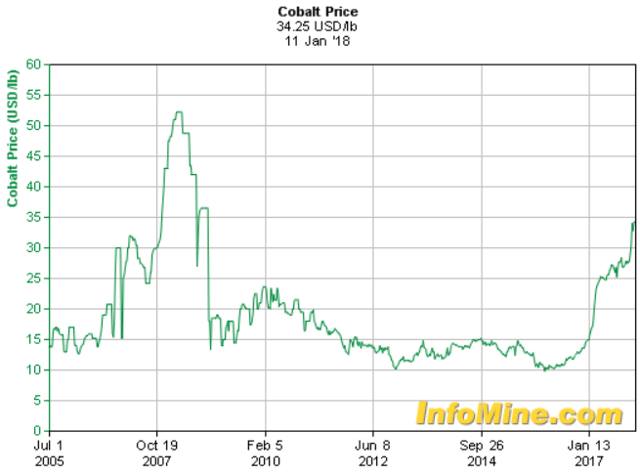 Source: InfoMine
Canada over the Congo
Companies like Volkswagen (VLKAY) are already struggling to find long-term cobalt suppliers, and have repeatedly stated the need for a 10-year cobalt supply contract. As our first-year economics student mentioned earlier would tell you, a scrabble for supply contracts with non-Chinese cobalt miners bodes incredibly well for a cobalt price hike for North American companies. Delving deeper into Chinese control, Chinese firms control over 50% of cobalt production, with mines mostly found in DRC and China. This means that China has the ability to embargo cobalt as they did with Rare Earth Elements, causing an immediate spike in prices. Such a situation would leave Canadian miners in a favorable situation.
The DRC faces many problems, in both prospecting and demand. Firstly, child labor is reportedly (and almost certainly) used for mining operations. Tesla, Apple (NASDAQ:AAPL), and many other tech and electric vehicle companies have recently stated they are looking elsewhere for their required cobalt. Looking at the miners themselves, many companies (rightfully) fear that their investment and prospecting rights are not secured in DRC. Canada presents a much more stable alternative to the DRC, Russia, or even China (the three other countries with the largest cobalt reserves). Since last month, the DRC has been pushing to pass a law which would more than double the export tax that companies face on cobalt. The law legally defines cobalt as a "strategic commodity", which would increase the royalty on exports to 5% from the original 2%. The most likely outcome in this scenario would be a decrease in the amount of prospecting and mining expenditures undertaken in the Congo.
All of the points mentioned above point to a common theme mentioned throughout my article - an increased demand for North American cobalt. Colin Hamilton from Macquarie recently stated that "eventually we could end up with a two-tier cobalt market, with a non-DRC cobalt segment commanding a premium." The graph below illustrates the logic behind the price increases that will help Canadian miners.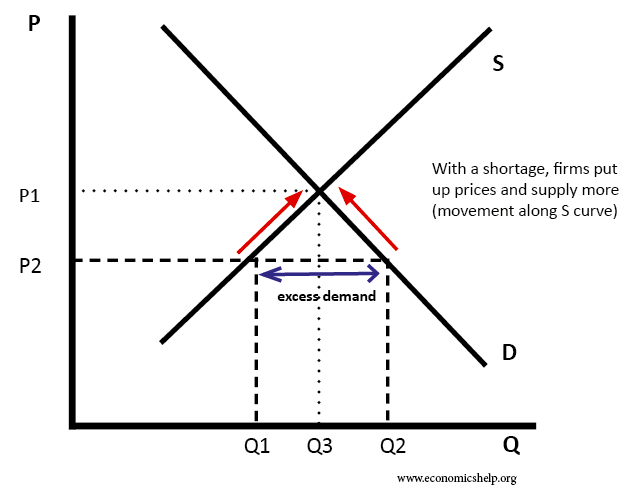 Source: Economics Help
Company Recommendations
Taking into account the above information, Canadian prospector-miners with no or low exposure in non-American countries like DRC or China are posed to fare well. I have identified two companies I believe will outperform:
Fortune Minerals (OTCQX:FTMDF): This Canadian miner owns a cobalt project (NICO project) in the North-West Territories and a copper-silver-gold deposit 25 km north of the NICO project. The NICO reserve contains 82 million pounds of cobalt, and is 100% owned by Fortune. The company currently has an EV of $105M, and a market cap of $111M. Note that the company has high debt (as to be expected with a pre-operation mining company). With no earnings yet, further financial ratios are not applicable.
First Cobalt (OTCQX:FTSSF): A Canadian cobalt miner that owns a property just south of Cobalt, Ontario, which includes a mine that in the 1900s produced 3.3 million pounds of cobalt. This mine has the highest ratio of cobalt to silver of any cobalt-silver mines in the world. The company is strongly pursuing acquisitions of new land in Northern Ontario, setting it up to be one of the major Canadian cobalt players. First Cobalt exited the DRC market in September 2017 due to concerns with their mining and prospecting rights in the area, and is instead focusing on Northern Ontario. The company currently has an EV of $80M and a market cap of $137M. The company operates under no debt and as of their 2017 fiscal year-end held $5M in cash and cash equivalents.
Conclusion
Canadian cobalt miners are positioned strongly for high speculative growth in 2018. The two companies mentioned above are particularly well poised for positive stock performance. I anticipate a growing interest in this sector in the coming year as cobalt and cobalt mining company prices continue to increase.
Disclosure: I/we have no positions in any stocks mentioned, but may initiate a long position in FTMDF AND FTSSF over the next 72 hours. I wrote this article myself, and it expresses my own opinions. I am not receiving compensation for it (other than from Seeking Alpha). I have no business relationship with any company whose stock is mentioned in this article.
Editor's Note: This article covers one or more microcap stocks. Please be aware of the risks associated with these stocks.