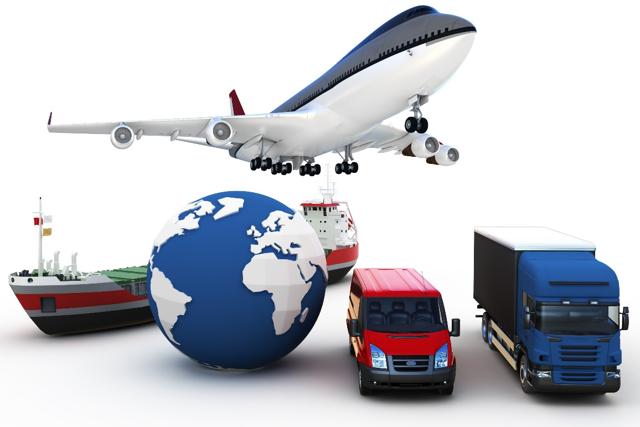 Source: Google Images
For the second week of 2018 on January 12th, transports saw significant improvement propelling them beyond broader indices. As the economy has witnessed improvement over the past couple of quarters and through 2017, I continue to expect transports to perform in line or better than broader indices.
After the first week, I didn't expect the second week to jump as it did. Retail sales and consumer price index (CPI) results came in solid as expected. The fourth quarter is shaping up to be much stronger than was the case in 2016, three consecutive quarters of 3 percent gross domestic product (GDP) is looking more like a reality. Any further acceleration into 2018 will be a strong catalyst for transports stock price growth.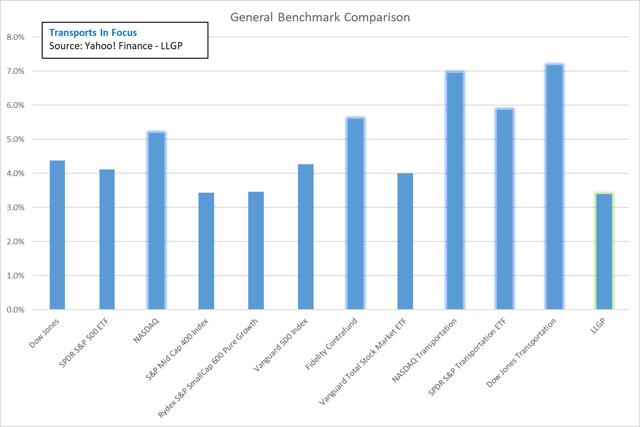 I manage the Lean Long-Term Growth Portfolio (LLGP). To date, performance stood at 3.4 percent, as highlighted in green. After last week's slow start, transports leap-frogged broader indices. Most major indices are now up over 4 percent, with exceptions being mid- and small-cap performers.
The three top performers thus far have now included the Dow Jones Transportation (DJT), NASDAQ Transportation (TRAN) and SPDR S&P Transportation ETF (XTN). The NASDAQ (IXIC) and Fidelity Contrafund (FCNTX) also remained close to top performers. Tightening freight markets and consolidation remain as catalysts to push transports higher.
YTD 2017 SPY Vs. XTN Index Prices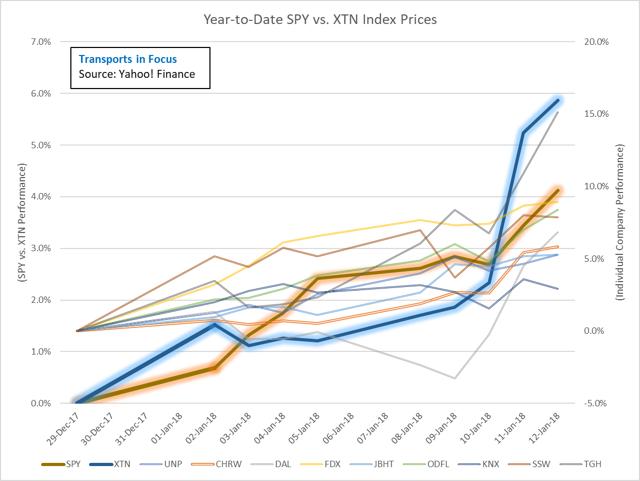 For 2nd week of 2018, the spread between the SPDR S&P 500 ETF (SPY) and the transports XTN was at 1.8 percentage points with the XTN now ahead. The SPY increased by 170 basis points (bps) to 4.1 percent; while the S&P Transportation ETF increased by 470 bps to 5.9 percent for 2018.
Key focal points for last week included both retail sales and consumer price index (CPI) reports. Both results were bullish for transports as retails sales remained strong and inflation is trekking higher. I view inflation as a positive for commodities, industrials and transports, especially earlier in the trend. Other industries will benefit as well, but much closer to the peak.
Rail Operators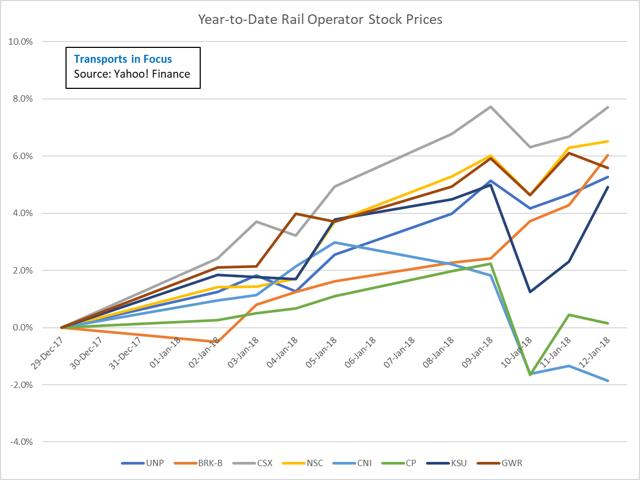 Rail operator performance was mostly up for the week, with exceptions being the Canadian rails, Canadian National (CNI) and Canadian Pacific (CP). Kansas City Southern (KSU) was hit earlier in the week as well as Canadian information was released speculating that President Trump would take actions to end the North America Free Trade Agreement (NAFTA) near the end of January. Kansas City Southern rebounded strongly near week-end, but Canadian rails remained lower.
The first week of 2018 saw a second week of declines YoY. The rate of negative growth improved from the previous week to -3.6 percent from last year. Despite the cool off at the end of 2017/early 2018, moderately improving trends are expected to surface. The most recent monthly Class I rail traffic report can be found here.
Railcar Manufacturers & Lessors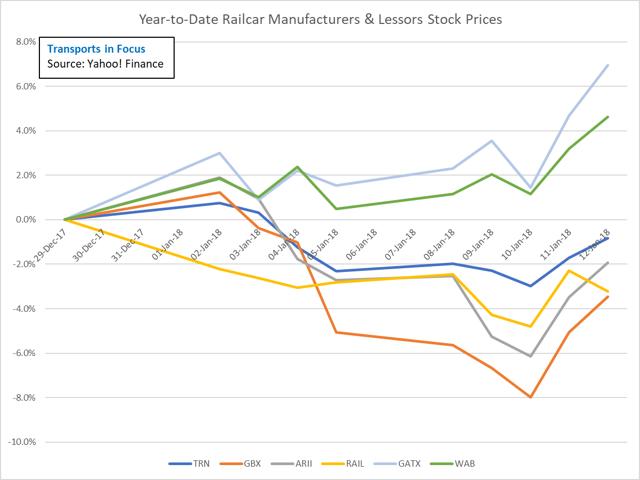 Railcar manufacturers and lessors were mostly up for the week, with the only exception being FreightCar America (RAIL). Overall, railcar manufacturers have been weaker than lessor and other manufacturer peers, since Greenbrier Companies (GBX) earnings miss during the first week of the year. Continued uncertainties have clouded expectations for railcar manufacturers, while increasing inflation is seen as a positive for other lessors.
Last week, I mentioned Greenbrier's slide deck providing the anticipated acceleration for railcar manufacturing demand for fiscal years 2019 and 2020. The topic of this subject will be a core focal point during 2018. I still view railcar manufacturers positively, especially as time marches on and the economy remains in an uptrend.
Truckload Carriers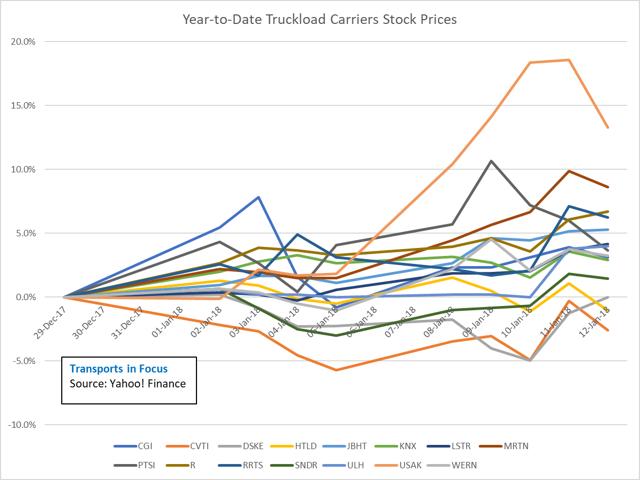 The majority of truckload carriers were up for the week, with exceptions being Heartland Express (HTLD) and P.A.M. Transportation (PTSI). Performance was led by USA Truck (USAK) and Marten Transport (MRTN), both surging above all peers. Smaller peers are off to a quick start for the most part, while larger peers have also benefited.
As we get more into 2018, some of the uncertainties regarding the ELD mandate (electronic logging device) will become clearer. Additionally, driver shortage challenges, combined with sustained and/or improving demand will add further pricing power to carriers. As dense lanes encounter increased demand, shippers may be in a tight spot with limited capacity options. This is one strong point for smaller peers being able to gain increasing business at a higher price.
Less-Than-Truckload Carriers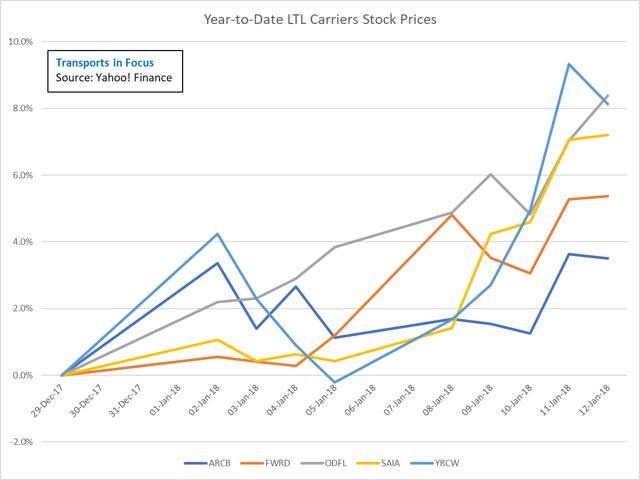 Less-than-truckload (LTL) carriers were up for the week, with performance led by YRC Worldwide (YRCW) and Saia (SAIA). After Old Dominion Freight Lines (ODFL) quick start, both YRC and Saia have caught up. LTL peers will catch tailwinds from tightening supply, increased pricing and both e-commerce and industrial production growth.
Despite YRC's rapid ascent last week, my picks for 2018 are the same as from 2107, Old Dominion and Saia. But all LTL peers are likely to benefit from mentioned tailwinds, making it tougher for selective to consistently outperform within the group.
Air Freight, Package & Delivery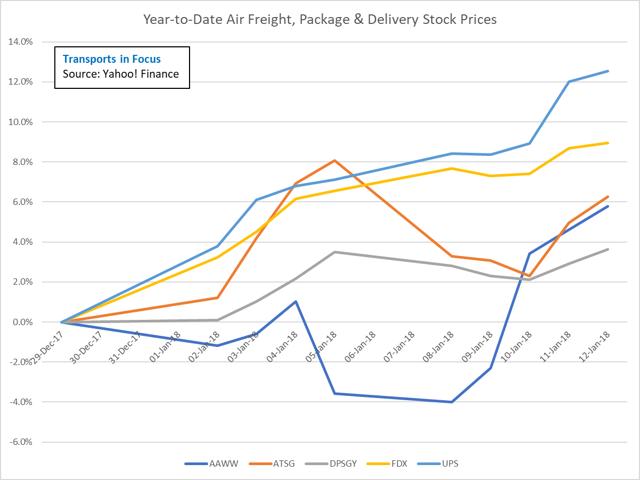 Air freight, package and delivery companies were up for the week, with the only exception being Air Transport Services Group (ATSG). Last week, the weakest link was Atlas Air Worldwide (AAWW). Air cargo lessors have gotten off to a volatile start to 2018. Just as last year, I suspect that air package and delivery companies will have a shot at being the top performer for 2018.
Investors in United Parcel Service (UPS) have to like what they have seen so far. After last year's very strong performance from both FedEx Corporation (FDX) and Deutsche Post DHL Group (OTCPK:DPSGY), thoughts for UPS to possibly lead the pack are correct. From a growth and value perspective, I continue to like FedEx and DHL Group over UPS. I strongly considered adding Atlas Air last week, but will remain content with my current positions.
Contract Logistics, Forwarding & Brokerage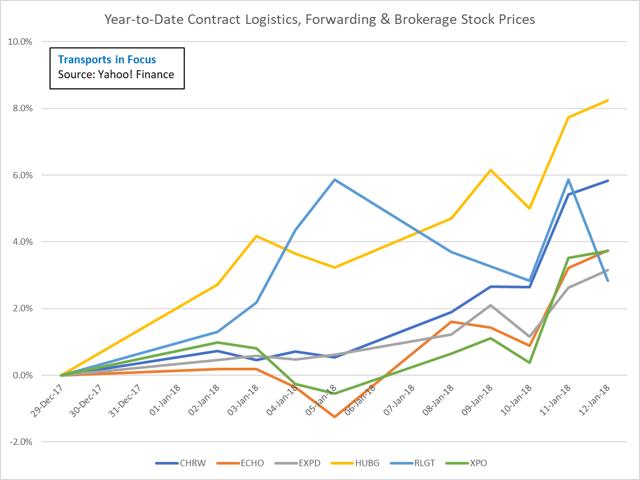 Contract logistics companies were mostly up, with the only exception being Radiant Logistics (RLGT). Hub Group (HUBG) continues to lead all peers. I view Hub Group as a possible acquisition target and XPO Logistics (XPO) as a possible acquirer. But the more I think about it, it is not certain whether XPO would push for the company, or if Hub Group would sell. The firm's valuation is right in XPO's wheelhouse based on the company's disclosed acquisition budget last year.
Speculation aside, if truck tightening and increasing demand continue, conversion to rail may intensify, leading to stronger results for Hub Group. If these tailwinds materialize, the stock price may eclipse the $60 level. Despite many contract logistics firms being asset light, both Hub Group and XPO have strong exposure to equipment, eliminating some dependency on third parties.
Container Shipping Lines, Charter Owners & Container Lessors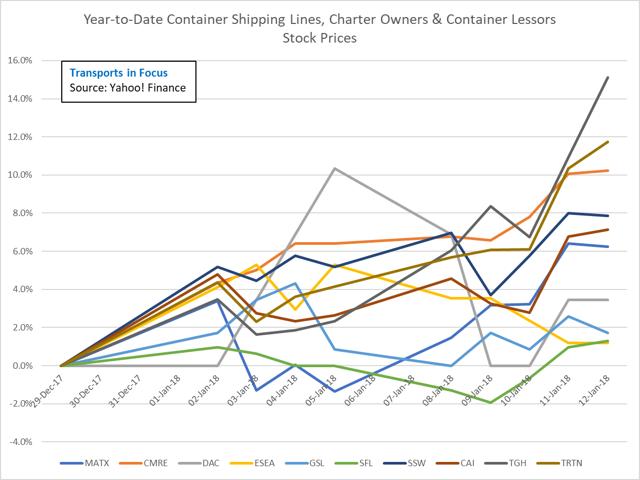 For the container shipping industry, last week's performance was strong with exceptions being Danaos Corporation (DAC) and Euroseas (ESEA). As I suspected, container lessors have led the charge early in the year. But charter owners and managers have held some ground, which is a sigh of relief from last year's performance.
The focus continues to be on global container shipping freight rates and shipping demand for the Chinese New Year. There are indications for tighter capacity for container equipment; if demand can be sustained and/or improve, this group should see the potential for strong returns during 2018.
Airlines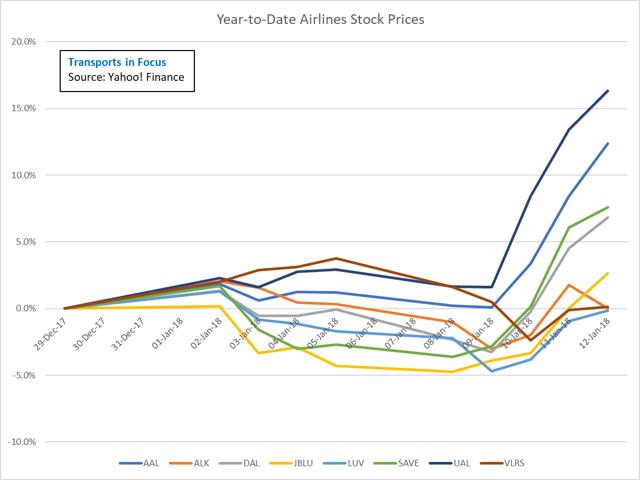 Airline stock performance was mostly positive for the week with exceptions including Controladora Vuela Compania de Aviacion (VLRS) and Alaska Air Group (ALK). Demand has remained strong and capacity has continued to increase to meet this demand. Both Southwest Airlines (LUV) and Alaska Air, two of the premier airlines have underperformed this group early on.
For Alaska Air, concerns remain around the company's ability to fully integrate and operate the Virgin America deal. As time marches by, Alaska Air is poised to see better results from the integration, and investors are set up to see stronger returns. It is only a matter of time once the integration has fully occurred that the airline will be back on track. Patient investors, as myself, will hopefully be rewarded.
Demand Trends
Key demand-based indicators that are monitored include Class I rail traffic, trucking industry tonnage, shipments, and loads, air cargo tonnage, container shipping line twenty-foot equivalent units, TEUs, North America seaport TEUs, shipping lane port calls, North America cross-border trade, and freight rates for most of these indicators.
U.S. & Canada Class I Rail Traffic – Carloads & Intermodal Units Carried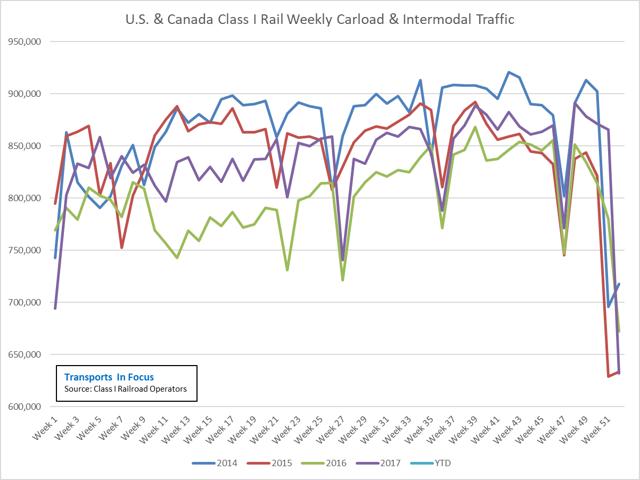 Through the first week of 2018, total traffic was down at -3.6 percent with carload traffic down -4.7 percent, a 470-bps decline; and intermodal traffic down -2 percent, a 200-bps decline. Week one performance improved from the previous week to -3.6 percent, YoY.
These numbers continue to not be far off from the total traffic originated results of -3.5 percent for the first week of 2018 for North America rail traffic, published by the Association of American Railroads (AAR) data. Investors should remember that total traffic carried includes both originated and received carloads and intermodal units. Additionally, U.S. traffic was down -4.6 percent and Canadian traffic was down -1.4 percent, closely tracking the carried rail traffic when combined. Mexico traffic was up 4.4 percent, as improvement remained in positive territory.
Container traffic was down -2.9 percent, a 290-bps decline. Domestic intermodal pricing for both eastbound and westbound averages have remained strong of late, with the former up nearly 18 percent and the latter up nearly 7 percent YoY. Fuel surcharges remain stronger as a solid contributor with oil prices higher.
The first week of 2018 witnessed weekly coal carload traffic at 88,000 carloads carried. This reflected a -7.8 percent decline versus last year, the fourth consecutive decline. Grain performance was down, at -11.3 percent versus last year. Similar to coal, weekly growth from this point forward will be choppier; this was the nineteenth consecutive week of negative performance.
Motor vehicles and equipment carload traffic performance was down at -7.4 percent versus last year; the second consecutive weekly decline YoY. Chemicals were down at -2.9 percent for the second consecutive week, petroleum products were up 8.7 percent and crushed stone, gravel and sand was only up 2.5 percent.
Trucking Industry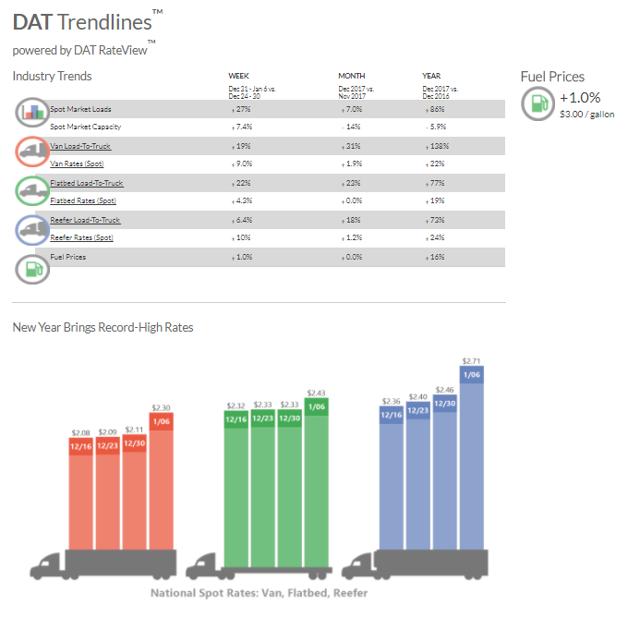 Source: DAT Solutions, DAT Trendlines
Nasty weather on the East Coast added a premium on trucking spot market activity. Keeping a read on freight rate activity will be important as contract negotiations begin to occur. I have seen varying expectations from shippers ranging from concern to not much worry. Some shippers continue to express greater concerns regarding capacity availability and flexibility.
As trucking stocks have surged since the spring of last year, and pricing momentum remains strong, investors need to keep tabs on how sustainable the current supply and demand balance is. It is clear that economic growth has accelerated, but it is not clear whether we will see further acceleration or sustained growth near 3 percent over the next four quarters.
Diesel prices were up 15.4 percent for the first week of 2018, reflecting a 40-bps increase from the previous week. To start 2018, spot market pricing was robust as weather helped push rates higher. Spot market loads were up 27 percent from the previous week, while capacity was up 7.4 percent. Dry van, flatbed and reefer rates were up 9, 4.3 and 10 percent from the previous week.
Air Cargo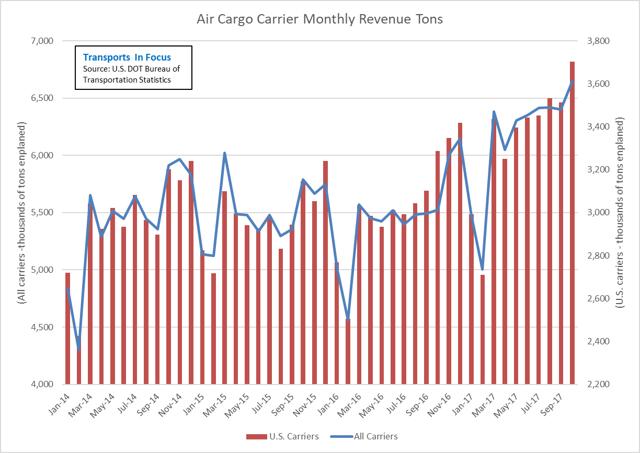 With new October 2017 data out from the U.S. Department of Transportation (DOT), air cargo demand continues to rise to higher levels. FedEx and UPS both saw further acceleration in line with aggregate performance for the industry, when compared to last year. FedEx continues to outperform UPS on a comprehensive basis, led by regional performance outside of the U.S.; a direct benefit of the TNT Express deal. UPS has outperformed FedEx for U.S. demand, but is still far behind from a tons enplaned metric.
Both Atlas Air and Air Transport continue to see growth north of 20 percent compared to last year for air cargo tons enplaned. Atlas Air continues to lead with overall growth up over 27 percent from last year as of October; Air Transport's performance was at 20 percent. Both companies have seen domestic air cargo tons enplaned surge by greater than 42 percent through October 2017.
Container Shipping Lines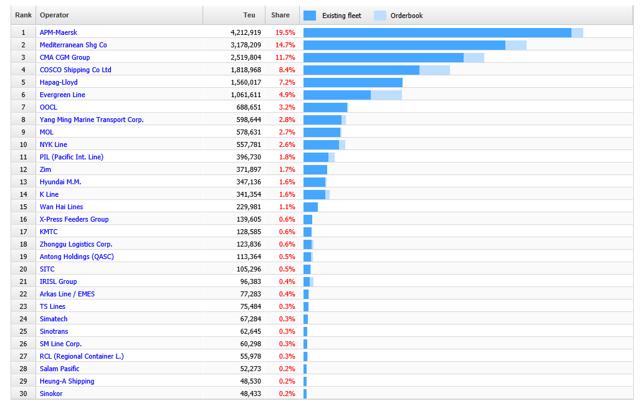 Source: Alphaliner – Top 100 Operated Fleets
Pricing for spot market container rates ended 2017 down for most east-west trade lanes, per the Shanghai Containerized Freight Index (SCFI). Early in 2018 rates have displayed some improvement despite being down YoY.
For the second week of 2018, Trans-Pacific freight rates have remained down greater than 27 percent for shipments from Shanghai to the West and East coasts. These current numbers remain elevated from both June and November lows, and have seen a consistent uptrend since December 22nd. Asia to Europe rates have declined by greater than 17 percent for North Europe and the Mediterranean. Similar to the Trans-Pacific, rates have improved from late-November 2017. Trans-Atlantic rates have strengthened for both eastbound and westbound services to 11 percent from last year.
It's still early, but investors should be looking for sustainability for container shipping rates in 2018. The peak surges experienced during the summer and fall of 2017 were not necessarily a new normal. But despite rates falling by greater than 20 percent from last year's highs, a shift to more moderate price swings in 2018 will bode well for global container shippers, as well as charter owners and container lessors. Recent seemingly poor performance YoY is also a result of last year's earlier Chinese New Year.
North America Seaports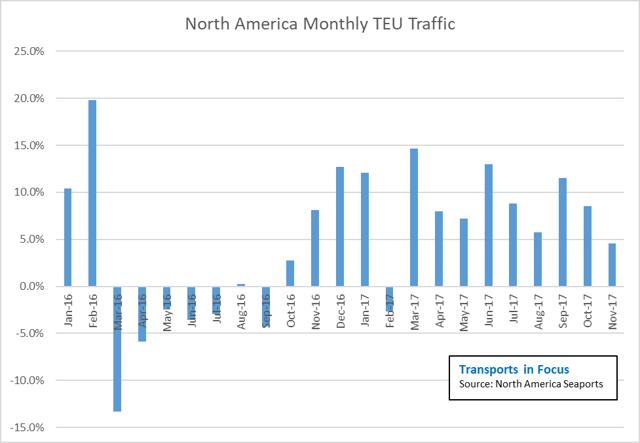 It's still early for the month of January, so there isn't much seaport TEU information for the month of December yet. The Port of Los Angeles did already report their performance, which was down at -2 percent from last year. Since we don't have other information to compare with yet, it is too soon to assume December may have witnessed a broader decline.
The big news on many minds, especially shippers, is the ongoing negotiations with the International Longshoremen's Association (ILA) for the East and Gulf Coast seaports. Talks have broken down recently based on the degree of automation being proposed – obviously, the ILA wants semi-automation versus fully automated terminals. As the West Coast has a deal through 2022, the ILA needs to act or risk losing market share. The most recent monthly North America seaport TEU report is located here.
North America Cross-Border Trade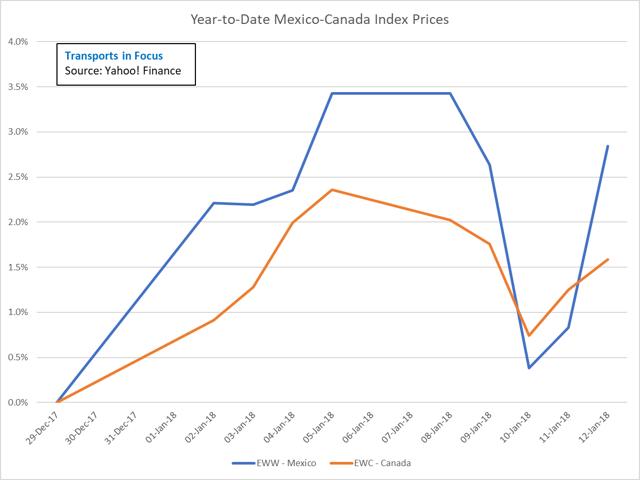 The iShares MSCI Mexico Capped (EWW) was down 60 bps for the week. The index is leading the iShares MSCI Canada ETF (EWC). The Mexico index is up 2.8 percent for the year versus the 1.6 percent result for the Canadian index; which reflected an 80-bps decrease.
Both Mexico and Canada have been expressing sentiments towards NAFTA falling apart. This was most recently expressed by Canada last week suggesting that President Trump will begin the process to end NAFTA via an announcement towards the end of January. The U.S. administration's stance is that neither Mexico nor Canada have made strides to renegotiate despite both agreeing that changes would be welcomed. Urgency will intensify as Mexico's focus turns to elections in April.
Summary
What a difference a week makes. Last week, it appeared that transports were going to be playing catch-up. A week later and transports have turned the table, substantially outperforming broader indices. This is no surprise as multiple catalysts are on the horizon to keep momentum going.
As transports have continued to push higher since last spring, I have reduced my aggressive buying patterns. Today, I am not looking to add to much, but instead I am content riding performance higher.
Disclosure: I am/we are long ALK, CNI, DPSGY, FDX, GBX, HUBG, JBHT, KSU, MATX, SNDR, TRTN, XPO. I wrote this article myself, and it expresses my own opinions. I am not receiving compensation for it (other than from Seeking Alpha). I have no business relationship with any company whose stock is mentioned in this article.
Editor's Note: This article covers one or more microcap stocks. Please be aware of the risks associated with these stocks.