The claims of a bitcoin and cryptocurrency bubble are nothing new. A multitude of prominent professional investors, bankers and traders including the legendary Warren Buffett, Jamie Dimon and Ray Dalio among others have been highly critical of the revolutionary digital currency.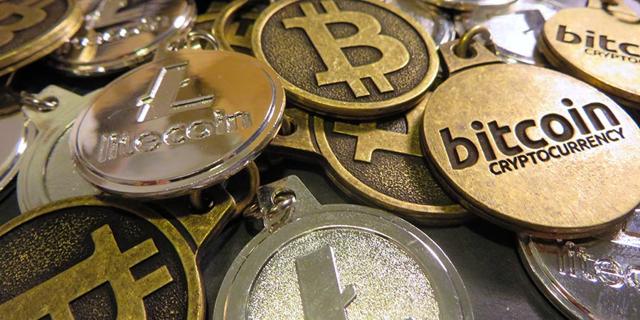 Source: thetechportal.com.
While bitcoin and other cryptocurrencies continue to defy these and other prognostications there are signs that the moment to short bitcoin is fast approaching.
Bitcoin's legendary volatility takes a turn for the worst
The launch of bitcoin futures on the CBOE futures exchange and by the CME Group which has helped the push to legitimize the digital currency was according to many pundits supposed to ease bitcoin's extreme volatility. Instead since been being launched the exact opposite has occurred with bitcoin's volatility growing sharply over the last month.
In just one-month bitcoin almost broke through the $20,000 barrier, exceeding even my own expectation, only to pullback sharply falling as low as $12,610 before rebounding to just under $18,000 in the space of two weeks.

Source: Bitcoincharts.
This spectacular degree of volatility highlights everything that is wrong with bitcoin both as a currency and as an asset.
Bitcoin is failing as a currency
Much of bitcoin's value is based upon sentiment rather than any actual tangible value or utility. Despite being widely proclaimed as a transformative currency that because of its unregulated and decentralized nature has the potential to avoid government scrutiny, upend centuries old banking as well as fiat money monopolies and transform how transaction are made, it has failed dismally as a medium of exchange.
According to 2017 research from JP Morgan merchant acceptance of bitcoin has hit an all-time low and it is only accepted by three of the top 500 retailers. That in part can be attributed to bitcoin's spectacular volatility which is bad for merchants. Such high degrees of volatility create a considerable lack of confidence in the value of the currency and make it almost impossible for vendors to accurately price their merchandise.
Then you have the increasingly lengthy transaction processing times and costs which make it highly unappealing for merchants, particularly operating high volume low margin sales models like most retail e-commerce businesses, to simplify transactions and reduce costs to boost margins. There are also issues around security, storage and conversion of bitcoin into readily usable fiat currencies, which make it more difficult, risky and costly for merchants to accept.
Bitcoin also lacks scalability which means that transaction costs will continue to grow as it becomes more popular and that will force merchants to pass those costs on to price sensitive consumers. Even major industry players have claimed that bitcoin is failing as a currency, the latest being CEO of Havven Kayne Warwick who stated:
Bitcoin is unsuitable as a currency because people are far more likely to hold it in anticipation of it appreciating in price.
This does not bode well for bitcoin's future because its eventual acceptance as a widely used currency is what much of its value and current speculation is based upon.
Bitcoin is struggling to be accepted as a credible asset
Bitcoin's increasing failure as a currency and the introduction of bitcoin futures has seen many pundits argue that it is in fact an asset that possesses similar qualities to gold. Much of this is based on bitcoin's finite supply, the fact that it can't be debased and its lack of correlation to financial markets. Bitcoin's unregulated and decentralized nature in conjunction with these attributes has seen investors flock to bitcoin on the belief that it is digital gold, a secure store of value and safe-haven asset.
Nevertheless, bitcoin is not as scarce or finite as many pundits believe.
The blockchain technology on which it rests is accessible to anyone with the appropriate skills, ability and funding capable of creating a new cryptocurrency. Over the last year the volume of cryptocurrencies coming into existence has ballooned exponentially.
At the time of writing there are 1,384 cryptocurrencies compared to just one in 2009, four in 2011, six in 2012 and 13 in 2013. Most of those cryptocurrencies have only come into being during the second half of 2017.
Even more thought provoking is that funding for initial coin offerings, or ICOs, has exploded over the second half of 2017. In November ICOs attracted $743 million or 227 million greater than the previous month and almost 37 times higher than a year earlier.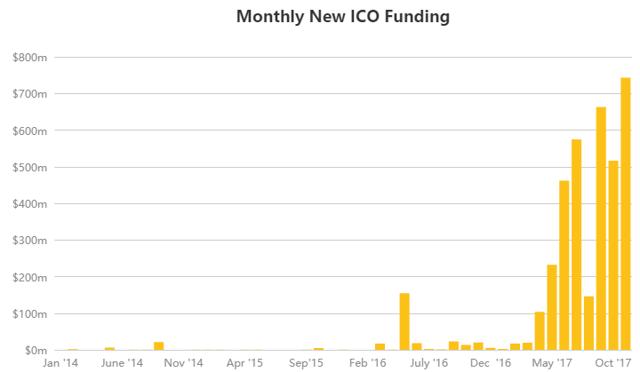 Source: coindesk.com.
As more cryptocurrencies are launched they will dilute the cryptocurrency pool causing interest and the value of others including Bitcoin to wane as those newer currencies gain greater attention.
A poor characteristic for any safe-have asset and store of value to possess is extreme volatility. Aside from simple observation a good measure of the volatility of specific asset is its standard deviation. Using data from 2012 to present I have calculated that bitcoin has a standard deviation of 62%, illustrating the extreme volatility associated with the digital currency. This is compared to 19% for gold and 32% for silver over the last 40-years.
Such a high degree of volatility makes it an unattractive asset for investors seeking an alternate safe-haven and store of value. The whole idea of an asset that acts as a safe-haven and store of value during times of crisis and market volatility is to protect capital and minimize losses.
Clearly, when an asset such as bitcoin suffers from extreme swings in value which at times have exceeded 20% in a single day it unsuitable for that purpose.
Let's not forget that gold as well as silver have been used as currencies for over two millennia because of their rarity and immutability and this long history has endowed them with a specific attraction for investors as well as role as a store of value and safe-haven assets.
For these reasons it is difficult to see bitcoin attracting considerable interest from investors seeking a store of value and safe-haven asset that who would typically invest in gold or even silver. This is despite considerable speculation that the rise of bitcoin and other cryptocurrencies has been the reason for diminished interest in silver and its lackluster performance over the last year.
Shorting bitcoin
No matter what bitcoin and cryptocurrency advocates say there is no means of valuing the digital currencies, it is solely driven by demand. This lends credence to claims that it is not a currency or asset but is far more like a collectible. What we are witnessing is the rise of a massive bubble that in the words of legendary investor Warren Buffett:
. . . cryptocurrencies will come to a bad end.
The impact of the cryptocurrency bubble along with major regulated banks and exchanges is attracting considerable interest from regulators and will ultimately see bitcoin strangled by regulation removing much of its appeal.
However, finding a cost-effective opportunity to short bitcoin is extremely difficult. A clear target is the Bitcoin Investment Trust (OTCQX:GBTC) an over the counter open end trust that provides investors with exposure to bitcoin without the challenges of buying, storing, and safekeeping bitcoins.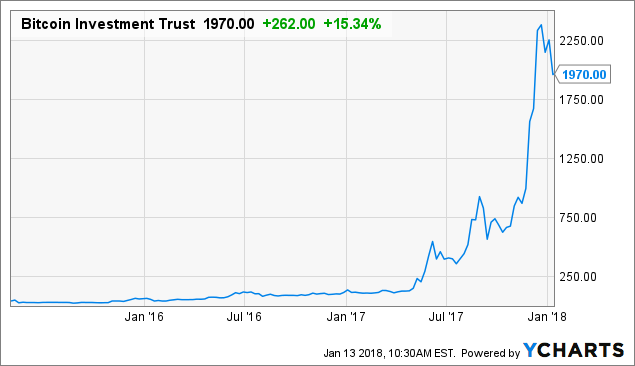 This is because it is trading at a significant premium to the underlying asset bitcoin. At the time of writing that premium comes to 46% because with 0.09181239 bitcoin per share outstanding and bitcoin trading at $14,653.20 it should have a value of $1,345.35 per share but instead is trading at $1,970. That means when the crunch comes and bitcoin plummets in value, Bitcoin Investment Trust should fall at a far greater rate.
Nevertheless, shorting the trust does not come cheap. At the start of December 2017 new shorts were being charged a fee of almost 20% and that could very well be at around 50% since bitcoin futures started trading.
Infamous short-seller Andrew Left of Citron Research has targeted Riot Blockchain Inc. (RIOT) with the research house tweeting on 18 December 2017 that it would be shorting the company. Riot is a biotech company that added the word blockchain to its name back in October 2017 and is focused on providing technical expertise and support for the blockchain ecosystem. It focuses on making strategic investments in bitcoin and other cryptocurrencies as well as the companies that create those currencies.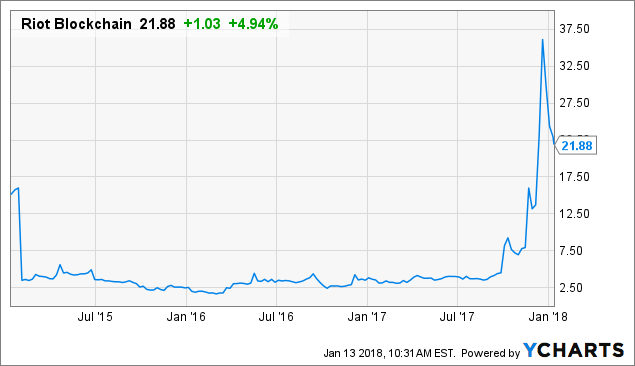 Since adding blockchain to its name its stock has roughly tripled in value, yet it has posted a net loss since commencing its cryptocurrency business. That along with appearing to be an opportunistic company focused on profiting from asset bubbles makes it a prime short-selling target.
Disclosure: I/we have no positions in any stocks mentioned, and no plans to initiate any positions within the next 72 hours. I wrote this article myself, and it expresses my own opinions. I am not receiving compensation for it (other than from Seeking Alpha). I have no business relationship with any company whose stock is mentioned in this article.