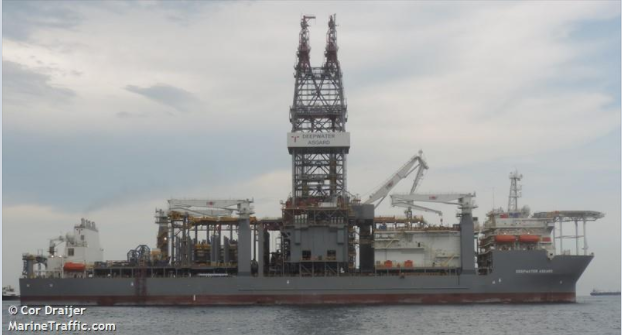 Offshore Energy Today has just reported that Transocean (RIG) was able to find work for its drillship Deepwater Asgard. According to Offshore Energy Today, Deepwater Asgard will be on six-month contract with Murphy Oil (MUR) beginning March 1, 2018. Neither the location of work nor financial terms of the deal are known.
Here's what I wrote in "Transocean: Expectations For 2018": "I expect that Transocean will be able to put drillships Deepwater Asgard, Dhirubhai Deepwater KG1, Dhirubhai Deepwater KG2 and possible Discoverer India to work. My bet is that this work will likely start close to 2019 or beyond 2019".
As we now see, it did not take long for Transocean to put Deepwater Asgard back to work. The rig has been idled since October 2017 after it finished a contract with Deep Gulf Energy at the U.S. Gulf of Mexico. As per MarineTraffic, the rig currently remains in the Gulf of Mexico.
It looks like the recent Brent's (BNO) rally to $70 per barrel is starting to influence the ultra-deepwater space. This year started with a major four-year contract for Maersk Drilling, which put its drillship Maersk Venturer to work in Ghana with Tullow Oil (OTCPK:TUWOY). The financial terms of Maersk Drilling's contract were not made public.
While two drillship contracts in 15 days do not make a real trend, I see it as a positive sign and a signal that the $70 oil is starting to push oil producers to award more jobs for the offshore drilling industry. Since Gulf of Mexico is oversupplied with modern drillships and the job is short term, I expect a dayrate slightly above $145,000 per day that it received for putting Deepwater Invictus on a job with BHP Billiton (BHP) from April 2018 to April 2020.
My expectations of a $150,000-160,000 dayrate compared with the Deepwater Invictus contract are based on higher oil price but no material changes in utilization since October 2017. Ultimately, utilization is more important than the oil price for dayrate recovery. When too many rigs compete for the same jobs, dayrates will be poor regardless of the prevailing oil price.
At mid-point of my dayrate expectations, I expect a backlog addition of $28 million. This is not a big deal for a company of Transocean's size, but the more important aspect is that Transocean keeps the rig "warm" ahead of 2019, which could bring more lucrative contracts for the offshore drilling industry if oil stays around current levels.
I maintain my expectations that Transocean will be able to find work for Dhirubhai KG1, Dhirubhai KG2 and possibly Discoverer India this year. The company seems eager to put rigs to work at low dayrates in order to keep them in the active fleet.
Overall, the contract is a positive sign for the whole industry which continues to struggle from low utilization levels as highlighted in "Rowan: Market Utilization Stays Flat While Shares Rally". The U.S. Gulf of Mexico remains a crowded place with material supply from big players like three Rowan (RDC) drillships (Rowan Renaissance, Rowan Reliance, Rowan Relentless) and two Noble Corp. (NE) drillships (Noble Tom Madden, Noble Sam Croft). In this situation, each contract is of paramount importance as it decreases the number of rigs hunting for jobs and improves chances of dayrate recovery in the future.
At the beginning of this year, Transocean shares outperformed its peers Rowan and Diamond Offshore (DO) but lagged Noble Corp. and Ensco (ESV). In my opinion, the market's opinion is rational since Transocean effectively capped its near-term upside with the upcoming purchase of Songa Offshore (OTC:SGAZF), which is de-facto a purchase of Songa's backlog. Therefore, rising oil prices will not give Transocean shares a boost comparable with Noble Corp. and Ensco. At the same time, Transocean shares do not seem as overbought as Rowan and Diamond Offshore.
Speaking about leading drillers, I expect continued rally in Noble Corp. and Ensco's shares if the upside in oil prices persists. At the same time, I expect muted reaction to Rowan and Diamond Offshore who seem a bit overbought in the near term.
If you like my work, don't forget to click on the big orange "Follow" button at the top of the screen.
Disclosure: I am/we are long ESV, NE. I wrote this article myself, and it expresses my own opinions. I am not receiving compensation for it (other than from Seeking Alpha). I have no business relationship with any company whose stock is mentioned in this article.
Additional disclosure: I may trade any of the above-mentioned stocks.