US equities led most markets higher last week, posting the strongest gain among the major asset classes, based on a set of exchange-traded products. Meanwhile, real estate investment trusts (REITs) in the US suffered the biggest weekly loss, extending a slide for this yield-sensitive sector in the wake of rising Treasury yields.
The Vanguard Total Stock Market ETF (NYSEARCA:VTI) was up 1.7% for the five trading days through January 12, closing at yet another record high. The ETF's upside bias marks an extraordinary run higher in recent months. Indeed, VTI's latest advance is the 16th weekly increase in the past 18 weeks.
Last week's biggest loser: the Vanguard REIT Index ETF (NYSEARCA:VNQ), which slumped a hefty 3.0%. The slide is the fund's second weekly decline and its deepest since last March. The selling left VNQ's closing price on Friday at nearly 5% below its 200-day moving average - the biggest downside gap since November.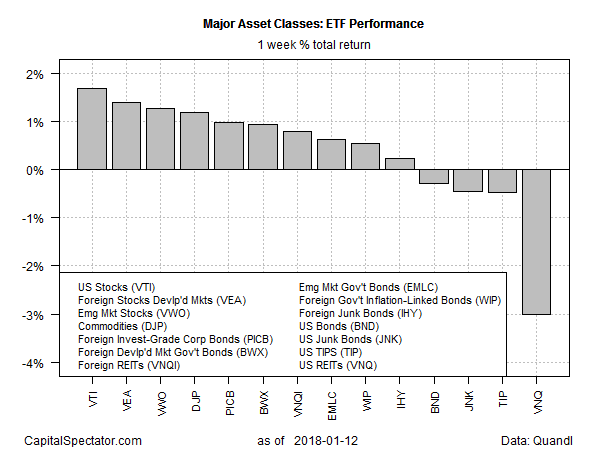 For the 1-year trend, emerging market stocks remain firmly in the lead for the major asset classes. The Vanguard FTSE Emerging Markets ETF (NYSEARCA:VWO) is up 33.2% for the year through last week's close.
The only loss for the 1-year change at the moment is in US REITs. VNQ posted a small 0.9% decline at last week's close versus the year-earlier price.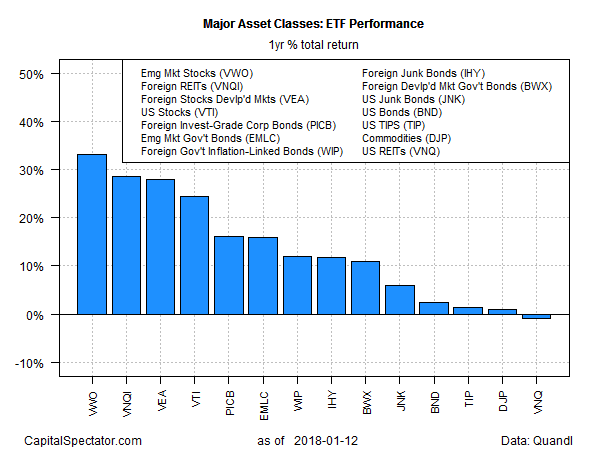 Overall, positive momentum remains strong for most corners of the major asset classes. Consider how current drawdowns stack up. The majority of markets are posting zero or relatively low peak-to-trough declines as of last week's close.
The main exception: broadly defined commodities. Although the iPath Bloomberg Commodity Index Total ReturnSM ETN (NYSEARCA:DJP) has rallied in recent months, this exchange-traded note remains a conspicuous outlier for drawdowns versus the rest of the field. At the end of last week's trading, DJP was down 45% from its previous peak.