This article serves to identify current market momentum hot spots and suggest different ways for investors to benefit from short term momentum. The price momentum anomaly is considered one of the premier market irregularities in financial literature and is well documented to generate excess risk return premium. The price momentum behavior validated in the research of Nobel laureate Eugene Fama and Professor Kenneth French, shows a recurring phenomenon,
where stocks with low returns over the past year tend to have low returns for the next few months and stocks with high past returns tend to have high future returns." (Fama & French, 2008, p. 1653)
Cliff Asness of AQR Capital Management, the second largest hedge fund in assets under management with over $63 billion, defends the price momentum phenomenon this way:
The existence of momentum is a well-established empirical fact... the return premium is evident in 212 years of equity data. . . in 40 countries, and in more than a dozen other asset classes." (Asness, Frazzini, Israel, & Moskowitz, 2014, p. 2)
This article shows short-term momentum trends over a 1 month period starting with nine stock sectors, then expands to cover the best and worst of the 206 sub-industries within each of the sectors, and finally highlights a few top performing stocks within each sector.


The show goes where the money flows. So where is the show going?
A record amount of money is flowing into U.S. equities this year and contributing to some of the best initial returns in 15 years:
The S&P 500 gained 4% in the first 10 trading sessions of 2018, its best start to a year since 2003, according to CNBC.

At the same time, U.S.-listed ETFs took in an impressive $18.7 billion during the week ending Thursday, Jan. 11, according to the latest data from FactSet. Year-to-date inflows now stand at $17.7 billion.

Unsurprisingly, most of this week's inflows went into U.S. equity ETFs―$9.2 billion―amid growing euphoria about the state of the U.S. economy and corporate profits. ~ ETF.com
There are many ways to benefit from this current momentum into U.S. equities. One thing to keep in mind during this period of record inflow, is that if you are concentrated in sectors that are not benefiting from these tremendous inflows you may want to consider making adjustments toward some of the best momentum opportunities in many years.

The hottest sectors into January based on 1 month performance:


Basic Materials is up 12.0% and is comprised of industry groups like Chemicals, Industrial Metals, Gold, Silver, Copper, Aluminum, Steel & Iron, Oil & Gas, and Nuclear Materials. The thumbnail chart for the Materials SPDR ETF symbol (XLB) is shown above with the Chaikan Money Flow indicator showing the current positive buying pressure for this sector.

A few stocks from my Value & Momentum Breakouts in this sector within the past month include:
There are many good stocks to choose from in this sector, but with such a strong run recently it is important to screen for stocks that are significantly overbought. Typically stocks with very high Relative Strength Index values can signal overbought conditions well.
Industrial Goods is up 7.6% and is comprised of industry groups like Aerospace/Defense, Machinery, Builders, Heavy Construction, Wood Production, Metal Fabrication, Textiles, and Cement Production. The thumbnail chart for the Industrials Select SPDR ETF symbol (XLI) is shown below with the Chaikan Money Flow indicator showing the current positive buying pressure.
What is most interesting of the fund flows into U.S. equities is that the largest inflow into any ETF sector fund last week was into the Industrial Select Sector Fund (XLI) for a net positive $925 million. Not surprisingly the highest fund flows were into various broad based S&P 500 index ETFs such as (SPY), (IVV), and (VOO) as detailed in the table below: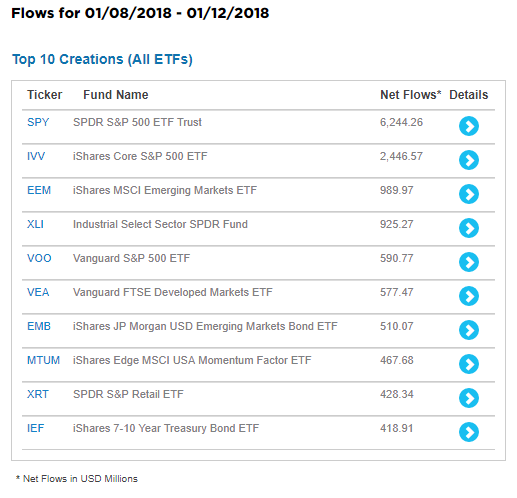 Services is up 7.3% and is comprised of many different industry groups like Advertising, Department Stores, Auto Parts, Car Dealerships, Broadcasting, Gaming Activity, Grocery Stores, Airlines, Movie Production, Music & Entertainment, Staffing Services and Trucking to name a few. The thumbnail chart for the Cyclicals Select SPDR ETF symbol (XLY) applies to this sector and is shown above with the Chaikan Money Flow indicator showing the current positive buying pressure.
A good recent stock from my Value & Momentum Breakouts in this sector within the past few weeks includes:
One of the hottest stocks in the Service sector is Weight Watchers International (WTW) with returns in the last week of 26.71%. Similar cyclical health and fitness stocks tend to do predictably well in January during our peak New Year resolution season.
Conglomerates is up 5.5% with good momentum and is comprised primarily of large market cap holding companies that overlap many sectors like Icahn Enterprises (IEP) up 6.86% for the month, HRG Group (HRG) up 10.55% for the month, Steel Partners Holdings (SPLP) up 5.19% and AgroFresh Solutions (AGFS) up 16.13% for the month. This is a more difficult sector to fairly assess momentum and is best evaluated by individual firms' investment holding decisions. These four firms are among the best of the Conglomerates to carry into February with strong momentum, low P/S ratios, excellent cash flows, and good technical indicators.


Technology is up 4.7% with good momentum and is comprised of Software Companies, Communication Equipment, Computer Systems & Peripherals, Electronics, Information Services, Internet Providers, Long Distance Carriers, Scientific & Technical Instruments, Semiconductor Industries, Networking & Communication Devices, and Wireless Products to name a few. The thumbnail chart for the Technology Select SPDR ETF symbol (XLK) applies to this sector and is shown above with the Chaikan Money Flow indicator showing the current positive buying pressure.
This is another sector that has good representation with Breakout Stock selections from my weekly forecast articles. A few recent stocks from my Value & Momentum Breakouts in this sector within the past few weeks include:
Healthcare is up 4.4% with good momentum is the last of the sectors outpacing the S&P 500 so far into the early part of January. Healthcare is comprised of industries in Biotechnology, Drug Manufacture & Delivery, Healthcare Plans, Hospitals, Medical Instruments & Supplies, and Medical Research & Laboratories to name a few. The thumbnail chart for the Healthcare Select SPDR ETF symbol (XLV) applies to this sector and is shown above with the Chaikan Money Flow indicator showing the current positive buying pressure.
This is currently my favorite sector for Breakout Stock opportunities with potentially more sustaining momentum than other sectors that have performed extremely well since late last year. I have a very high representation of Healthcare stocks in my Breakout and Value Stock Selections going into 2018 and a few recent stock selections in this sector include:
I expect this sector to perform particularly well in the coming months and for momentum to build into February. In the price momentum heat maps that follow below you can see how Drug Delivery and Drug Wholesale industry segments have entered the top 25 industry segments by 1 month performance. This may be another good confirmation that the Healthcare sector will start displacing Basic Materials industry firms that have had a very strong sustained run over the past 30 days.

The next highest performing sector by 1 month price performance is the Financial sector up 4.0%, but you will notice that no financial subset industry has yet broken into the top 25 of 1 month price performance by industry. This may indicate that momentum is still a bit further out for financials than for the current top 6 sectors that represent virtually all the top momentum by industry.
Top 25 Industry Groups by 1 month price performance through January 12th.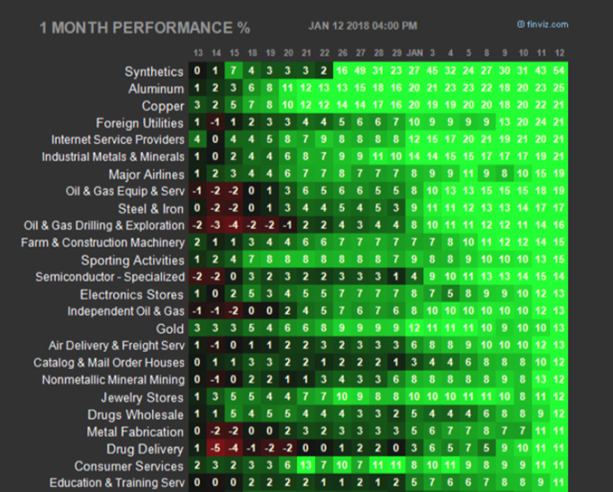 The heat map above represents some of the hottest industries from among 206 industries tracked by momentum signals going into February and should serve as good industry segments to look for strong price momentum among individual firms. I especially like those industries with more recent momentum that may still be building to new highs like Nonmetallic Mineral Mining, Drugs Wholesale, and Drug Delivery. The related segments of pharmaceuticals and biotechnology within the Healthcare sector look very strong as I have detailed in my recent Biotech Breakout forecast article.
Bottom 25 Industry Groups by 1 month price performance through January 12th.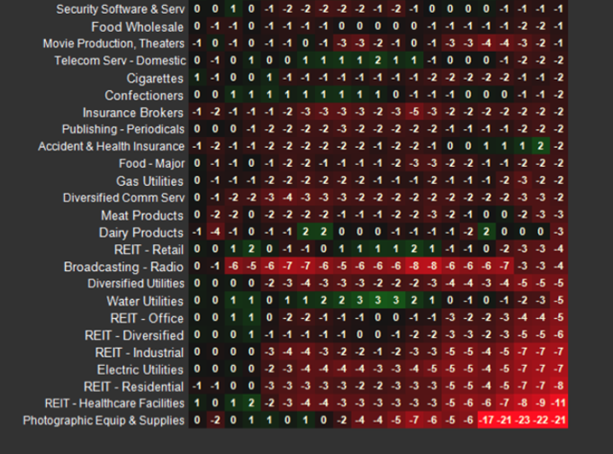 While it is often the case that you can find some good stocks in poorly performing sectors or industries, working against the flow is a much more difficult way to go. For the time being industry groups like REITs, photographic equipment and supply companies, utilities, and wholesale food products are looking quite adverse from a short-term price momentum viewpoint. The momentum is strongly negative in these industry categories and until some positive reversal signals return there is not a compelling reason to have much exposure to these segments at this time.
Another way to view the time based momentum heat map of the top and bottom performing industries is from a bar chart perspective as shown below:
Industry Segments with 1 Month Performance above 10%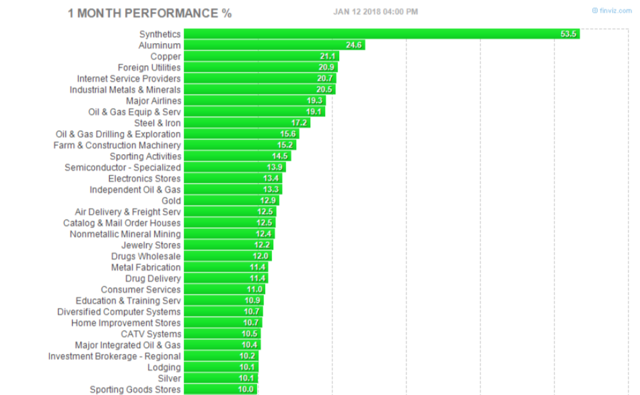 These are more than 30 industry groups that have now generated over 10% returns in the past month and should serve as a good barometer for your own investment portfolio checkup. There are many ways to participate in the strong momentum conditions that we are experiencing at the start of 2018 and again these are some excellent industries to examine more closely.
Industry Segments with Negative 1 Month Performance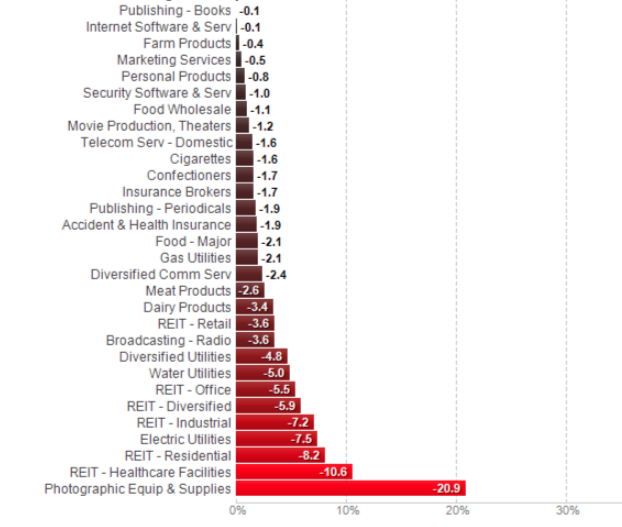 These negatively performing industries over the past month are clearly not participating in the record inflows of funds into U.S. equities so far. Certainly more favorable momentum conditions will cycle back over time, but in the short term there are not any clear signals yet of positive momentum reversals in the aggregate. That is to say there may be individual firms that are currently doing well in these industries but they are the exception at the moment.

According to CNBC we are witnessing one of the best starts to the year for U.S. equities since 2003. Now is a great time to go with the flow and find the best ride for your investment goals and risk tolerance levels into 2018.

I would be very pleased to help keep you informed of new opportunities throughout the year using a wide variety of research methods and database tools. The start of this year has also been a very exciting beginning across all five categories of investment portfolios that I offer.

As I highlighted in a recent article my Week 1 Breakout Portfolio is up 14.38% and my Premium Portfolio for members is also outperforming the benchmark indexes early into the New Year. I hope this tremendous momentum will continue and contribute to one of your best investing years ever!

Additional Value and Momentum Portfolios include:
The new actively-traded V&M Premium Portfolio for 2018 began trading on Tuesday, January 2nd as is already up +5.20%. Stock selections for this 2018 portfolio are exclusive to subscribers and will be actively traded throughout the year.
Three of the five different portfolio categories were first offered in July of 2017. The Weekly Breakout Forecast was started in week 2 of 2017 with 40 weeks of breakout stock trading. The Breakout Forecast last year achieved 154 stocks with greater than 5% returns in a trading week and 79 stocks with greater than 10% returns in less than five days. Returns for each of the portfolios through yesterday are shown below, most have six months of performance results: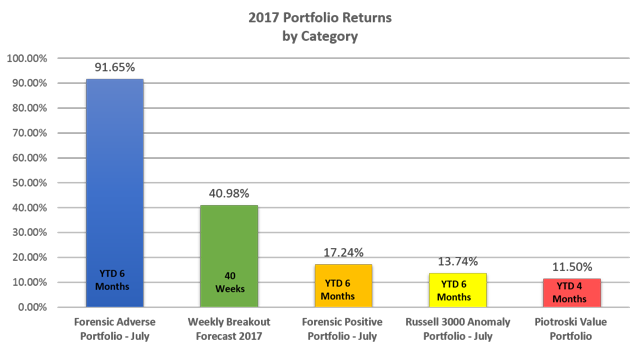 Additional articles on the different categories of portfolios and samples of research provided to subscribers are listed in my public research profile.

If you are interested in subscribing to any of the Value & Momentum Breakout portfolios offered you can visit my subscription page here. Otherwise please click the "Follow" button at the top of the page and enjoy free updates on the progress of each of the different portfolios I offer that are outperforming the S&P 500 in each of their respective time periods.

As always, I wish you the very best in all your investments!

JD Henning, PhD, CFE

References

Asness, C. S., Frazzini, A, Israel, R. & Moskowitz, T. J. (2014). Fact, fiction and
momentum investing. Journal of Portfolio Management, Fall (2014), 1-26.
doi:10.3905/jpm.2014.40.5.075
Fama, E. F. & French, K. R. (2008). Dissecting anomalies. The Journal of Finance, 63(4), 1653-1678. doi:10.1111/j.1540-6261.2008.01371.x
Disclosure: I am/we are long VCEL, GALT, XXII, CVEO, KEM, NH. I wrote this article myself, and it expresses my own opinions. I am not receiving compensation for it (other than from Seeking Alpha). I have no business relationship with any company whose stock is mentioned in this article.
Editor's Note: This article covers one or more microcap stocks. Please be aware of the risks associated with these stocks.