(Note - all amounts are denoted in Canadian Dollars, unless otherwise stipulated)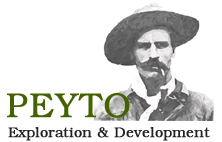 Peyto Exploration & Development
Peyto (OTCPK:PEYUF) is one of - if not the - lowest cost gas producers in Western Canada's sedimentary basin ("WCSB"). But that hasn't helped the company (or the stock price) in a region of Canada that lacks adequate pipeline exit capacity - or transportation options - for natural gas producers. Add encroaching production from the prolific Marcellus and Utica shale plays into Eastern Canada, and you've got a stock that was down 50%+ in 2017.
Change In Strategy
After the market closed on Thursday, Peyto announced a rather dramatic change in strategy:
The monthly dividend was slashed from $0.11/share to $0.06/share.
The preliminary 2018 capital budget announced in its Q3 EPS report November 8, 2017, ranging from $300 million to $450 million was reduced to $200 million to $250 million - a 40% drop at the midpoints.
On January 2, Peyto issued C$100 million of 10-year senior unsecured notes in a private placement at a coupon rate of 3.95%. That's a very attractive interest rate, considering the TTM stock performance.
Peyto has applied to the Toronto Stock Exchange ("TSX") for its intention to begin a share buyback program on January 22, 2018.
The market responded positively to the change in strategy, with the shares up over 4% Friday: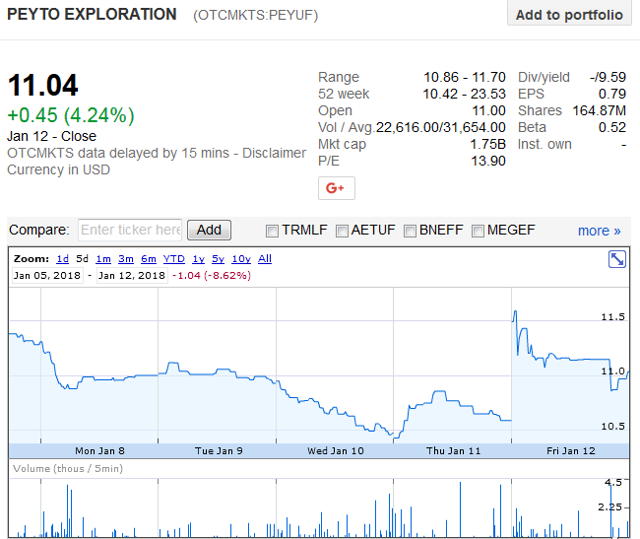 Source: Google Finance
However, note the volume Friday was below normal, and shares still ended the week lower. Not a booming endorsement.
The Dividend
Looking at the Q3 quarterly numbers (total dividend payments of $54.408 million at $0.33/share), the cut in the dividend to $0.06/share will reduce Peyto's annual dividend obligations by an estimated $100 million.
The forward yield for U.S. investors holding PEYUF shares on the OTC market, using the current US$/C$ exchange rate of 1.25, equates to an estimated 5.2%.
Production
Along with the strategic update, Peyto informed investors that it exited the year by hitting its production target of 115,000 boe/d. That's the good news. The bad news is that of that total only 11,000 boe/d was liquids (9.6%), which means that Peyto is primarily a dry gas producer, and the AECO price environment - as most of you know - has been absolutely abysmal. Not only that, futures just keep going lower and lower. Note that futures pricing for dry gas one month ago are down substantially from just one year ago: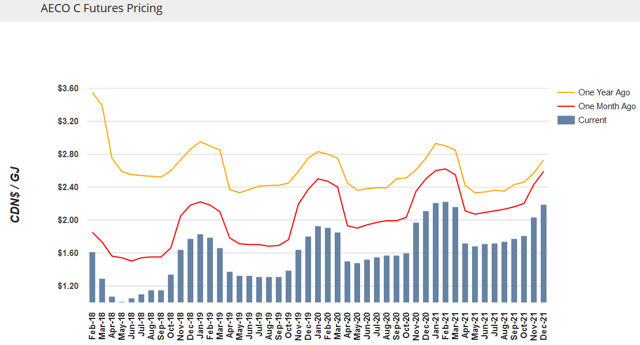 Source: Gas Alberta
So, rather than to continue its "counter-cyclical" strategy of investing heavily when prices are down, Peyto has (prudently in my opinion) thrown in the towel and given in to market reality.
The previous guidance given in last November was for first half production of 113,000 boe/d and 2018 exit production of 125,000 boe/d. The new guidance is for year-end exit production to be down 2% as compared to the 115,000 boe/d with which the company exited 2017. From that, investors may conclude that the expected FY18 capital spend of $225 million is what Peyto needs to keep production relatively flat. However, note that Peyto has a relatively high base production decline rate of almost 40%: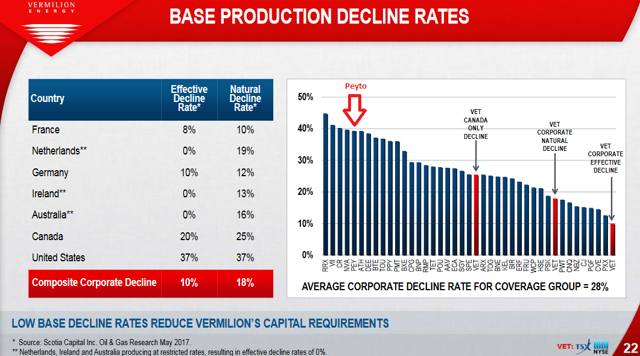 Source: Vermilion Energy January Presentation
So, it is certainly not a given that the company could keep production flat in 2019 by spending $225 - at least not unless services costs fall significantly or no new infrastructure is needed. [Note that the $225 million budget includes funds for installing a new 20 MMCF/d gas plant in the Whitehorse area, and adding new drilling inventory through new land purchases.]
Share Buyback
As for the share buyback plan, the "normal course issuer bid" (or NCIB) - pursuant to approval by the TSX - would allow Peyto to buy back 10% of the public float. As of January 8, 2018, Peyto had 164,874,175 common shares outstanding, and the public float was 121,588,969 shares. As a result, Peyto can purchase up to 12,158,897 shares through the NCIB. According to the TSX rules, the total number of shares that Peyto is permitted to purchase is subject to a daily purchase limit of 246,866 - which represents 25% of the average daily trading volume on the TSX for the previous 6-month period ending on December 31, 2017.
The total number of shares, as well as the timing of the purchases, is up to Peyto management. If the company were to purchase 10% of the float at say $12/share, that would equate to an estimated $146 million.
Bottom Line
When all is said and done, Peyto reduced 2018 capex by $150 million as compared to its previous guidance (using the midpoints of the estimated ranges) while holding production relatively flat. Peyto also reduced its annual dividend obligations by roughly $100 million. The combination of reduced capital outflow on capex and dividends (i.e. $250 million) will be more than enough to repurchase 10% of the public float this year. The share repurchases will boost per share metrics like reserves, production, and earnings.
Summary And Conclusion
Unlike many dry-gas competitors, Peyto is solidly profitable - earning $0.76/share over the first 9 months of the year. However, net earnings did not keep up with dividend obligations ($0.99/share). The new strategic plan fixes that, much like ConocoPhillips (COP) did when it lowered its dividend. However, the difference between PEYUF and COP is huge in that COP is more sensitive to Brent prices and Peyto is stuck with the dry gas AECO index. And, given the pipeline exit capacity dynamics, that won't change anytime soon, the only thing that may help boost the price of AECO is if more producers in the WCSB adopt an "OPEC strategy". That is, produce less so you can make more. But as the graphic below illustrates, and despite the extremely low AECO price and pipeline exit capacity constraints, marketable natural gas production in Alberta actually increased in 2017: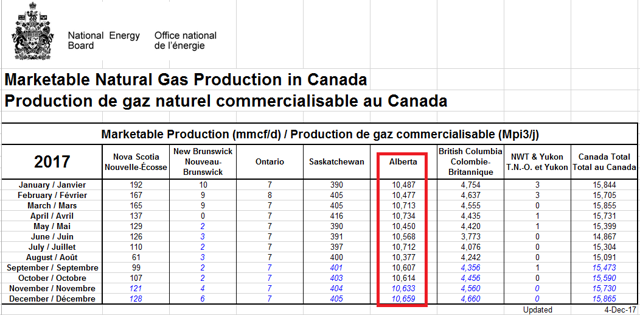 Source: National Energy Board of Canada ("NEB")
I rate Peyto a hold simply because selling now would be selling at the absolute bottom. But it's hard to find a reason to go long. Even if full-year earnings were to come in at $1/share, and the yield is 5%, do you want to pay over 10x earnings for a WCSB dry gas producer? Unfortunately, for me, I still own some shares and turned what had been a nice capital gain into a substantial loss. My mistake? Listening too much to management about how Peyto owned, operated, and gathered the vast majority of production and indeed is one of the lowest cost producers. But I neglected to consider the overall importance of the obvious macro development - a lack of adequate pipeline capacity, and options, for WCSB dry gas producers. As a commodity price taker, Peyto was exposed to too many producers fighting over too little capacity.
Disclosure: I am/we are long COP PEYUF. I wrote this article myself, and it expresses my own opinions. I am not receiving compensation for it (other than from Seeking Alpha). I have no business relationship with any company whose stock is mentioned in this article.
Additional disclosure: I am an engineer, not a qualified investment advisor. While the information and data presented in my articles are obtained from company documents and/or sources believed to be reliable, they have not been independently verified. Therefore, I cannot guarantee its accuracy. I advise investors conduct their own research and/or consult a qualified investment advisor. I explicitly disclaim any liability that may arise from investment decisions you make based on my articles. Thanks for reading and I wish you much success with your investments.
Editor's Note: This article discusses one or more securities that do not trade on a major U.S. exchange. Please be aware of the risks associated with these stocks.