Apollo Global Management, LLC (APO) is a US-based alternative asset manager, which was founded by Leon Black, Joshua Harris, and Marc Rowan in 1990. Its primary business segments consist of Private Equity, Credit, and Real Assets. The company describes its investment philosophy as follows:
We are a contrarian, value-oriented investment manager in private equity, credit and real assets with significant distressed expertise and a flexible mandate in the majority of our funds which enables our funds to invest opportunistically across a company's capital structure.
Apollo has been involved in the private equity space for decades. Some of the various companies with which Apollo has been involved are shown below: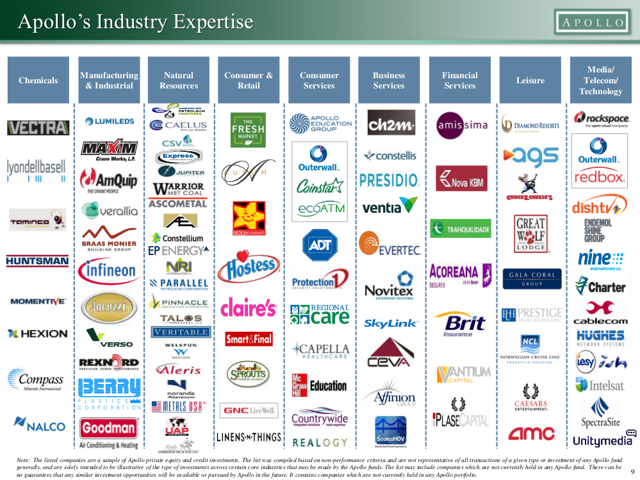 Source: Apollo Global Management November 2017 Investor Presentation
In addition to its corporate listing under ticker symbol APO, Apollo has a variety of publicly traded subsidiaries. Three of them are available to American investors, while the fourth (Apollo Alternative Assets) is traded in Europe. Apollo Investment Corporation (AINV) is a business development company, while the Apollo Senior Floating Rate Fund (AFT) and the Apollo Tactical Income Fund (AIF) are both closed-end funds. Rounding out the group is Apollo Commercial Real Estate Finance (ARI), a mortgage REIT which specializes in loans secured by commercial property. Interesting fact: ARI offers a direct stock purchase plan which allows investors to start a position in the REIT for as little as $250 without paying any commissions on the buy side. Here is a link for any interested investors.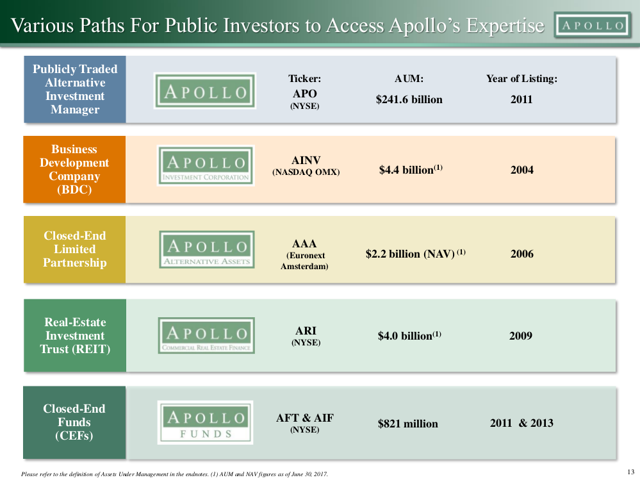 Source: Apollo Global Management November 2017 Investor Presentation
Recent Acquisitions
In order to get an idea of the sort of businesses which Apollo is currently investing in, I have included a brief synopsis of some recent transactions below.
SM Energy Powder River Assets - $500 Million

Earlier this month, Northwoods Energy - a company owned by funds affiliated with Apollo - announced the purchase of $500 million worth of acreage in the Powder River Basin in Wyoming. This acreage is estimated to contain 4.2 million barrels of oil equivalent (MMBOE). While some analysts were valuing this acreage substantially below what Northwoods Energy paid for it, others believe that as more testing is done on the Niobrara shale formation - of which this acreage is a part - valuation of Niobrara acreage will increase.
OneMain Holdings - $1.4 Billion

Apollo kicked off 2018 with a $1.4 billion deal for a roughly 40% stake in subprime consumer finance company OneMain Holdings (NYSE:OMF). OneMain is a rebranded amalgam of Citigroup's (NYSE:C) former CitiFinancial business and Springleaf Holdings, an AIG (NYSE:AIG) subsidiary that was spun off as a public company in 2013. OneMain touts itself as the "largest responsible personal loan company in the U.S." and offers personal and auto loans ranging from $1,500 to $25,000. These loans target consumers with less-than-stellar credit scores. While these loans are high-yielding, the company will likely take a major hit in the event of a recession. Even now, with unemployment at multi-decade lows, OneMain's 2017 full-year charge-off rate was approximately 7%. If the economy hits a rough patch, that percentage is likely to rise sharply.
Qdoba Mexican Eats - $305 Million

After a 'robust' search for strategic alternatives, Qdoba's owner, Jack In The Box (NASDAQ:JACK) chose to sell the Mexican food restaurant chain to Apollo for $305 million in cash. Qdoba has been battling revenue difficulties at its 700+ locations. Apparently, Apollo feels that it can leverage its operational expertise to help mitigate these difficulties.
High Distribution Yield Compensates for Rocky Payout History
As the examples above show, Apollo does not limit itself to any one industry. It goes wherever it perceives value to be. It also is not committed to a specific holding time for its investments - rather, it waits until market conditions ensure that there will be a ready market for its acquisitions when it is ready to exit via an IPO. For example, Apollo held its stake in Presidio (NASDAQ:PSDO), an IT services company, for about 28 months before pricing an IPO and recouping much of its original investment. By contrast, Apollo is expected to complete an IPO of home-security company ADT later this week. ADT was taken private less than two years ago, in February of 2016.
As a result of this wide-ranging investment strategy, Apollo's distribution payments tend to be erratic, especially when compared to more traditional dividend income stocks.
This is because, while management and incentive fees provide a certain measure of regularity in its income stream, the unpredictability inherent in timing both acquisitions and dispositions of companies add substantial volatility to Apollo's cash flows, as the chart below shows.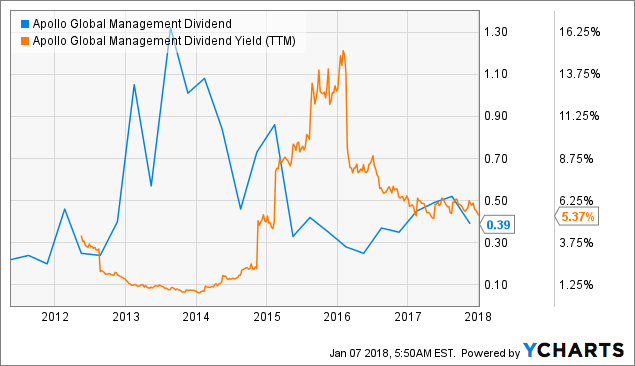 APO Dividend data by YCharts
On the other hand, investors in Apollo are compensated for this uncertainty of income by a high starting yield, currently over 5%. It's also worth pointing out that Apollo's distributions are also financed in part by "Fee - Related Earnings" or FRE. FRE consists of various management fees that Apollo earns on certain of its funds and investment vehicles. As Apollo opens new funds and its AUM grows, fee-related earnings should continue to increase with relatively little volatility. Therefore, while the acquisition/disposition cycle makes Apollo's distribution payouts difficult to predict on a quarter-by-quarter basis, fee-related earnings should continue to provide a 'floor' for distribution payments.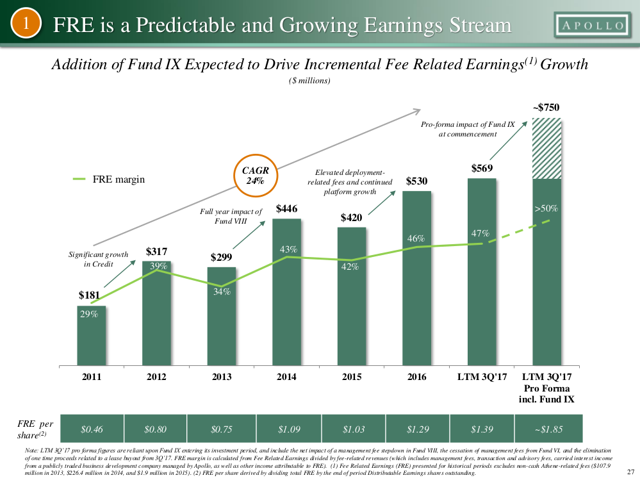 C-Corp Conversion: A Possible Catalyst For Price Appreciation
The recently passed tax reform legislation could offer additional upside to investors in Apollo. As a result of reductions in the corporate tax rate, private equity firms (including Apollo) are considering converting from limited partnerships to C-corporations. While taxes would go up on Apollo's income, converting into a C-corp would make Apollo eligible for inclusion in various mutual funds. This would boost the price multiple of publicly traded private equity firms such as Apollo, as billions of dollars in passive investor capital flows into these entities.
For an illustration of this concept, consider the following: Currently, the only ETF which holds Apollo share in quantity is the PowerShares Global Listed Private Equity Portfolio (PSP). PSP currently has about $250 million under management, according to ETF.com. With 2.87% of the fund allocated to APO, that works out to about $7.2 million of Apollo shares held passively.
In comparison, over $2.2 trillion is indexed to the S&P 500. As a market-cap weighted index, it is reasonable to assume that, were a post-conversion Apollo to be added to the S&P 500, its weighting within the index would be comparable to companies of a similar size to Apollo, which has a market capitalization of $7 billion.
Leggett & Platt (LEG) is an S&P 500 component with a market cap of about $6.4 billion and a weighting within the index of 0.027%. If we assume the same percentage weighting for Apollo, then the SPDR S&P 500 Trust ETF (SPY) will have to purchase $75 million in Apollo shares. That's 10 times the amount of Apollo shares that PSP holds, and that doesn't include scores of other ETFs for which Apollo shares would potentially become eligible.
Risks
Apollo's Structure May Jeopardize Inclusion in the S&P 500
The chart below is an abbreviated summary of Apollo's corporate structure. APO common shareholders are represented by the oval on the left-hand side of the chart. If you look closely, you will see that 54.3% of the total voting power of Apollo is held by BRH Holdings GP, Ltd. BRH is a holding company held by the Managing Partners of Apollo. Given this, investors should recognize that they are essentially "along for the ride" as far as corporate governance is concerned. Apollo management is very much in the driver's seat. To the extent that management's interests align with that of common shareholders, this does not necessarily present a problem.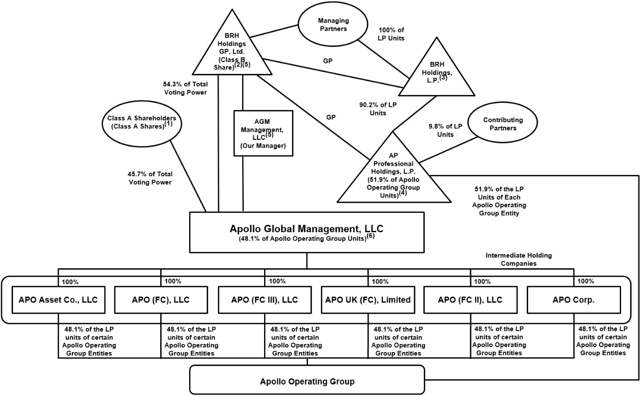 Source: Apollo Global Management 10-Q
However, Apollo's dual-share structure could adversely impact one of the largest benefits of Apollo's converting to a corporation - that is, eligibility for inclusion in the indices from which ETFs draw their holdings. Per the August 2017 copy of the Standard & Poors U.S. Indices Methodology,
Tracking stocks and companies with multiple share class structures (including companies with listed and unlisted share class lines) are eligible for the TMIX, but are ineligible for the S&P Composite 1500 and its component indices.
What does this mean? It means that, while companies with multiple share classes (of which Apollo is one) are eligible for inclusion in the S&P Total Market Index, those companies would NOT be eligible for inclusion in other important indices such as the S&P 500 which, based on my analysis, Apollo would otherwise be eligible to join if it were to convert into a corporation.
This puts a major wrinkle into part of my bullish thesis on Apollo - namely, that conversion into a corporation will result in a flood of passive ETF money into the name. While Apollo would still be eligible for inclusion in various dividend ETFs, excluding Apollo from the S&P 500 will substantially dampen the benefit from conversion.
Private Equity Can Be Cyclical - When It Rains, It Pours
While Apollo's price performance over the past year has been truly exceptional, it is worth pointing out that private equity companies tend to move in the same direction as the market, but in a much more exaggerated manner, and especially when markets are falling. Take a look at this normalized price chart of one of Apollo's peer companies, The Blackstone Group (NYSE:BX):
Investors in BX lost almost 90% of their investment from 2007 through early 2009. Apollo was not yet a public company during the onset of the Global Financial Crisis, so a direct measurement of how Apollo would perform in a repeat of the GFC is impossible. However, Apollo's price performance during the commodity slump of 2014-2016 is indicative that it would fare little better if a GFC were to occur today:
While these price declines are terrifying on paper, it is worth pointing out that both Blackstone and Apollo recovered most of their declines in price as economic conditions improved in subsequent months. Also, investors who reinvest distributions or dollar-cost average into private equity firms such as Apollo had the opportunity during these crises to dramatically lower their cost basis.
Ultimately, the lesson to take away from the volatility in publicly traded private equity firms such as Apollo and Blackstone is that their share prices tend to move in "cycles" - when economic conditions look promising and the overall market is rising, investors generally are willing to be optimistic that PE firms will be able to realize high valuations when the time comes to exit an investment. During times of turbulence, however, the bullish logic of investors is stood on its head, as the market loses confidence that PE firms can realize attractive prices for their acquisitions and also becomes concerned about the ability of portfolio companies to service their massive debt loads.
It is possible that this dynamic will lessen in the future, however. Should Apollo and other PE firms decide to convert into corporations - and thus become eligible for inclusion in a host of financial products as discussed above - dip-buying on the part of ETF investors during recessionary periods could help to provide more support for the price of PE shares than in the past, potentially reducing downside volatility.
Apollo Preferred Shares - An Alternative Investment Option?

Source: Prospectus
Risk-averse investors may occasionally consider an investment in the preferred shares of a company which they are hesitant to invest in as common shareholders. Apollo recently issued $250 million in preferred shares to the public. Trading under the ticker symbol APO-A, these shares pay distributions at an annual rate of $1.59, which at current prices translates to a market yield of about 6%. Given the fact that these distributions are noncumulative and that they also result in the holder having to deal with a K-1, I believe that the common shares of Apollo offer better value to most investors. Investors who cannot stomach the risk of common Apollo shares will probably be able to find better 'deals' for their investable funds in other non-Apollo preferred issues, especially given the fact that distributions on APO-A shares are not cumulative.
Closing Thoughts
Apollo Global Management is a high-yielding company with potential upside, should it choose to convert into a C-corporation. However, valuations for the name are high, and Apollo's dual share structure may imperil its inclusion in some of the largest equity indices, such as the S&P 500. Investors who wish to start a position in Apollo should consider holding some of their funds in reserve for a future correction, given the tendency of private equity companies to correct violently during times of equity market distress.
Like what you read? Click the "Follow" button at the top of this page!
Disclaimer: Use my work as a starting point for your own due diligence, not as a substitute. All investments involve the risk of loss of income as well as principal. Consider consulting with an investment adviser before making any investment. I am not a tax professional or investment adviser. Please consider consulting with a tax professional before making any investment.
Disclosure: I am/we are long APO. I wrote this article myself, and it expresses my own opinions. I am not receiving compensation for it (other than from Seeking Alpha). I have no business relationship with any company whose stock is mentioned in this article.