During the 3rd quarter conference call in November, Snap, Inc. (NYSE: SNAP) CEA Evan Spiegel reflected back on his three 2017 priorities: performance, quality and automation. While performance and quality of the Snapchat application remain important going forward, the automation of ad sales priority drove the key changes in Snap's primary business last year. Understanding the nuances of this ad automation transition is necessary to forecast total revenue in coming quarters.
Before looking at the ad automation transition directly it is useful to recall that growth in revenue and average revenue per user are mainly a function of sales and demand. Because ad load remains low, revenues are not dependent on user growth in the short term. Snap makes the following definitions:
We define ARPU as quarterly revenue divided by the average Daily Active Users.

A Daily Active User is defined as a registered Snapchat user who opens the Snapchat application at least once during a defined 24-hour period.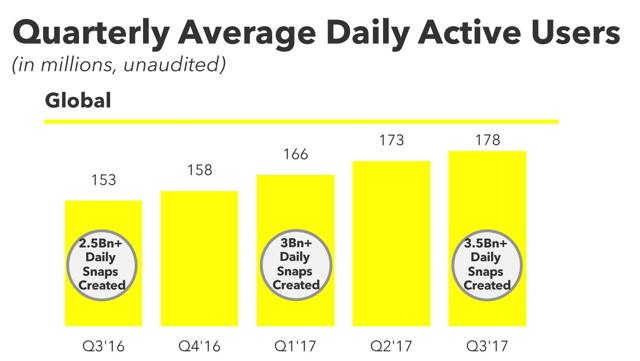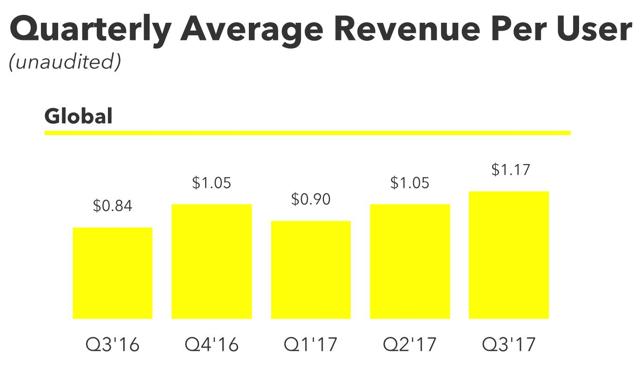 Source: Q3'17 Earnings Slides
Additionally, Snap has three basic ad types: Snap Ads, Filters, and Lenses. The automation of ad sales through a self-serve auction affects the Snap Ads segment. Snap Ads are "the original vertical video ad" and can lead to a web view, app installation or long form video from the advertiser. Analysts estimate that Snap Ads represent about two-thirds of the revenues.
Nuances in Transition to Auction
A year ago Snap Ads were sold directly to advertisers through a reserved inventory at rate card prices. Now, over 80% of the overall Snap Ads business comes from auction volume. Spiegel characterized the transition to the auction as follows:
Our efforts at automation have gained traction very quickly this year, with 80% of Snap Ad impressions delivered programmatically in Q3, up from zero%, one year ago. The speed of this transition surpassed our expectations, but has dramatically reduced pricing as advertisers move from direct sales to our unreserved auction. This has decreased CPMs more than 60% year-over-year, which has made it harder to grow revenues at the rate we would have liked. I am grateful that this transition is nearly behind us, and look forward to the many advantages our programmatic auction brings to our advertising business in terms of scale and ROI.
As well as the 60% fall in the cost paid per impression during the year, the automation transition is driving a significant rise in the number of Snap Ad impressions sold. Impressions grew 60% quarter-over-quarter and 400% year-over-year. Interestingly, the rise in ad impressions has not impacted user engagement; time spent, frequency of use, and Snap creation are all increasing.
According to Snap, the number of advertisers participating in the auctions grew by about five times over the 3rd quarter. The rise of contested auctions positively affects pricing and partially offsets the general trend toward lower prices associated with the transition to auction from direct sales. This past quarter Snap saw auctions with multiple bidders having 40% higher prices than uncontested auctions.
The transition to the auction platform allows more advertisers to more easily and more effectively reach Snap's users. The tools allow advertisers to reach specific business goals such as app installs. And the self-serve nature enables testing and learning at a lower entry price point versus the direct sales system.
Forecasting 4th Quarter Revenues
At writing, Wall Street consensus for Snap's 4th quarter revenues has fallen to $252 million. After consecutive quarters of revenues misses, including the $25 million shortfall last quarter, expectations are obviously tempered. However, the following reasons point toward a surprise beat this quarter:
The strength of 4th quarter seasonality was hidden by the Olympics' positive impact on last year's 3rd quarter. While we saw a 29% percent sequential increase in last year's fourth quarter, if one attempts to back out the Olympics' impact, underlying growth would have been closer to 45%.
As discussed above, the shift in mix from direct sales to auction negatively affects pricing. However, this effect is diluted as direct sales represent a smaller percentage of the whole over time.
The self-serve platform enables expansion of the base to mid-tail advertisers. The number of advertisers in the auctions grew five times over the 3rd quarter. This rise positively affects pricing.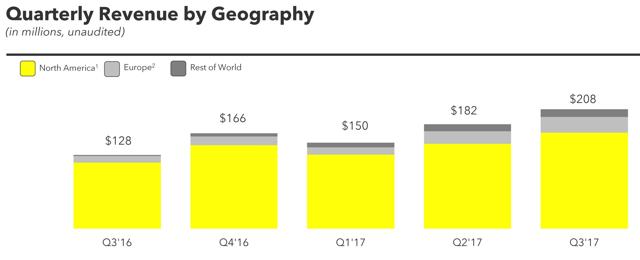 Source: Q3'17 Earnings Slides
Takeaway
In line with recent quarters' growth, analysts are calling for a 20% rise in 4th quarter revenues. However, while growth has moderated in recent quarters, the decline can be explained by the nuances of the ad sales automation we discussed above. The combination of these effects abating and somewhat hidden seasonality strength should lead to a significant beat in revenue; my forecast is for $265 million.
Disclosure: I/we have no positions in any stocks mentioned, and no plans to initiate any positions within the next 72 hours. I wrote this article myself, and it expresses my own opinions. I am not receiving compensation for it (other than from Seeking Alpha). I have no business relationship with any company whose stock is mentioned in this article.