The S&P 500 Has Gained Only 3.4% Per Year Since 2000
Includes:
DDM, DIA, DOG, DXD, EEH, EPS, EQL, FEX, FWDD, HUSV, IVV, IWL, IWM, JHML, JKD, OTPIX, PPLC, PPSC, PSQ, QID, QLD, QQEW, QQQ, QQQE, QQXT, RSP, RWL-OLD, RWM, RYARX, RYRSX, SBUS, SCAP, SCHX, SDOW, SDS, SFLA, SH, SMLL, SPDN, SPLX, SPUU, SPXE, SPXL, SPXN, SPXS, SPXT, SPXU, SPXV, SPY, SQQQ, SRTY, SSO, SYE, TNA, TQQQ, TWM, TZA, UDOW, UDPIX, UPRO, URTY, USSD, USWD, UWM, VFINX, VOO, VTWO, VV
by: Louis Navellier
By Gary Alexander
Sunday marked my 50th wedding anniversary, so I tend to notice events that happen on January 14. It was on that date in the year 2000 that the Dow Jones Industrials peaked at 11,722.98, a number that would not be eclipsed for nearly seven years. That Friday, January 14, 2000 was a giddy time for big stocks on Wall Street, as Glaxo-Wellcome offered to acquire SmithKlineBeecham for $75.7 billion in stock. Earlier that week, AOL announced plans to acquire Time Warner for roughly $182 billion in stock and debt. Both deals took until December to complete due to legal hurdles and the sinking stock market later that year.
When pundits talk about the soaring stock market this year, last year, and the last nine years, they forget to mention the nine dismal years before 2009. If you take the full 18 years from the end of 1999 to the end of 2017, the S&P 500 has only risen 82%, which works out to only 3.4% per year, annualized. In the previous 18 years (1982-99), the S&P had grown 12-fold, which works out to a stunning 14.8% per year.
The last eight years amount to a payback - a reversion to the mean - for the crappy returns of the years 2000-09, which amounted to the worst real (after-inflation) returns of any decade in market history, so beware of any Cassandra who only measures a market from its most recent lows. They aren't telling you the whole truth. They aren't accepting the totality of market history - "for better or worse, for richer or poorer, in sickness and health" as the marriage vow puts it. We are now enjoying the payoff for our pains.
An average 3.4% gain means the bull market can continue indefinitely. The length of this bull market (as compared to previous bull markets) is totally irrelevant in calculating how long this bull market continues.
In the 14 months since election day, this market has been supercharged, by whatever measure: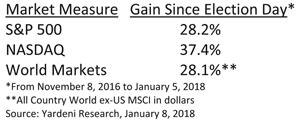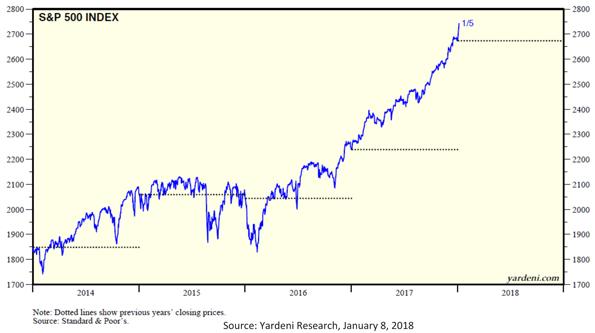 Graphs are for illustrative and discussion purposes only. Please read important disclosures at the end of this commentary.
Notice how a flat 24 months (late 2014-2016) generated a liftoff right after election day, 2016.
If you watched the evening news, you would not believe this market could possibly rise, given the onslaught of bad news and the war of words between the President and the national press - but it is.
Forget the Psycho-Babble, Focus on the Facts
The stock market isn't the only soaring indicator. A lot of journalists talk about the sour mood in the country or unprecedented dissension in Washington DC, but those are just words. Whenever polls are taken among real people - especially investors and business owners - we find entirely different results.
First off, the economic indicators seemed to turn on a dime after the 2016 election results. For instance:
The Citigroup Economic Surprise Index (CESI), an indicator of how many economic indicators deliver positive surprises, rose from a six-year low of -78.6 on June 16, 2017, to a six-year peak of +84.5 peak on January 8, 2018, and GDP rose from 1.2% in the first quarter to 3.1% and 3.2% in the second quarter.
The psychological components of the economy - optimism and sentiment - are also rising rapidly. Economist John Maynard Keynes called these our "animal spirits." After Trump's surprise win, our animal spirits went from a sleep-walking "more of the same" depression (under the expected leadership of Hillary Clinton) to a somewhat-unsettling but eventually more hopeful Trump era. Almost all surveys of consumer and business confidence began to soar in late 2016 and then kept rising, especially in late 2017.
The Consumer Optimism Index (COI), an average of the Consumer Sentiment Index and Consumer Confidence Index rose from 105.8 at year-end 2016 to 109.0 at year-end 2017. The "current conditions" component of the COI just peaked at 135.2, its highest level since March of 2001. The number of respondents saying that "jobs are hard to get" fell to 15.2% last month, the lowest level since July 2001.
The National Federation of Independent Businesses (NFIB) Small Business Optimism Index averaged 104.8 in 2017, its highest reading for any year in the history of the survey. In December 2015, the main concern of small business owners was government regulation, at 21.2%. As of the end of 2017, regulation concerns had fallen to third place, at 15.7%. Now, a shocking 54% report that there are few or no qualified applicants for job openings, the highest in the history of that series, dating back to 1993.
Purchasing Managers Indexes (PMIs) also reflect growing business optimism. The U.S. Manufacturing PMI grew from 54.5 a year ago to 59.7 in December, while the new orders component rose from 60.3 a year ago to 69.4 in December. All theme M-PMI numbers were flat-lining at near 50 on Election Day.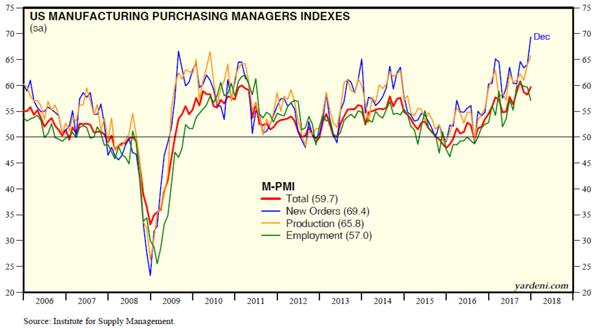 Graphs are for illustrative and discussion purposes only. Please read important disclosures at the end of this commentary.
The Business Roundtable CEO Economic Outlook index rose from 74.2 in the fourth quarter of 2016 to 96.8 in the fourth quarter of 2017. That's important because the economic outlook of America's CEOs is highly coordinated with the growth rate in capital spending, which grew by a robust +4.6% in Q3-2017.
These are measurable levels of sentiment, not fuzzy levels of opinion or political psycho-babble. They tell us that most business owners and investors hold out great hopes for the Trump economic agenda. When inundated with political opinion to the contrary, try to tune out the noise and focus on the provable facts.
Disclosure: *Navellier may hold securities in one or more investment strategies offered to its clients.
Disclaimer: Please click here for important disclosures located in the "About" section of the Navellier & Associates profile that accompany this article.