I can't say this was a shocker.
This Wednesday morning, Goldman Sachs (GS) released a top and bottom line beat in Q4 2017 that failed to lift the stock price in the early hours of trading. The apparent key reason: continued weakness in fixed income, commodities and equity execution that helped to send revenues in institutional client service down a gut-wrenching 34% YoY.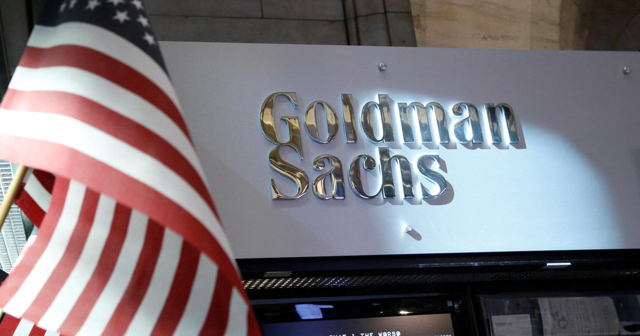 Source: El Venezolano
The Devil Is In The Details
I raised the flag on potentially soft sales and trading revenues last week, when I wrote my earnings preview on Morgan Stanley (MS). By then, JPMorgan (JPM) had once again reported weakness in both the fixed income and equities side of the business, "suggesting that low volatility and tighter credit spreads continue to create significant headwinds." With Morgan Stanley relying heavily on its institutional securities segment to generate nearly half of its total company revenues, I believed the New York City bank was facing macro challenges that could hurt the company's financial results and the stock's momentum in the short term.
The same could have probably been said of Goldman Sachs, whose top line leaned the heaviest on institutional client services to generate nearly 40% of the company's total revenues in 2017. Further contributing to lack of enthusiasm on The Street today were estimates by the bank that it would not get "as big of a break from tax reform as it originally had anticipated" in 2018 - lesser of a concern regarding the fundamentals of the company, in my view.
Investment banking, on the other hand, came in very strongly and in line with recent trends, likely contributing the most to the better-than-expected top line results. Reduced compensation costs, representing about 45% of total company opex, dipped 12% YoY, adding to bottom line strength in Q4 2017 and boosting adjusted EPS that increased unexpectedly by nearly 12% compared to year-ago levels.
Take a look at a snapshot of segment performance below: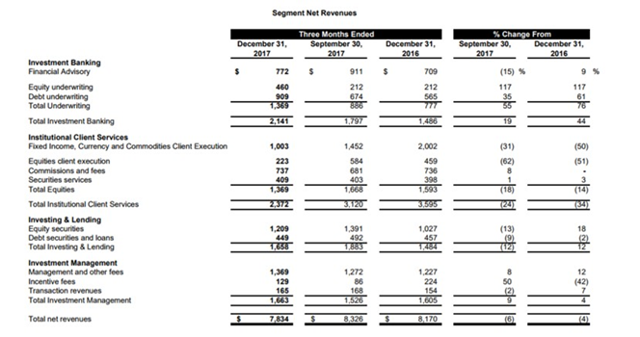 Source: Company report
Key Takeaways
Overall, Goldman Sachs was far from reporting a disastrous quarter this morning. But as the old saying goes, the devil is in the details. It looks as if The Street is weighing the secular headwinds in the securities business more heavily than the tailwinds in the investment management and (the lumpy) banking divisions, plus the operational diligence reflected further down the P&L.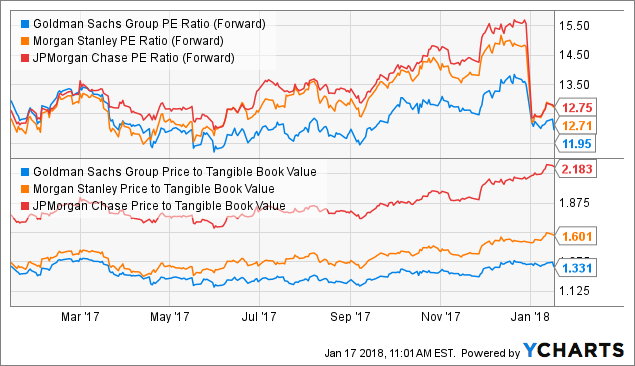 As I defended back in October, I believe GS is a name worth some consideration due to 1) the overall quality of the business and 2) valuation metrics that still look de-risked (see graph above). On the flip side, and not unlike MS, I view GS as exposed to certain macro risks - particularly in what pertains to the securities business - more so than its more diversified competitors. Diversification in financial services, by the way, is one of the main reasons why I currently prefer names like Bank of America (BAC) in the space.
Taking all factors into account, I will refrain from adding GS to my portfolio at this moment. But I understand that continued stock price weakness could open up a window of opportunity for value investors to buy shares on the dip.
Note from the author: If you have enjoyed this article and would like to receive real-time alerts on future ones, please follow D.M. Martins Research. To do so, scroll up to the top of this screen and click on the orange "Follow" button next to the header, making sure that the "Get email alerts" box remains checked. Thanks for reading.
Disclosure: I am/we are long BAC. I wrote this article myself, and it expresses my own opinions. I am not receiving compensation for it (other than from Seeking Alpha). I have no business relationship with any company whose stock is mentioned in this article.