GlycoMimetics Basics
GlycoMimetics (GLYC) is a clinical-stage biotechnology pharmacology company developing products based on glycoprotein science. Glycoproteins are proteins with attached sugars. They have numerous rolls in life processes. GlycoMimetics has therapies in clinical trials for vascular occlusive disease and for AML (acute myeloid leukemia).
I last wrote about GLYC in GlycoMimetics Remains Undervalued After Leukemia Trial News. I last added to my GLYC position on April 12, 2017, at $4.28 per share. GLYC went up so much in the meantime that it broke my rule limiting each stock to a maximum of 10% of my portfolio, so I sold small amounts, recently, at $17.97 and $20.80 per share.
The 52-week low was $3.82 on May 11, 2017. The 52-week high was $21.40 on January 11, 2018. That high was 460% above the low.
GlycoMimetics was added to the Nasdaq Biotechnology Index for 2018. I am using it here to illustrate why it is worthwhile researching companies being added to this and other indexes, as well as small-cap biotechs that are not yet in the indexes. Watch this space for future suggestions.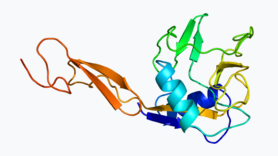 E-selectin, a target molecule for GlycoMimetic therapies
Thoughts on Changes in the biotech indexes and ETFs
There are numerous biotechnology stocks listed on the major exchanges, and of course many more that are privately owned. Trying to keep up on all of them is too time consuming for most individual investors. There are some useful shortcuts. When I started biotech investing I studied the six that were then listed in the NASDAQ-100. That is how I picked up Gilead (GILD), Celgene (CELG) and Biogen (BIIB), which became the core of my portfolio over a decade ago.
If an investor can accept the risk, smaller capitalization biotechs can bring more rewards. Two ETFs that are favorites of biotech commentators at Seeking Alpha are the IBB and XBI. If you want to pick individual stocks and try to beat the biotech indexes, researching the component companies of the underlying indexes is a good place to start.
On December 8, 2017 the NASDAQ Biotechnology Index, used as the basis for the iShares Nasdaq Biotechnology ETF (IBB), was updated. 54 securities were added to the index, and 15 were removed.
In my case, I already owned three of the adds, Bioverativ (BIVV), GlycoMimetics (GLYC), and ImmunoGen (IMGN). I also own a stock that was removed, Merrimack Pharmaceuticals (MACK).
Keep in mind that beating the IBB by investing in individual biotech stocks is not easy, even for experienced stock pickers. It takes a lot of time to research stocks. If I did not have the time, and consider it a challenge, I would be happy just to own the IBB or XBI, or both.
I chose GlycoMimetics for this article, illustrating the possible big wins that can come from investing in smaller, less known companies that could be heading to the indexes, precisely because I am already very familiar with the company. It does represent an unusually good return for me. As an example of a stock in this category that crashed on me, there was Opexa Therapeutics (formerly OPXA), which became essentially worthless in late 2016.
After studying GLYC for some time (I think I heard about it from another writer at Seeking Alpha, but I could be wrong about that) I first bought GLYC stock on March 31, 2015 at $8.36 per share. The stock did not go straight up, so I accumulated at various price points, including as low as $4.28 on April 12, 2017. It closed on January 11, 2018 at $21.40.
Here's a chart of how GLYC has done against the IBB: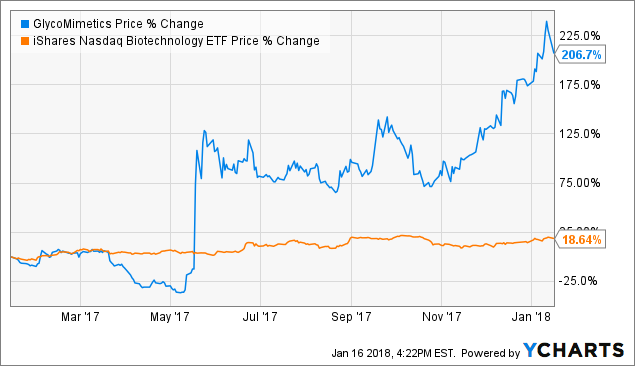 GM-1271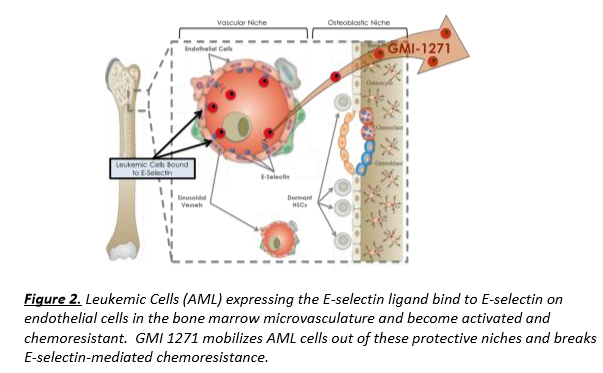 The latest published results of the Phase 2 trial can be found at GMI-1271 at ASH. The key excerpt is: "Beyond the high response rates previously reported with GMI-1271, we can now point to additional long-term endpoints that further support our plan to move the drug candidate into a Phase 3 clinical trial scheduled to begin in mid-2018. Importantly, with respect to safety, the low mucositis rate in relapsed and refractory patients receiving MEC induction chemotherapy -- where you would expect around 25% severe mucositis -- is quite striking. This was predicted and explained by preclinical models in which GMI-1271 blocked inflammatory macrophages trafficking to the gut and thus prevented mucosal injury."
Should GM-1271 pass its Phase 3 trial(s) and be approved by the FDA, there is still a question of how broadly it would be used, and what the pricing would be.
In AML Therapies, Seattle Genetics vs. GlycoMimetics, published July 15, 2016, I estimated "there are over 19,000 new cases of AML each year in the U.S. . . . At the now typical new cancer cure rate of about $100,000 per patient, that represents a market opportunity of about $1.9 billion per year in the U.S. alone."
I would not jump to the conclusion that GM-1271 will cost $100,000, or that it will be given to every patient. However, since it works in combination with the currently used chemotherapy, it would make sense to give it to all AML patients. Pricing would probably be influenced by insurers, including Medicare, since most AML patients are over the age of 60.
At this point I would use a spectrum approach to guessing eventual pricing. $50,000 might be a reasonable midpoint, with $30,000 the low outlier and $100,000 the high outlier. Those could generate annual revenue rates (from low to high) of $570 million, $950 million, and $1.9 billion, presuming every new case is treated.
It could take perhaps as long as 3 years to complete the Phase 3 trial and get FDA approval. Then more time to ramp up use and resulting revenue. If there is an approval, we will know the official price shortly afterwards, and can correct our revenue and earnings projections. In advance of approval, I like to err on the side of lower valuations, so I would use $570 in revenue at peak.
Don't forget GM-1271 is not guaranteed to be approved (some drugs that are successful in Phase 2 trials fail in larger Phase 3 trials) and other companies have therapies under development that might take some market share if they are approved as stand-alone agents. For instance, Agios (AGIO) had Idhifa approved in August 2017 for IDH2-positive AML.
GM-1271 is also already in early trials for Multiple Myeloma, which is a larger market than AML.
Valuing Rivipansel
Rivipansel for VOC (vaso-occlusive crisis) resulting from sickle-cell anemia has been licensed by Pfizer (PFE) and is in a Phase 3 trial.
In GlycoMimetics: A Novel Therapeutic Approach With Possible High Returns, I said "Assuming an eventual utilization rate of 100% in the U.S. and pricing at between $3,000 and $8,000 per hospital stay (just a guess on my part), we are talking revenue of $210 to $560 million per year. Given its orphan drug status, pricing could be higher." But that is what Pfizer would make. GlycoMimetics is due royalties and milestone payments.
Possible milestone payments remaining are about $300 million. The royalty rate on sales has not been disclosed, but 10% is a reasonable assumption.
That would only be $21 million per year at the low end of my guestimate. However, that amount should drop directly to the bottom line.
Rivipansel could be approved as early as 2019, based on the estimated completion of the trial in the second half of 2018.
Why GlycoMimetics was Undervalued
The main reason GlycoMimetics was so undervalued before late 2017 is simply obscurity. Those who invest in small-cap biotechs are a rare breed, and have plenty to choose from. There is a lot of risk involved in buying an individual stock of this type. Also, there are a lot of better known development paths right now, like CAR-T, gene therapy, and monoclonal antibodies.
The repeated announcements of strong GM-1271 helped, but the first data on that was in back in 2016.
GlycoMimetics has a female CEO, Rachel King, and that also tends to cause a company to get overlooked by some analysts. Despite Ms. King having been a Senior Vice President of Novartis Corporation (NVS).
Why GlycoMimetics is still a buy
GlycoMimetics had about $113 million in cash at the end of Q3 2017. Cost of operations was only $8.2 million in the quarter. Pfizer is covering the cost of developing Rivipansel. With possible Rivipansel milestones and cash flow from royalties possibly beginning in 2019, GlycoMimetics should be in good shape to finance its preclinical work and clinical trials.
GlycoMimetics should be valued not just for Rivipansel and GM-1271. Both were developed from its glycoprotein platform. Once revenue ramps up I would expect the R&D budget to expand, and the pipeline with it.
A day like today (January 16), when the NASDAQ Biotechnology ETF (IBB) ended down 1.31% to $110.60 and the SPDR S&P Biotechnology Fund (XBI) ended down 3.1% to $86.85, might be a good time to buy GlycoMimetics or add to a position. Both the major ETFs like the BDI and IBB, as well as individual biotech stocks, tend to be volatile. The main reason is it is hard to get consensus on appropriate valuations on clinical stage companies, or even on commercial stage companies where much of the future value depends on the outcomes of clinical-stage trials. A failed drug trial can affect investor sentiment for the entire sector, at least briefly.
At $19 per share GlycoMimetics has a market capitalization of $650 million. It would eventually need to generate earnings of perhaps $30 million per year to justify that market cap. A Rivipansel approval would get it on its way. If I am right about the value of GM-1271, it can climb to multiples of the current market cap. If you can wait that long. Or if another company buys GM-1271 or GlycoMimetics itself.
GlycoMimetics was also down dramatically on the 16th (down $1.40 or 7.2% to $18.85), on no news I could find. It looks like it hit a point where short-term investors decided to take profits. It has been quite the run-up this last year, so profit-taking from time to time should not be a surprise. The lower price should be seen as an opportunity if your investment outlook is longer-term and you understand the risks.
Disclosure: I am/we are long GLYC, GILD, CELG, BIIB, BIVV, IMGN, MACK, AGIO. I wrote this article myself, and it expresses my own opinions. I am not receiving compensation for it (other than from Seeking Alpha). I have no business relationship with any company whose stock is mentioned in this article.
Additional disclosure: GlycoMimetics represented 9.3% of my portfolio at the close on 1/16/2018.