In 2017, Trevali Mining (OTCQX:TREVF) experienced some revolutionary changes. Not only it kept on operating its Caribou and Santander mines successfully but also acquired new producing assets from Glencore (OTCPK:GLCNF). The acquisition of a 90% interest in Perkoa zinc mine and 80% interest in Rosh Pinah zinc-lead-silver mine helped to double the production and cash generation abilities of the company. Besides the production growth, Trevali achieved also some positive exploration results at its Santander, Caribou, and Heath Steele properties and completed a PEA for its Halfmile-Stratmat deposit.
On January 15, Trevali announced the preliminary production results for Q4 2017 and FY 2017, as well as the 2018 production and cost guidance. The published numbers confirm what was generally expected. The Q4, as well as the FY 2017 production volumes, set a new record in Trevali's history. In 2018, a new record should be set, as this will be the first year when all of the 12 months of production from Perkoa and Rosh Pinah will be attributable to Trevali.
In Q4 2017, Trevali produced 104.8 million lb zinc, 13.5 million lb lead, and 396,900 toz silver. The numbers are much better compared to Q4 2016. However, as I mentioned above, the huge improvement is attributable mainly to the Perkoa and Rosh Pinah acquisition. As the acquisition was completed only on August 31, it hasn't impacted the production volumes over the first eight months of the year. As a result, Trevali's 2017 production totaled 177.4 million lb zinc, 45.8 million lb lead, and 1.562 million toz silver.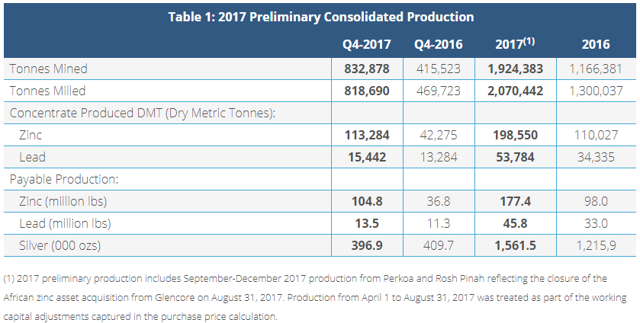 Source: Trevali Mining
The 2018 zinc production is estimated in the 400-427 million lb range. There should be also 43.8-46 million lb lead and 1.4-1.474 million toz silver produced at Trevali's mines. However, the production attributable to Trevali will be a little lower. The cash costs net of by-products are estimated at $0.67-0.73/lb zinc.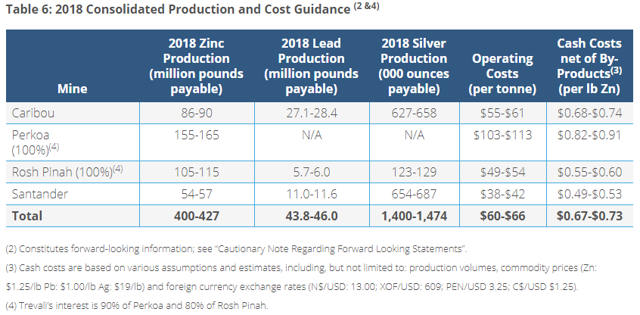 Source: Trevali Mining
As Trevali owns only 90% of Perkoa and 80% of Rosh Pinah, its attributable production will be slightly lower compared to the above-mentioned numbers. The table below provides the expected 2018 production attributable to Trevali Mining, using the middle points of the provided intervals. It is possible to expect that Trevali will produce 377 million lb zinc, 43.73 million lb lead, and 1.414 million toz silver. At the current metals prices of $1.55/lb zinc, $1.15/lb lead and $17.1/toz silver, the 2018 total production should equal approximately 425 million lb of zinc equivalent.

Source: own calculations, using data of Trevali Mining
If everything goes as planned, Perkoa should be Trevali's biggest mine, responsible for 34% of zinc equivalent production. Unlike Caribou, Rosh Pinah, and Santander, Perkoa will produce only zinc, no lead or silver. In terms of zinc production, Perkoa (38%) should be followed by Caribou (24%), Rosh Pinah (23%), and Santander (15%). Caribou should be responsible for 63% of Trevali's lead production. The biggest share on the silver production is projected to have Caribou and Santander, 46% and 47%, respectively.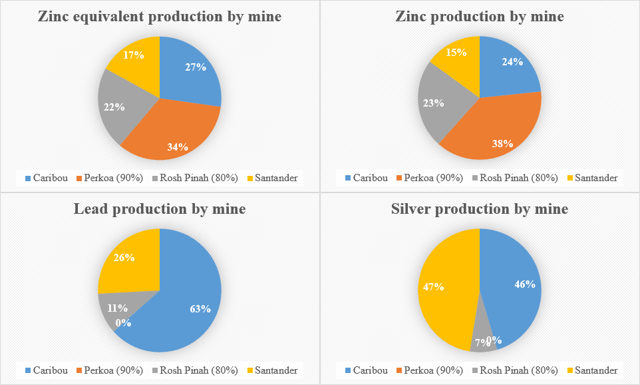 Source: own calculations, using data of Trevali Mining
What is most important, Trevali should generate a lot of cash in 2018 if the current metals prices ($1.55/lb zinc, $1.15/lb lead, $17.1/toz silver) prevail. At these prices, revenues of approximately $659 million should be expected. The projected cash costs net of by-products are $0.67-0.73/lb zinc. Using a more conservative zinc price of $1.3/lb, which is approximately 15% below the current market price, and a more conservative cash cost of $0.75/lb (the guidance projects $0.67-0.73/lb zinc), Trevali should be able to generate operating cash flow of more than $200 million. The capital expenditures are estimated at $74 million (sustaining CAPEX - $41 million, exploration - $10 million, infrastructure - $23 million) which leads to a free cash flow in the $130 million area. It is more than enough to pay the interests and to start thinking about repaying the $125 million debt that matures in 2022, or maybe even about introducing some small dividend payments.
Conclusion
Right now, everything looks good for Trevali Mining. The company experienced a huge expansion in 2017. It is working on optimizing its operations as well as on developing some new assets. In 2018, around 425 million lb of zinc equivalent should be produced, and a conservative estimate shows that even if the average realized zinc price declines to $1.3 (15% below the current market price) and the production costs are a little higher compared to the guidance, Trevali should be able to generate free cash flow around $130 million. If there are no negative surprises, and the metals prices stay at least at their current levels, it is reasonable to expect Trevali's share price to cross the $1.5 level quite easily sometime this year.
Disclosure: I am/we are long TREVF. I wrote this article myself, and it expresses my own opinions. I am not receiving compensation for it (other than from Seeking Alpha). I have no business relationship with any company whose stock is mentioned in this article.
Editor's Note: This article discusses one or more securities that do not trade on a major U.S. exchange. Please be aware of the risks associated with these stocks.