Will Puerto Rico and Evertec (NYSE:EVTC) make it? In my opinion, despite a number of headwinds including devastating hurricanes, new USA tax policy, and a decade long recession, the long term outlook is rosy. Once power is restored and Puerto Ricans return home from abroad, realizing that the grass is not always greener on the other side, the economic situation should improve dramatically and so will the fortunes of Evertec.
The company's management has proven that it can successfully turn revenues into cashflows over the last few years. They will generate almost $162mm of EBITDA and with a market cap of $1 billion and net debt of $0.6 billion, the company trades for 9.9x EBITDA which, given its growth potential and high margins, represents a good value opportunity.
I. Introduction
Almost 90% of its revenues recur each year, and revenue growth has been steady at about 4% with 2017 revenues estimated around $400mm.
It operates under three different business units
1. merchant acquiring,
2. payment processing and
3. business solutions services.
The company process more than 2.1 billion transactions annually and offers a comprehensive suite of services for core bank processing, cash processing, and technology outsourcing. Also, they own the ATH network, one of the leading personal identification number ("PIN") debit networks in Latin America. Based in Puerto Rico, the company operates in 26 Latin American countries.
II. Business model:
Evertec benefits from an attractive business model, the hallmarks of which are recurring revenue, scalability, significant operating margins and moderate capital expenditure requirements. They negotiate multi-year contracts with customers and the business model enables them to continue to grow organically in the primary markets without significant incremental capital expenditures.
They generate revenues based primarily on transaction or discount fees paid by merchants and financial institutions in the merchant acquiring and payment processing segments and on transaction fees or fees based on the number of accounts on file in the business solutions segment.
The company sells and distribute their services primarily through a proprietary direct sales force with established customer relationships. They are also building a variety of indirect sales channels.
III. Financials:
The financial statements are in pretty good shape with revenue growing around 4% annually over last few years and with operating margins around 24%, around 400bps above peers. See below (Source: www.stockrow.com, great site).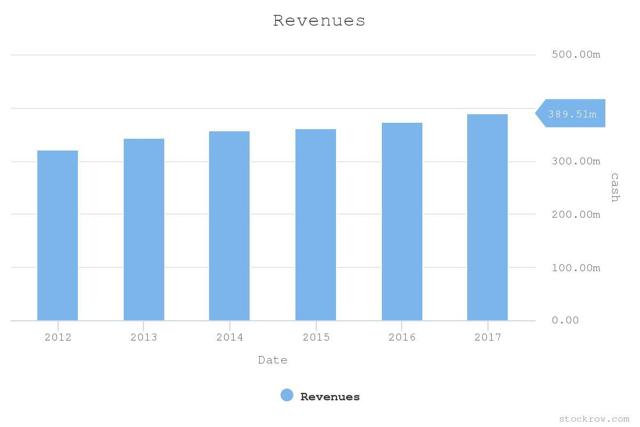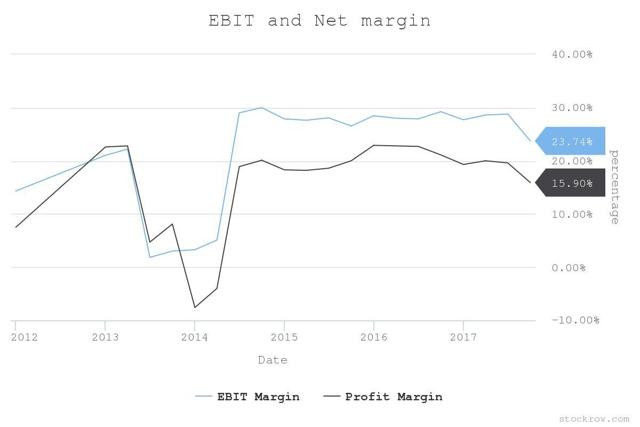 The balance sheet has debt of $640 million ($560mm of which is LT), about 3.9x EBITDA. Refinancing the debt should not be an issue given their connection with Banco Popular and assuming they can continue to generate between $100-110 million a year in free cash flow. See table below: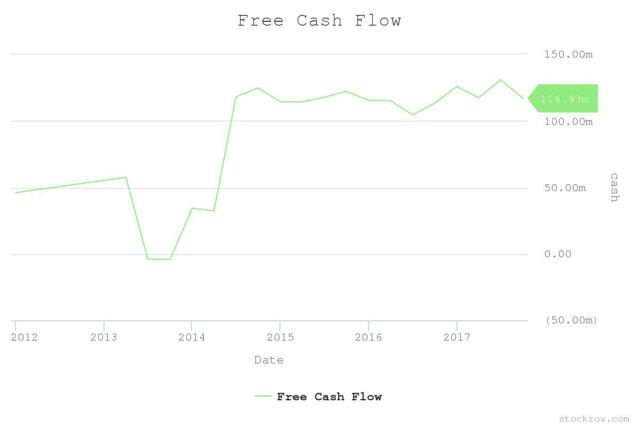 Q4 results are due mid to end of February and on the Q3 conference call the CEO stated that they expect adjusted earnings per common share between $1.40 to $1.50, which represents a range of negative 16% to negative 10% as compared to $1.67 in 2016 primarily due to Hurricanes and Paygroup acquisition.
When reading the news about current situation in Puerto Rico, around 50% of the island is still without power. The CEO on Q3 conference call mentioned that "in October their largest client Banco Popular, had over 60% of their ATMs and 80% of their branches operational" and "...we were off 55% in October transaction volume but bounced back in the final week of October to end with 30-40% lower transactions. On the whole, the moving average is positive and so we've factored that growing to 80% by the end of the quarter."
As an investor who protects for downside before looking at upside and given the dire situation, I modeled for adjusted EPS of $1.25-1.30 representing a current P/E multiple of ~11, well below peers avg. of 14 (Technology Sector as per ) and a market where the S&P500 trades at 18.0x estimated 2018 earnings.
The company recently stopped its dividend and extended its $120 million repurchase authorization to December 31, 2020, previously set to expire at year-end 2017 to ensure an optimal capital structure going forward. The program currently has $72 million of authorized repurchases remaining which at $16 (vs. current $14) per share means around 4.5mm or 6% of outstanding shares will be retired.
III. Management:
The company has a strong bench led by Mac Schuessler, who has over 20 years of relevant payment industry experience and joined as President of Board and CEO in April 2015 after running competitor Global Payments' international operations overseeing business in 23 countries throughout Europe and Asia. Before joining Global Payments, Mr. Schuessler served in several leadership positions with American Express, Inc. including Vice President, Global Purchasing Solutions with responsibility for managing the company's purchasing card business globally. Mr. Schuessler was previously a member of Visa's Senior Client Council and the UnionPay International Member, the international division of China UnionPay (CUP).
The CFO, Peter Smith, also joined in 2015 and was previously the chief accounting officer and corporate senior vice president at Fidelity National Information Services (FIS). Before this role, he served as senior vice president and segment controller, position in which he was responsible for managing the finance and accounting functions for FIS' Payments Solutions Group segment. Before joining FIS, Smith held finance roles of increasing responsibility at Metavante Corporation from 2005 to 2009 and served as segment CFO of the Payments Solutions Group of Metavante Corporation from 2008 to 2009.
Other senior executives have senior management experience in leading payments and technology firms like Visa International and First Data.
IV. Corporate Structure:
Evertec was created on April 1, 2004, founded by Popular, Inc., the largest financial institution in the Caribbean, the company enjoys a 27-year track record in the transaction processing industry. In September 2010, Apollo Management, LLC, a leading private equity investor, acquired a 51% interest in EVERTEC. Today institutional ownership is around 81% with the balance being insider ownership. Companies with high insider ownership tend to outperform market averages. As of December 31, 2016, Popular owned approximately 11.7 million shares or 16.05% (the largest shareholder), and Apollo no longer owns any of the company's common stock. Popular is also their largest customer and they provide some critical products and services to Popular, which are governed by a 15-year Amended and Restated Master Services Agreement (the "Master Services Agreement") that runs through 2025.
V. Headwinds:
5.1. The concentration of Revenues: "For the fiscal years ended December 31, 2016, and 2015, approximately 84% and 86%, respectively, of our total revenues were generated from our operations in Puerto Rico. In addition, some revenues that are generated from our operations outside Puerto Rico are dependent upon our operations in Puerto Rico. As a result, our financial condition and results of operations are highly dependent on the economic and political conditions in Puerto Rico, and could be significantly adversely impacted by adverse economic or political developments in Puerto Rico." (Source: 10K) Though through a combination of private and public funding, the island will recover, I believe that the recovery will take longer than expected and the slow progress will have a negative impact on Evertec Q4 results and potentially first half of 2018.
5.2. Residents are leaving for the US: SME's make up a 90% of private companies on the island and employ about 1/3 of the workforce. With lower sales, and in order to survive, business owners will start to lay off people, which creates a vicious cycle of unemployment and migration. It is estimated that as many as 470K (of the 3,4mm) could leave (Source: Center for Puerto Rican Studies at Hunter College in New York).
5.3. Prolonged Recession: Business conditions have been bad for years but the recent events, will likely only extend the recession that started almost a decade ago unless there is some kind of financial or other support.
5.4. The new GOP Tax Plan: Given tax laws, Puerto Rico is treated as a foreign jurisdiction similar to Ireland or India. As the new tax plan includes provisions aimed at bringing operations and jobs back to the United States, it will have a negative impact on Puerto Rico. In my opinion, the two most damaging clauses are
- A 12.5 percent tax on profits derived from intellectual property held in foreign jurisdictions and
- A minimum 10% tax on profits generated in Puerto Rico
6. Catalysts (with my take on likelihood of success in next 24 months)
6.1. Restoring the Power Grid (high likelihood) and Economy: As mentioned, this is going slower than expected but I tend to go agree with Rob Glenn, the Federal Emergency Management Agency's private-sector division director that "…once businesses are back on the grid, you will see "economic recovery really, really accelerate," Many people who left the island for the US will return and the SME will start to thrive again. There are also other private initiatives at play, with Tesla making good progress on one solar generation and storage facilities to ensure power when the grid is not available like after recent storms.
6.2. Shift to Electronic Payments (high likelihood): Evertec is a regional leader in electronic payments processing, and as more and more transactions migrate from cash to electronic, the company should partake in this growth. In addition, in an effort to better capture taxes over generated revenue, recent legislation in Puerto Rico has required most licensed professionals to provide an electronic payment option to their customers, and that all consumer businesses that generate revenues in excess of $50,000 provide an electronic payment option to their customers, with the exception of certain businesses, further expanding the need for an electronic payment network in Puerto Rico.
6.3. Fast Growing Latin American and Caribbean Financial Services and Payments Markets (medium likelihood): Currently, the penetration of banking products, including electronic payments, in the Latin American and Caribbean region is lower relative to the mature U.S. and European markets.
As these markets continue to grow, and financial inclusion increases. As per 10K, "If current trends continue, developing markets' share of global non-cash volumes is expected to increase from 27% in 2013 to 33% by 2020. We believe that the attractive characteristics of our markets and our leadership positions across multiple services and sectors will continue to drive growth and profitability in our businesses."
6.4. Potential Acquisition Target (low likelihood): Evertec is still small compared to some of its larger international peers, and with companies flushed with cash, Evertec could be an acquisition target for one of the larger players. Furthermore, they are well-positioned to continue to expand across the fast-growing Latin American region. However, given Popular's large shareholder stake and influence, there might be a conflict of interest with common shareholders on any sale and such a transaction could also have a negative impact on the business.
As a summary, I have listed below my top three pros and cons of investing in Evertec right now.
Pros
1. They convert large portion of revenue into free cash flow so a good business model. With positive secular trends this flywheel will keep on giving.
2. Good management with long stand industry experience.
3. High ROE which indicates will likely outperform S&P over long term.
Cons
1. Integration of Paygroup. Remains to be seen if they overpaid and impact on margins.
2. High ownership by Popular. This can be good and bad for future prospects.
3. Recovery from the Storms could take much longer than expected.
Given its ability to turn revenues into cashflows and assuming a somewhat speedy recovery period from the storms, the opportunities for future growth brings me to an intrinsic value of $18.50 in the next 24 months, representing more than 30% upside. I took a very small position when the price dipped below $13 but would suggest readers to wait till after the release of Q4 numbers to assess just how dire the situation in Puerto Rico really is. It will also then be easier to assess what the outlook for the next 12-24 months for Evertec will look like.
Disclosure: I am/we are long EVTC. I wrote this article myself, and it expresses my own opinions. I am not receiving compensation for it (other than from Seeking Alpha). I have no business relationship with any company whose stock is mentioned in this article.