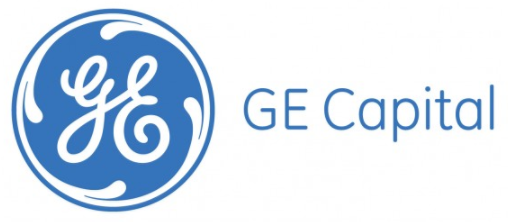 General Electric (NYSE:GE) has continued to have a rough go of it in recent times, despite the fact that the stock looks like it is trying to bottom here. I've been a bull in recent months, as the stock has made a base from which it can rally, but I've also seen signs from the new CEO that he means to turn this company around. The problem is that GE is still very much in a state of flux when it comes to its industrial earnings, and now we get a notice that the reinsurance business is not only taking a $6.2 billion after-tax charge in the upcoming Q4 report - which is massive - but that over the next seven years, we'll see a further $15 billion in reserves for losses. GE Capital is funding these losses and will thus eliminate its dividend payments to the parent, and to be honest, I'm shaking in my boots.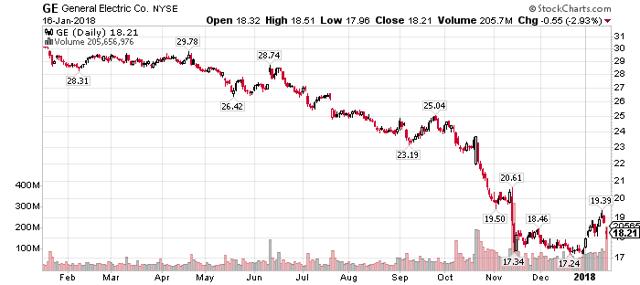 A surprise announcement
The announcement came as part of GE's previously publicized plan to review its insurance operations, and the results are pretty alarming, if I'm honest. GE says it needs not only the impairment in the Q4 report, but a $3 billion contribution in Q1 as well as $2 billion annually through 2024. The contributions to reserves will come from GE Capital, and given this, all dividends to the parent have to stop "for the foreseeable future." We all knew some sort of result was coming, but I didn't see anyone call this one, and judging by the reaction of the stock, it would certainly appear this one came out of left field.
John Flannery said this action is part of the plan to make GE Capital smaller and more focused, as well as to bring its capital ratios back into line that are commensurate with what regulators are looking for. That all sounds fine, but the sheer scale of the reserves and losses astounds me. How did the problem get this bad before action was taken? The numbers we're talking about here are positively enormous, and it is clear that the insurance business has been woefully undercapitalized for a long time. Otherwise, the announcement from earlier this week would not have been so massive.
Can industrial earnings support this?
The problem is that the industrial business hasn't exactly been a blockbuster here of late, so if the reserve amounts that GE has just set are inadequate, we may see the industrial business have to infuse capital into the financial business down the road. That's far from a certainty here, and given the scale of the reserves we're talking about, it seems rather unlikely, at least at this point. However, GE Capital has seen waning earnings for a long time now since the downsizing/divesting began a couple of years ago, and it is thus unable to absorb billions of dollars in losses the way it once could.
The other, more pressing, issue is that GE Capital paid common dividends of $4 billion to the parent in the first three quarters of this year, and those payments have to stop as a result of this action. This is a massive blow to GE's total earnings and cash levels, as Capital was once the majority of its consolidated earnings, and now it looks like the industrial business is going to have to carry the financial business on its back. Given the way the industrial business has performed this year, I'm not sure that is going to be possible if further deterioration takes place.
I suspect we'll see earnings estimates come down in the coming weeks as analysts digest what I think is fair to characterize as a pretty shocking announcement. The stock is going for about 18 times 2018 earnings, so it isn't egregiously priced, but at the same time, it isn't cheap either. It has become ever more apparent that GE's road to earnings recovery is going to be long and tough, and this announcement certainly doesn't help.
A breakup now would be imprudent
There's also the idea that GE will break itself up, as CNBC reported this earlier this week as well. At this point I'm not a fan of a breakup, whatever form that would take, as GE has set down this path of being a nearly pure industrial company, and given what is left, I don't know how a breakup would even take shape. GE has spent billions and billions of dollars in recent years for it to be the company it is today, and another massive shift in strategy so soon after the last one hasn't even had a chance to take hold is probably going to be unpalatable to investors. I wouldn't prefer a breakup at this point because investors are still giving GE the benefit of the doubt and time to fix its issues. Starting anew with another seismic shift in strategy is probably not the prudent thing to do here. Here's hoping that the company doesn't do a breakup - but stranger things have happened.
I'm concerned, but holding
I was shocked to see the announcement come out earlier this week regarding GE's insurance reserves. The fact that $15 billion is going to be reserved for in the next few years, on top of a $9.5 billion pretax charge that will see GE post a terrible Q4, is very concerning. The plan, as it stands now, looks like it is probably big enough to cover losses, but what I'm more concerned about is the indefinite suspension of dividends from Capital to the parent. That is literally billions of dollars a year that GE no longer has access to, and that will make industrial earnings even more critical. At a time when the industrial business is struggling with revenue growth and margin deterioration, that's concerning.
At the same time, if Flannery is making this his kitchen sink quarter, the idea that the stock is bottoming here in the $17/$18 area could take hold. For now, I'm still in that camp, but I'll admit that I'm concerned by this week's announcement. I'm not getting out, but I'll be monitoring the Q4 report even more closely than I was for hints and what guidance will look like with Capital dividends removed from the equation.
Disclosure: I am/we are long GE. I wrote this article myself, and it expresses my own opinions. I am not receiving compensation for it (other than from Seeking Alpha). I have no business relationship with any company whose stock is mentioned in this article.