Value investing can yield outstanding returns over the long term. While it's not easy to find undervalued companies in the current market environment, we need to remember that the stock market is actually a market of stocks. Even if the market as a whole is aggressively priced, there are always some select opportunities for investors who are willing to go where others fear to tread.
The following article introduces a quantitative system focused on companies with attractive valuation ratios. The system has produced outstanding backtested performance in the long term. However, it's important to evaluate this data with caution.
Past performance does not guarantee future returns, and cheap stocks are many times cheap for a good reason. It's important to always do your homework and analyze the business behind the numbers before making an investment decision, because a low valuation level is not a complete investment thesis by itself.
Personally, I'm more inclined towards combining valuation with other factors such as financial quality and momentum. These kinds of more holistic systems work remarkably well, and they are better suited for my own investing philosophy.
However, a pure value system can be the way to go for deeply contrarian investors focusing strictly on price over quality, growth, and other attributes.
The main point is that a quantitative system is a valuable tool to find potentially attractive investment ideas for further research. This is remarkably different from blindly replicating the buy and sell decisions recommended by the system without properly analyzing the alternatives.
Value Investing By The Numbers
The following system is based on a ranking algorithm as opposed to a screener. For those who are not familiar with the difference between the two approaches, a screener would determine specific parameters for different valuation ratios. For example the price to earnings ratio has to be below 20 and the price to free cash flow ratio has to be below 15. The system would only invest in companies that meet such values in both indicators.
A ranking system, on the other hand, averages the two valuation ratios, price to earnings and price to free cash flow, creating a composite valuation indicator. The system then invests in the cheapest companies in a particular universe based on such composite valuation indicator.
For this particular system the ratios considered are forward price to earnings, price to earnings growth, price to free cash flow, and enterprise value to EBITDA. The system leaves aside some popular valuation ratios such as price to sales, price to book value, and dividend yield.
The price to sales ratio is an interesting indicator, and many value investors a particularly fond of it. However, the ratio doesn't account for profitability on sales. All else the same, a more profitable business deserves a higher price to sales ratio, since every dollar in sales is reflected on earnings to a larger extent. A system focused on price to sales would naturally gravitate towards companies with relatively low profit margins, so I decided to exclude the ratio in this particular system.
The price to book value ratio is not my favourite valuation indicator by any means. In times when many of the most valuable companies in the world are in sectors such as software and services, a company's accounting book value doesn't really tell you much about its ability to produce earnings and cash flows over time.
Dividends are a key variable to consider, but this particular system is focused on value, not capital distributions. Many undervalued companies tend to retain their cash, maybe because they want to be financially safe in a challenging industry, or perhaps because they need to reinvest that money for growth. Whatever the reason, many undervalued companies pay no dividends at all, so dividend yield is not included in this system.
To wrap up, the system takes an equal weighted average of the four valuation indicators considered: forward PE, price to earnings growth, price to free cash flow, and enterprise value to EBITDA. Then it picks the 50 stocks with the best composite valuation ranking in the S&P 500 index, and it builds an equal weighted and monthly rebalanced portfolio with those names.
The portfolio is assumed to have an annual expense ratio of 1.5% to account for trading expenses and similar considerations, and the benchmark is the SPDR S&P 500 Trust ETF (SPY).
Backtested Performance And Recommended Portfolio
Backtested performance is quite encouraging, since January of 1999 the system gained 16.3% per year versus a much smaller gain of 6.33% for the SPDR S&P 500 Trust ETF. In cumulative terms, the system gained 1,672.27%, while the market tracking ETF gained 221.85% in the same period.
As expressed in ratios such as Sharpe and Sortino, the system also does a sound job at outperforming the market in terms of risk adjusted returns.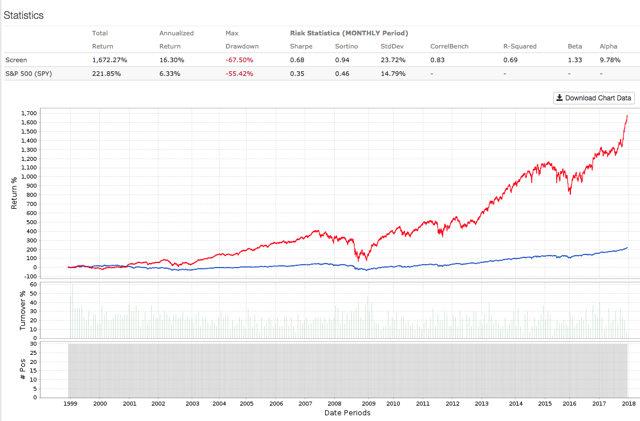 Backtesting data and charts are from Portfolio123.
Value investing has been out of fashion lately, and many value stocks have lagged the market in recent years. There is no way to tell for certain what kind of performance this strategy will generate in the middle term, so backtested results should be taken with a grain of salt.
That acknowledged, value investing is one of the soundest and most time-proven strategies available to investors, and a solid quantitative system can be a great tool to identify potentially undervalued opportunities.
The table below shows the 30 stocks currently recommended by the system, including the forward price to earnings ratio and the price to free cash flow ratio for a quick valuation reference.
| | | | |
| --- | --- | --- | --- |
| Ticker | Name | Fwd PE | Price to FCF |
| FCX | Freeport-McMoRan (FCX) | 10.73 | 11.14 |
| CMA | Comerica (CMA) | 13.26 | 23.33 |
| VLO | Valero Energy (VLO) | 14.03 | 19.02 |
| WBA | Walgreens Boots Alliance (WBA) | 11.94 | 16.64 |
| SWKS | Skyworks Solutions (SWKS) | 12.82 | 19.9 |
| LUK | Leucadia National (LUK-OLD) | 17.17 | 10.46 |
| WDC | Western Digital (WDC) | 7.15 | 8.7 |
| JNPR | Juniper Networks (JNPR) | 13.56 | 10.17 |
| TSN | Tyson Foods (TSN) | 12.79 | 24.15 |
| CVS | CVS Health (CVS) | 12.17 | 13 |
| WFC | Wells Fargo (WFC) | 12.01 | 22.68 |
| COF | Capital One Financial (COF) | 11.11 | 5.1 |
| SYF | Synchrony Financial (SYF) | 10.86 | 3.74 |
| HRB | Block H&R (HRB) | 13.21 | 16.52 |
| DFS | Discover Financial Services (DFS) | 10.67 | 7.06 |
| ESRX | Express Scripts Holding (ESRX) | 9.36 | 7.79 |
| UNM | Unum Group (UNM) | 10.93 | 13.45 |
| DISCA | Discovery Communications (DISCA) | 10.83 | 8.86 |
| HCA | HCA Healthcare (HCA) | 12 | 13.32 |
| LYB | LyondellBasell Industries NV (LYB) | 12.17 | 19.92 |
| PRU | Prudential Financial (PRU) | 10.19 | 10.4 |
| FL | Foot Locker (FL) | 11.22 | 14.3 |
| PFG | Principal Financial Group (PGF) | 12.48 | 5.58 |
| M | Macy's (M) | 9.06 | 8.77 |
| ALK | Alaska Air Group (ALK) | 10.74 | 23.03 |
| F | Ford Motor (F) | 7.48 | 5.97 |
| SIG | Signet Jewelers (SIG) | 9 | 2.31 |
| MU | Micron Technology (MU) | 5.23 | 10.38 |
| C | Citigroup (C) | 10.6 | 13.23 |
| EVHC | Envision Healthcare (EVHC) | 10.66 | 9.37 |
Cyclical stocks, financials, healthcare, and industrials are highly represented in the list. This is to be expected, since most of the undervalued opportunities in the market usually come from these kinds of challenging industries. Among the names in the list, some particular companies are calling my attention.
Micron Technologies is priced at bargain low levels, and the company is reporting spectacular financial performance. The main risk is industry cyclicality, which is a major uncertainty factor weighting on the stock. If demand for memory and storage chips remains strong in the middle term, Micron Technologies could deliver big gains from current price levels.
Citigroup looks like another interesting alternative to consider. Among the big U.S. banks Citigroup was arguably the hardest hit by the financial crisis in 2008 and 2009, but the company has a lot of room to recover, and financial performance is moving in the right direction. The stock is comparatively cheap, even by industry standards. Besides, the industry could benefit materially from rising interest rates over the coming months.
Freeport-McMoRan is the market leader in copper mining, and the company is profiting substantially from rising metal prices lately. With strong economic growth around the world, and favourable industry dynamics in terms of supply and demand, the stock looks well positioned for attractive returns if copper prices remain favorable.
These are just some alternatives to consider. As always, please remember to do your own research in order to make sure that a particular stock fits your investment strategy and risk tolerance levels.
Looking for more investment ideas backed by powerful quantitative systems with market-beating backtested performance? Until January 31 you can take a free trial and secure a 15% discount to my research service: The Data Driven Investor.
Disclosure: I/we have no positions in any stocks mentioned, and no plans to initiate any positions within the next 72 hours. I wrote this article myself, and it expresses my own opinions. I am not receiving compensation for it (other than from Seeking Alpha). I have no business relationship with any company whose stock is mentioned in this article.