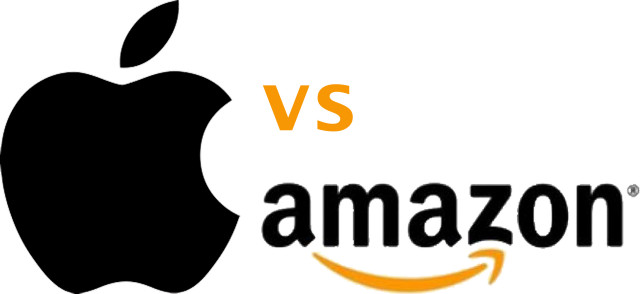 Both Apple (AAPL) and Amazon (AMZN) have had nice runs over the last year. Apple is up 47% and Amazon is up 60%. However, that's where the similarities stop. In my opinion, Apple's stock price has surged because of good operational performance and it was previously undervalued. On the other hand, I believe that Amazon's stock performance has more in common with tulip mania than anything else. Amazon's stock surge now puts them at the 3rd largest company in the U.S. (right behind Microsoft (MSFT)), which makes it more relevant to begin making the comparison with Apple. In general, I still consider Apple a good stock to buy for the long term. I don't share that same opinion about Amazon and recommend looking for value elsewhere.
1. Reality vs. Fantasy
Pay particular attention to Apple's valuation vs. Amazon's valuation. In my opinion, Apple's valuation and overall expectations are grounded in reality and verifiable through traditional means. Amazon's valuation is highly speculative and is more a fantasy than reality. When I buy a growth stock, I like it to be able to grow into its valuation in a couple of years (hence why most growth stocks trade 30x - 40x earnings). In Amazon's case, I don't see them growing into its valuation for another 5 - 10 years.
2. Apple's Performance is Far Superior
Amazon's sales are growing faster, but Apple's operations are superior across the board. Apple produces significantly more sales, better margins, and more cash flow. Just keep in mind that Apple's enterprise value is $950 billion and Amazon's is $647 billion (68% of the value of Apple). To make a more reasonable comparison, 68% of Apple's 2017 net income would equal approximately $33 billion. I don't expect Amazon to be realizing its full profit potential because they are spending heavily on growing the business, but there's just no chance they could recognize that kind of profit in the near term even if they cut operating expenses to the bone. I'm just try to reiterate my point of Amazon's valuation being at a level of performance they won't reach for a long time.


Data Source: Google Finance
Note - Apple's FYE is September, Amazon's is December.
3. Apple Operates in a Better Market
First, Apple's gross margins are better. This simply comes down to creating a product vs. selling products that others make. Amazon does have Amazon Web Services revenue, but as long as Amazon's sales are heavy on retail, its margins will be far less than Apple's. When looking at Amazon's gross margins, I urge you to use caution; it's misleading in my opinion (I discuss this in detail here). Amazon doesn't include fulfillment in its cost of goods sold. Fulfillment is part of the process of getting products to customers, so I believe that needs to be accounted for. Second, Apple dominates the cell phone market along with Samsung (OTC:SSNLF) and there are high barriers to encroach on that market. Amazon has more competitors from countless other retailers including big ones like Wal-Mart (WMT) and Alibaba (NYSE:BABA).
4. Cash vs. Debt
There's simply no contest here; Apple is the king of cash. Apple has more cash than any other company in the world, with a level that has swelled to $254.4 billion as of the most recent quarter. Apple also has a fair amount of debt, so that brings down its net cash to a more modest $138.7 billion, which is still impressive. This gives Apple nearly limitless acquisition or development possibilities. Amazon on the other hand is actually in a negative net cash position. I'd expect that to improve given holiday season results haven't been factored in yet, but it still makes Amazon pretty cash-strapped.


5. Apple Returns Capital To Shareholders
Apple has been using its free cash flow production to fund a dividend (current yield of 1.43%) and buy back shares. Apple gives the best of both worlds. You get a lot of growth potential in the stock price, but also upside from dividends and share repurchases. I really like that because it increases your long-term returns and has a dollar-cost-averaging effect should the stock price dip. Amazon is in a different stage of growth, so hasn't begun returning capital to shareholders and probably won't for a long time. As you can see by the tables below, Amazon's share count is actually increasing and working against investors (from employee stock programs). I'm generally OK with that for growth stocks, but not when I'm concerned about the valuation. If Amazon's stock experiences a correction, this will be working against you as well.


6. Apple Has Better Brand Power
According to Interbrand, Apple has the most valuable brand in the world (valued at $184 billion) and Amazon is ranked fifth (valued at $64.8 billion). Apple has demonstrated this through its pricing. Consumers are willing to pay considerably more for an Apple phone or Apple computer than competitors. That's the true barometer of brand power. While Amazon is recognized all around the world, and consumers are more likely to use its platform because of that, that hasn't necessarily yielded an advantage on pricing like Apple has achieved. Consumers will buy products the cheapest and most efficient way they can. Amazon has mastered the art of making things efficient, but I don't believe they will ever be able to charge a premium for items just because its being sold on Amazon.
7. Valuation Multiples:
All of Apple's valuation multiples have trended upwards over the last year, but they are all within Apple's historical range. Apple is is also fairly valued against the rest of the market (S&P 500 averages data from Reuters):
AAPL Trailing P/E of 19.06x (28% below S&P 500 average of 26.3x)
AAPL Forward P/E of 14.42 (22% below S&P 500 average of 19.4x)
AAPL PEG of 1.36X (9% below S&P 500 average of 1.5x)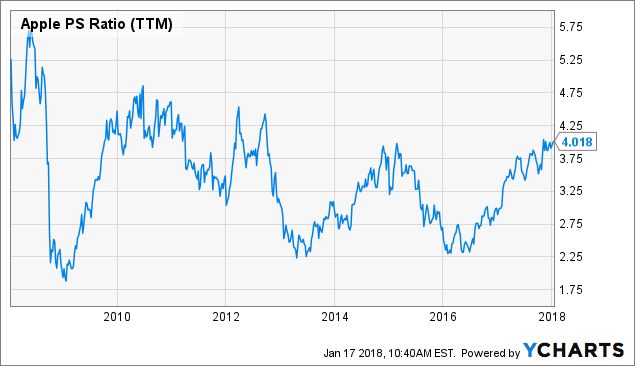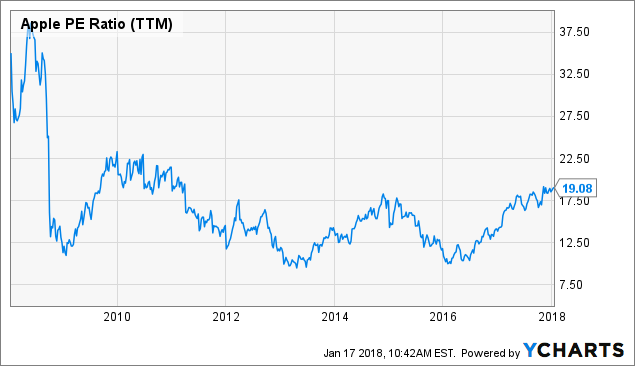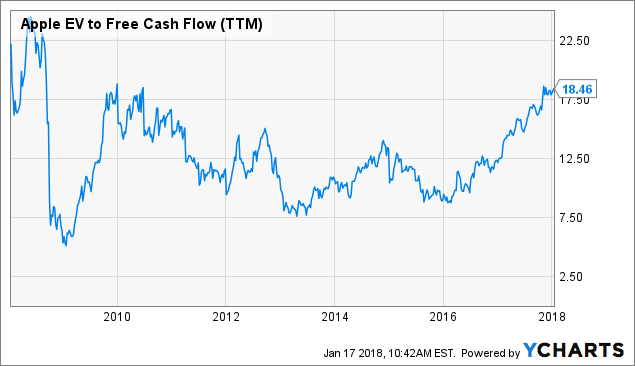 Now let's take a look at Amazon. Amazon's 3.9x P/S ratio is what causes me the most concern. There's no historical precedent for this multiple. Don't forget that Amazon has lower margins and lower profitability compared with Apple, so this is not a perfect comparison. If you look at other retailers like Wal-Mart, you will see that this ratio is normally drastically less (i.e. Wal-Mart's P/S is currently 0.61x). I won't even bother comparing Amazon's valuation multiples with the general market like I did for Apple. They are all off the chart and there's really no other company like it with a market cap north of $50 billion.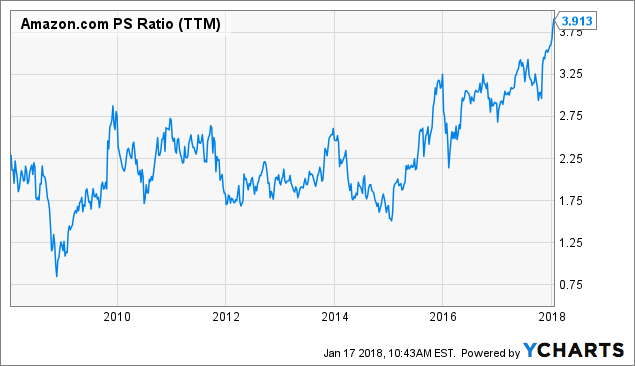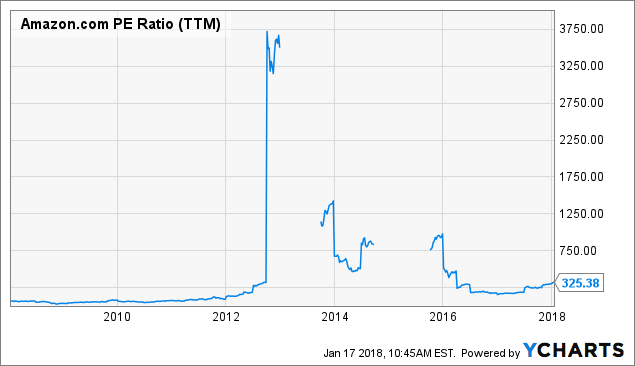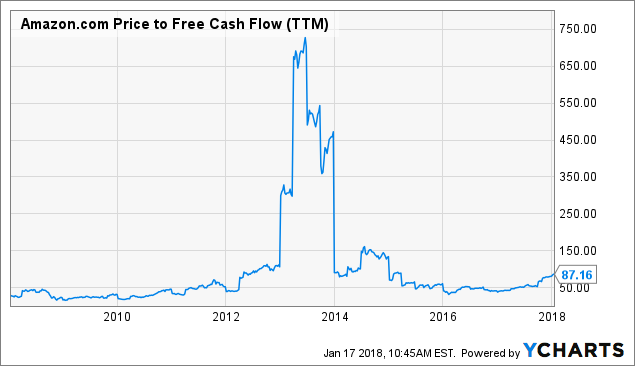 8. Comparable Valuation
I've written a lot of articles about both Apple and Amazon in the past. I always come to one big problem when it comes to Amazon and that is: which stocks do I compare it with? Amazon is both a tech company and a consumer retailer. I think Amazon functions more like a consumer retailer, but since it's valued like a tech company, I'm going to compare Amazon with other tech companies.
My least favorite thing about Amazon is its unimpressive earnings growth rate (see table below). For such a lofty valuation, I'd expect earnings growth to be in the 20-30% range. Google (GOOG) (NASDAQ:GOOGL) is a good comparative example since it has the same enterprise value as Amazon, but you get a much more robust bottom line, a more attractive PEG ratio and a better earnings growth rate. My basic question to investors is: why would you buy Amazon when you can buy Apple, Google, Facebook (FB) and many others at a fraction of the price?

Data Source: Yahoo Finance
Note - Net Income is each company's most recent full fiscal year
Note - Growth rate was derived based on Yahoo Finance's forward P/E and PEG Ratio.
9. Trump's Tax Plan Helps Apple
With the recent tax overhaul, Apple is benefiting from both a lower domestic corporate rate and also a lower rate on overseas profit through cash repatriation. Apple's effective tax rate over the last 5 years averaged approximately 25.8%. If a 21% tax rate is assumed, Apple would likely save a minimum of $2.9 billion in tax expense per year, which adds a significant amount of value to its market cap (assuming valuation multiples stay the same). That's more savings than Amazon has ever recognized in profit for any year.

Amazon on the other hand won't really see much benefit to this legislation, at least not for a while. Amazon does most of its business in the U.S. and has a relatively high corporate tax rate, but since they don't make much of a profit yet, the savings aren't going to be that meaningful.
Conclusion
In my opinion, Amazon has pushed well beyond the limits of a reasonable valuation, which makes now a good time to sell the stock. Sales are increasing, but the other performance metrics just aren't that impressive to me. Most notably, Amazon's sales growth hasn't resulted in meaningful earnings growth and that trend is expected to continue. Quite simply, there are many stocks that offer much more value in my opinion and Apple is one of them. Apple still trades cheap relative to the general market, has more cash than any company in the world, and has growth potential through its existing business and acquisition/development opportunities.
Disclosure: I/we have no positions in any stocks mentioned, but may initiate a long position in AAPL over the next 72 hours. I wrote this article myself, and it expresses my own opinions. I am not receiving compensation for it (other than from Seeking Alpha). I have no business relationship with any company whose stock is mentioned in this article.