When it comes to BlackBerry (BB), there is a major divide on the stock. Supporters of the firm think that there is huge potential in the company's software and services business, arguing that shares should be worth several times what they currently trade for. On the flip side, bears see continuing overall revenue declines and significant losses as a reason to avoid. Usually in this case, investors may look to Wall Street analysts for some help, but the Street seems to be very disconnected from the stock currently.
Earlier this week, BlackBerry shares jumped to a new multi-year high after the company announced a new "game-changing" software product called Jarvis. This cloud-based service helps to identify vulnerabilities in programs used for self-driving vehicles. Just like many announcements in recent times, shares spiked on the news to a peak of $14.55, only to lose a dollar rather quickly, as seen in the chart below.

(Source: Yahoo Finance)
I bring up this movement in the stock because it represents a significant divide from what the Street thinks about BlackBerry. While one firm recently reiterated an Outperform rating and bumped its price target to a Street high of $15.50, most other firms are very silent. Take a look at the graphic below, which shows what the Street thinks overall.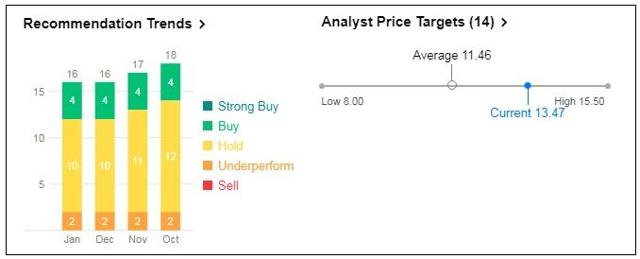 (Source: Yahoo Finance analyst estimates page)
Doesn't it seem rather odd that 14 of the 16 analysts covering the stock have either a hold or buy rating, yet the average target among 14 analysts calls for a $2 decline from here? If I'm an investor, why should I want to be in a stock that is projected to decline 15% from current levels? It's not like there is one low target that drags down the average, because the highest target on the Street is actually further away from the midpoint than the low one. You would think that either the Street should be downgrading the stock to sell, or analysts should be upping their targets to what a hold or buy rating should actually represent.
Over the last roughly 10 months, revenue estimates have fallen quite a bit, while the average target has surged, a chunk of that due to the Qualcomm (QCOM) award. While bulls will talk about guidance at the latest earnings report being at the high end of the company's range, you have to remember that CEO John Chen previously took guidance down twice before that, but things have been helped a bit by large one-time IP deals.
Entering this fiscal year, the Street was looking for about $980 million in non-GAAP revenues this year. BlackBerry says it will come in toward the upper end of its range for $920 to $950 million, and the Street is currently at $938 million. However, that includes one low estimate that I think is overly bearish, and taking that out improves the average by $3 million. Even at the top end, however, BlackBerry is likely to come in around $30 million short of where estimates were last March.
Bulls will contend that the drop is due to service access fees and hardware revenues declining, but that's not a surprise. The March 2017 estimate was six months after the company's decision to end internal hardware development, and in the latest period, hardware/SAF revenues actually came in well above guidance. Looking forward to the fiscal period that starts on March 1, analysts project another 6% yearly decline in revenues to $882.36 million.
While BlackBerry will have some help from RADAR moving forward and QNX in the back half of the following fiscal year, the company likely won't have as many IP deals to book. Thus, management will need to put some of its large cash pile to work to help offset revenue declines. Bulls told me last April that the QCOM cash would be used for acquisitions rather soon, but nine months later, we are still waiting for something to happen.
So after another pop and eventual fade for BlackBerry, it would be nice to see what the Street actually thinks of the stock. There's a large disconnect between where shares currently trade as compared to the average price target, despite most ratings for BlackBerry being hold or buy. With revenues continuing to decline overall and GAAP profitability being unclear, it will be interesting to see what management's next major move is.
Disclosure: I/we have no positions in any stocks mentioned, and no plans to initiate any positions within the next 72 hours. I wrote this article myself, and it expresses my own opinions. I am not receiving compensation for it (other than from Seeking Alpha). I have no business relationship with any company whose stock is mentioned in this article.
Additional disclosure: Investors are always reminded that before making any investment, you should do your own proper due diligence on any name directly or indirectly mentioned in this article. Investors should also consider seeking advice from a broker or financial adviser before making any investment decisions. Any material in this article should be considered general information, and not relied on as a formal investment recommendation.