AppFolio (APPF), a SaaS software provider that went public in June 2015, is a company offering two software programs: one focused on property management (Property Manager) and the other geared towards law practice management (MyCase, acquired in 2012).
Its applications appear to be well respected amongst coders; in 2016, the SIINA CODiE Awards placed APPF's software as finalist for "Best Real Estate or Construction Management Solution" as well finalist for "Best Legal Intelligence Solution," for Property Manager and MyCase, respectively.
Customers seem to have favorable opinions of the programs, giving the software, by and large, top reviews. For Property Manager:
AppFolio is the best property management software my company has ever used. It is user friendly, and the support from the company's staff is exceptional! It has substantially decreased the amount of time spent on rent collection and disbursements, maintenance follow-up, and has allowed us to grow without having to add additional staff.
MyCase has also received largely positive reviews:
MyCase is awesome. It allows you to connect with your client while giving them access to only the documents related to their case. It also allows you to let them pay their invoices online, message you, and track hours for each client.
It seems that AppFolio has honed in on two markets that it understands well, and has achieved a decent amount of respect for its products in those markets.
In spite of the fact that net income margin is in the low single digits ($5.85M net income vs. $133.92M revenue, or 4.4%), earnings are at least increasing in tandem with its sales--to a correlation of 0.835 (source). The company is - slowly - turning its sales growth into profitability growth.
That's what I love to see.
So, the company makes products that the market seems to have embraced. Sales are growing nicely, along with net income (although net income margin remains stubbornly low). Those factors suggest that investors have some reason to be optimistic about the shares. I think, however, that it may be a little premature to buy shares of APPF at its current valuation.
Its Products' Quality Is Built Into Its Price
Let's not forget that, no matter how amazing APPF's products are, the positive sentiment regarding its products is already built into its price. This public information is not news to the market. Consider the behavioral finance research into attribution bias: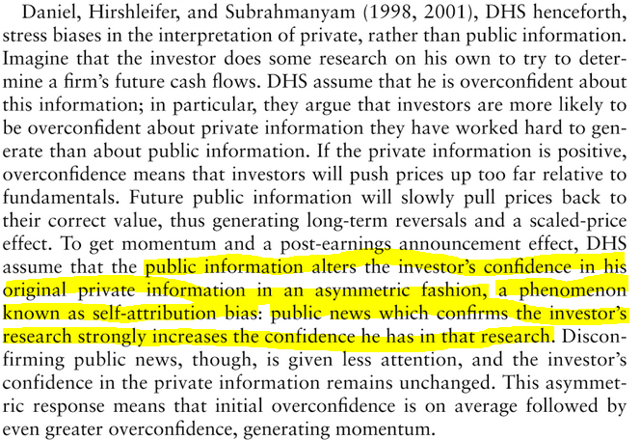 Source: Advances in Behavioral Finance, edited by Richard H. Thaler, pg. 42.
Here's what, in my opinion, this research means for us. When we read positive information about a company, like the positive reviews above, we need to be careful. If we were already bullish on APPF, that positively-reinforcing "news" will asymmetrically increase our bullishness, while any negative information is discounted away to have less of an influence on our beliefs--even if it is as salient as the bullish news.
So even though it's not news to the market that APPF has well-regarded software - nor is it news that its earnings are increasing - we can still be tempted by a compelling narrative. Yet investing, in my opinion, shouldn't be about nice narratives. It should be about paying a good price for a company's future earnings. So let's get into why, at the moment, shares of APPF may be overvalued.
Valuation
At a current P/E of 266.56 and a forward P/E of 79.29, APPF is valued at over five times the industry's average P/E (51.67). That suggests to me that there is too much optimism built into APPF's price. Based on the above numbers, the market is assuming a 236% increase in earnings over the next year. Although earnings growth has indeed been very impressive for APPF - in particular, APPF's quarterly growth has been about 18%, which is an annualized rate 193%! - the current forecast, in my opinion, remains too optimistic still.
We should note that, while APPF's net income is correlated with revenue growth (0.835), so is its COGS (0.992) and its SG&A (0.921)--and those correlations are even stronger (source). That means that, as APPF increases its sales, it is increasing its COGS and SG&A in tandem. That leads me to question whether it needs that increase in SG&A to increase that marginal dollar of sales.
Goodwill & Intangibles as a Percentage of Total Assets
Next, let's take a quick look at APPF's balance sheet.

Source: YCharts. Quarterly numbers up to 09-2017.
APPF's goodwill - the amount spent over and above the net value of the tangible assets of an acquisition - is high at 5.1% of its total assets. Other intangibles - the non-physical assets it owns - is worse yet, making up about 14.7% of total assets.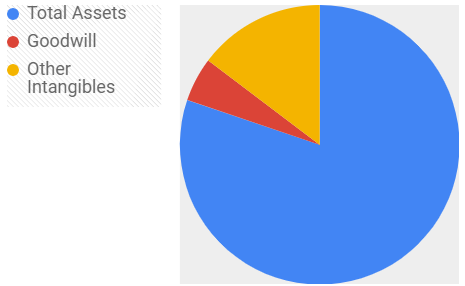 Source: Authors's work from numbers reported by YCharts.
Together, goodwill and intangibles make up nearly 20% of the company's capital structure. With the risk of goodwill write downs, this is something investors need to be aware of as a risk to shareholder value.
Executive Compensation
By and large, I don't like it when company boards decide to offer retiring CEOs large incentive-based bonuses, simply because I don't think this is the best way to create value for shareholders.
Now, consider the compensation agreement for former CEO Brian Donahoo, who worked for the company for less than a decade (and retired early):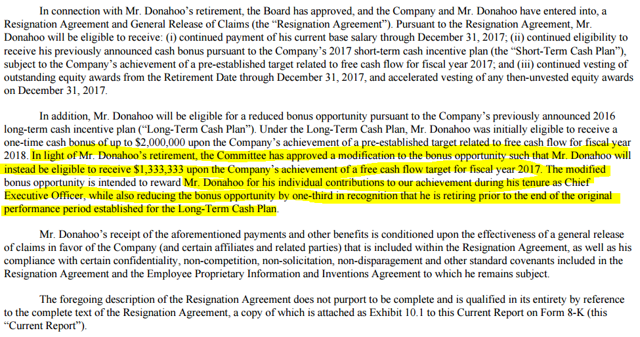 Source: Company filing, author's emphasis
I was similarly troubled to learn that APPF paid CFO Ida Kane $2.265M in total compensation in 2016--a year in which net income was in the red:

Source: Salary.com, company's 10-k
Excessive executive compensation alone is not a reason to avoid a company, but I think investors would do well to ask themselves whether this is a shareholder friendly business or not. In theory, I like the idea of boards trying to use compensation contracts to align executives' actions with company success. In this case, however, $2.265 million in compensation when the company failed to turn a profit is not an example of a shareholder friendly compensation scheme, in my opinion.
Conclusion
I think APPF may have growth potential in the future. Nevertheless, investors would be wise not to overpay for that growth potential. Investors would do well to take a hard look at whether APPF is creating value for shareholders with its current executive compensation scheme. At a P/E of 266.56 and an assumed growth rate of 236%, I believe at its current price investors will be paying too much for future growth. My advice: put it on the watchlist and buy it at 25% lower price.
Disclosure: I/we have no positions in any stocks mentioned, and no plans to initiate any positions within the next 72 hours. I wrote this article myself, and it expresses my own opinions. I am not receiving compensation for it (other than from Seeking Alpha). I have no business relationship with any company whose stock is mentioned in this article.