Background
This month's article marks the 34th installment in my ongoing series outlining my efforts to achieve dividend growth success. The portfolio is nicknamed the MnM portfolio, which is a moniker for "Minne(sota) 'n Monthly."
Note: The portfolio continues to hold 38 stocks. I am still working towards a target portfolio size of ~40. I feel that at this level the portfolio holds a sufficient number of stocks such that I can effectively follow them all. I will work towards achieving more equal weightings, as this will provide strong diversification with each stock representing approximately 2-3% of the portfolio total. I also receive 100 free trades each year from my brokerage so I can trade in small quantities without worry about brokerage trading costs.
That being said, here's what happened in December.
December 2017
This month was largely flat for the portfolio which increased by 0.5%. Year-to-date, the portfolio return came in at 11.8%, trailing the S&P 500's 21.8% total return by about 10%. As we have all seen, 2017 turned out to be much stronger for growth stocks, and given that much of the portfolio is a hybrid, operating somewhat in the "value" spectrum with a REIT component, it's not surprising to see the lag in performance.
If I recall correctly, the portfolio outperformed the S&P 500 by 4% last year, so over two years, the gap is less pronounced. We'll see if 2018 proves to be better for the portfolio, or if growth continues to outperform.
I have captured the activity for December and for the year-to-date in the standard roll-forward summary below.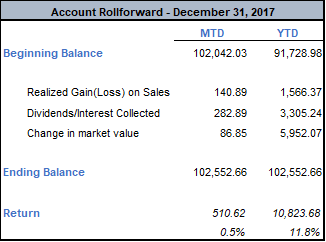 The portfolio collected $282.89 in dividends and interest during the month, all of which were recurring on positions held with the exception of special dividends of $19.00 from Cincinnati Financial (CINF) and $22.00 from Main Street Capital (MAIN) as well as $.07 of interest. The portfolio was comprised of the following securities as of December 31, 2017: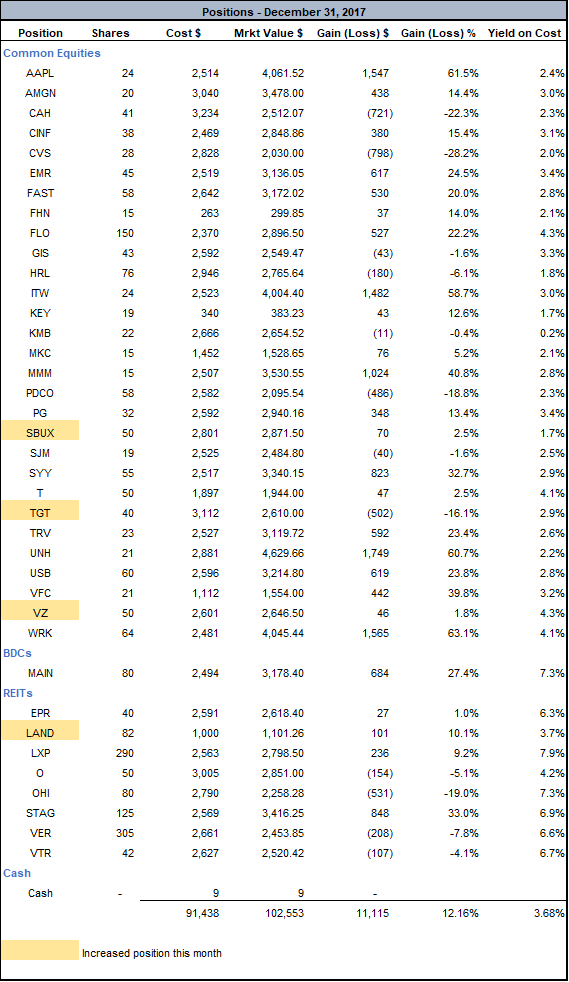 The following sections go into greater detail of the events that have occurred since the end of November.
Sales
As most of you know, I have worked really hard at making a portfolio of stocks that are principally "consistent." Above all else I like consistent dividend payments and consistent raises. I have parted ways with stocks that haven't been consistent in their dividends, such as Coca-Cola (KO), or consistent in their raises, such as Chatham Lodging Trust (CLDT).
Going into December, I was satisfied with the 11.2% year-over-year organic income growth I was tracking toward achieving. Then the announcement from Ventas (VTR) came out, which threw a wrench into my plans!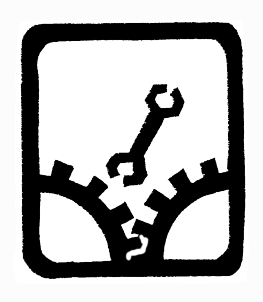 For those unfamiliar, Ventas decided to delay its regularly scheduled December dividend until January. While it did pass along a 2% increase, academically on a calendar-year basis, not paying a dividend in December amounts to a dividend cut. Even David Fish in his famous Dividend Champion Reporting threw in the comment for Ventas that the streak is an "Ex-Dividend Streak" given the timing complications that the delay presented.
I was disappointed in the decision to delay the dividend. From reading the comments on Seeking Alpha, it was mentioned that management delayed the dividend to try and take advantage of the tax changes that were proposed at the time. Whatever the reason for the delay, I saw it as a dividend cut, and in my frustration, I sold the shares. I wanted to take some time and decide whether I still wanted to own Ventas, or swap it for a different REIT such as Medical Properties Trust (MPW) or even Physicians Realty Trust (DOC). I recognized a gain on the sale.

Additions
Ironically, after several days of thinking and some research, I came to the conclusion that I was being short-sighted in selling Ventas, and despite the delay in the dividend and the sub-par raise, Ventas still remains a good dividend-paying component within the portfolio. Further, I wasn't overly-impressed with either of the alternatives I was looking at. They are solid companies and dividend payers, but I didn't see a strong justification for making a change.
Ultimately, I lucked out, and over the course of a week I saw Ventas sell off, to a point where I repurchased the shares for $51.22 less, amounting to nearly two quarters worth of dividends. Had I waited another week I could have repurchased for even less, but I won't complain. I figure that the gain was fair compensation for the annoyance of being delayed with the dividend. I have resolved; however, if Ventas does not pay its normal dividend in March, then I will entertain moving on once more. I am, however, confident that this will not come to pass, and that it will pay it on schedule.
The remainder of the ordinary dividends and the gain from Ventas were all spent on rounding positions off, a year-end goal of mine that I mentioned last month. I added two shares of Starbucks (SBUX), two shares of Verizon (VZ), one more share of Target (TGT), and three more shares of Gladstone Land (LAND).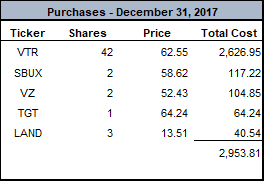 Dividends Collected
As noted earlier, I collected $282.89 in dividends during the month. I have updated and included the forward-looking dividend summary as follows: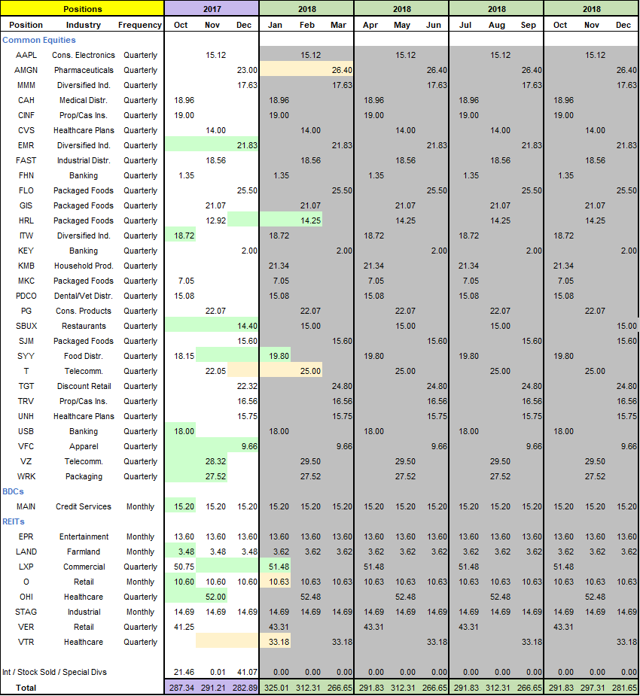 Note: I have highlighted current month dividend raises in a shade of yellow to distinguish from previously reported increases.
As I have mentioned in previous articles, my goal for 2017 was to achieve 10% income growth year-over-year in the fourth quarter, when comparisons become valid. For academic purposes, I have adjusted December's dividend total to take out the special dividends and interest, and to add in Ventas' dividend that "should" have been received in December but instead came across in January. Academically, with these changes rolled in, the 11.2% increase in income was preserved. I aim to keep the rolling 10%+ growth going each quarter moving forward.

Dividend Increases
December was better than I expected in terms of dividend increases. Amgen (AMGN) led the way with a nice near-15% bump while AT&T (T) and Ventas contributed ~2% bumps and Realty Income (NYSE:O) issued its standard mid-stream .2% increase. As we recap the year, it's worth nothing that with the exception of VEREIT (VER), every position in the portfolio increased their dividend in 2017.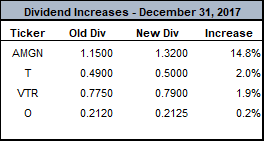 The MnM 401(k)
The 401(k) keeps chugging along, adding just over $1k this month from contributions, dividends and market changes. It's nice to see some large dividends hit the 401(k), and in a few months, there will be some profit-sharing amounts coming in as well.

Closing Thoughts
All things considered I am happy with how 2017 panned out. I achieved my goal of 10%+ income growth, saw no dividend cuts, and upped my stock count from 35 to 38, increasing diversification (*note that not all are full positions yet). I tried to keep turnover to a minimum, and am happy with the portfolio as it sits today. This month I struggled a lot about my decision to sell Ventas, and ultimately am happy I was able to repurchase.
Part of the excitement of dividend-growth investing is seeing the raises come across. Every single month of 2017 featured raises that I logged into the portfolio.
Not including raises from First Horizon (FHN) and KeyBank (KEY), which did so before being introduced into the portfolio, and removing the raises I had reported for Unum Group (UNM), Coca-Cola (KO) and Wells Fargo (WFC), all of which are no longer in the portfolio, 2017 saw 43 raises. When you average that out, it amounts to nearly a raise every week.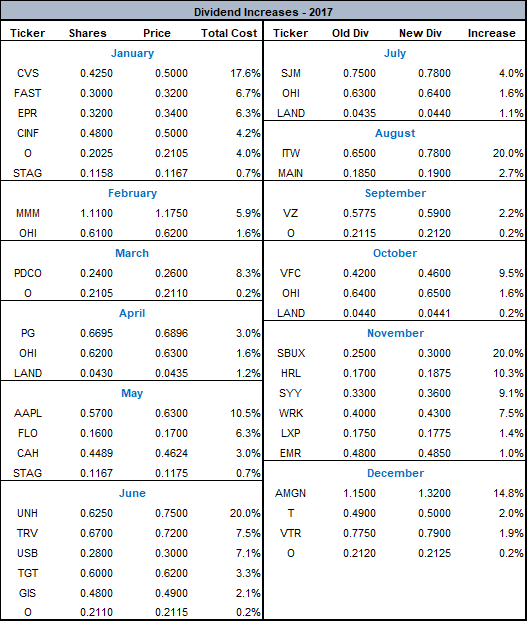 Looking ahead into January, it's hard to ignore that REITs continue to struggle and trade at significantly discounted multiples as compared to a good chunk of the equities in the portfolio.
I will point out that, somewhat ironically, since I repurchased my position, Ventas has done nothing but continue to sell off. It's now to the point where it looks attractive for the deployment of additional capital. If you look at the charts, and specifically its recent pricing history since 2012, it's displayed some clear peaks and troughs over recent years. Right now, it's trading near lows it has tested before.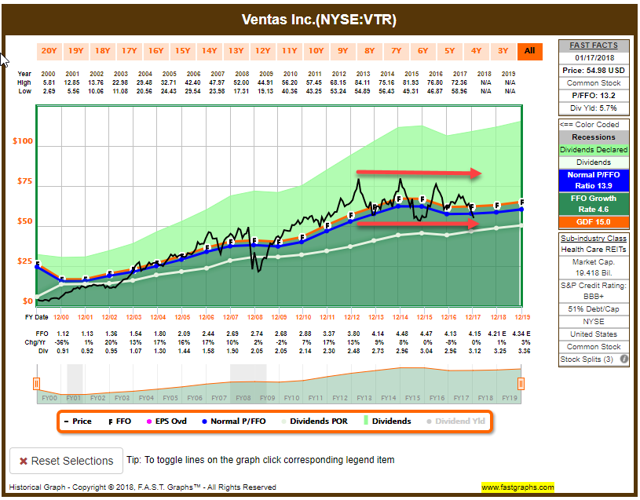 I've also been considering adding to my position in Kimberly-Clark (KMB) as well. These are most likely the areas where I will reinvest my January dividends.
I will close by saying that I am sorry that this article is so late in coming. I have been terribly busy with year-end work, but am finally getting the chance to put things down and write. In the coming weeks, I intend to write up a review of 2017, highlighting what I got right, what I got wrong, and everything that I learned during the year. It was a great experience, and there were lessons aplenty. I hope your 2017 was just as strong, and I wish you the best going into 2018.
Disclosure: I am/we are long THE STOCKS LISTED IN THE PORTFOLIO.
I wrote this article myself, and it expresses my own opinions. I am not receiving compensation for it (other than from Seeking Alpha). I have no business relationship with any company whose stock is mentioned in this article.