Note: This article was first published on Trend Investing on November 19, 2017, therefore all information is as of that date.
Lithium and cobalt boom II arrived in September 2017
The months of September, October, and November have seen many of the electric vehicle (EV) companies and EV metal miners stock prices surge. Lithium miners, in particular, have led the charge. Investors should remember that it is cobalt that will be the hardest EV metal to obtain due to its limited abundance, by-product nature, and Democratic Republic of Congo (DRC) dependence.
Some background cobalt articles of mine to read:
Recent events that started the EV and EV metals boom II
September 8, 2017 - China ICE ban plan announced with a start date still to be decided. This sets off a surge in electric vehicles and EV metals company stock prices.
September 28, 2017 - China zero emission vehicle (ZEV) credit scheme announced with 10% of credit points required in 2019 and 12% by 2020. The 12% requirement in 2020 would translate to "about 4-5% of actual electric vehicle sales."
Cobalt price news
As of November 16, the cobalt spot price was US$27.78/lb, having almost tripled in the past 18 months from US$10/lb. We can see in the chart below in 2007 what happens when we get a cobalt deficit - the price spiked violently upwards. Of interest, cobalt is currently in deficit and forecasts are for the deficit to increase - as Investing News reported back in February 2017 - "According to Macquarie, a deficit of 885 tonnes is expected next year, with deficits of 3,205 tonnes and 5,340 tonnes expected in 2019 and 2020, respectively". My view is Katanga Mining [TSX:KAT] (OTCPK:KATFF) will soon come back online and balance demand and supply at least for the next 2-3 years. Unless new supply is brought on by 2020, the cobalt deficits will become a big problem for the EV industry. The cobalt price is unlikely to drop significantly from here and may rise higher if the deficit widens.
Cobalt spot prices - 12-year chart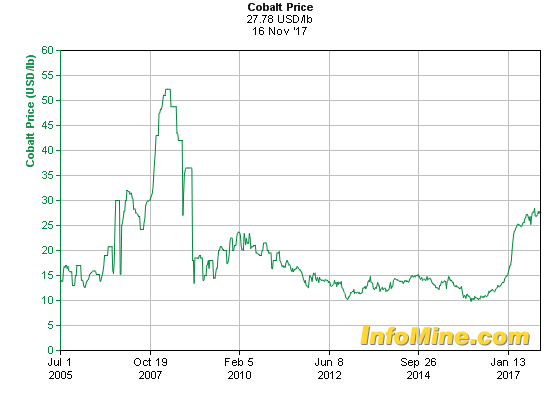 Source: InfoMine.com
Catalysts to continue the EV boom
November 8, 2017, EU announcement - "EU plans credits, fines to boost low-emission car production. The proposal calls for a 30 percent reduction in the average CO2 emission of carmakers' fleets by 2030 compared with 2021 levels. It also sets an interim goal of a 15 percent reduction by 2025 to help ensure automakers start investments early."
December 2017 - The Modi government is set to roll out a national policy for EVs.
Late 2017/early 2018 - China should announce a date to start its ICE ban. BYD Co. (OTCPK:BYDDY) (OTCPK:BYDDF) Chairman Wang expects by 2030 all cars in China to be electrified.
2019 - China's ZEV credit system begins.
3 well valued cobalt miners to invest in now
1) Ardea Resources [ASX:ARL] [GR:A91] (ARRRF) - Price = AUD1.59, USD1.17
Ardea Resources owns 100% of the Kalgoorlie Nickel (laterite) Project (KNP) in Western Australia, just 150kms from Kalgoorlie.
Ardea states it has:
The largest cobalt resource in the developed world.
Ardea's higher grade KNP cobalt zone (see chart below) has 65.7Mt of ore at 0.13% cobalt and 0.79% nickel. That works out to be a very healthy 85,410 tonnes of contained cobalt.
Ardea's total cobalt and nickel resource continues to increase and now stands at 405,000 tonnes contained cobalt (grade 0.05%), 5.46 million tonnes contained nickel (grade 0.7%). Added to this is its recent scandium discovery, which will help reduce production costs as a valuable by-product credit, as will its PGEs, high-purity alumina, and chromium.

The resource is of shallow, lateritic cobalt-nickel deposits within 120m of surface. Open-pit mining provides low strip ratio. Cobalt and nickel in soft, iron-rich clay, free digging. Flat-lying cobalt-nickel mineralisation usually within 50m of surface.
The company mentions it plans to expedite drill programs with a view to accelerate gold mining cash flow, or possibly to spin-out non-core assets into separate listed vehicles. These include a potential spin-off or development of gold, base metal, and gemstone projects in WA and NSW. Projects include Lewis Ponds' zinc-gold-silver development project and the Mt Zephyr Gold Project.
An early guide for the upcoming KNP high grade cobalt project PFS is modeling of up to 2Mtpa, producing 2,500tpa cobalt, 15,000tpa nickel.
Valuation
Ardea's current market cap is AUD130m (~USD100m).
It is still a bit too early to model a valuation; however, based on comparable competitors such as Clean TeQ [ASX:CLQ] (OTCQX:CTEQF) [GR:4CQ] (market cap AUD864m) and Australian Mines (OTCQB:AMSLF) [ASX:AUZ] [GR:MJH] (market cap AUD261m), Ardea appears extremely well valued (6.6 times lower market cap than Clean TeQ). This can only be explained by CLQ Syerston project being at a more advanced stage (PFS completed) by about 16 months and having Robert Friedland on board. Actually, CLQ's Syerston project has far less cobalt (114,000 tonnes contained cobalt).
Post publication edit: The "Syerston" project is now changed to the "Sunshine" project.
Catalysts
Q1 2018 - PFS results - KNP high grade cobalt project and Lewis Ponds project.
End 2019 - DFS results - KNP cobalt project.
2020 - Commencement of Stage 1 Development (relatively low

CapEx).
I still rate Ardea Resources as a strong speculative buy.
Investors can view the company's September presentation here.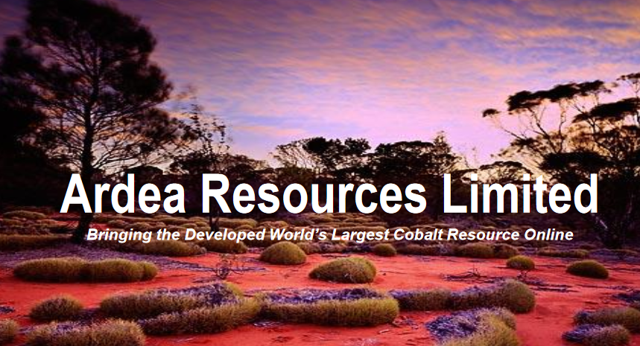 Global Cobalt projects by grade and size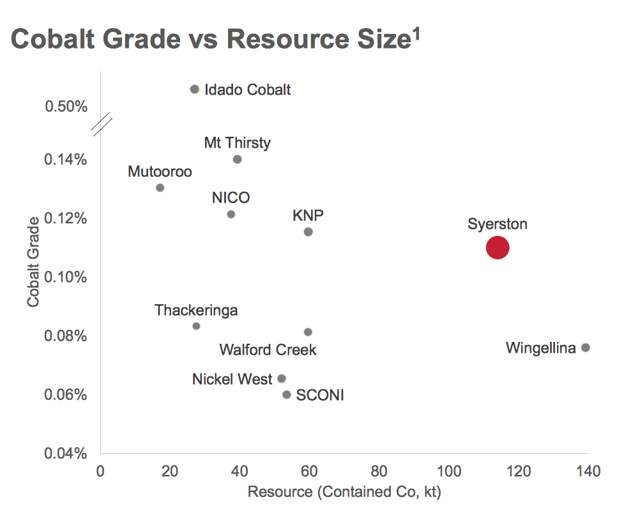 (Source)
Note: KNP is Ardea Resources high grade cobalt zone (now at ~85,000 tonnes). Cobalt Blue's (OTCPK:CBBHF) Thackaringa is now at ~50,000 tonnes contained cobalt. Wingellina is owned by Metals X (OTCQX:MTXXY) [ASX:MLX], Syerston by Clean TeQ, and NICO by Fortune Minerals [TSX:FT] (OTCQX:FTMDF).
Australian cobalt projects listed by resource size including grade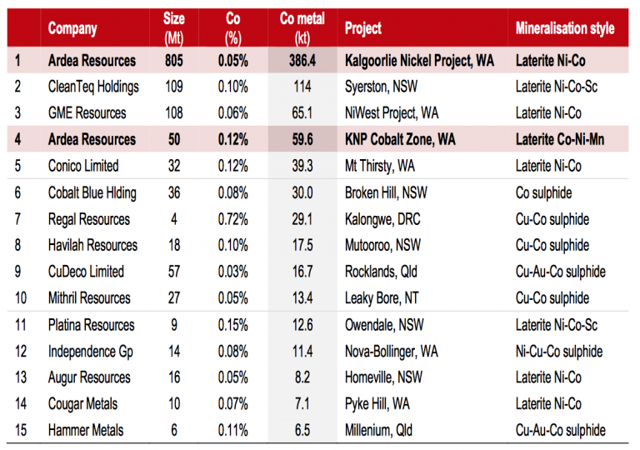 (Source: Ardea Resources)
NB: Cobalt Blue's Thackaringa is now at ~50,000 tonnes contained cobalt.
2) Bankers Cobalt [TSXV:BANC] (OTCQB:NDENF) [GR:BC2] - Price = CAD0.61, USD0.42
Bankers Cobalt (formerly Nomad Adventures) is a Canadian miner operating under a buy/develop/sell model. The company states its model - "The business model to be followed by Bankers is simple and elegant: (A) Acquire high-quality projects in the DRC and develop them by applying Canadian standard highly professional exploration techniques which are not commonly currently practiced in the DRC and; (B) Develop certified cobalt and copper resources and sell them to the predominantly Chinese owned processors with: excess capacity in close proximity to our concessions. Bankers expects to fill a void in the resources supply chain and reasonably expects to receive a premium for resources as they are developed."
Just last month in October 2017, Bankers Cobalt bought out Katanga Cobalt Corp. (who has spent the past four years buying up Co-Cu concessions in DRC). This means that Bankers Cobalt now has a 210 km2 portfolio of Cobalt-Copper concessions in the DRC, which include two promising projects where exploration activities are ongoing - Kankutu Copper-Cobalt project and the Kabolela cobalt project. You can read more on Katanga Cobalt Corp. here.
The company states:
Bankers holds rights to 14 separate mineral concessions strategically located in the southern DRC Copperbelt and having a total area in excess of 210 km². Bankers has the intention to acquire interests in additional concessions. All concessions were obtained as either new grants or through reputable DRC partners and have clean title with no government involvement, making Bankers one of the few, and perhaps only, junior public mining company in the DRC to have 14 concessions capable of being currently explored and developed. Bankers has an experienced operations team operating in the southern Copperbelt of the DRC. Bankers believes it is one of the front runners in advancing cobalt and copper exploration by a junior mining company in the DRC.
Location map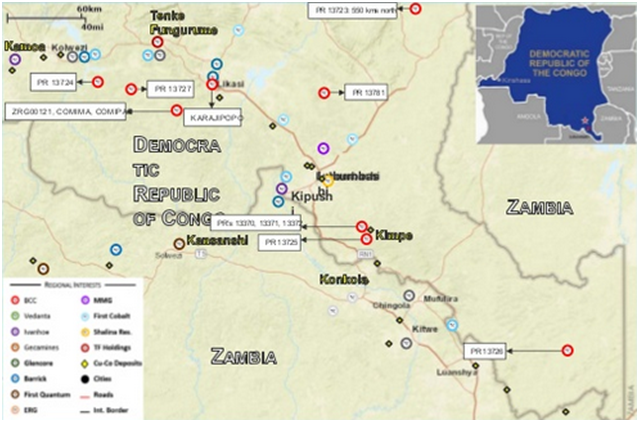 Kankutu Copper-Cobalt project
This project is located in Katanga Province, DRC and is the main area of exploration. The former company (Katanga Cobalt) stated on October 11 - "Katanga is currently undertaking a grid controlled soil sampling program and test pits and trenches to identify drill targets at the project. Exploration is targeting Kimpe-style sedimentary hosted, multi-phase hydrothermal copper and cobalt mineralization in Roan formation rocks. The project is contiguous to and within 3 kms of the Kimpe cobalt/copper operating mine and preliminary work has indicated the same mineral bearing formations at Kimpe may continue onto Kankutu. The potential for Kimpe style mineralization makes it prospective for cobalt and copper. Katanga (Cobalt) has completed a technical report in respect of Kankutu and this report has been accepted for filing by the TSXV." A recent Bloomberg article states - "A regional airborne geophysics review of the Katanga concessions in the Kimpe area is in the planning stages and would provide additional information on currently owned concessions as well as lands for potential acquisition." Note the neighboring Kimpe Cu-Co mine has 3mt with Cu @4.4% and Co @0.54%. These are super great grades typical of the DRC and similar to Katanga Mining.
Kabolela cobalt project
This is another Bankers Cobalt project which is located in the Lakasi area of DRC. The former company (Katanga Cobalt) stated on October 11 - "This concession is located between two operating cobalt/copper mines. Additional surface work and sampling are currently being conducted which will lead to a drill program expected to commence prior to the end of October and with a reputable drill contractor in place. The geology is a copper bearing fracture system and salt diapir potentially containing a Roan-R2 raft which will be drill tested." A recent Bloomberg article gave further information stating - "This concession is in the vicinity of three operating cobalt/copper mines and immediately adjacent to the ERG Boss Mining division. The concession is more advanced being a PE or exploitation permit. Assayed grab samples from one of the small pits on site provided promising results making Kabolela a priority drill target. Additional surface work and sampling are currently being conducted which will lead to a drill program expected to commence prior to the end of October."
On October 16, Bankers Cobalt released, "Bankers Cobalt Corp. provides update on DRC exploration activities." The company stated - "All concessions have clean title with six being 100% owned, making Bankers Cobalt Mining Subsidiary (BCMS) one of the few and perhaps only junior public mining company in the DRC to have 14 concessions capable of being currently explored and developed. In addition these concessions have no direct government involvement and are either new grants or through reputable DRC partners. BCMS has two exploration teams operating in southern DRC currently exploring a total of 4 concessions. Additional exploration teams are expected to be added. BCMS believes it is one of the front runners in advancing cobalt and copper exploration by a junior mining company in the DRC."
On November 16, Morningstar announced "Bankers Cobalt Corp announces up to $6 million financing, to fund the exploration and development of the Corporation's mineral concessions in the Democratic Republic of the Congo (the "DRC"), the acquisition of interests in additional mineral concessions and for general working capital purposes."
Current market cap is CAD44m. Valuation is difficult to assess for such an early stager until we know more and start to get some drill results. The Bankers Cobalt takeover of Katanga Cobalt only happened a little over a month ago (October 6).

One reason for liking the stock is that it has a four-year history of acquiring prospective DRC cobalt sites under Kevin Torudag. As the company states, "Kevin has established many relationships necessary to successfully operate in the DRC and with experienced geological guidance has selected a land package in the DRC Copperbelt now comprised of fourteen concessions."
I rate the stock as a highly speculative buy and will eagerly await further exploration study results, especially its drill results expected in Q1 2018.
Investors can view a company presentation here, which gives more details, especially on the management team.
3) Cobalt Blue [ASX:COB] [GR:COH] - Price = AUD0.23
Cobalt Blue owns 100% of the Thackaringa cobalt-pyrite sulphide project in NSW, Australia.
Resource
It now has an inferred and indicated resource of 54.9 million tonnes grading 0.091% cobalt (for ~50,000 tonnes of contained cobalt) with exploration upside. The resource is a shallow deposit continuing at depth, suitable for an open cut mine. The company refers to it as "one of the world's largest undeveloped cobalt resources." Cobalt Blue is targeting a resource of 100 million tonnes at 0.084% cobalt for 84,000 tonnes of contained cobalt. That will support a 20-year operation at 4,000 tonnes pa.

Source: July 2017 company presentation
Cobalt-sulphide type ore - Thackaringa project
Cobalt Blue's advantage is its cobalt-sulphide type ore which is cheaper to extract the cobalt from than laterite which requires acid. Its goal is to get to a cost of production for its cobalt of around US$10-12 a pound cobalt. Thackaringa ore is completely different to a laterite deposit. CEO Joe Kaderavek explained in a Proactive Investors interview - "The ore is essentially 20% pyrite mixed with 80% quartz/feldspar. The simple and low-cost gravity separation technique takes advantage of the difference in weight of pyrite (hosting the cobalt) versus quartz. This opportunity is not afforded to laterites which are mainly iron-magnesium oxide/hydroxide/silicates, with the nickel and cobalt hosted inside the oxides. Once the pyrite has been separated from the ore, the refinery will be focused on extracting the cobalt from the sulphide. Unlike laterites, treating sulphides do not consume large quantities of acid." The graph and table above give an idea of where Cobalt Blue rank based on contained cobalt resources, noting it needs to update Cobalt Blue to 50,000 tonnes contained cobalt.
A simple and low-cost gravity separation technique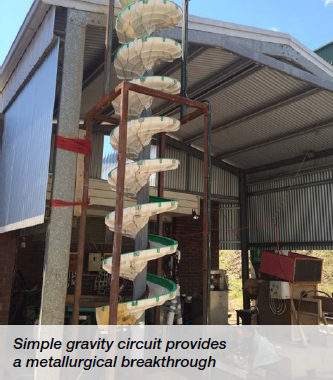 Source: Proactive Investors
Catalysts
By April 1, 2018 - An upgraded resource estimate.
By 30 June 2018 - PFS to be released.
Valuation
Current market cap is just a mere AUD22m. Certainly, it is very cheaply valued due to being at an early stage. I expect this to change significantly in the next year by the time it releases its PFS.
I rate them as a speculative buy.
Investors can view their July 2017 company presentation here.
Notable mentions (two are well valued diversified miners that are big cobalt producers)
Glencore (OTCPK:GLCNF) [LSX:GLEN] (HK:805)
Glencore earns most of its revenue and profits from copper, coal, zinc, nickel and its marketing/trading division. However, it is by far the world's largest cobalt producer (especially when considering its 86% stake in Katanga Mining). In 2017, it will produce about 30,000tpa of cobalt, and by 2020 that should be closer to 50,000tpa (including Katanga Mining stake). It is currently reasonably well valued on a 2018 P/E of 12.5.
Norilsk Nickel [LSX:MNOD] (OTCPK:NILSY)
Norilsk is mostly a nickel-copper-palladium (& platinum) miner. However, it is also a significant global cobalt producer (~5,500 tonnes in 2017) with an ability to increase production of cobalt. Added to that, it is exceptionally well valued on a 2018 P/E of 9.2 and a 2018 estimated dividend yield of 10.6%. Investors can read more here in my recent article.
Fortune Minerals
For those investors not comfortable with DRC exposure (and say Bankers Cobalt), Fortune Minerals is a well valued North American cobalt miner with its NICO cobalt-gold-bismuth project in the North West Territories. I have written about them several times before which you can read here and here. Current market cap is still quite low at CAD56m.
My previous top 5 cobalt miners listed
| | | | |
| --- | --- | --- | --- |
| | Price when I recommended | Current price | % gain /(loss) |
| China Molybdenum Luoyang Co. Ltd. (OTCPK:CMCLF) (HK:3993) | HD 1.78 | HKD 4.62 | +145% |
| Glencore | GBP 270 | GBP 353 | +31% |
| Sherritt International (OTCPK:SHERF) [TSX:S] | CAD 1.42 | CAD 1.33 | -6% |
| Katanga Mining | CAD 0.12 | CAD 1.26 | +950% |
| Fortune Minerals | CAD 0.11 | CAD 0.18 | +64% |
Conclusion
My previous top five cobalt miners back in December 2016 have mostly rallied considerably, as shown in the table above. This has meant further rallies will mostly depend on these companies either increasing production (or reaching milestones) or further cobalt price appreciation. Whilst I think both are quite likely and investors should generally hold these quality names long term, I currently see some smaller "purer" play cobalt miners with potential large upside albeit with greater risk.
Finding cheap quality cobalt companies nowadays is not so easy. My top three well valued miners are all early stages - two are focused on cobalt in Australia and one in the DRC.
Ardea Resources offers a huge cobalt-nickel-scandium laterite resource at a market cap of a staggering 6.6 times cheaper than comparable miner Clean TeQ. Despite its recent stock rise, is still well valued and a strong chance to make it to production. Investors will need to remember it is a cobalt-nickel laterite project, so it will have higher CapEx and possibly production costs (depends on by-product credits) than cobalt sulphide product projects.
Cobalt Blue offers a smaller cobalt sulphide resource with exploration upside, safe jurisdiction, and is on a very low market cap. Cobalt Blue's main risk lies in proving up more resource to be able to raise capital and start a mine. I see it as speculative but with a good chance to progress, as it does have a reasonable "sulphide" resource with solid exploration upside.
Bankers Cobalt offers huge exploration potential for a reasonably low market cap. It is a high risk and potentially high reward play. It is at a very early exploration stage, is in the DRC, with promising tenements. Certainly, it would be fair to say it is a risky bet at least for now, so investors should invest cautiously.
As usual, all comments are welcome.
Trend Investing
Thanks for reading this article. If you want to go to the next level, sign up for Trend Investing, my Marketplace service. I share my best investing ideas and latest articles on the latest trends that are going to change the business world. You will also get access to exclusive CEO interviews and chat room access to me, and to other sophisticated investors. I'd love to have you join our community as we look to take advantage of the hundreds of hours of work I've done to analyze the best opportunities in emerging industries, especially the electric vehicle and EV metals sector. You can learn more by reading "The Trend Investing Difference", or sign up here.
My latest Trend Investing articles are:
Disclosure: I am/we are long GLENCORE (LSX:GLEN), KATANGA MINING (TSX:KAT), NORSILK NICKEL (LME:MNOD), FORTUNE MINERALS (TSX:FT), CRUZ COBALT CORP (TSXV:CUZ), ARDEA RESOURCES (ASX:ARL), BANKERS COBALT (TSXV:BANC), COBALT BLUE (ASX:COB), RNC METALS [TSX:RNC] (OTCQX:RNKLF), POSEIDON NICKEL [ASX:POS]. I wrote this article myself, and it expresses my own opinions. I am not receiving compensation for it (other than from Seeking Alpha). I have no business relationship with any company whose stock is mentioned in this article.
Additional disclosure: The information in this article is general in nature and should not be relied upon as personal financial advice.
Editor's Note: This article covers one or more microcap stocks. Please be aware of the risks associated with these stocks.