Real Estate Weekly Review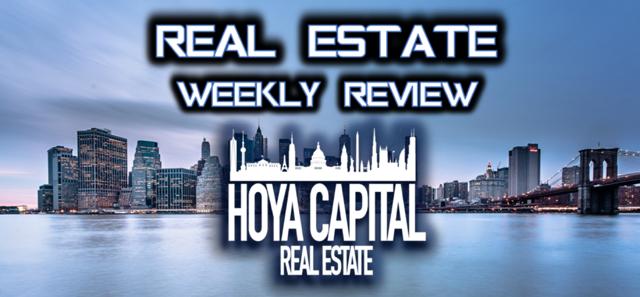 The REIT ETFs (VNQ and IYR) finished the week lower by 0.1%, stabilizing after a sharp sell-off in the first two weeks of the year. The 10-year yield climbed 8 basis points, reaching the highest level in more than three years as investors expect upward pressure on economic growth, wages, and inflation due to the tax reform package. The S&P 500 (SPY) climbed to yet another record weekly high despite uncertainty related to the government shutdown. Homebuilders (XHB) finished the week unchanged despite very weak single-family housing starts in December. Homebuilder confidence remains at levels exceeding that of 2005 when new home sales were roughly double. Mortgage REITs (REM) dipped 1.2% while international real estate (VNQI and RWX) climbed 0.8%.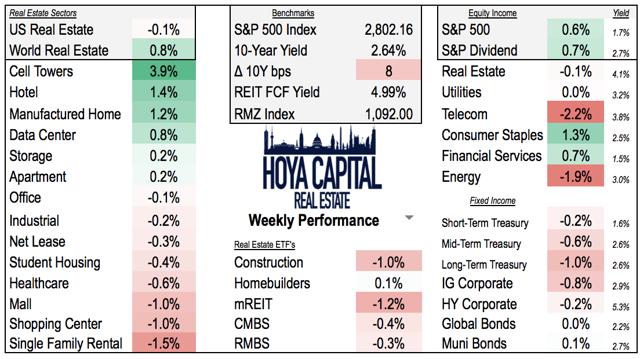 (Hoya Capital Real Estate, Performance as of 11am Friday)
While uncorrelated over the long-term, REITs tend to become highly interest rate sensitive during periods of heightened interest rate volatility. Ultimately, inflation expectations (not Fed policy) drive movements in the 10-year yield. Interestingly, as we've pointed out, much of the inflation in recent years has come from rental housing. At the margins, however, energy prices tend to drive changes in inflation expectations. The price of oil will likely determine the path of inflation (and the 10-year yield) in 2018.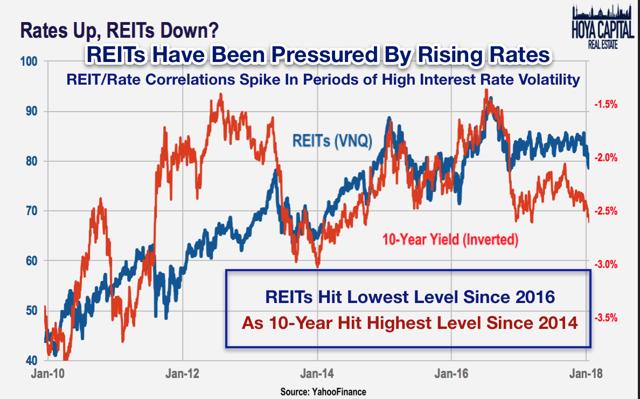 Within the Equity Income categories, we note the performance and current income yield of the Utilities, Telecom, Consumer Staples, Financials, and Energy. Within the Fixed Income categories, we look at Short-, Medium-, and Long-Term Treasuries, as well as Investment Grade and High Yield Corporates, Municipal Bonds, and Global Bonds.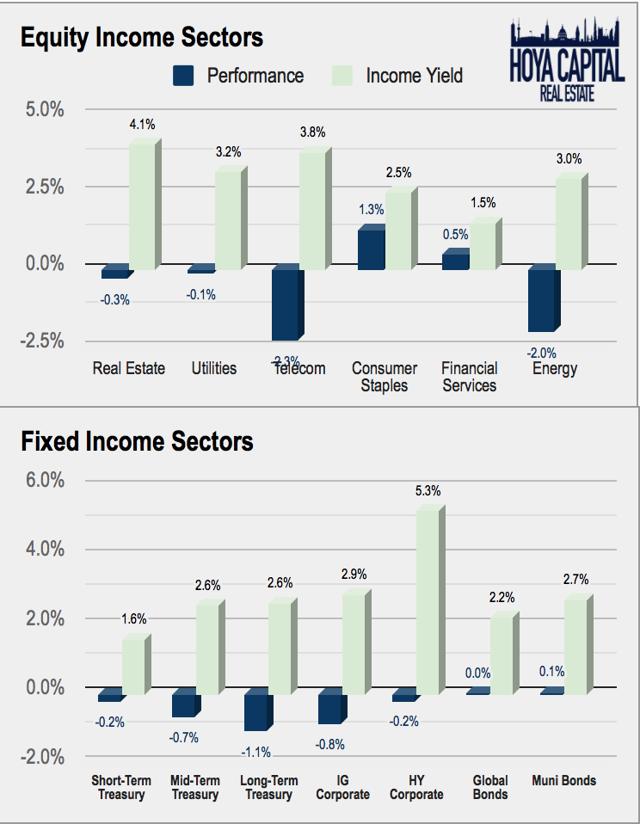 Through three weeks of 2018, REITs are now lower by more than 5%, significantly underperforming the US equity markets which have climbed nearly 5%. This week, the REIT ETF (VNQ) dipped to levels last seen in early 2016. Interestingly, the non-REIT dividend-oriented stocks within the S&P 500 (SDY) have performed quite well, rising 4.6%.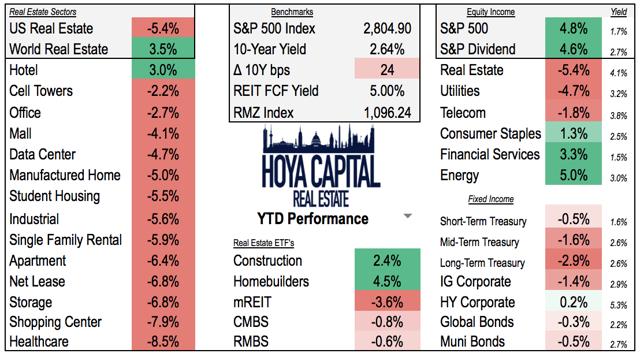 REITs ended 2017 with a total return of roughly 5%, lower than their 20-year average annual return of 12%. Going forward, absent continued cap-rate compression, it is reasonable to expect REITs to return an average of 6-8% per year with an annual standard deviation averaging 5-15%. This risk/return profile is roughly in line with large-cap US equities.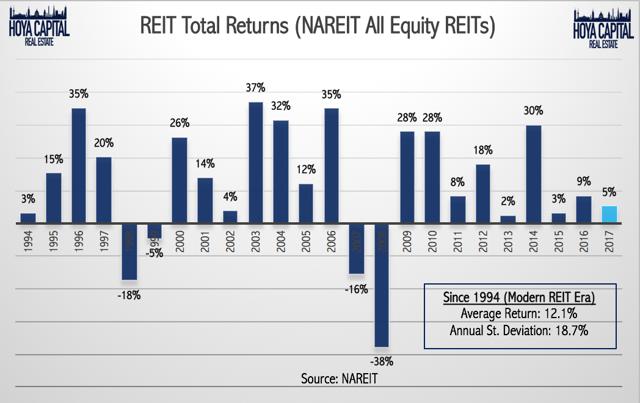 The tech and residential sectors were the best performers of the week. The winners this week included SBA Communications (SBAC), American Tower (AMT), Crown Castle (CCI), LaSalle Hotel Properties (LHO), CoreSite (COR), Mid-America Apartment Communities (MAA), and Spirit Realty (SRC).

Retail and single-family rental REITs lagged on the week. The losers this week included QTS Realty (QTS), Washington Prime (WGP), CBL (CBL), Pennsylvania REIT (PEI), Preferred Apartment Communities (APTS), Tanger (SKT), Kimco (KIM), Invitation Homes (INVH), and HCP (HCP).

Real Estate Economic Data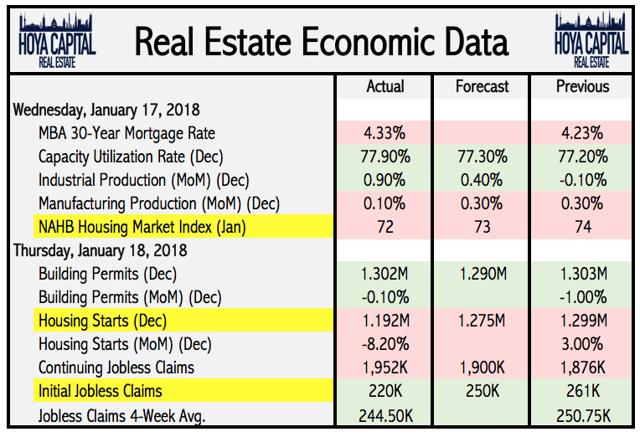 (Hoya Capital Real Estate, HousingWire)
Weak Housing Data in December
Housing starts data was surprisingly weak in December, no doubt affected by the unseasonably cold weather across much of the country. November's surprisingly strong data (which was a post-recession record on a SAAR basis) appears to have pulled forward some starts as well. We continue to recommend that investors ignore the noisy SAAR data and focus on the unadjusted TTM rate. On a TTM basis, total starts are higher by just 2.4%, below consensus expectations that called for a 4-7% rise in total starts in 2017. The long-awaited pullback in multifamily construction, which had driven the housing recovery, has finally arrived. Multifamily starts are lower by 10.1% TTM while single-family starts are higher by 8.6%.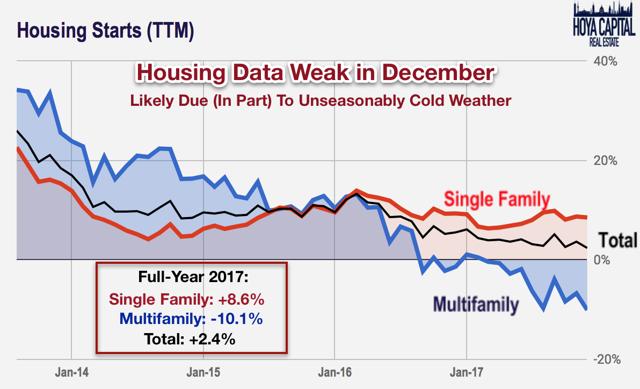 Elevated levels of supply growth in the multifamily sector have been a major topic of discussion over the past several years. 2017 was supposed to be the year that we saw a spike in new supply, but construction delays have pushed back many of the completions into the second half of 2017 and into 2018. Completions have finally "caught-up" with starts, as seen below. More than 600k units are still under construction with peak deliveries expected to be in the first half of 2018.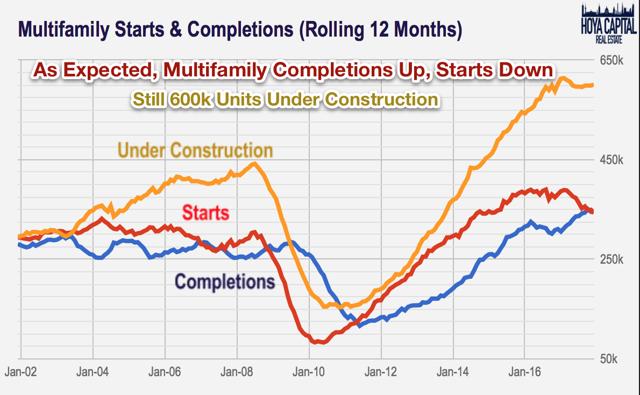 We expect completions to remain in the 350-400k/year range through 2018, which would continue to put downward pressure on rent growth, all else equal. Supply pressure will be a continuing theme throughout 2018. With supply growth a certainty, the wild card for apartment rent growth will be demand. We continue to discuss home price affordability (or lack thereof) and how we believe that rental demand will continue to surprise to the upside as potential homebuyers remain in the rental markets for longer than expected. If labor markets continue to be as strong, demand for multifamily units may be able to keep pace with this elevated supply growth and rental growth could remain firm or even re-accelerate after this wave of new supply gets absorbed.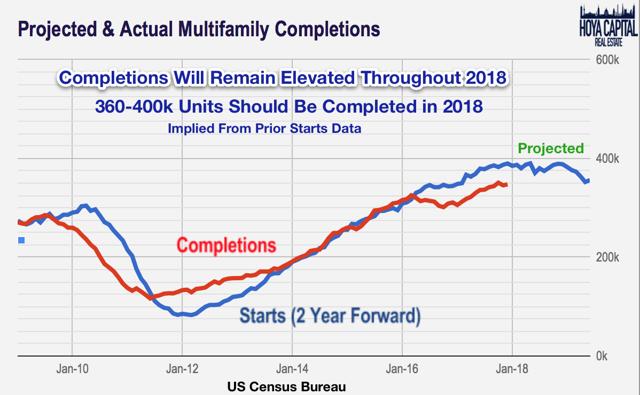 Homebuilder Sentiment Remains Strong
Despite the pullback in single-family housing starts in December and the relatively unfavorable outcome in the tax reform package, homebuilders remain as confident as ever. The homebuilder confidence index remained above 70 for the second straight month, the first time this has occurred since 2005. Notably, homebuilder confidence is higher than it was at the peak of the housing bubble where new home sales were roughly double current levels.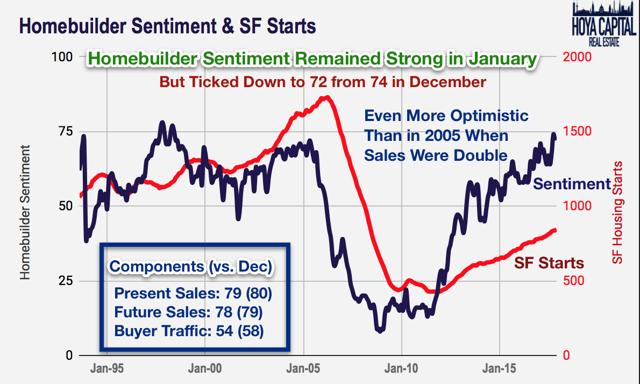 Last week, we published our Homebuilder quarterly update: Go Big Or Go Home. A decade after the housing collapse, Wall Street is once again feverishly bullish on homebuilders. Homebuilders surged more than 60% in 2017 despite a 7% rise in new home sales. Size and scale have become essential for homebuilders. Stifling regulations, rising construction costs, and sluggish demand have squeezed margins and made it nearly impossible for smaller builders to compete. The rapid recovery in home prices since 2012 has made the economics of homeownership unfavorable relative to renting. Tax reform has tilted the scale even further towards renting. Homebuilders are banking on a wave of millennials flooding into the housing markets. Homeownership data shows little evidence of this. Unaffordability and attitudes toward homeownership remain constraints on demand. While the overall housing recovery remains lethargic, we expect continued bifurcation as the competitive positioning of the largest homebuilders has strengthened amid continued consolidation.
Labor Market Continues to Exceed Expectations
The labor market continues to run on full throttle. Initial claims fell to 220k last week, the lowest level in 45 years. Continuing claims ticked up slightly but remain near record low levels. Just 1.4% of Americans are currently on unemployment insurance, the lowest level since at least 1970. Since the passage of tax reform, dozens of large-cap companies (and likely hundreds if not thousands of smaller firms) have publically announced wage increases or one-time bonuses in response to corporate tax cuts.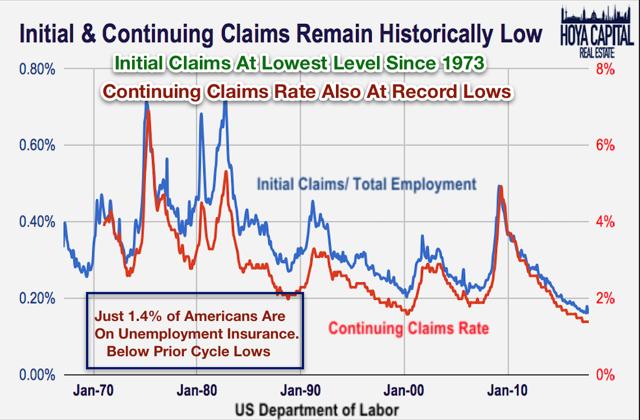 Bottom Line
2018 hasn't been kind to income-oriented investments so far. Amid expectations of faster economic growth and rising interest rates, REITs have sold off to levels last seen in early 2016. REITs stabilized this week despite the continued rise in the 10-year yield and new record highs in the equity markets. The tech and residential REIT sectors outperformed.
Housing starts were surprisingly weak in December, dragged down by unseasonably cold weather across much of the country. Total starts rose just 2.4% in 2017, far short of expectations. Multifamily starts dipped 10% in 2017 as builders pulled back amid fears of oversupply, tight capital market conditions, and rising construction costs. Completions will remain elevated through 2018. The labor market continues to run on full throttle. Initial claims fell to the lowest level in 45 years and just 1.4% of Americans are currently on unemployment insurance.
This week, we updated our international real estate report: Worried About Rising Rates: Go International. 2018 may be the year that long-term interest rates finally rise. Investors have soured on income-oriented sectors as global economic growth has picked up. US REITs have been hit this year by fears of rising rates. Investors interested in reducing their portfolio's interest rate risk should consider increasing their allocation to international real estate. International real estate vastly outperformed US real estate in 2017. International real estate can add balance, diversification, and growth to a well-balanced, US-centric real estate portfolio. Compared with US REITs, international REITs are less sensitive to US interest rates while still paying a healthy dividend yield. They can be viewed as classic "Growth REITs". We conclude that investors should consider modest holdings in international REIT ETFs, and we break down your investment options. We analyze the three popular ETFs and show how their strategies differ.
For further analysis on all 15 real estate sectors and how they all stack up, be sure to check out all of our quarterly updates: Hotel, Cell Tower, Single Family Rental, Industrial, Healthcare, Apartment, Mall, Net Lease, Data Center, Shopping Center, Manufactured Housing, Student Housing, Office, and Storage sectors.
Please add your comments if you have additional insight or opinions. We encourage readers to follow our Seeking Alpha page (click "Follow" at the top) to continue to stay up to date on our REIT rankings, weekly recaps, and analysis on the real estate and income sectors.
Sector ETFs Mentioned: VNQ, IYR, SPY, XHB, ITB, PKB, REM, VNQI, IYZ, IDU, KXI, IYF, LQD, JNK, IEF, VDE, VGLT, ISTB, BNDX.