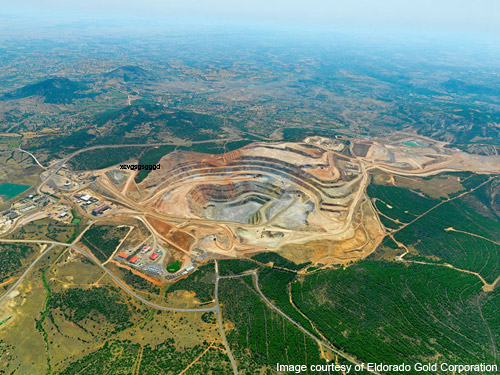 Skouries mine in Greece. Courtesy Eldorado gold.
Investment Thesis
Eldorado Gold (EGO) is a mid-tier Canadian gold miner with International operations. The company sought in vain to regain its footing after divesting its assets in China for nearly $1 billion and acquiring Integra Gold with its flagship project called Lamaque in Quebec.
Unfortunately, a neverending dispute with the new government of Greece combined with some technical issues in its principal producing mine in Turkey called Kisladag -- Kisladag is a low-grade, bulk-tonnage, open pit operation that uses heap leach for gold recovery. The mine has been in operation since 2006 -- had a rather catastrophic effect on the stock price in October 2017. EGO did not really recover since then.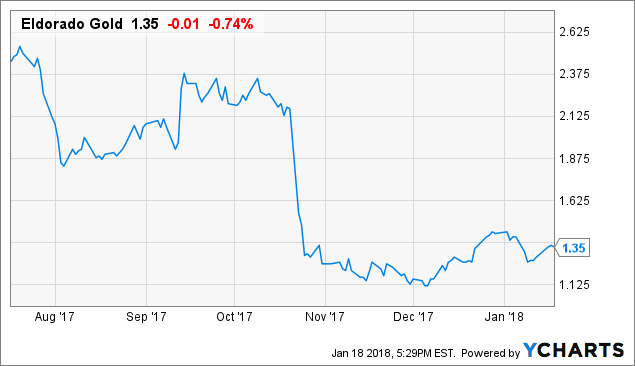 The stock has stabilized now in the low $1.30's and should be considered as a very good opportunity for a cautious accumulation while waiting for the results of the arbitration "in-process" due for a final ruling in April 2018 that I expect very favorable for Eldorado Gold, especially after ready the preliminary operational results and partial guidance released this week, which is the main subject of this article.
Presentation snapshot
Eldorado Gold is producing gold mainly from two mines in Turkey (69,828 Au Oz 4Q'17) and has started Olympias II in Greece while advancing the Lamaque mine in Canada.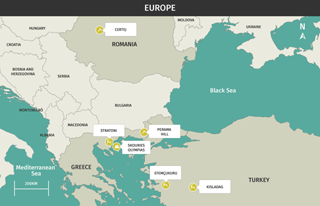 The company completed the sale of three mines in China in November 2016 and recently acquired Integra Gold on July 10, 2017 (Lamaque Project).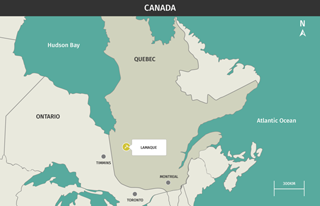 Eldorado Gold owns three projects in Greece: Skouries, Olympias, and Stratoni ("zinc"). Please read the last November 2017 company presentation here.
Recently, two issues for the company was Greece project pipeline and last quarter production warning at the Kisladag mine in Turkey.
1 - Anita Soni from Credit Suisse justified her recent stock downgrade by writing:
... With the Olympias II guidance revision, Skouries pushed out one year and potential arbitration by the MOEE; [2] another re-assessment of timelines and capital plans in Greece in light of on-going challenges; and [3] prolonged negative FCF until 2021 if Skouries is built,
2 - Eldorado gold provided in October an update about the Kisladag operations in Turkey and revised down its production guidance for the mine.
... In light of the lower recoveries, the Company is revising its 2017 guidance for Kisladag to 170,000 to 180,000 ounces at cash costs of $500 to $550 per ounce. Guidance for 2018 and beyond is currently under review.
Preliminary 2017 Operational results and Partial guidance 2018
Eldorado announced on January 16, 2017, its operating results for 2017 and the 4Q'17. Total production was 84,063 AU Oz with an AISC of approximately $900 per ounce.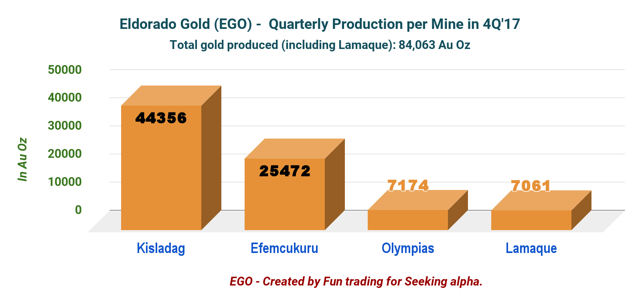 Based on an average of $1,278 per gold ounce I estimated the revenue for the 4Q'17 at about $107 million.

The company indicated that Olympias Phase II completed commissioning and achieved commercial production on December 31, 2017.
In 2018, Olympias is expected to mine and process 390,000 tonnes of ore at an average grade of 8.4 grams per tonne, producing 55,000-65,000 ounces of gold, at operating costs of $550-650 per ounce. For 2018, sustaining capital expenditure is expected to be $15 million and development capital expenditure is expected to be $30 million.
Lamaque is on schedule as well.
Capital expenditures at Lamaque in 2018 are forecast to be $120 million, including $20 million of capitalized mine operating costs. The Company expects to extract roughly 200,000 tonnes of ore grading 7.29 grams per tonne gold, containing approximately 40,000 ounces and anticipates toll milling a portion of the ore and producing 15,000 to 25,000 ounces.

Commercial production remains forecast for 2019 and is expected to be confirmed with the release of the pre-feasibility study.
2018 Full Year Production (excluding Kisladag)
Full year gold production of 160,000-190,000 ounces is expected from Olympias Phase II, Efemcukuru, and pre-commercial production at Lamaque, in addition to base metal sales and by-product credits from Stratoni and Olympias Phase II production respectively.
Mine/Project

Production
(Au oz)

Cash Costs
($/oz)

Sustaining Capital

Expenditure ($M)

Efemcukuru

90,000-100,000

530-570

20

Olympias

55,000-65,000

550-650

15

Lamaque

15,000-25,000

n/a

n/a

Stratoni

n/a

n/a

8

Total

160,000-190,000

43
Eldorado Gold Receives Domestic Arbitration Notice from the Greek Government
I will not open the long and acrimonious dispute history between Eldorado Gold and the Greek Government, it would be too long. I will speak about the last episode instead and will clarify the best I can what is going on.
Note: The Skouries mine has been placed in care & maintenance. Development CapEx for 2018 will be reduced to $20 million in 2018.
Eldorado Gold received on September 14, 2017, arbitration notice from the Greek government.
formal notice from Greece's Ministry of Finance and Ministry of Environment and Energy (the "Ministries") initiating Greek domestic arbitration. This arbitration is pursuant to the provisions of the Contract between the Greek State and Hellas Gold and in it the Ministries have named its nominee to the three person arbitral panel.

The arbitration notice alleges that the Technical Study for the Madem Lakkos Metallurgical Plant for treating Olympias and Skouries concentrates in the Stratoni Valley, submitted in December 2014, is deficient and thereby is in violation of the Transfer Contract and the environmental terms of the project. The Company is highly confident that the subject Technical Study is robust and consistent with the Transfer Contract, the Business Plan and the approved environmental terms of the project.
In short, the problem is about the way Eldorado Gold intends to process its ore in its Madem Lakkos Metallurgical Plant. The process is called "flash smelting" pyrometallurgical technology, which is a technology developed by a Finnish company called Outotec.
People opposed to the project are arguing that the technology cannot be applied in Greece as the arsenic content is too high. Eldorado Gold replied that the method has been thoroughly tested and proven by the specialized Finnish company Outotec, of which the favorable opinion has been repeatedly accepted by the Greek Council of State.
The Greek government has raised significant obstacles from the very beginning of this controversial project despite having been rebuffed many times by the high court. It rejected technical studies, reviewed permits that have been already issued and delayed -- by up to 31 months -- the issuance of new permits by many months.
The technical study for the construction of the metallurgy plant, that has been rejected last November by the Ministry of Environment [MoE] has been submitted on December 22, 2014.
The arbitration panel will likely recognize EGO legal rights, in my view, and will not rule on technical issues raised by a government who never explained its position in the first place.
The panel is composed of an independent group of three professional and legal persons and its task is to judge the legality of the situation not to restart a long and already solved technical situation.
The panel of judges:
Mr. Chrysikos (appointed by the government), Mr. Likoudis (appointed by the company) and Mr. Menoudakos. Given that Mr. Chrysikos will be in favor of the government and Mr. Likoudis in favor of the company, it is very important to know who is Mr. Menoudakos.
Mr. Konstantinos Menoudakos is a former president of the Supreme Court of Greece -- from May 2012 until July 2013 -- during this period, all supreme court cases regarding Eldorado Gold were delivered in favor of the company.
M. Burns, EGO CEO, said repeatedly that the MoE never discussed the situation with EGO. Every time he talked to the Minister, it is all fine.
The Finnish concept widely used and recognized safe Worldwide. No argument against the process has been presented by the MoE. Yet, the case is now on a domestic arbitration.
"Does the head of Eldorado Gold consider that this particular method is legally shielded and technically feasible?

Burns: "Certainly. We have the leading company in the world using this technology, in Finland; they have performed all the tests and have supplied all the technical documentation. These leading experts have assured us that this method will succeed. Who says that it will not? I don't understand it at all!"
Finally, Eldorado provided an update of the arbitration process on December 19, in which we learned that the panel was granted 60 extra days to end the arbitration on April 6, 2018.
confirms that at the request of the arbitral panel, the 90-day arbitration period has been extended by 60 days to now end on April 6, 2018. This domestic arbitration is with respect to the action initiated by Greece's Ministry of Finance and Ministry of Environment and Energy (the "Ministries") against the Company's subsidiary Hellas Gold S.A. (see the Company's press release dated September 15, 2017). The extension was at the request of the arbitral panel and by agreement of Hellas Gold S.A. and the Ministries.

The Company remains confident that the current arbitration will demonstrate its adherence to all applicable laws and regulations. The Company believes that with open dialogue both parties will come to a mutually agreeable solution to enable full and efficient development of the Company's Kassandra assets in the Halkidiki region, Greece.
Commentary
Eldorado Gold delivered a solid gold production in 4Q'17 with Olympias Phase II declared commercial on December 31, 2017. In addition, the Lamaque project commercial production remains scheduled for 2019.
However, these encouraging results are not what makes Eldorado Gold an exciting and unique investment now. In about three months, the arbitration panel will deliver its conclusion and I expect a favorable judgment in favor of the company. I believe it is highly likely that EGO will trade at or above $2 if the decision is favorable.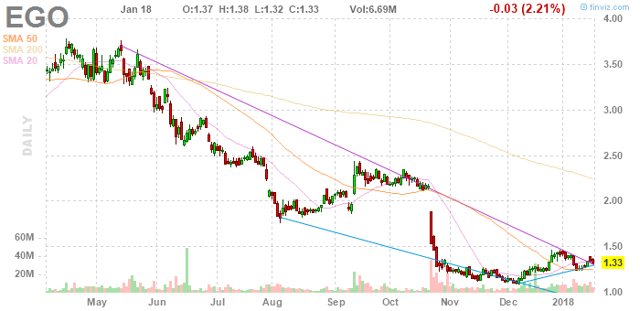 EGO technical analysis is not clear right now. However, a line support trending up is forming at around 1.33 now. Depending on the arbitration I see EGO re-testing the long resistance at $2.25 by June.
Important note: Do not forget to follow me on the gold sector. Thank you for your support; it is appreciated.
Disclosure: I am/we are long EGO. I wrote this article myself, and it expresses my own opinions. I am not receiving compensation for it (other than from Seeking Alpha). I have no business relationship with any company whose stock is mentioned in this article.
Additional disclosure: I am building a midterm position right now.