Schlumberger (NYSE:SLB) is our top choice for an oil service stock. The name had been battered until 2017, when the oil market started turning. We have stood behind the name, with buy calls from $70 on down. That said, the company just reported earnings and we are surprised at how sharply the market has turned back toward moving positive, or perhaps, it has regressed to the mean, following the pain in the oil sector the last few years. SLB's stock has slowly rebounded as oil has moved a bit higher off the decade lows while the company has extremely slashed expenses. In our estimation, the company is healthier than ever. But can you buy here? Let us discuss performance and our expectations moving forward.
Return to top line growth
We expected a rebound in oil as we approached 2020, but it seems the market has been stabilizing in the back half of 2017 into 2018, ahead of our expectations. In turn, we expected revenues to grow in the latter half of the decade, but growth is returning ahead of schedule. That said, revenues did in fact grow to $8.18 billion: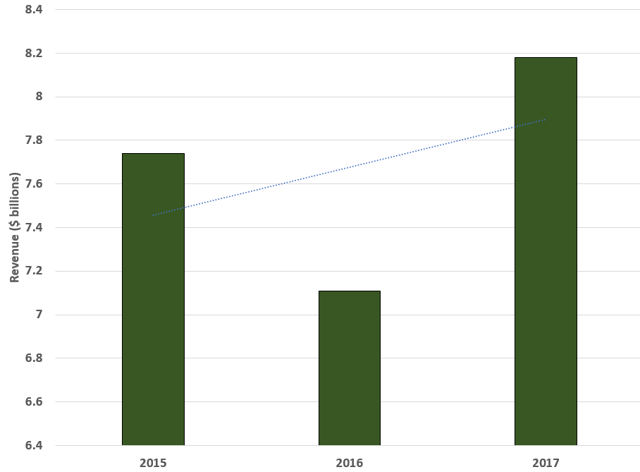 Source: SEC Filings
This represents a return to top line growth. While we were expecting some growth thanks to the move in oil prices, our estimates were for $8 billion, and the company brought in an additional $180 million over our projections. You see, revenues are so closely tied to oil. Thinking about investing here? Ultimately, it's just a question of how long oil prices would stay low. We continue to believe that the overall risk continues to be to the upside from here, and now that expenses have been slashed in the last three years, we can expect growth.
Expense management
As oil fell from 2014 onward, Schlumberger worked diligently to cut expenses. However, spending ticked up from last year as more operations were brought online. Costs of revenues were up from last year: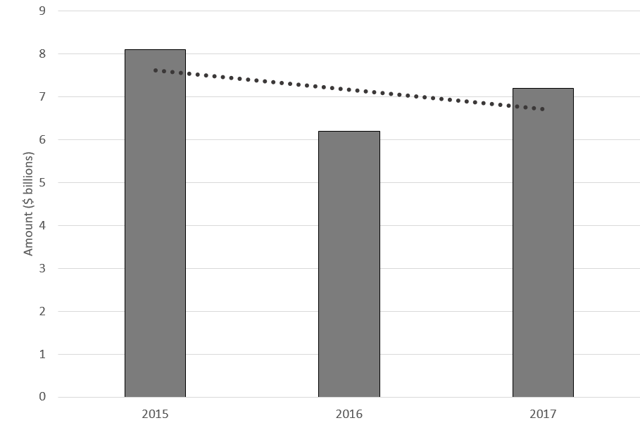 Source: SEC Filings
We were expecting a rise in costs but were looking for $7.1 billion, so the company spent $100 million more than we anticipated at $7.2 billion. The company did cut research and engineering expenses and saw nearly flat administrative expenses. Overall, we were pleased with the metric.
We do want to point out that we have been assessing the impact of the Tax Cuts and Jobs Acts on major companies. Schlumberger recorded a net charge of $76 million in the quarter related to the tax bill. This amount was made up of a $410 million charge relating to the one-time mandatory tax on previously deferred earnings of some non-US subsidiaries with a $334 million credit resulting from a remeasurement of Schlumberger's net deferred tax liability. This impact was less than we expected, so it is a positive finding. With well managed expenses and a growing top line, earnings saw a benefit.
Earnings surpass our expectations
Revenues surpassed our expectations while expenses were relatively in line. This led to earnings surpassing our expectations, and returning to growth: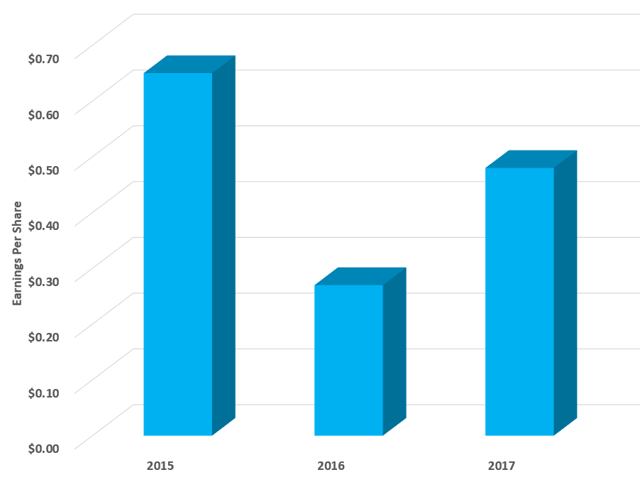 Source: SEC Filings
Adjusting for items the company saw earnings per share of $0.48. This is strong growth from the $0.42 taken in last quarter, and well above the $0.27 in Q4 2016. Moreover, it surpassed our expectations for earnings by $0.03 per share. With that said, some have argued the stock is pricey here. What we think matters is expectations looking forward, and it all depends on oil.
Our 2018 projections
We expect a strong 2018 from the company. The oil market appears to have stabilized. Chairman and CEO Paal Kibsgaard is a guru in the sector, and he offers many strong insights when reporting earnings. That said, one key statement stood out for us:
"Looking at the oil market, the strong growth in demand is projected to continue in 2018, on the back of a robust global economy… the oil market is now in balance and the previous oversupply discount is gradually being replaced by a market tightness premium, which makes us increasingly positive on the global outlook for our business."
That is an incredibly bullish statement from the CEO, and with it we are bullish on the stock for 2018. We see continued growth in the stock. On the top line, we are anticipating revenues of $34.25 billion to $36.0 billion under the assumption of oil remaining at present levels or higher. Assuming this growth and managed expenses, we are targeting earnings per share of $2.05 to $2.45.
Our take
We remain bullish. Oil prices drive the momentum in this stock and the sector for the most part. With oil prices moving higher, the company and the stock will do well. That is a simple fact. We have long been a fan of SLB management as this team is still among the best. Even with the cost cutting and the pressure on revenues, the company continues to pay its dividend which has been hiked, and it bought back another 1.6 million shares in this quarter. The name remains solid.
Quad 7 Capital has been a leading contributor with Seeking Alpha since early 2012. If you like the material and want to see more, scroll to the top of the article and hit "follow." Quad 7 Capital also writes a lot of "breaking" articles, which are time-sensitive, actionable investing ideas. If you would like to be among the first to be updated, be sure to check the box for "email alerts "under "Follow."
Disclosure: I am/we are long SLB. I wrote this article myself, and it expresses my own opinions. I am not receiving compensation for it (other than from Seeking Alpha). I have no business relationship with any company whose stock is mentioned in this article.