With stocks having rallied 14 months with scarcely a pullback, analysts are voicing concern that this could be the year that witnesses a long-awaited "correction." A rising interest rate environment which pressure earnings momentum is becoming an increasing concern for investors, as is the threat of further Fed tightening. Increasing attention also is being paid to the recent reversal in the stock-bond yield gap. In contrast to these fears, however, a strong case can be made. However that the current stock-bond relationship could actually serve as a catalyst for the next phase higher in long-term equity bull market. Here we'll explore this possibility, along with a look at the market's longer-term health.
Since the end of the last bear market and the commencement of the current bull market in 2009, investors' faith in the long-term attractiveness of equities has been bolstered by near-zero interest rates. More specifically, the gap between Treasury bond yields and dividend yields on common stocks (known as the "Fed Model") has been extremely favorable for equities for most of the last nine years. The yield differential between Dow 30 bonds and 10-year Treasuries has in fact been one of the more attractive features for many investors. In just the last couple of months, however, that spread is becoming less favorable to equities and is giving many investors a serious pause for thought.
CNBC's Mike Santoli has pointed out that in the years since the 2008 credit crisis, whenever the dividend yield on the Dow 30 or the S&P 500 have been above the 10-year Treasury yield, it has signaled that equities were good relative values vs. bonds.
As the following graph shows, however, the stock-bond yield gap has reversed for the first time in years. Treasury bond yields are gradually increasing while Dow yields are steadily declining. A hyper-literal reading of this relationship would suggest that stocks will suffer due to this inversion. When we broaden our outlook and consider other factors in this relationship, however, we can only arrive at a far different conclusion.
Chart created by Clif Droke
A logical approach to the investment markets would dictate that an individual should seek out assets with the most attractive relative yields. Investors aren't always logical, however, and the fact that many of them preferred to invest in low-yielding Treasuries for the past nine years instead of higher-yielding stocks is proof of this. Now that Treasury prices are declining in value, stocks are undoubtedly starting to look far more attractive to some of them by comparison. Thus perversely enough, stocks could actually gain more attention from retail investors even though stock yields are declining.
Rising Treasury bond yields also can be an inducement for retail investors to take a closer look at stocks this year. While some pundits contend that rising yields are bad news for the stock market, the average investor is smart enough to realize that rising yields are actually a good sign within a low-inflation, positive growth environment. A slow, steady rise in Treasury yields is actually a sign that investors have greater faith in the U.S. economy's intermediate-to-longer-term prospects. This in turn will also likely serve as an incentive for investors to buy stocks in the coming year while eschewing Treasuries.
Relative yield factors are mainly the province of professional investors, however. Smaller investors are far more likely to be driven by considerations of price. Nothing attracts their attention quite like a powerful and sustained momentum-driven bull market. It has been long observed that the stock market is one of the few areas where the more prices rise, the more it attracts interest. With longer-term price momentum firmly established to the upside, it's inevitable that small investors will become more enamored with equities as the bull market continues. Consider the following chart exhibit, which underscores this point.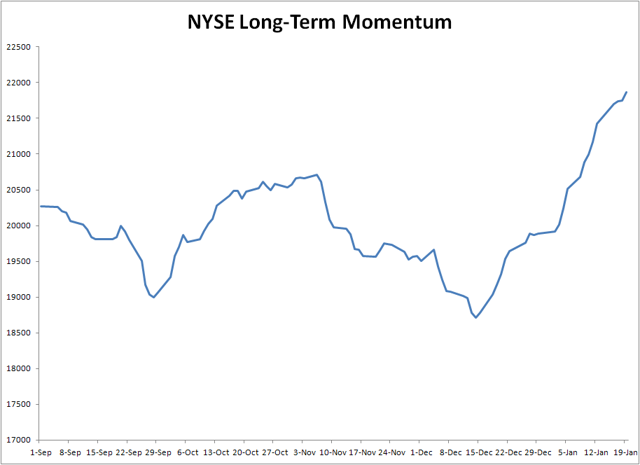 Chart created by Clif Droke
The above graph shows the longer-term (200-day) momentum of the NYSE 52-week new highs-new lows index. This is an ideal longer-term measure of broad market momentum and is based on the assumption that new highs-new lows are the best measure of incremental demand for equities. Here you can see the rising tide this indicator reflects, which points to higher stock prices in the coming 6-9 months. In view of the well-established forward momentum reflected in this indicator, we can make a reasonable inference that small investors will only become more interested in stocks as the year progresses despite lower dividend yields and higher Treasury yields. For the average small investor, rising momentum is unquestionably the strongest of all arguments for buying stocks.
Another strong indication that the long-term rise in equity values is on a solid footing is the NYSE advance-decline volume line. The following graph reveals the positive track of this important indicator. When cumulative volume is in a rising trend it signals that the flow of money is to the upside. When this indicator is consistent with a rising price line for the S&P 500 Index, it's a powerful argument in favor of the long-term bull market remaining intact.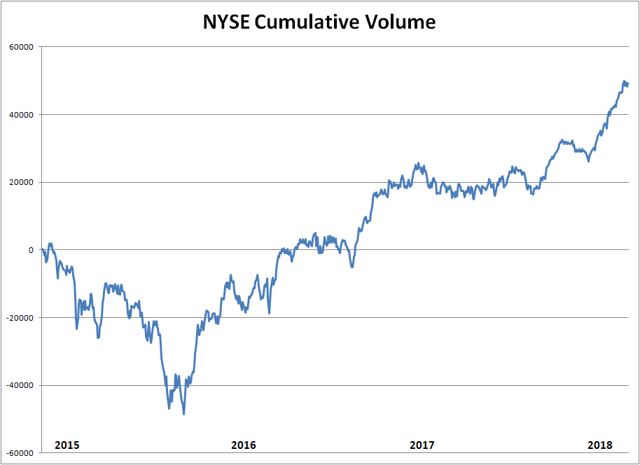 Chart created by Clif Droke
In view of the technical factors we've been considering here, investors should maintain a decisively bullish bias toward equities as we head further into what should be a worthwhile year ahead. If the market continues its upward trajectory as I expect, then we also should see the gradual return of small investors back into the equity market. Widespread participation on the part of small investors – something which has been largely missing since 2009 – would in turn serve as a catalyst for additional gains. It also could spark the runaway phase of this leg of the bull market, which began in November 2016.
The bottom line is that investors shouldn't be disillusioned with the reversal of the stock-bond yield gap. Instead of a reason for concern it will instead likely galvanize interest in stocks from investors who have ignored them in recent years.
Disclosure: I am/we are long ROBO. I wrote this article myself, and it expresses my own opinions. I am not receiving compensation for it (other than from Seeking Alpha). I have no business relationship with any company whose stock is mentioned in this article.