I was not a LinkedIn (LNKD) bear till recently. I never really agreed with the bear thesis that the company is overvalued. After all, the company has a market cap of just $8.5 billion. Back in 2007 when Monster Worldwide (NYSE:MWW) was not facing any serous competition from LinkedIn, it also used to have $6-7 billion market cap. So LinkedIn, with more revenue streams (like ads) to monetize, can definitely do better in the long-term. However, one requirement which is a must to justify LinkedIn's high valuation is it should remain the #1 professional network.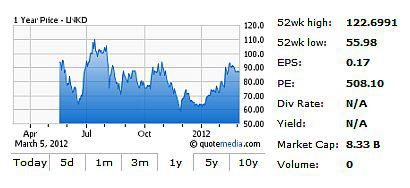 Until the beginning of this year, that was the likely case. However, it is a tech world and consumer preferences change pretty rapidly here. Better technologies/features/websites constantly replace the old ones which have stopped innovating. Take, for example, Facebook (NASDAQ:FB). Facebook was just a new kid on the block in 2005 when MySpace was the undisputed leader in Social Networking space. A few years later, we are talking about a $100 billion IPO valuation for Facebook, while MySpace was sold to Ad Network for $35 million last year. Similarly, Research In Motion's (RIMM) Blackberry was a hot high end business phone in 2008, while iPhone was just a newly launched phone from Apple (NASDAQ:AAPL) - a company which had no prior experience in mobile space. Everyone knows what happened afterwards. RIM's valuation have corrected from $70 billion+ in 2008 to current $7 billion, while Apple's stock price has made history.
So, what is this serious competition I am referring to? I am talking about BranchOut. Yes you heard it right -- BranchOut.
But it is just a small Facebook app. How can it pose any serious threat to LinkedIn. Also, it has been already there for quite sometime. What has changed which makes it any serious threat now than it was before?
BranchOut was small two months back, but not anymore.
If you look at the latest data on BranchOut from AppData, you will definitely be in for a big surprise. Its monthly active users have grown from ~1 million at the beginning for this year to over 6.1 million, according to the latest data. Its total user base is now over 10 million and growing every second, even as you read this article. Following is the graph showing BranchOut's Monthly Average Users (MAU) data trend for the last one month.
Click to enlarge: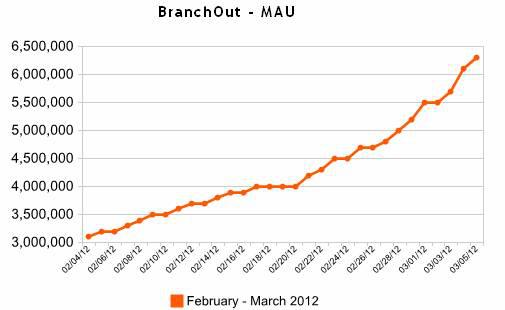 Source: AppData.
Clearly, BranchOut is on fire. Even BranchOut's Founder and CEO Rick Marini is pleasantly surprised. Techcrunch Journalist Josh Constine in his recent article cites Rick saying "I didn't expect growth to come this fast and this big." BranchOut must be doing something right, if it is growing so fast.
I suggest you read Josh Constine's article on Techcrunch as it really gives a good description on the company's strategy which has worked. However here are some of the important points:
Leveraging Facebook platform, which provides:

Wider Network: Your effective network on BranchOut is not just limited to other users of BranchOut. With each friend you add on BranchOut, you get access to the names and employers of their friends, even if they're not on BranchOut. That means a much wider network where you can request an intro or referral

More Engagement: Facebook is the #1 website globally where users spend time. Being on the Facebook platform gives BranchOut's user ready accessibility to the app and results in more engagement as is evident from BranchOut's MAU data.
BranchOut works for every one: As Josh Constine rightly said "LinkedIn works if you're a white-collar grad with a great resume and tons of professional contacts to tap. But what if you've only got basic schooling and experience, and your only contacts are your friends? BranchOut lets you convert your existing social graph into your professional network, something LinkedIn's lack of a meaningful Facebook integration prevents. It can help you find a top tech career, or a blue-collar temp job."

Excellent Execution: BranchOut's team has excelled in terms of execution so far-- be it user friendly interface, offering services across the platforms, or doing what ever it takes to build credibility and gain more users. This definitely is commendable for a company with just 50 employees and $24 million in funding.
Can't LinkedIn do anything about BranchOut?
It has tried. LinkedIn discontinued API access to BranchOut in July last year. BranchOut in reponse said
At BranchOut we consider the next generation platform for professional networking to be Facebook. Changes to the LinkedIn API have little impact on the BranchOut experience, as it was only being used by a small fraction of our users.
BranchOut's superb growth in the past few months is a proof that they were right. Accept it or not, LinkedIn management is not very good in execution and continuous innovation. LinkedIn's user engagement is minuscule as compared to Facebook. If LinkedIn's management was inclined to do something, it would have done it a lot earlier. LinkedIn is happy having a user base and thinking someday it will be able to increase user engagement. For me, it is just wishful thinking, nothing more.
So, where can LinkedIn's price go?
I won't be surprised if history repeats itself and LinkedIn ends up like Myspace and RIM. Near term, the stock can easily give up all of the gains it has made so far in 2012. After all, it doesn't make sense that a web company's stock price is going up when its competitor's active user base has increased six fold, crossing the inflection point required for viral growth. Bulls will panic and I believe its just a matter of time before they realize what they are in for.
Can anything go wrong for the bears?
Let's see…
It's difficult to short LinkedIn due to low float available. Can low float give its stock price some support? I don't think so. There might not be many short sellers, but at the same time who will buy this stock knowing the progress BranchOut is making? Perhaps some will make the same mistake Rupert Murdoch made in 2005 by not following Web 2.0. But I am not counting on it. Investors now understand Web 2.0 and related fads much better.

What if LinkedIn posts a couple of good quarters? I don't think there will be much to cheer even if LinkedIn posts good results. Earnings have little meaning when there is secular long-term risk to a company's business. RIM's stock is in a declining trend since early 2008 despite the fact that it continued to grow its EPS till 2011.

Won't Facebook's IPO frenzy provide an support to Web 2.0 names like LinkedIn? I don't think so. If there are significant company specific risks, it's very difficult for their stock to get support. The Web 2.0 bubble has not yet burst, but stocks like Demand Media (DMD) with significant company-specific risks have already seen a good downside. Also, Facebook's IPO will be a bigger positive for BranchOut, which uses Facebook as a platform.
Disclosure: I have no positions in any stocks mentioned, and no plans to initiate any positions within the next 72 hours.