As a millenial investor who was in university during the financial crisis, nearly my entire investing experience has been in the pampered context of a bull market. Realizing that this can lead to complacency and overconfidence, over the past year I have set out to hedge my portfolio against a future bear market by turning these profits into a more stable, income-producing portfolio. My goal is to compound wealth at a fairly high rate of return (10%+ average annually) while minimizing volatility in my overall portfolio through periodically rebalancing a highly diversified portfolio of assets with low correlations. Furthermore, I am seeking to achieve a high level of income yield in order to (1) achieve financial independence at a young age and the freedom to pursue my highest life goals without being constrained by the need for a good-paying job to support my family; (2) provide me with a consistent stream of extra cash to keep my portfolio allocations balanced and dollar cost average into positions; and (3) perhaps most importantly, help me remain disciplined by simplifying the process of focusing on the intrinsic value of an asset rather than chasing speculative, low-yield opportunities.
Five forces have shaped my investing philosophy and are clearly evident in my portfolio strategy: Biblical values; the Austrian School of Economics (follow the Mises Institute for more details on how this applies to investing); Warren Buffett's strategy of long-term investments in high ROIC companies with moats; Benjamin Graham's preference for cheap dividend-paying securities; and Ray Dalio's successful development and implementation of the "all-weather" portfolio.
The Biblical passages of Ecclesiastes 11:1-6, Proverbs 10:2, and Proverbs 13:11 underpin my entire investing approach. Ecclesiastes 11:1-6 extolls the wisdom of long-term investing, diversification, and consistently dollar-cost averaging into investments rather than trying to time the market. Proverbs 10:2 emphasizes the importance of not profiting from wickedness. And Proverbs 13:11 teaches that sustainable wealth is built through steady compounding over the long-term rather than by "swinging for the fences" through excessive speculation. While much of this wisdom influences the "how" of my portfolio rather than the "what," the idea of not profiting from practices that violate Biblical ethics prevents me from taking an "anything goes" approach to invesments. In particular, this has caused me to choose to abstain from investing in broadly diversified indexes (such as the S&P 500 (SPY)) as well as certain businesses due to their profitable involvement in activities that conflict with Biblical values. In their place, I have chosen to invest in companies that don't present a conflict for my conscience as well as Biblically-aligned indexing alternatives, including the ETFs put out by Inspire Investing (BIBL), (ISMD). Have I missed out on some lucrative investments by following this approach? Absolutely. However, my measure of wealth extends beyond the material. This is one of those areas that every investor needs to work out for themselves, whether they are a Christian, an environmentalist, etc.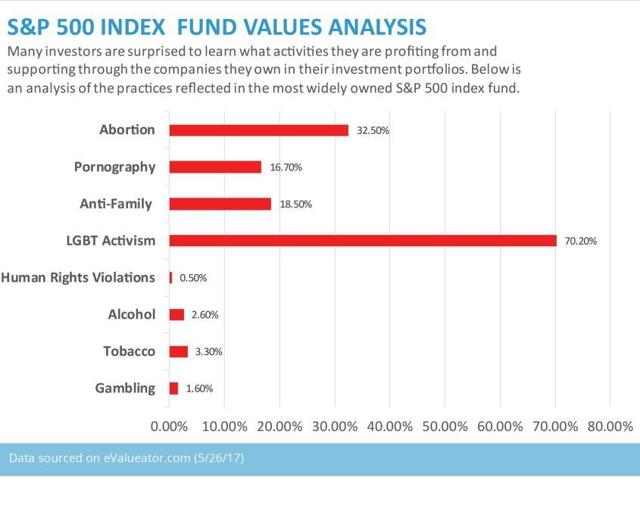 The Austrain School of Economics - which predicted the 2008 financial crisis - cautions investors against massive inflation and bubbles caused by government and central banking interference and points investors toward diversification in inflation-hedged assets such as precious metals. Accordingly, I avoid excessive exposure to the more speculativey driven asset classes (such as publicly traded stocks) and cash, and instead put more of my resources in inflation-resistant "hard asset" investments (i.e., precious metals, commodities, and real estate).
Warren Buffett's well-known approach doesn't need much of an introduction here, but his philosophy has influenced me to put the bulk of my stock portfolio into well managed, conservatively financed, and highly profitable companies that have an identifiable moat.
Bufett's mentor, Benjamin Graham, also needs no introduction, as he is also well known to most Seeking Alpha readers, but the portion of his writings that have influenced me the most were his emphases on minimizing speculation and maximizing margin of safety. The surest way to minimize speculation is to pick investments that have a secure income stream (i.e., a moat and/or stable business model) and distribute a high percentage of that income stream directly to the investor, rather than leaving it in the hands of management. Margin of safety is most easily recognized from a low Price to Book Value ratio, but is also obtained through other metrics, including historical and peer comparisons of P/E, PEG, P/CF, and P/S ratios, as well as through Discounted Cash Flow (DCF) models. Accordingly, I have weighted my portfolio towards income producing assets that are trading at attractive valuation levels.
Last, but not least, Ray Dalio's "all-weather" portfolio concept offers me a great way to combine these four previous investing philosophies nicely by providing excellent diversification and an easy way to dollar-cost average into investments for the long-term. Its disciplined allocation structure and relative performance stability minimizes the temptation to time the market and/or act irrationally, and it allows plenty of room to build a portfolio of "Buffett" stocks and income-focused value investments while also hedging against market crashes and high inflation through precious metals.
Though Ray Dalio's model portfolio (as described by Tony Robbins in his book Money Master The Game: 7 Simple Steps To Financial Freedom) calls for 30% Stocks, 40% Long-Term Bonds, 15% Intermediate-Term Bonds, 7.5% Gold, and 7.5% Commodities, I have modified it somewhat to better suit my investing philosophy and needs. Given the heavy bond-weighting of the portfolio in the midst of what the Austrian economist in me views as a bond bubble and a high-risk of escalating inflation indefinitely into the future, I have replaced the 40% Long-Term Bond portion into long-term private market income-producing real estate investments and Master Limited Partnerships (which have a low historical correlation to the stock and bond markets), though I do maintain a 15% cash position in order to pay heed to the principles of diversification and not trying to time the market. My emphasis on higher yield also leads me to place 67% of my commodities portfolio into energy-focused MLPs and 50% of my stock portfolio into high yield stocks, options and REITs.
These changes leave me with the following portfolio allocation:
Real Estate (30%)
- Traded: 15%
- Non-Traded: 15%
MLPs (25%)
- Energy MLP ETFs: 20%
- Shipping/Other: 5%
Stocks and Options (20%)
- "Buffett" Stocks: 10%
- Biblical Values ETFs: 5%
- Options: 5%
Cash (15%)
- Peer to Peer Lending: 5%
- High Yield Bonds: 5%
- Money Market: 5%
Precious Metals: (10%)
- Miners: 2%
- Gold: 2%
- Silver: 2%
- Platinum: 2%
- Palladium: 2%
Given Real Estate's many attractive qualities - thousands of years of history as a sound way to preserve and grow wealth over the long term through its ability to both produce income and appreciate in value, hedges against inflation, and is necessary for life and business, yet limited in supply (natural moat) - it is a natural fit in my portfolio. The income focus of REITs and real estate loans fits in nicely with my portfolio objectives and the less volatile non-traded investments help me maintain my long-term buy-and-hold discipline by serving as a higher-yielding long-term bond substitute. Additionally, these non-traded investments offer strong diversification from the sometimes volatile stock market while also yielding higher income due to the lack of a liquidity premium that is paid for publicly traded REITs.
On the other hand, I also like to hold publicly traded REITs for additional diversification, the enhanced transparency and accountability from their managment teams due to greater scrutiny, and to capture potentially higher capital appreciation from buying at market troughs and selling at peaks through regularly rebalancing my holdings. The traded REIT side of my portfolio allows me to enhance my returns that I either currently hold or plan to hold in the future consist of: Tanger Factory Outlets (SKT), Realty Income (O), STORE Capital (STOR), Simon Property Group (SPG), Stag Industrial (STAG), Kimco Realty (KIM), W.P. Carey (WPC), Vereit (NYSE:VER), National Retail Properties (NNN), Ventas (VTR), Omega Healthcare Investors (OHI), Physicians Realty Trust (DOC), Uniti Group (UNIT), Starwood Property Trust (STWD), and Granite REIT (GRP.U).
I picked each of these stocks based off of their history of high yields and growing dividend payouts as well as their strong business models. My non-traded real estate investments consist primarily of online crowdfunded REITs and loans, open to both accredited and non-accredited investors: Fundrise's Income, Growth, East Coast, Heartland, and West Coast REITs as well as their Washington D.C. and Los Angeles eFunds; Realty Mogul's Commerical Debt and Multifamily REITs, Rich Uncles' NNN and just-announced Student Housing REITs, the Medalist diversified REIT, the Impact Housing REIT, StREITwise's Office REIT, and Groundfloor's Fix-and-Flip short term loans. In both my traded and non-traded real estate investments, I believe that as long as I maintain disciplined diversification and focus on sustainably strong (5%+) dividend yields, I will have successfully constructed a wealth-compounding money machine.
As my second largest portfolio holding, MLPs offer a wonderful opportunity to dramatically boost my portfolio's income while still hedging against inflation. As perhaps the most beaten down asset class in the market, it offers exceptional upside potential in addition to very high income yields, and the tax reform - which offers a 20% deduction on pass through income - should make MLPs and REITs more attractive than ever. MLPs also enjoy a low historical correlation to other asset classes, making them a good choice for an "all-weather" portfolio substitute for long-term bonds. Furthermore, their exposure to commodity prices make them a fine high-yield substitute for commodity ETFs. In order to avoid the hassles of dealing with K-1s come tax time, I choose to primarily invest in MLP ETFs, though I also hold three shipping MLPs that do not issue K-1s either. While I have held multiple different MLP ETFs in the past, I currently just hold two: the Infracap MLP ETF (AMZA) based on its recent adjustment to a monthly distribution at an appetizing, yet more sustainable 15% annualized yield and the Global X MLP ETF (MLPA), a very low cost MLP index ETF that still yields nearly 10%. My three shipping MLPs -Capitat Product Partners (CPLP), Knot Offshore Partners (KNOP), and Hoegh LNG Partners (HMLP) - were recommended to me by J. Mintzmier and yield 9%+.
As previously stated, I pick my stocks based on Warren Buffett's value investing methodology as outlined in my article Searching For Value. My simple approach consists of identifying stocks that I would love to own as well as the price at which I am a buyer and then patiently waiting for them to reach that value (while periodically updating my fair value estimate as their business progresses or regresses). Once they hit my buy target, I hold them until they either are no longer desirable to own or they become excessively overvalued.
To enhance my income and discipline in executing this strategy, I sell options on my stock holdings and watch list (puts at the buy price target and calls on the sell price targets). Given my intent to buy and sell at these prices anyway, the options premiums are essentially free money and further strengthen my portfolio's yield.
I round out my portfolio with exposure to the broader stock market through large cap (BIBL) and small cap ETFs (ISMD). Stocks that I currently hold or want to hold at some point in the future include: Advance Auto Parts (AAP), American Outdoor Brands (AOBC), ASML Holding (ASML), Atlas Copco (OTCPK:ATLKY), C.H. Robinson Worldwide (CHRW), Dollar General (DG), Digirad (DRAD), Fastenal (FAST), Federated Investors (FII), Gentex Corporation (GNTX), Genuine Parts Company (GPC), Hanesbrands (HBI), Icon (ICLR), Illumina (ILMN), Jack Henry & Associates (JKHY), Landstar System (LSTR), Magna International (MGA), MSC Industrial (MSM), Sturm, Ruger & Company (RGR), Snap-On (SNA), Smith & Nephew (SNN), Tractor Supply Co. (TSCO), and Universal Insurance Holdings (UVE).
My cash holdings are limited due to cash's exposure to inflation as well as limited return on investment. However, due to its flexibility and ability to enable me to lower my cost basis in investments during bear markets, it is an essential component of an "all-weather" portfolio. To enhance my yield while still maintaining some liquidity, I have put two-thirds of my cash into higher yielding bonds as well as a highly-diversified number of Lending Club's (LC) 3-year notes.The remaining third I use to take advantage of money market, checking, and savings account enrollment bonuses.
Finally, my precious metals holdings are equally divided between mining (Barrick Gold (ABX) is my favorite conservative mining value play), gold (IAU), silver (SLV), platinum (PPLT), and palladium (PALL). I am currently very bullish on this asset class given the past decade's inflationary monetary and fiscal policies of the world's major economies, precious metals' historically cheap valuations relative to equities, and the growing geopolitical tensions throughout the world. While 10% exposure is not enough to significantly dent my portfolio's income yield, it is enough to provide a strong hedge against a stock market and/or economic downturn as well as inflationary pressures.
Conclusion
After the past decade of strong stock market returns, I am transitioning my portfolio to a more stable, income-focused format. While still enjoying exposure to the stock market, my portfolio is now better positioned to withstand a signifiant correction while also giving me more life flexibility via increased investment income by combining my top five sources of invesmtent wisdom. In my coming articles, I plan to elaborate in more detail on my strategies for my portfolio components as well as on my individual holdings. I invite you to follow along and look forward to your input and advice in the comments section below.
Disclosure: I am/we are long TSCO, UVE, KIM, SKT, OHI, UNIT, DRAD, MGA, PALL, PPLT, IAU, SLV, ABX, AMZA, MLPA, CPLP, KNOP, HMLP. I wrote this article myself, and it expresses my own opinions. I am not receiving compensation for it (other than from Seeking Alpha). I have no business relationship with any company whose stock is mentioned in this article.
Editor's Note: This article covers one or more microcap stocks. Please be aware of the risks associated with these stocks.