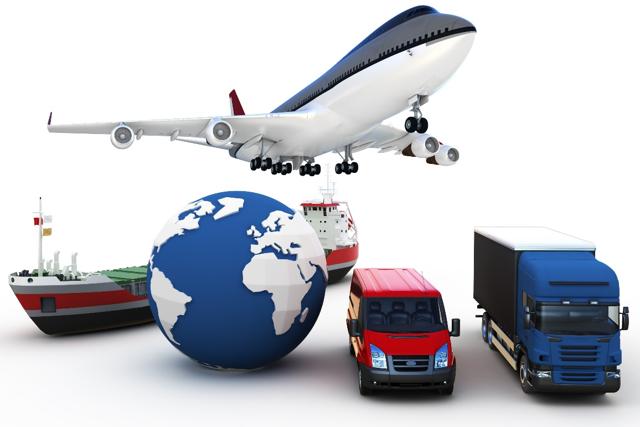 Source: Google Images
For the third week of 2018 on January 19th, transports were mixed as trucking, contract logistics and package delivery and airfreight stocks remained on fire. For the most part, all transport sectors are poised to see improved performance as positive catalysts are in place for 2018. Much of this is related to stable and/or strong demand outpacing capacity.
In some areas, the degree of capacity tightening is at question. For the trucking market, how tightening will impact contract pricing negotiations is not clear - whether it is moderate or more substantial will be determined later in the year. For global container lines, whether capacity increases too much or not enough is being discussed and will be a prime topic throughout the year. Despite varying opinions by experts, most would agree that demand is anticipated to remain robust.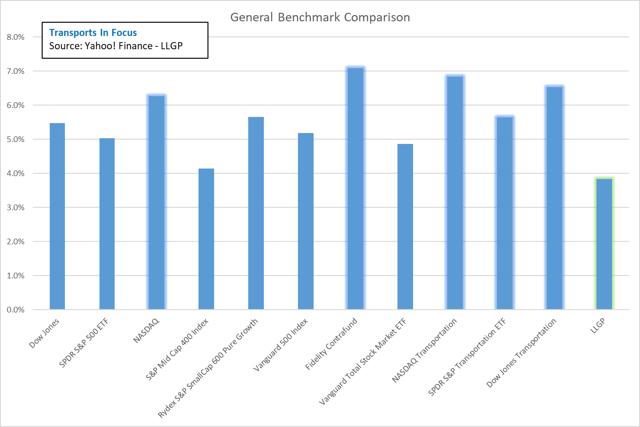 I manage the Lean Long-Term Growth Portfolio (LLGP). To date, performance stands at 3.8 percent, as highlighted in green. Transports performance continues to fluctuate as broader market indices closed the gap – I expect transports to continue to be volatile, especially as earnings season is upon us.
The three top performers thus far have now included the Fidelity Contrafund (FCNTX), NASDAQ Transportation (TRAN) and Dow Jones Transportation (DJT). Most other indices are up over 5 percent, with only the S&P Mid Cap 400 Index (MID) and the Vanguard Total Stock Market (VTI) lagging.
YTD 2017 SPY Vs. XTN Index Prices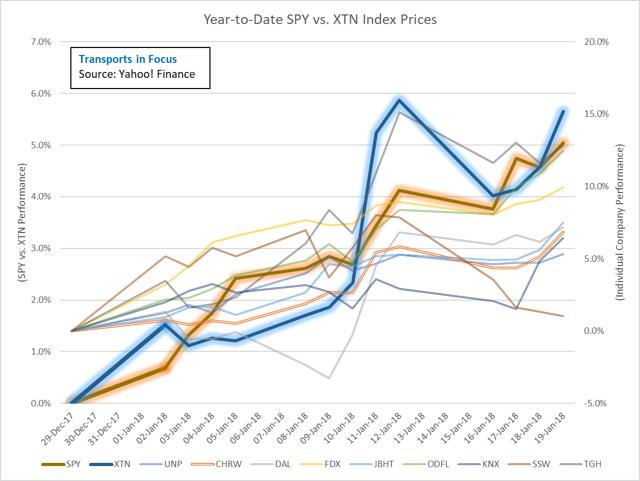 For the 3rd week of 2018, the spread between the SPDR S&P 500 ETF (SPY) and the transports XTN declined to 0.6 percentage points, with the XTN remaining ahead. The SPY increased by 90 basis points (bps) to 5 percent, while the S&P Transportation ETF declined by 30 bps to 5.6 percent for 2018.
Volatility for the S&P Transportation ETF continues to be greater than that of the SPY. This was a theme for most of last year, with transports underperforming broader indices substantially during the spring and summer. 2018 is shaping up to offer sustained growth for most transport sectors; it remains to be seen whether broader markets will be able to outperform once again for a majority of the year.
Rail Operators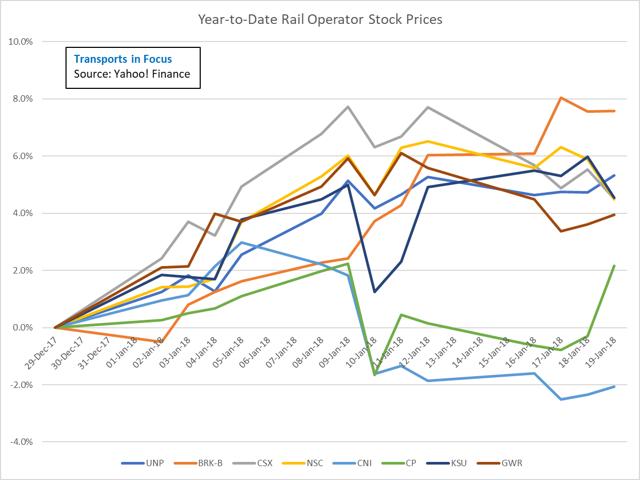 Rail operator performance was mostly down for the week, with exceptions being Canadian Pacific (CP) and Union Pacific (UNP) which was flat. Three Class Is have now reported, among them CSX (CSX), Canadian Pacific and Kansas City Southern (KSU). Performance has been mixed: both CSX and Kansas City Southern trended down after earnings, while Canadian Pacific was positive. I am taking a patient approach with rail operators to see how the North America Free Trade Agreement (NAFTA) plays out.
The second week of 2018 saw a return to positive growth YoY. The rate of growth improved from the previous week to 1.2 percent from last year. As expected, growth is back on track; it remains to be seen how the magnitude of demand will shape up. The most recent monthly Class I rail traffic report can be found here.
Railcar Manufacturers & Lessors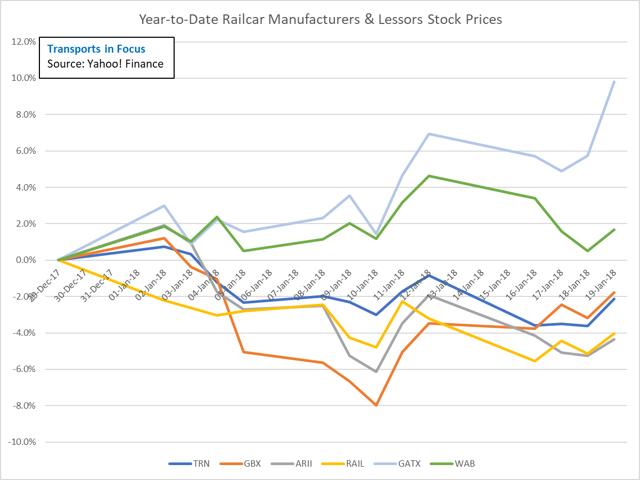 Railcar manufacturers and lessors were mostly down for the week, with exceptions being Greenbrier Companies (GBX) and GATX Corporation (GATX). Railcar manufacturers continue to be weaker versus other peers, driven by Greenbrier's initial earnings report. GATX continues to trade higher as increasing interest rates are seen as being positive for the company's business model. Despite weaker results, Greenbrier has rebounded as expected.
After seeing the railcar backlog information from GATX's earnings release, it is clear that performance has stagnated, and also that the first quarter of 2017 may have served as the bottom. Greenbrier's slide deck providing the anticipated acceleration for railcar manufacturing demand for fiscal years 2019 and 2020 remains in important focal point moving forward.
Truckload Carriers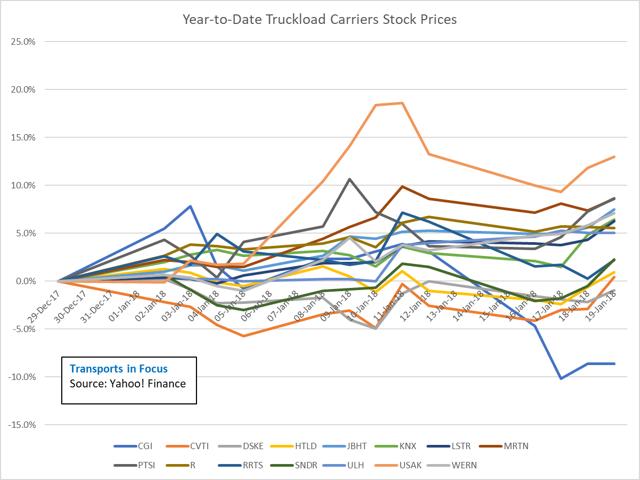 The majority of truckload carriers were up for the week, but weaker performers were just below half of the total. J.B. Hunt Transport's (JBHT) earnings results showed very strong top-line growth for the fourth quarter and year, but margins have been under substantial pressure from increasing operating costs. The market's reaction was positive as anticipation for improving pricing dynamics are expected during 2018.
Trucking stocks are off to a very strong start to 2018, with a good balance of large and smaller peer companies performing well. I continue to be biased towards larger peers for long-term investment strategies, but smaller peers have been some of the strongest performers over the past year. This trend may continue throughout 2018.
Less-Than-Truckload Carriers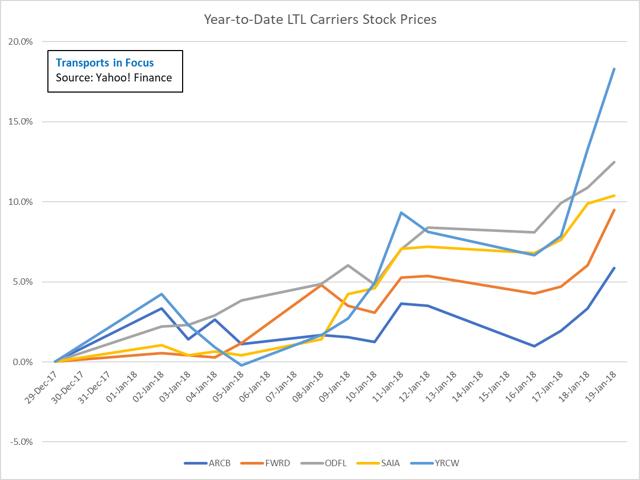 Less-than-truckload (LTL) carriers were up strongly for the week, led by YRC Worldwide (YRCW). YRC's leap above its peers this past week is a continuation of the company's long history of volatile trading. Coming into earnings, the company has had a tough time as the stock price has tended to crumble during earnings misses. With tighter trucking capacity on the horizon and stable demand, this time may lead to a more positive outcome.
As a result, I continue to view both Old Dominion Freight Line (ODFL) and Saia (SAIA) as more stable options. LTL peers have been more consistently tracking versus truckload peers. All in all, the trucking industry's near term remains bright.
Air Freight, Package & Delivery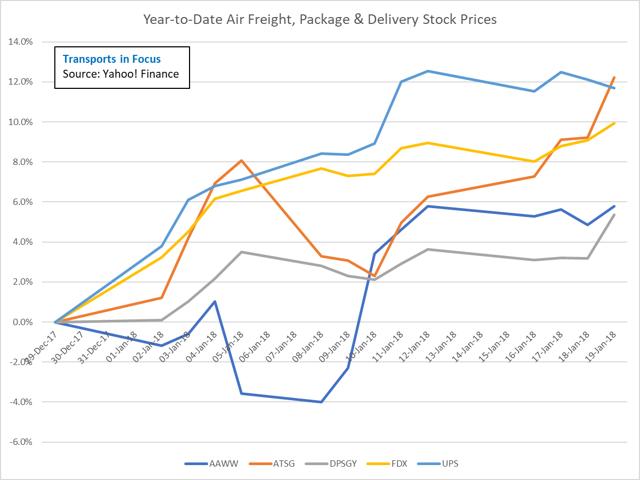 Air freight, package and delivery companies were up for the week, with exceptions being Atlas Air Worldwide (AAWW) which was flat, and United Parcel Service (UPS). Atlas Air's analyst upgrade boosted the stock significantly, and a similar trend has emerged with Air Transport Services Group (ATSG). The former is still a better buy today.
The package delivery and airfreight group has continued being led by UPS. However, Deutsche Post DHL Group (OTCPK:DPSGY) has passed a key trading level, now above $50 per share. With the stock being up over 5 percent, I still see upside of 10 percent or so by year-end. FedEx Corporation (FDX) is not far behind UPS either.
Contract Logistics, Forwarding & Brokerage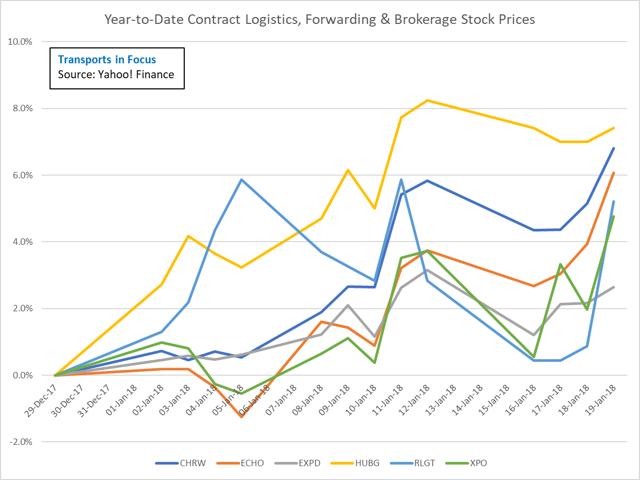 Contract logistics companies were mostly up, with exceptions being Expeditors International (EXPD) and Hub Group (HUBG). As 2018 has gotten off to a positive start, expectations for consolidation in multiple industries will remain in effect. With speculation swirling, any new information and/or deals that emerge will likely push this peer group higher.
Expectations are for improving margins for contract logistics companies, so any speculative appreciation will be gravy on top. I remain focused on the companies within my portfolio, XPO Logistics (XPO) and Hub Group. Both should see increasing demand for their services.
Container Shipping Lines, Charter Owners & Container Lessors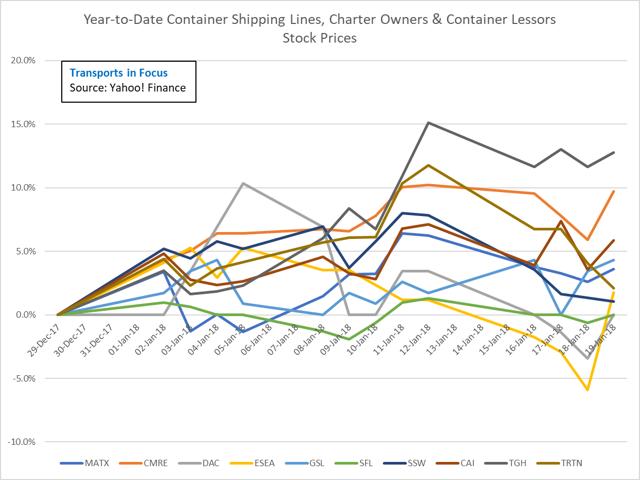 For the container shipping industry, last week's performance was mostly down, with exceptions being Euroseas (ESEA) and Global Ship Lease (GSL). Container lessors have begun the year with some volatility; the same could be said for vessel charter owners and managers. Even Matson (MATX) has witnessed early volatility as well. The good news is that all peers in this group remain positive for the most part.
There continues to be uncertainty surrounding capacity for the global container shipping markets. Some recent reports have seen major container lines delay newbuild deliveries for certain trade lanes, while others have increased new orders. This has led some to believe that a supply glut could return once again if others follow with new orders.
Airlines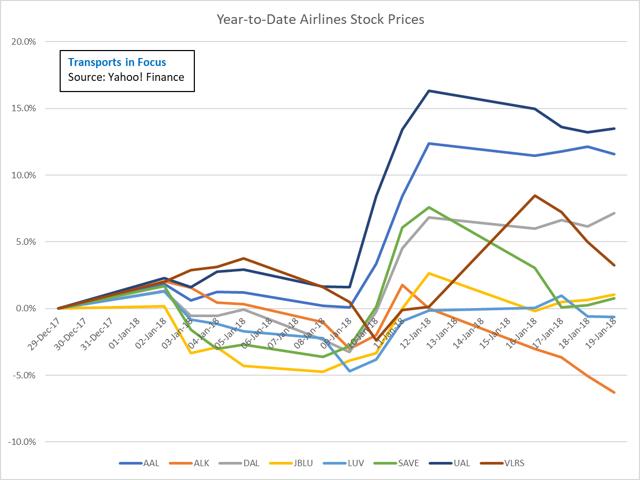 Airline stock performance was mostly down for the week with exceptions Delta Air Lines (DAL) and Controladora Vuela Compania de Aviacion (VLRS). Leading airline performers continue to be American Airlines Group (AAL) Delta and United Continental Holdings (UAL). Laggards have been Alaska Air Group (ALK) and Southwest Airlines (LUV).
I do not see any justification for either Alaska Air or Southwest to be lagging this peer group. The market is currently giving a premium to larger peers versus regional players. In Alaska Air's case, companies including Spirit Airlines (SAVE) and JetBlue Airways (JBLU) have no business trading higher. As the integration of Virgin America gets completed and behind the company, the stock price should appreciate strongly.
Demand Trends
Key demand-based indicators that are monitored include Class I rail traffic, trucking industry tonnage, shipments, and loads, air cargo tonnage, container shipping line twenty-foot equivalent units, TEUs, North America seaport TEUs, shipping lane port calls, North America cross-border trade, and freight rates for most of these indicators.
U.S. & Canada Class I Rail Traffic – Carloads & Intermodal Units Carried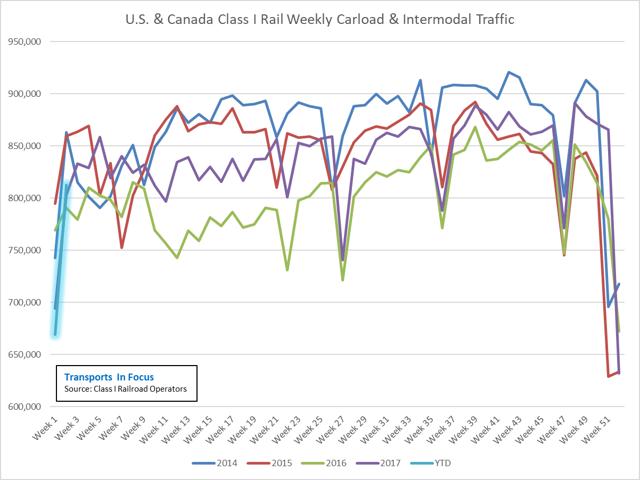 Through the second week of 2018, total traffic was down at -1 percent with carload traffic down -3.3 percent, a 140-bps increase; intermodal traffic up 1.8 percent, a 380-bps increase. Week-one performance improved from the previous week to 1.2 percent, YoY.
These numbers continue to not be far off from the total traffic originated results of -1.3 percent for the second week of 2018 for North America rail traffic, published by the Association of American Railroads (AAR) data. Investors should remember that total traffic carried includes both originated and received carloads and intermodal units. Additionally, U.S. traffic was down -1.8 percent and Canadian traffic was up 0.4 percent, closely tracking the carried rail traffic when combined. Mexico traffic was up 0.4 percent, as improvement remained in positive territory.
Container traffic was up 1.3 percent, a 420-bps increase. Domestic intermodal pricing for both eastbound and westbound averages have remained strong of late, with the former up over 22 percent and the latter up nearly 9 percent YoY. Fuel surcharges will continue to be an added catalyst as oil prices remain higher.
The second week of 2018 witnessed weekly coal carload traffic at 95,000 carloads carried. This reflected a -11.7 percent decline versus last year, the fifth consecutive decline. Grain performance was down, at -8 percent versus last year. Similar to coal, weekly growth from this point forward will be choppier; this was the twentieth consecutive week of negative performance.
Motor vehicles and equipment carload traffic performance was down at -3 percent versus last year; the third consecutive weekly decline YoY. Chemicals were up at 5.7 percent, getting back on track; petroleum products were up 9.4 percent for the second consecutive week; and crushed stone, gravel and sand was up 24.5 percent.
Trucking Industry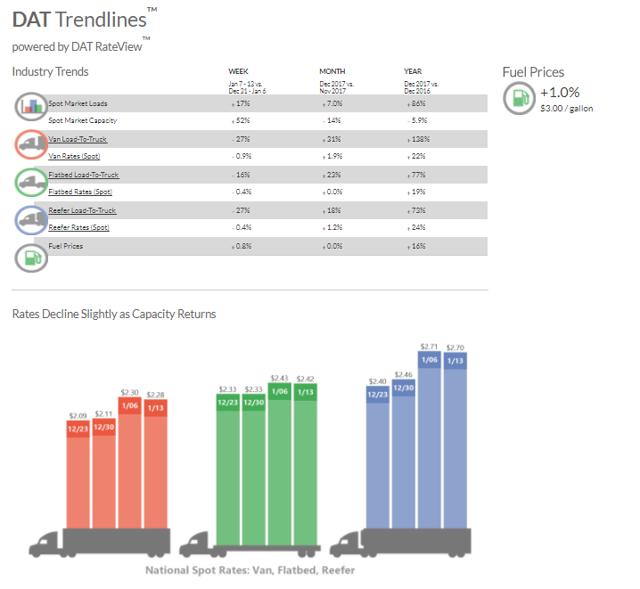 Source: DAT Solutions, DAT Trendlines
As both trucking industry asset owners and carriers, as well as contract logistics asset-light service providers, are witnessing improving operational and financial performance, some continue to express concerns as Amazon's (AMZN) interest grows for logistics. However, recent information suggests that the company's actual brokerage of truck freight has been extremely low to negligible during the past few months of 2017. I continue to believe that Amazon will need to make a few acquisitions to truly enter this space.
In light of this, even Amazon's brokerage services still have complete dependency upon a third-party tractor to haul the goods. The minimal approach is wise and the company may get better clarity regarding its need to acquire and/or lease equipment versus creating its own business from the bottom-up.
Diesel prices were up 17.1 percent for the second week of 2018, reflecting a 170-bps increase from the previous week. Spot market loads were up 17 percent from the previous week, while capacity increased substantially by 52 percent. With increased capacity, dry van, flatbed and reefer rates were all declined marginally from the previous week.
Air Cargo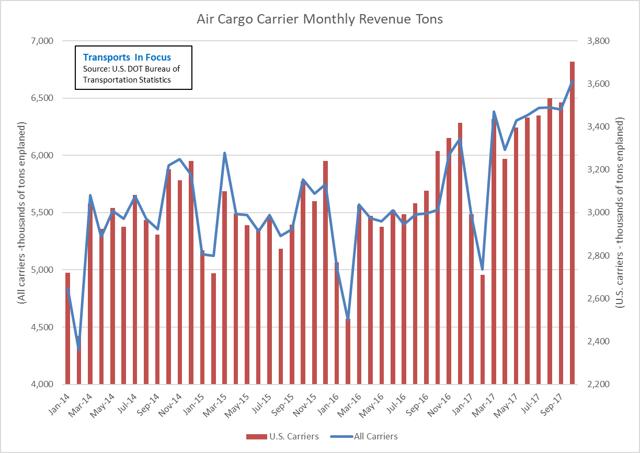 There is nothing new on the air cargo front. Expectations are for continued pressure on shippers as demand remains highly robust. As the Chinese New Year approaches by mid-February, e-commerce and general cargo demands are anticipated to only increase. There will be delays between Asia and North America as a result and shippers with tight delivery times will potentially end up paying nearly double the cost to ship goods if shipping windows remain constrained.
For air cargo carriers, pricing power is becoming more lucrative. Examples have been seen where carriers have negotiated higher pricing for larger customers needing ample capacity for products. This strategy is seen increasing during 2018 as it benefits air cargo carrier margins substantially by gaining full loads, better utilization and increased revenues.
Container Shipping Lines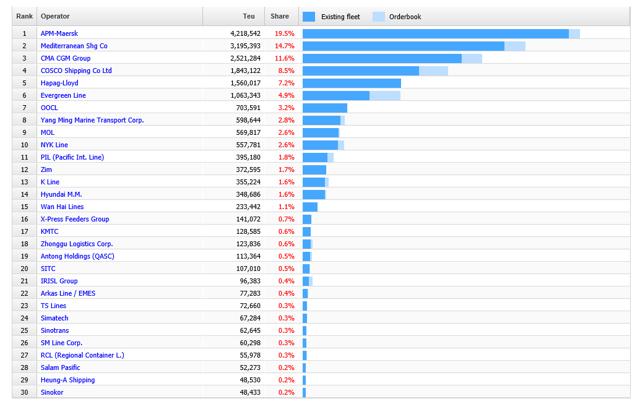 Source: Alphaliner – Top 100 Operated Fleets
Pricing for spot market container rates ended 2017 down for most east-west trade lanes, per the Shanghai Containerized Freight Index (SCFI). Early in 2018 rates have displayed some improvement despite being down YoY.
For the third week of 2018, trans-Pacific freight rates have remained down greater than 33 and 23 percent for shipments from Shanghai to the west and east coasts. These current numbers remain elevated from both June and November lows, and have seen a consistent uptrend since December 22nd, although East Coast rates have strengthened more. Asia-to-Europe rates have declined by more than 17 percent for North Europe and the Mediterranean. Similar to the Trans-Pacific, rates have improved from late-November 2017. Trans-Atlantic rates have strengthened for both eastbound and westbound services to 11 percent from last year.
Differences of opinion remain regarding the relationship of supply and demand for 2018 container shipping lines. Some analysts are more positive, expecting the possibility for capacity to begin to tighten much more rapidly during the back half of the year. Large lines including Cosco and Yang Ming have decided to delay mega order newbuilds to 2019 or later. This has been looked upon favorably for the industry as increased scrapping of older vessels is expected during 2019 and 2020.
North America Seaports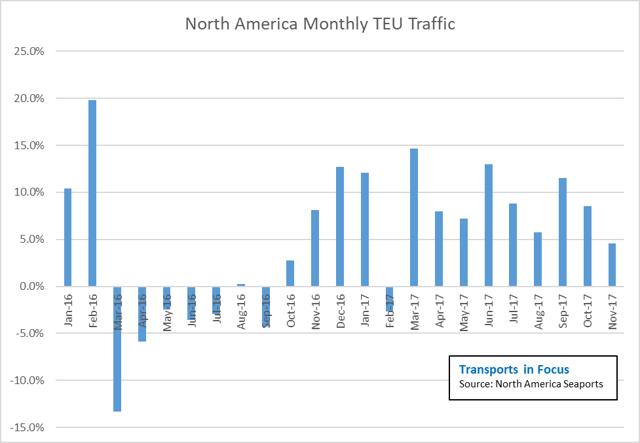 Last week, I provided initial seaport TEU information for the Port of Los Angeles, which was down at -2 percent from last year. Initial results for East Coast seaports including Charleston and Virginia have displayed TEU increases of 11 and 3 percent. East Coast has the early edge, but there are still many seaports left to report.
The Port of New Orleans will begin studying a new location for another container terminal. The seaport is experiencing increasing laden exports, up nearly 10 percent for the first eleven months of 2017. Both East and Gulf coast seaports are investing heavily to expand in increased operating efficiencies to further capture market share. The most recent monthly North America seaport TEU report is located here.
North America Cross-Border Trade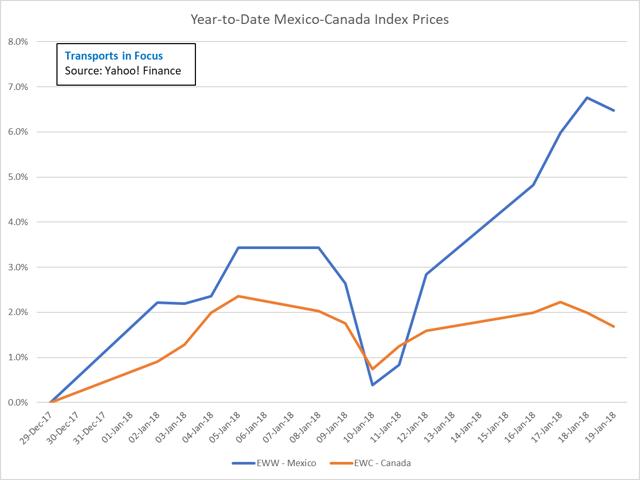 The iShares MSCI Mexico Capped (EWW) was up 370 bps for the week. The index is leading the iShares MSCI Canada ETF (EWC). The Mexico index is up 6.5 percent for the year versus the 1.7 percent result for the Canadian index, which reflected a 10-bps increase.
Recent analysis has suggested that Canada has been less inclined to generate any good faith negotiations for the North America Free Trade Agreement (NAFTA), whereas Mexico has been more willing. This has been reflected in broader market index performance thus far in 2018. Upcoming negotiations will be occurring the week of January 23rd through January 29th in Montreal, Canada. Canada's earlier statements expecting a NAFTA withdrawal from the U.S. are an indication of sentiments. The U.S. has put its desire on the table; it's time for Canada to step up to the plate.
Summary
Transports cooled off a bit this past week, as broader markets have pushed higher. As last year's performance was mostly playing catch-up, being in the lead is just fine as positive momentum continues.
From an industry sector perspective, transports have broadly witnessed strength. As I am managing a long-term growth portfolio, I will continue to focus on the stronger players within respective peer groups. However, as has been the case during this bull market, performance is not always a reflection of strength.
Disclosure: I am/we are long ALK, CNI, DPSGY, FDX, GBX, HUBG, JBHT, KSU, MATX, SNDR, TRTN, XPO.
I wrote this article myself, and it expresses my own opinions. I am not receiving compensation for it (other than from Seeking Alpha). I have no business relationship with any company whose stock is mentioned in this article.
Editor's Note: This article covers one or more microcap stocks. Please be aware of the risks associated with these stocks.