(Author note: All conference call quotes are sourced from the referenced calls via my research tool Sentieo.)
When I first looked at Forrester (FORR) a year ago, I was bemused by the company's unintentionally ironic business strategy of alienating existing customers by trying to shift their business from a legacy business-technology focus to a new focus on "The Age of the Customer," i.e. providing advice on how companies can better respond in an era of customer empowerment. Unfortunately, not all of Forrester's customers appeared to be enthused about this shift in focus, and the company's results over the past few years have been tepid at best.
2017 was supposed to be a transition year where Forrester finally aligned itself to the right sort of clients (which it's now calling "ICP," or "Ideal Client Profile") and simultaneously implemented a new engagement model wherein the sales, enrichment, and retention functions are separated.
The net result of all of this was supposed to be increasing retention and new bookings, leading to double-digit sales growth in 2018; in the words of CEO George Colony in the company's press release roughly a year ago on February 8th, 2017, "In 2017, the company will complete the rollout of its new selling model and accelerate the digitization of its product lines. These efforts will enable the company to reach double-digit growth in 2018 and beyond."
Although Q4 is a big sales (and therefore renewal) quarter for Forrester, and as such, the upcoming earnings call might hold some positive datapoints, I don't think shareholders or observers should be too optimistic about the probability of that.
The subscription/recurring-revenue nature of this business model means that things don't usually turn on a dime. Unfortunately, despite management's continued optimism and selected positive data points in small samples of their customers, their business as a whole hasn't shown meaningful improvement during 2017 in what I consider to be "leading metrics" for this sort of business - and as such, double-digit growth in 2018 looks like an unrealistically lofty target at this point.
The tax cut should nicely benefit Forrester (which has historically paid a high effective tax rate), but even that boost isn't enough to justify Forrester's current valuation. Although I can see reasonable cases for a valuation between $32 and $36 per share (as well as lower valuations if Forrester's results don't improve over the next few years), justifying the company's current price of $45 per share is extremely difficult.
"Age Of Customer" And Sales Model Transitions Not Yielding Fruit Yet
As a brief recap for those who haven't read my previous article or don't have access to SA Pro, while Forrester at one point had a margin profile and growth rate that was directionally comparable to that of larger peer (and standout shareholder value performer) Gartner (IT), Forrester's performance over the past half a decade has been quite disappointing: operating margins have fallen from a historical mid-teens level to the low double digits, and high-single to low-double-digit revenue growth has been way out of reach, with the company posting merely 3-4% growth in good years, and little to none in bad years.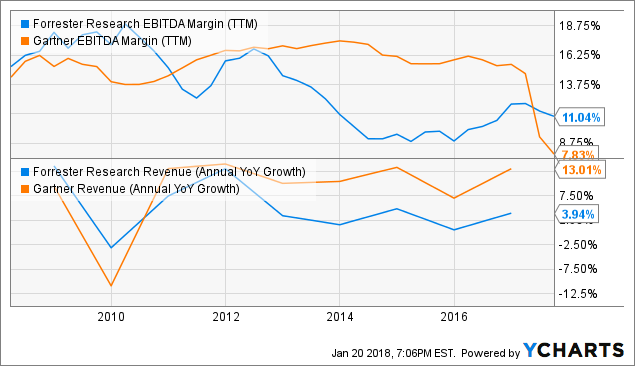 Since 2014 or so, Forrester has been translating its product strategy to more of the "Age of the Customer" focus, which led to some obvious challenges, as some customers decided not to move in Forrester's new direction.
At the beginning of 2017, Forrester provided guidance that was relatively disappointing, calling for very modest flat to low single digit type revenue growth as well as only very modest operating leverage. The company's assertion (in the Q4 2016 conference call in Feb '17) basically boiled down to: well, the growth and margin improvement are coming...
Mike Doyle, Forrester Research - CFO:

[...] our pattern in our business is you add sales headcount in the beginning in particular, they ramp, and then as they start booking business, the syndicated business, you get revenue over time. So, year one is typically one where expenses are a bigger drag, and then you get the big benefit sort of late in the year and into the following year, and right now that's our expectation.

And to the point Mike Morhardt made, our hope is that we will hire faster, ramp quicker, and get the model up and running and we'll be able to juice revenue a little bit more. As I said, I don't think that revenue bumps dramatically in the current year, but I do think we would look for AB growth to move a little bit faster, assuming we got it. And some of the product digitization stuff that we're doing, those investments you will begin to see in the second half of the year as we finish out the work. That booking activity will occur in the second half, but the revenue benefit won't come until later.

So we're absorbing a lot of cost to do some things, but the costs we're absorbing in every case are things where we've tested it, we like the results we're getting, we see a clear ROI on the investments that we're making, and we think it's the right business decision. And I know that people probably expect a little bit of margin expansion, but given what we see and given the opportunity as we see it, our view is we'd be foolish to walk from this right now or go slower on investments to get a little bit more margin this year.

[...]

Allen Klee, Sidoti & Company - Analyst]

Okay. And in your press release, you talk about anticipating double-digit growth in 2018. When you say -- does that mean topline or bottom line? How do you define that?

Mike Doyle, Forrester Research - CFO

I would say that it's probably topline on bookings and probably high single-digit in revenue, and we'll get double-digit EPS growth at those kind of rates. That shouldn't be off of where our current EPS range is. That double-digit growth EPS growth in 2018 is not, certainly -- that would be -- given how our model leverages, that's very doable, even with mid to high single-digit revenue numbers. But we expect double-digit bookings and probably high single-digit revenue and double-digit EPS growth.
As 2017 unfolded, management provided plenty of positive-sounding anecdotes on the calls about improving customer engagement and renewal rates related to their new selling strategy, including this bit on the Q3 call from George Colony:
As you know, we are working to grow our base of user clients. Several signals in the quarter demonstrated progress on that front. The user renewal rate for research was up 10% in the quarter. And year-to-date, user renewal rates are up 4 points. We believe that the premier selling model, which dedicates 3 executives to each account, is the primary driver for these improvements.
Given that management has now been making similar optimistic/anecdotal remarks for a while, I would expect to see some positive inflection in financials to point to. However, it's difficult to find one: revenue was slightly down in Q1, up by 2% in Q2, and up by 4% in Q3; over those periods, deferred revenue was up by 1%, 5%, and 5% respectively. (My chart from FORR disclosed data below:)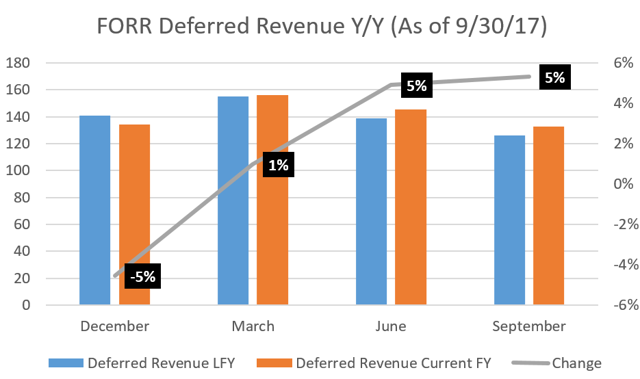 However, "Agreement Value" (which excludes consulting, but includes, per company definition, "the total revenues recognizable from all contracts in force at a given time (but not including advisory-only contracts), without regard to how much revenue has already been recognized" has actually declined modestly over that same time period. Here's another chart I made based on FORR disclosed data: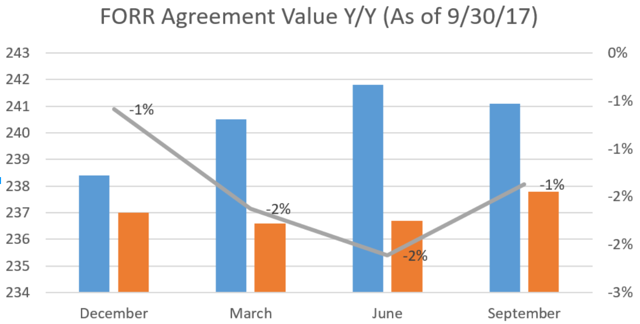 Meanwhile, despite the positive anecdotal comments about the new selling model for premier clients, that hasn't translated to actual reported retention metrics whether on a client, dollar, or enrichment basis. These are trailing 12-month metrics, so if the new strategy were paying off, you would expect to see some positive trend, but that's not really clear, with all of the metrics (as of 9/30/17) pretty much flat to where they were last year (my chart again):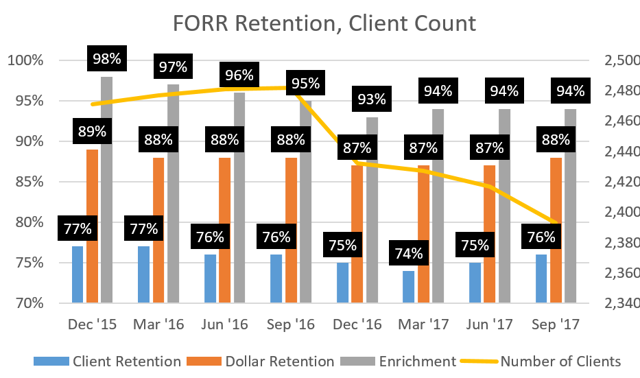 Ultimately, the way I interpret all that data is that their new salespeople are helping to drive some modest new sales on both a reported and invoiced basis, but the core research rather than consulting business hasn't really seen a lot of growth.
Indeed, through nine months, all of FORR's growth was driven by advisory services and events (which delivered $86.7MM in revenue through 9/30/17, up from $81.6MM in the previous nine month period). On the other hand, core research revenue actually declined from ~$161MM to ~$160.5MM - and while selling additional consulting is nice, I think core research revenue is an important indicator that isn't going anywhere right now.
Additionally, as far as I can tell, the quality of their economic model hasn't really meaningfully improved (the major driver of this would be increased retention, which would lead to revenue growth and operating leverage), nor are existing clients deriving incremental value from the offerings or new service approach (which would show up as increased y/y retention and enrichment).
Similarly, note that client count has continued to decline as Forrester continues to focus on its "ideal client profile" - I think the strategy makes sense qualitatively, but again, coming up on four years of trying to get this new model nailed down, with no appreciable positive movement in core financial indicators, you have to question their optimism at this point:
Michael A. Doyle, Forrester Research, Inc. - CFO [23]

Yes, Tim. I think that what we -- there's an interesting phenomena. I think this is the result of when Kelley came in, and I think she's taken an approach to a number of our smaller clients, where we -- and by small I mean they're dollar value with us, not necessarily the size of client, which I applaud. I think it was the right move. Where we're looking at that business, it's low engagement business and it causes a lot of churn. And we've made a conscious decision there, I'll let Kelley describe what she's done. But it's going to create a little bit of noise in client count over the next couple of quarters. But in terms of the long-term benefit and value to the business, I think it's absolutely the right move. So I'm going to turn it over to Kelley and let her tackle that one.

Kelley Hippler, Forrester Research, Inc. - Chief Sales Officer [24]

Thanks, Mike. And just to add to that, this really is where the ICP strategy comes into play. We feel as though that we can add a lot more value to clients that are within those key verticals that we serve and want to focus much more on deepening those relationships. And we're doing that, in some cases, at the expense of some of the smaller relationships we had with companies that weren't a great fit for Forrester. We probably weren't adding a lot of value for them, which was reflected in the low investment rate. So it really is about focusing our sellers time, which is one of the most precious resources we have, on those accounts where Forrester can do the most to help those companies.

Michael A. Doyle, Forrester Research, Inc. - CFO [25]

Yes. And as we looked at the data, sort of 90 days in, when Kelley made the decision, what we saw, Tim, is that the amount of nonrenewals for clients that were less than $25,000 in terms of their dollar relationships with us, drove a lot of that activity. And we're okay with that going away. And that's a conscious decision on Kelley's part. I think she wants her teams focused on where they can add the greatest value, focusing on those verticals that we think have the greatest benefit to Forrester. So I think it's the right move for us. It's a more targeted and focused move from a sales perspective that I think is going to reap real rewards for us as we go -- as we work out over the next 12 months.
The final "nail in the coffin," in my view, was the company's surprising comment on the Q3 2017 call that they weren't going to ramp salespeople very aggressively. The exchange:
Allen R Klee, Sidoti & Company, LLC - Senior Equity Research Analyst [30]

Okay. And then lastly, so do I imply from this that the original target of 7% to 10% growth in sales force should be thought to be tempered back?

Michael A. Doyle, Forrester Research, Inc. - CFO [31]

Yes. I think that's a fair assumption. I think that -- and I don't think we -- I think we'll have more color, certainly as it relates to next year on the February call, because Kelly's getting her arms around this right now and figuring out how she wants to best move forward to drive productivity and top line growth. And I think her view is that just continuing to add sales headcount isn't necessarily the best formula for us to drive growth. That's not saying she won't add sales headcount, but I think she's going to be measured in her approach. So yes, for this year, I think it's safe to say that we're not -- you're not going to see a big fourth quarter blitz to add headcount. That's not going to happen for us.
Reading between the lines, it sounds to me like they still don't have the sales model right (after all this trying and optimism). Why? Well, first of all, you could look at what Doyle said a year prior on the Q3 2016 call in October 2016:
we're now in a position where I think we can begin to start accelerating sales headcount growth. And, as you know, once you get into that, this has always been a feet on the street and so we get back to double digit, that's what's going to drive agreement value growth in a meaningful way over the course of the next year.
Or you could look at high-performing peers with the same business model like Gartner (IT) and Franklin Covey (FC), both of which are growing organically at double-digit rates. Both are focused on sales productivity, and yet both expect to continue to drive their growth via rapid sales force expansion; here's Gartner on their call in November 2017:
Our sales force continues to be our largest investment. At the end of Q3, the traditional Gartner sales force grew 17% year-over-year. Sales force growth accelerated as we identified and hired a large number of highly qualified salespeople, allowing us to reduce our number of open sales territories to near-record low levels. This provides a great foundation for future growth.

As I mentioned in our last call, improving sales productivity remains a top priority for us. Over the past few years, we've implemented a number of programs to improve sales productivity. And those actions are working. We drove another consecutive quarter of sales productivity improvements. Sales productivity for Q3 2017 improved 11% organically over the same quarter last year. And looking forward, our sales pipeline is strong
Franklin Covey is also hiring "aggressively," planning to add net ~30 to their base of 221 client partners (13 - 14% growth in sales headcount) in 2018, as they look to sustain the sort of double-digit growth that has been so elusive for Forrester. In other words, what I'm saying here is that a cross-industry understanding of the subscription business model - and Forrester's own words in the past - strongly suggest that we're still well away from their long-awaited return to meaningful revenue growth.
Valuation
The curious thing about Forrester is that despite roughly half a decade of poor execution, the company still trades at a premium valuation: the current enterprise value of ~$690MM represents a hefty ~18x+ management's guidance for 2017 "pro forma" operating income (which doesn't even treat very real stock comp as an expense).
There are some mitigating factors here. First, you could give them some credit for capex being lower than ongoing depreciation; second, they have been investing a bit; third,, you could point to the company's history of generating much better operating margins; with a little growth and payoff on the investments they're making. However, even when you make some of those sorts of charitable assessments, it comes out looking expensive, even after factoring in their effective tax rate likely dropping from ~40% to, say, ~27% or so under the new tax bill.
Here's a sensitivity analysis I put together demonstrating FORR's appropriate EV/Revenue multiple depending on "pro forma" EBIT margins and your assumed fair EV/NOPAT multiple (basically P/FCF ex-cash):

Today, FORR trades at around ~2x revenue, which implies to me that the market is expecting them, in a reasonably rapid way, to get to mid to high teens "pro forma" operating margins, and maintain a multiple befitting solid growth to boot.
Yet this seems to be a wholly unrealistic and internally inconsistent set of expectations: as it stands today, Forrester's investments aren't delivering rapid enough revenue growth to result in operating leverage, and while they'll probably gain some margin in 2018 if they don't ramp their sales force (sales force ramp was seemingly a ~100 bps headwind in 2017), it's hard to see how they're going to achieve high single let alone low double digit growth if they're not ramping their sales force, especially given the anemic/sluggish performance of retention metrics.
Mathematically speaking, something has to give, and shareholders had better hope that it isn't Forrester's valuation. For a comparison, for the same revenue multiple that FORR trades at, you could buy Franklin Covey, which has substantially better business momentum (double digit growth) and a similar current margin profile: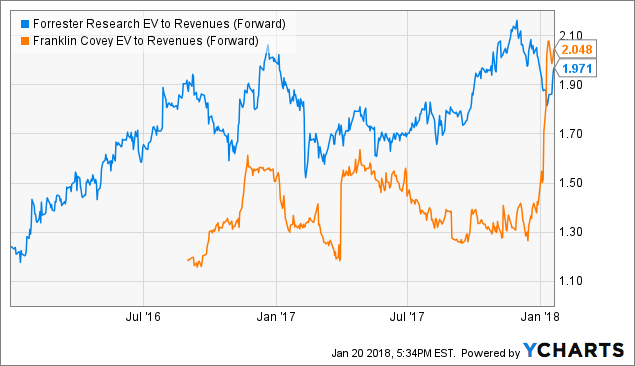 Yet until recently, the market was unwilling to assign Franklin Covey any sort of premium multiple at all, as its financials were optically challenged despite clear leading indicators of progress in the business. It's not out of the question to me that FORR could end up with the same sort of multiple; in fact, if neither operating margins nor revenue growth meaningfully improve from the current levels, something closer to ~1.2 - 1.3x revenue would be fundamentally justified - and that would leave shares trading at a price in the high $20s to low $30s.
I think that's probably an overly pessimistic assessment, as there are certainly levers Forrester could pull (whether or not they choose to do so) to improve their growth and margins in relatively short order - and as such, I think it's reasonable to defend a valuation anywhere from about $30 to $35, depending how much credit you want to give management for future execution (my bias obviously is toward "not very much.")
Finally, it's worth noting that M&A still appears to be on the table; the company mentioned previously that they wanted to do "one deal a year" and as of summer, CFO Doyle stated on the Q2 call that "We're in a place where I think we can absorb an acquisition at this point and do good things with it."
Considering FORR's recent execution and the fact that their judgments on what is valuable don't appear to align strongly with those of their customers (unlike FC/IT), and I'm not terribly optimistic that M&A will be value-additive, although it might provide some operating leverage and at the very least, given the company's $130MM+ of cash and investments (over $7/share), it shouldn't strain the balance sheet.
Conclusions
I was hopeful that Forrester might make some progress during 2017, and the tax cut will certainly provide a nice boost to cash flow, but as much as I've come to love the general subscription-services business model over the past year (for an example of how it SHOULD work, see my last piece on Franklin Covey), I can't find much nice to say about Forrester either as a company or as a stock right now.
We'll see if Q4 2017 results, or 2018 guidance, bring any positive signs, but in any case, the market is valuing FORR with seriously rose-colored glasses right now, and justifying the current price of $45+ (let alone a higher valuation) would require tremendous and sustained execution of the sort that FORR just hasn't been able to deliver.
Disclaimer: This is not investment advice; please conduct your own due diligence.
I frequently write research memos as part of my work on behalf of LPs of my hedge fund and SMA clients. Subscribers to my "Outsourced Analyst" Marketplace receive ongoing update/coverage pieces like this one on interesting companies, as well as more in-depth initial reports and ongoing coverage of top ideas.
Disclosure: I am/we are long FC. I wrote this article myself, and it expresses my own opinions. I am not receiving compensation for it (other than from Seeking Alpha). I have no business relationship with any company whose stock is mentioned in this article.