It seems like it is becoming increasingly difficult to generate portfolio income without taking on a disproportionately higher level of risk. For years, interest rates were so low that investors sought yield by taking on more credit risk, going further out on the yield curve, investing in emerging market debt, and looking for higher dividend and dividend growth stocks.
Now that interest rates have risen a bit we might think it easier to generate income, but the rising rates themselves may create challenges for some asset classes and individual positions in particular. Bond prices move inversely to interest rates and this concept, duration, is especially sensitive the longer the remaining term to maturity of a bond. Investing in a higher yielding issue, which reduces duration risk, is another option – but a higher yielding issue is indicative of lower credit quality so an investor is sacrificing credit for duration. So far this has been a good strategy as default rates have remained low, but what happens as rates rise? Usually, default rates follow.
Lastly, emerging market debt, which also provides higher yields than comparable rated debt issued by US companies, brings with it yet another set of risks – currency risks, geopolitical risks, and if Brazil is any example, corruption risks.
Which brings us back to the US and good old equity income strategies for rising rate environments. After all, rising rate environments are indicative of strong economic growth which benefits corporate profits and could lead to further price appreciation. That is, until rates get too high and economic activity reverses.
In an effort to combine the need for income growth with downside protection, we set out to find individual stocks with decent dividends that have performed well during past rate hike periods. We stress 'decent' because, like bonds, higher dividend yield stocks may also be adversely affected by rising rates as investors rebalance from these positions, into safer and now higher paying fixed income securities – assuming their exposure to high dividend yield stocks was for higher income generation.
The case for lower but steadier dividends is much more compelling for a long-term equity position that is expected to complement a portfolio's income component, not derive the bulk of it. Therefore, rebalancing is less likely to occur as yields become more attractive in fixed income. In addition, low and steady dividend paying companies exhibit more stable balance sheets, business models, and in many cases, lower price volatility – another factor we believe will soon be relevant again after years of low volatility.
Our Approach
Since interest rates only recently started rising again after remaining at historical lows for an extended period, we felt it necessary to conduct our analysis over a long enough period to provide meaningful insight. Going back 25 years allowed us to evaluate at least three periods of sustained rate increases, two recessions, and several other brief periods of rising rates. It also coincides with the S&P Dividend Aristocrats – a list of companies that have increased their dividend payouts in each of the last 25 years. While it may not include some very solid companies that have been established for less time – we use this as a starting point for further research and analysis on high ROI opportunities going forward.
The interest rate we used was based on the 2-Year US Treasury rate. While it is not the Federal Funds rate, it is highly correlated to the Fed Funds rate and we calculated that the current level is consistent with the long-term dividend yield of the S&P 500 (SPY) of 2%-2.2%. Just for kicks, we performed the analysis with the 3-month Treasury Rate and ended up with similar results.
As the chart below indicates, the 2-Year Treasury Rate declined from a high of greater than 7.5%, to a low that dropped below 20bps in 2011. The chart also shows the two recessions – indicated by the gray-shaded areas, and extended periods of rising rates in the mid-1990's, late 1990's and early 2000, and the period between 2005 and 2008.
There were also brief periods of milder rate increases scattered throughout the period whose effect on stock prices we were also curious about.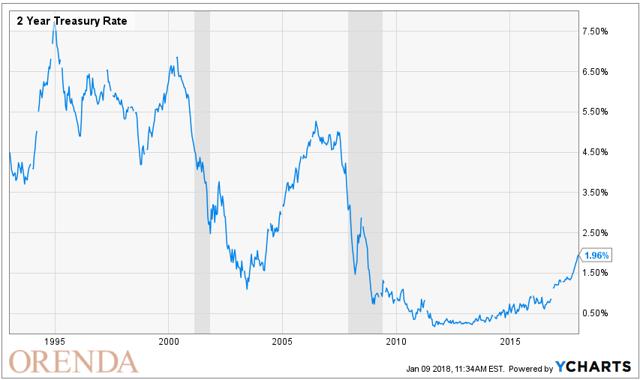 We then created a table showing the 2-Year Treasury Rate at the end of each month going back to January 1993 and also included the end of month price for each of the S&P Dividend Aristocrat stocks on the list as of January 1 st, 2018.
We then identified each 12-month rolling period in which the 2-Year Treasury was higher than it was one year earlier and evaluated the price change of each stock for those periods. We further divided the results into periods in which a stock price appreciated versus when a stock price declined – but only for periods of rate increases. We then calculated the following for periods in which rates increased:
Percentage of periods a stock price increased. The Average 12-month price return of a stock in periods when the stock price increased. The highest 12-month return of a stock in periods when the stock price increased. The lowest 12-minth return of a stock in periods when the stock price increased. The Average 12-month return of a stock in periods when the stock price decreased. The highest 12-month return of a stock in periods when the stock price decreased. The lowest 12-month return of a stock in periods when the stock price decreased. The expected return based on the percentage of positive periods times the average positive return and the percentage of negative periods times the average negative return. Dividend yield
Using this data we ranked the stocks based on a weighted average of each of these metrics. (We excluded AbbVie (ABBV) because it did not have price data going back to 1993. It spun off of Abbott Laboratories (ABT) in 2013.)
There were 144 out of 300 months in which the 2-Year Treasury Rate was higher than it was a year earlier.
The company with the highest percentage of periods with positive performance was S&P Global (SPGI) with 93%, followed by Automatic Data Processing (ADP), with 92%. The latter makes intuitive sense since payroll processing is driven by a strong labor market and economy.
The highest average return during periods of rising rates was attributable to Nucor (NUE), while the highest return was generated by Aflac (AFL).
The worst average return during periods of rising rates was attributable to Becton, Dickinson and Co (BDX) and the lowest return was VF (VFC).
The table is shown below for readers to reference and identify any ideas for further research on their own. We picked Walgreens Boots Alliance (WBA) to do deeper analysis on and the report can be found in REITs, Opportunities, & Income.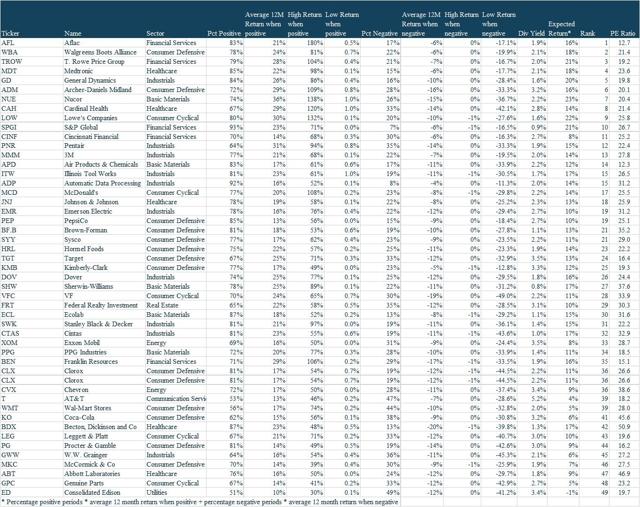 Also included: T.Rowe Price Group (TROW), Medtronic (MDT), General Dynamics (GD), Archer-Daniels Midland (ADM), Cardinal Health (CAH), Lowes (LOW), Cincinnati Financial (CINF), Pentair (PNR), 3M (MMM), Air Products & Chemicals (APD), Illinois Tool Works (ITW), McDonald's (MCD), Johnson & Johnson (JNJ), Emerson Electric (EMR), PepsiCo (PEP), Brown-Forman (BF.B), Sysco (SYY), Hormel Foods (HRL), Target (TGT), Kimberly-Clark (KMB), Dover (DOV), Sherwin-Williams (SHW), Federal Realty Investment Trust (FRT), Ecolab (ECL), Stanley Black & Decker (SWK), Cintas (CTAS), Exxon Mobil (XOM), PPG Industries (PPG), Franklin Resources (BEN), Clorox (CLX), Chevron (CVX), AT&T (NYSE:T), Wal-Mart Stores (WMT), Coca-Cola (KO), Leggett & Platt (LEG), Procter & Gamble (PG), W.W. Grainger (GWW), McCormick & Co. (MKC), Genuine Parts (GPC), Consolidated Edison (ED)
Disclaimer: Please note, this article is meant to identify an idea for further research and analysis and should not be taken as a recommendation to invest. It is intended only to provide information to interested parties. Readers should carefully consider their own investment objectives, risk tolerance, time horizon, tax situation, liquidity needs, and concentration levels, or contact their advisor to determine if any ideas presented here are appropriate for their unique circumstances.
Past performance is not an indicator of future performance.
Investing in any security has risks and readers should ensure they understand these risks before investing.
Real Estate Investment Trusts are subject to decreases in value, adverse economic conditions, overbuilding, competition, fluctuations in rental income, and fluctuations in property taxes and operating expenses.
This post is illustrative and educational and is not a specific offer of products or services.
Information on this blog is not an offer to buy or sell, or a solicitation of any offer to buy or sell the securities mentioned herein, nor is the author compensated by any of the products mentioned.
Information presented is believed to be factual and up-to-date, but we do not guarantee its accuracy and it should not be regarded as a complete analysis of the topics or subjects discussed.
Information presented is not believed to be exhaustive nor are all the risks associated with the topic of each article explicitly mentioned. Readers are cautioned to perform their own analysis or seek the advice of their financial advisor before making any investment decisions based on this information.
Investment decisions should be based on an individual's own goals, time horizon, and tolerance for risk. Nothing in this content should be considered to be legal or tax advice and you are encouraged to consult your own lawyer, accountant, or other advisor before making any financial decision.
All expressions of opinion reflect the judgment of the author, which does not assume any duty to update any of the information
Any positive comments made by others should not be construed as an endorsement of the author's abilities to act as an investment advisor.
For an early look at these ideas and exclusive access, join REITs, Opportunities, & Income. We are currently offering a no-risk 2-week trial.

Disclosure: I am/we are long WBA, O. I wrote this article myself, and it expresses my own opinions. I am not receiving compensation for it (other than from Seeking Alpha). I have no business relationship with any company whose stock is mentioned in this article.