Summary And Thesis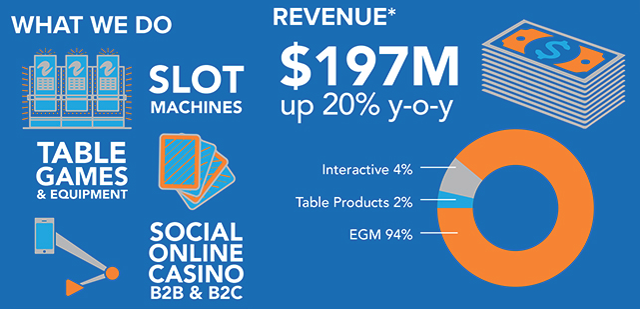 SOURCE: COMPANY FILING
PlayAGS (AGS) is a manufacturer of slot machines, table games and equipment, and a social online casino. Most of their revenue – about 94% - comes from slot machines or electronic gaming machines ("EGMs"). Thus, slot machines will be the primary focus of this discussion, since the other businesses are largely incidental to revenue, and contribute almost nothing to adjusted EBITDA.
AGS is expected to IPO on Friday, January 26, with an offering of 10.25 million shares prices at $16-18/share. AGS is being offered by its private equity owners, Apollo Group, and has a large debt load. I estimate that the interest coverage ratio for AGS is ~0.35, which would put its debt solidly into junk bond territory.
Based on prices of other slot machine manufacturers, I would price AGS at $12-14. At $16-18/share, I do not see value in purchasing AGS given their high debt load.
Slot Machines

SOURCE: COMPANY FILING
The slot machine market is largely dominated by the four largest manufacturers: International Game Technology (IGT), Scientific Games (SGMS), Konami (TYO:9766; OTCPK:KNMCY) and Aristocrat Technologies (ASX:ALL; OTCPK:ARLUF). Combined, these four companies account for more than 75% of slot machine shipments, although that has declined from over 95% eight years ago.
Most of these slot machines are Class III games, while most of AGS's shipments have historically been Class II games.
Class II And Class III Games
For the purposes of this discussion, there are two types of slot machines, Class II and Class III. These classes, and Class I, are defined in the Indian Gaming Regulatory Act (25 U.S.C. § 2701 et seq.).
Class III slot machines are the typical slot machine you would see in Las Vegas or other top casinos, and are what you'd think of when I mentioned slot machines. When you hit spin, a random number generator determines whether you win or lose, and the amount that you win. Wins or losses are then reflected on screen, usually in the form of patterns of symbols along pay lines.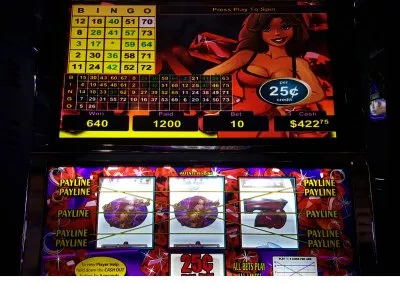 CLASS II EGM WITH A WINNING BINGO CARD. SOURCE.
Class II machines don't function like this. Instead, they are based on bingo. These machines are operated in Native American casinos and will appear visually like a slot machine. However, behind the scenes, machines are essentially playing bingo with each other. When you press the spin button, a pool of machines which pressed the spin button at the same time is created, and a central computer decides which machine wins that round of bingo among those machines. A bingo card is visible on the screen, and your win or loss at bingo is used to determine which reels come up on the machine.
These machines exist due to U.S. regulations because under U.S. law, tribes can self-regulate Class II gaming, which includes bingo and these bingo-style machines. Meanwhile, tribes must enter state compacts for class III devices, which will require the tribe to share revenue with the state. Further, tribes do not owe taxes on revenue from Class II games, unlike Class III games.
Thus, tribes have incentive to offer Class II gaming, even if customers prefer Class III devices. Offering Class II gaming devices can also be used by tribes as a bargaining chip to secure better agreements with the state for Class III gaming revenue sharing.
Market And Market Share
Class II
Class III &
Commercial US/CAN
Mexico
AGS Machines
10,000
4,000
7,400
Market Share
17%
< 1%
6%
Total Market Size
60,000
785,000
120,000
The Class II gaming market includes ~60,000 EGMs. About 10,000 of those AGMs are AGS machines. According to the company, this 17% market share is the second-largest market share in the Class II market. The Class II market is expected to grow ~2% over the next three years.
Between the US and Canada, there are ~1,000 casinos with ~980,000 EGMs. This figure includes 135,000 EGMs under route operations, and the 60,000 Class II EGMs.
Of the remaining devices, 415,000 are in commercial casinos, and 370,000 are in tribal casinos (Class III devices). This market is also expected to grow ~2% over the next three years. AGS has only 4,000 Class III units, 1,200 of which are video lottery terminals. This is less than 1% of the total number of EGMs.
Through an acquisition, AGS also has 7,400 EGMs in Mexico, out of 120,000 in the country, for ~6% market share.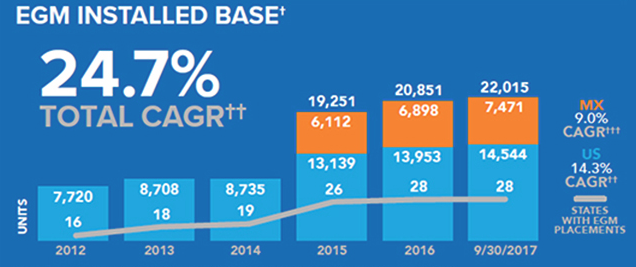 SOURCE: COMPANY FILING
AGS is also aggressively growing their market share in EGMs. AGS notes that their installed based is only ~2% of the 980,000 EGM market, but U.S. casino operators plan to allocation ~5.5% of their EGM purchases to AGS products. AGS states this is more than three times higher than their ship share in 2016, showing impressive growth.
Unlike larger competitors, AGS allows customers to purchase their premium machines outright, while competitors only offer leases. The company believes this flexibility is a competitive advantage. AGS also plans to enter international markets including the Philippines and Brazil, further aiding growth.
It remains to be seen whether AGS will be successful in the more competitive Class III EGM markets. The Class II market is comparatively less competitive.
Revenue And Profits
| | | | | | | |
| --- | --- | --- | --- | --- | --- | --- |
| (In thousands) | 2012 | 2013 | 2014 | 2015 | 2016 | TTM |
| Revenue | 58,555 | 58,414 | 72,140 | 123,292 | 166,806 | 197,039 |
| Revenue y/y | | 0% | 23% | 71% | 35% | 24%* |
| EBIT | -31,433 | -19,427 | -8,421 | -29,439 | -17,064 | 12,238 |
| DA | 29,586 | 28,590 | 33,405 | 61,662 | 80,181 | 73,252 |
| Interest Expense | 10,270 | 17,601 | 17,235 | 41,642 | 59,963 | 58,192 |
| Net Income | -41,198 | -50,332 | -28,376 | -38,545 | -81,374 | -56,820 |
| EBITDA Margin | -3% | 16% | 35% | 26% | 38% | 43% |
SOURCE: COMPANY FILING. * = F9M '17 vs. F9M '16.
AGS has also estimated 4Q17 revenue to be $56,500 at midpoint, or full year 26% y/y revenue growth.
Heavy Debt Load
AGS is posting very good growth, but is bogged down by a mountain of debt. At the time of the S-1, AGS had $652 million in debt - over 3x their annual revenue. AGS also has $19 million in cash.
AGS intends to use the ~$170 million profit from their IPO (10.25 million shares at $16-18, with up to 15% more for the underwriter) to pay off a portion of this debt, and expects to have ~$515.3 million in principal debt after the IPO, plus a $30.0 million available revolving credit facility. Servicing this debt will cost $40.8 million in 2018, according to company filings.
AGS's debt could create serious issues, especially if they suffer any downturn. Most of this debt is in a $450 million term loan. That loan has a variable interest rate, which was at 6.85% as of December 6, 2017. This would imply ~$35 million in annual interest payments. In the past twelve months, AGS had an EBIT of $12.2 million. This results in an interest coverage ratio of ~0.35 - which would imply a "junk bond" D/D2 rating for the company.
In AGS's favor, they have very high depreciation and amortization compared to their EBIT (or their revenue). Thus, the interest coverage ratio may not accurately depict AGS's continued ability to service their debt. However, debt load is still very high, and investors should be cautious about how much debt AGS's private equity parents have saddled it down with.
Valuation
| | | | |
| --- | --- | --- | --- |
| | 2016 | 2017e | 2018e |
| Revenue | 166,806 | 210,794 | 252,329 |
| Revenue Growth | 35% | 26% | 20% |
| EBITDA Margin | 37.8% | 41.7% | 39.8% |
| EBITDA | 63,117 | 87,825 | 100,304 |
SOURCE: AUTHOR'S ESTIMATES & COMPANY FILING
To estimate a valuation of AGS, I first estimate an EBITDA, both for this year and for next year. My 2017 revenue estimate is simply the midpoint of AGS's guidance. My EBITDA estimate is based on AGS's guidance on adjusted EBITDA and the past differences between adjusted EBITDA and GAAP EBITDA.
Revenue for 2018 is based on a similar year-to-year decline in revenue growth as in 2017, and an average EBITDA margin between 2016 and 2017.
These estimates yield possible EBITDAs of $88 million this year ($85 million TTM) and $100 million next year.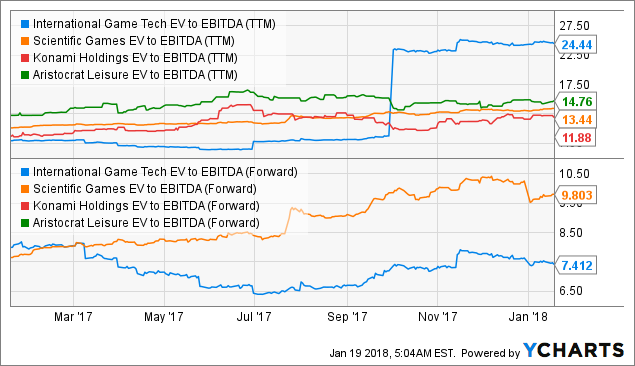 With IGT as a notable outlier, industry EV/EBITDA (trailing) multiples are 12-15x. EV/EBITDA (forward) multiples appear to range from ~7.5 to 10x.
| | | | |
| --- | --- | --- | --- |
| (In thousands) | EBITDA | Multiple | EV |
| Trailing (Low Est) | $85 million | 12x | $1,026 million |
| Trailing (High Est) | $88 million | 15x | $1,317 million |
| Forward (Low Est) | $100 million | 7.5x | $752 million |
| Forward (High Est) | $100 million | 10x | $1,003 million |
SOURCE: AUTHOR'S ESTIMATES & COMPANY FILING
These estimates imply a possible range of enterprise values from $750 million to $1.3 billion, with a midpoint around $1 billion.
After the IPO, AGS will have $515.3 million in debt according to their filing. They currently have $19 million in cash, although this may rise or fall, but should not change too much.
AGS will have 35.2 million shares outstanding after their IPO, if the underwriters pick up their option. There are another 1.7 million stock options and restricted shares outstanding, resulting in ~36.9 million shares, fully diluted.
| | | |
| --- | --- | --- |
| | EV | Share Value |
| Trailing (Low Est) | $1,026 million | $14.4/share |
| Trailing (High Est) | $1,317 million | $22.3/share |
| Forward (Low Est) | $752 million | $6.9/share |
| Forward (High Est) | $1,003 million | $13.7/share |
SOURCE: AUTHOR'S ESTIMATES
The range of estimates here is wide. Despite its width, both the low estimate and the midpoint are below the expected IPO price of $16-18.
Conclusion
AGS is a growing slot machine company. They have a solid foothold in the small Class II market, and are attempting to make inroads into the larger Class III/non-Native casino market. Their revenues are expected to rise 26% this year, offering a great growth opportunity. However, they are being sold by their private equity owners with a mountain of debt - even after the IPO, their interest coverage ratio implies that debt will be hard to service.
My pricing of AGS suggests that the $16-18 price range makes AGS more expensive than its more established peers. I would find AGS shares attractive in the $12-14 range, but not at $16-18. Even at that lower range, investors would be wise to look closely at AGS's debt load.
I love a good gamble, but AGS is not a gamble I am willing to take.
** Author's note: If you enjoyed this article, please hit "Follow" next to my name at the top of the page. This helps me build my readership and increases my visibility on Seeking Alpha. Please also leave questions, comments, feedback, and suggestions below. Thanks for reading!
Disclosure: I/we have no positions in any stocks mentioned, and no plans to initiate any positions within the next 72 hours. I wrote this article myself, and it expresses my own opinions. I am not receiving compensation for it (other than from Seeking Alpha). I have no business relationship with any company whose stock is mentioned in this article.
Editor's Note: This article discusses one or more securities that do not trade on a major U.S. exchange. Please be aware of the risks associated with these stocks.