In my previous piece on Gap (GPS), I argued that the stock could be volatile depending on the kind of top-line growth it tracks. In the last quarter, comps were up 3% which isn't exceptional when we look at competitors like American Eagle (AEO) and Abercrombie (ANF). But Gap is a stock that has seen a decade-long stagnation and is priced by the market that way. Based on my projections, I found that even a 1% growth in sales on a sustainable basis could put a price tag of $40 on the stock. Given my increasing belief that this could be possible, I have a "Buy" rating and a minimum target of $40.
The jeans market: A less healthy gain but a gain nonetheless
The market share of Old Navy has increased from 3.4% in 2015 to 5% based on the latest figures. There's some benefit from store closures in that number as the jeans market has become quite top heavy in the last two years. American Eagle which had roughly the same market share as Old Navy in 2015 has doubled its position to 7%. The execution of Old Navy put in that frame seems less spectacular, especially given that it is a millennial favorite. But it has still managed a gain and that effectively means that Old Navy is growing at a rate faster than the entire market.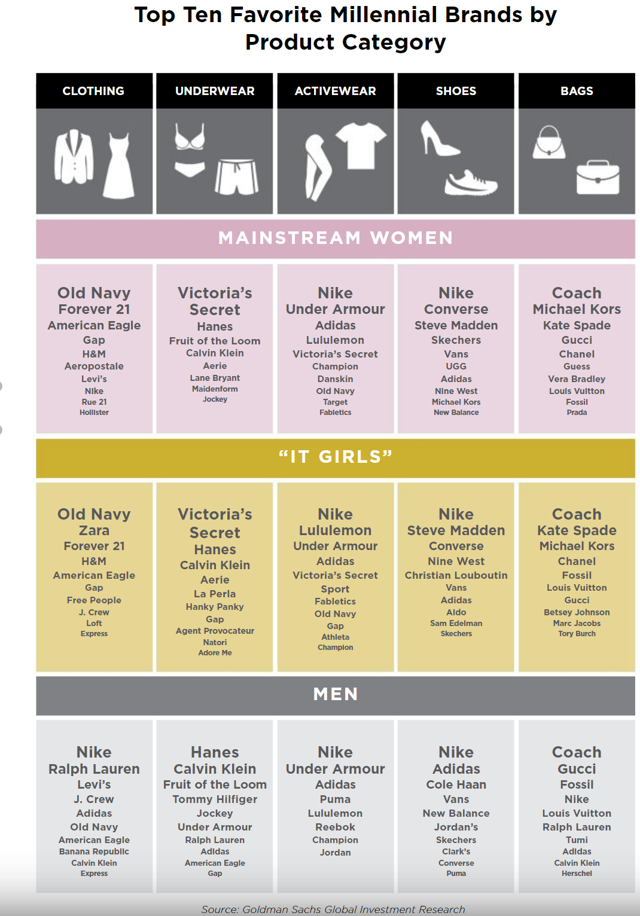 Source: Robin Report, October 2017 issue
In the most recently reported quarter, the company mentioned that remodels were a significant contributor to the high-teens increase in denim comps in Old Navy. These remodels seemed fairly simple and included redoing the paint, changing the lighting and introducing a false ceiling to make the store more intimate, in some sense reflecting there's probably nothing wrong with the brand but it's the execution that's lacking. The lessons from Old Navy could also be applied to Gap denim section, resulting in twin centers of comp growth for the firm. This could be a key growth driver in the coming months and is the basis for my 1% revenue growth assumption. Jeans, after all, have seen a revival of late after posting its largest yoy growth since 2013.
Why not a growth rate north of 1%? It is difficult to analyze Gap with such granular depth as finding its market share in each clothing category. Yet as a company with a portfolio of brands, it has often seen traction in a couple of brands being offset by flubs in the rest. Therefore, assuming anything north of a 1% growth in sales might be overly optimistic.
Assumptions and Valuation
I have assumed a 100 basis point operating margin compression from TTM levels to 36.5% by 2023 due to deleverage from increasing online sales where margins tend to be lower. Other assumptions include a 20% tax rate, and capex at 3.5-4% of sales. Historically, it has been a bit higher and in the 4-4.6% range so I base my assumption on fewer store openings and new investments in technology compared to those in the past. Compared to my previous assumption, the tax rate assumption is aggressive by 5% while others are conservative. The table provides the fair value vs. discount rate sensitivity based on the set of assumptions above.
| | |
| --- | --- |
| Discount rate | Fair Value |
| 5.25% | $53.12 |
| 5.50% | $49.64 |
| 5.75% | $46.55 |
| 6.00% | $43.79 |
| 6.25% | $41.85 |
| 6.50% | $39.92 |
Considering the risky nature of cash flows, I'd argue that investors demand higher risk premiums for accumulating this stock. My target is based on rounding off the value at a discount rate of 6.5%.
Conclusion
Gap's stagnation doesn't seem like a consequence of becoming irrelevant. It remains a millennial favorite and as consumer sentiments improve, the company is likely to leverage its brand equity to drive increased sales in the medium term. Until new updates, I have a $40 target on the firm.
Note: Company related data sourced from filings.
If you find the article interesting, kindly follow me to be updated about my latest insights!
Disclosure: I/we have no positions in any stocks mentioned, and no plans to initiate any positions within the next 72 hours. I wrote this article myself, and it expresses my own opinions. I am not receiving compensation for it (other than from Seeking Alpha). I have no business relationship with any company whose stock is mentioned in this article.