About two and a half years ago, I had a revelation. I'd been losing money for years, choosing the wrong stocks, buying and selling them at the wrong times. But I suddenly realized that the key to success in the stock market is not just screening stocks on a few factors but instead to systematically evaluate every stock from as many angles as possible before buying it. Since I put my initial evaluation system in place around Halloween 2015, my compound annual returns have been 47% - a total growth of 135% in 27 months.
But evaluating stocks is not easy. (Of course, nothing in successful investing is easy.) There are plenty of services out there that can help, but their capabilities are limited and their rankings are often inaccurate or unreliable. I want to talk a bit about the stock evaluation services that are available to investors, and then I want to ask you, my readers, some questions about a stock evaluation service that I'd like to offer myself.
This essay is in seven parts; feel free to skip to another part if one doesn't interest you. In Part I, I'll be evaluating the evaluators, examining the various options currently available that will rate your stock picks, and backtesting three of them. In Part II, I'll talk about what an ideal stock evaluation service could offer, and propose one of my own design.
In Part III, I'll offer a couple of backtest results of my system. In Part IV, I'll discuss the factors that I use in evaluating stocks. In Part V, I'll discuss some basic principles of designing a fair evaluation service. In Part VI, I'll disclose what stocks my own evaluation system ranks the highest and lowest. And in Part VII, I'll open the whole thing up to your feedback, asking you, my readers, a number of questions about what you'd like to see in a stock evaluation service.
Part I: Evaluating The Evaluators
As far as I can tell, there are four websites right now that offer stock evaluations: Simply Wall Street (simplywall.st), Vuru (vuru.com), TheStreet (thestreet.com), and Zacks (zacks.com).
Simply Wall Street doesn't give you a rating or a score for a stock, instead offering a colored blob. The blob is based on a point system, where stocks get up to six points each in five areas: value, future performance, past performance, health, and dividends. The more points a stock gets, the greener the blob; the fewer, the redder.
Points are given based on straight yes-or-no questions such as whether the price-to-book ratio is lower than the industry average, whether the past year's EPS growth is higher than the industry average, whether the debt-to-equity ratio is higher or lower than it was five years ago, whether the dividend payout ratio is less than 90%, and so on.
Some of these points make a lot of sense, others make little - there are way too many points given out for companies with low debt and excess equity, and revenue growth over 20% per annum is rewarded with a point when it should be punished, as that kind of growth is rarely sustainable and creates unrealistic investor expectations. In addition, the value ratios pay no attention to enterprise value. On the whole, however, Simply Wall Street offers a wonderfully designed website, international coverage, and extremely transparent rankings.
And they have a lot of very smart formulae - their method of deriving five-year EPS growth is devilishly clever, as is their discounted cash flow analysis. They're pretty inexpensive too - they offer an "investor plan" for only $115 a year, and they'll link directly to your portfolio on most major brokerages. I think this is the best stock evaluation website available.
Vuru gives you a score between 0 and 100 based on four things - management, financial strength, economic moat, and dividends - but they pay absolutely no attention to value! They also include some rather nonsensical measures, such as rewarding companies with a high ratio of capital expenditures to operating cash flow. Their scores are all based on the average of five years' worth of data; if a company has undergone any fundamental changes in the last year, too bad, and if one year was far, far better or worse than the others, the average is distorted.
In addition, the website's usefulness is seriously limited, and of the twenty stocks I looked up, six of them weren't even in their system. They're pretty reasonably priced - $10.00 a month - but Simply Wall Street is a far better value.
TheStreet.com (TST) ranks stocks from A+ to F (including E!). It uses 32 different data factors, all of them rather conventional ones. But there are a lot of things that are missing. They overemphasize momentum, they pay absolutely no attention to accruals, they ignore unsustainable growth rates (but so does everyone), and, like other websites, their evaluation ratios are purely equity-based - there is no comparison to enterprise value.
In addition, unlike Simply Wall Street and Vuru, their factors are somewhat opaque - I have no idea, for instance, how they calculate a company's solvency. That said, however, their grades seem pretty sensible on the whole, and in most cases, aren't very far off from my own. They're much cheaper than the competition - you can subscribe for only $50 a year. And they'll give you a daily stock report if you want it.
Zacks gives every stock a rank from 1 (strong buy) to 5 (strong sell). These ranks are based on sentiment indicators, especially on changes in analyst estimates and earnings surprises. Interestingly, none of the other stock evaluation websites take these into account, and there's certainly great value in doing so. But I think this kind of evaluation should amount to under 10% of your factor analysis, not all of it.
And if you're interested in stocks with no analyst coverage, the Zacks rank is useless. Zacks also gives each stock a "style score" based on value, growth, and momentum, but the Zacks rank is supposed to come first and be much more important than the style score. Their subscription is far more expensive than the other options - $59 a month.
If your broker is Fidelity, you can get very interesting ratings of your stock picks from several research firms devoted to evaluating stocks. But these companies have similar problems. The most transparent example is the fundamental analysis offered by S&P Capital IQ, which ranks stocks on the basis of valuation, quality, growth stability, and financial health.
Some of their ratios are truly odd: book value to enterprise value, EBITDA to price, and current liabilities to price are all highly problematic measures. Whoever designed their system needs to take some basic accounting courses. But you don't have to pay anything extra to use the analysis in a Fidelity stock screener, so if you're a Fidelity customer, it's free.
Using Portfolio123 I've re-created approximations of the ranking systems of Simply Wall Street, Vuru, and S&P Capital IQ, whose systems are the most transparent, so that I could see how well their criteria backtest. In the charts below, I look at the decile performance based on quarterly portfolio rebalancing since January 1999 of their ranking systems using two different universes, the Russell 1000 and the Russell 3000, removing financials, utilities, REITs, MLPs, and royalty trusts. (Simply Wall Street and S&P Capital IQ use alternative measures for financials and REITs, but Vuru doesn't appear to do so.) I also offer, for comparison, my own evaluation system (which does cover financials but not REITs or utilities, and which you can read about more below if you're interested). See the two charts below.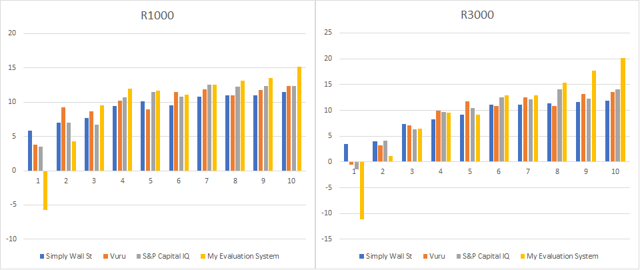 As you can see, none of the three evaluation services go in the red much if you invest in their bottom decile; the difference between the top decile and the bottom decile of their rankings is quite small; and the difference between the 6th through 10th deciles of their ranking systems is almost nonexistent.
Part II: What Would an Ideal Evaluation Service Be Like?
I think the ideal evaluation service would run as follows. Every week you, as a subscriber, would get an e-mail with a file attachment giving a score or a grade to more than 4,000 stocks. Along with that, I'd provide you with the market cap of each stock, and each stock would get a liquidity score so that you could judge whether or not it would be costly to trade, depending on how much you want to buy. I would also, of course, fully disclose my own stock investments so that you'd see exactly what stocks I've put my own money on.
You could use this attachment in various ways. You could check the score of the stocks you're thinking of buying or selling short and make sure they're primed to succeed or fail. You could design a strategy around the rankings, e.g., buy all the stocks ranked 98 or higher (or graded A+) as long as they're large caps, or small caps, or microcaps, or meet your liquidity threshold, or are in certain sectors. You could design your own buy and sell rules - for example, if a stock's rank goes up to 95, buy, and when it drops down below 85, sell. You could short or buy put options on the lowest-ranked stocks.
There are a lot more details about my proposed evaluation service below, but I wanted you to get a basic sense of what I'm proposing first. My aim is to create a stock evaluation system that will not only be better and more useful than those that are currently available, but will also prove profitable for investors interested in either long or short positions.
Part III: Backtest Results
Below is my ranking system's performance by decile, rebalancing quarterly since 1/1/1999, for the last ten years, and for the last five years, for a universe encompassing all stocks available for purchase in the US with a price greater than $0.25 and a minimum median daily dollar volume of $2,000, with the exception of REITs, utilities, MLPs, and royalty trusts. This chart will definitely improve before I start offering the service.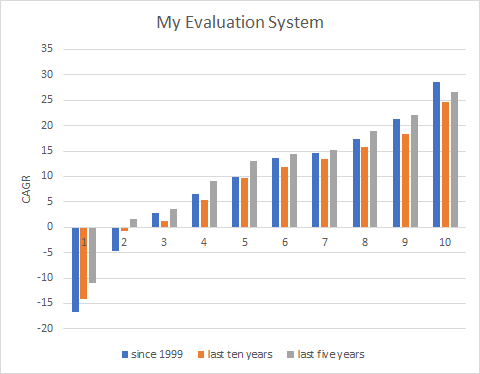 I also backtested the results since 1/1/1999 of a strategy of buying stocks rated 98, 99, or 100 with a minimum liquidity of $100,000 average daily dollar volume and a minimum price of $1.00, then every quarter selling stocks that have gone below 98 and buying others whose ranks are above that. I used a transaction cost of 0.5% and a buy/sell price of the average of the Monday high/low. Here are the results:
annualized return: 28.83%
percentage of calendar years the portfolio beat the S&P 500: 100%
win rate on trades: 61%
average number of stocks held: 81
average quarterly turnover: 58%
average holding time: 5 months
allocation to large caps (over $5 billion market cap): 38%
allocation to microcaps (under $250 million): 29%
maximum drawdown during the financial crisis: 45% (compared to 55% for SPY)
alpha: 22%
Sharpe ratio: 1.54
beta: 0.85
Part IV: The Factors
The factors I use can be classified into four categories. I list below the ones I'm using at the moment, but I intend to add many others. I suspect the final system will use sixty or more different factors - far more than the competition.
Value. These are factors based on a ratio of price or enterprise value to something about the company. To a company's price, I compare its economic value added per share, its EPS, its sales per share (both projected and actual), its levered free cash flow per share, its R&D expenditures per share, its tangible book value per share, and its indicated dividend; to its enterprise value, I compare its gross profit and its unlevered free cash flow. I use both one-year and three-year figures.
Quality. These factors are based on the trailing twelve months, three years, or five years of company performance. They include stability measures, like the stability of a company's operating margin, accounts receivables, cash conversion cycle, income, and sales. They also include accrual ratios (based on both balance sheets and cash flow statements), free cash flow return on assets, margin ratios (gross, operating, net profit, and projected net profit), net operating assets to total assets, payout ratio, share reduction, and sustainable growth (return on equity times retention rate).
Growth. These are factors that compare the most recent quarter to the same quarter the year before or the most recent year to the previous year, or might take into account longer time periods. With growth factors, the highest is not always the best - sometimes the fiftieth or eightieth percentile will give you the best results (see my article on this here). I look at growth in EPS (both projected and actual), employees, operating income, operating margin, and sales (including not just growth but also acceleration).
Sentiment, technical, and miscellaneous risk factors. For sentiment, I look at analysts' estimate revisions, surprises, and recommendations; share turnover; and short interest. For technical factors, I look primarily at changes in volume and various momentum measures, especially industry momentum. Miscellaneous risk factors might include late reporting of financial statements or whether the company is based in a country with a high corruption index.
Some of these factors are best used to compare companies to others in their industry or sector, some to the entire universe of companies under consideration, and some to more than one of these. All them have been extensively backtested, both in combination and alone - I will not be using any factors that have not given companies a demonstrable advantage or disadvantage in the past. Nor will I be using any factors that don't make good sense from a financial/accounting point of view.
I will not be evaluating companies on anything subjective, relying purely on hard data. A company's management, moat, or competitive edge doesn't enter into my evaluation, except insofar as the numbers tell me something about these things. And they very often do. For example, a company with gross margin well above the industry average enjoys a strong competitive edge; a company with high ratings in the quality factors is usually one with good management.
Part V: Constructing An Evaluation System
As I went about constructing it, a number of desirable aspects of a good evaluation system became apparent to me:
It does not discriminate between stocks on the basis of size or sector. Stocks of every size and sector have an equal chance of rising and falling in price compared to a good benchmark.
It treats all cap sizes fairly. A system that maximized the effectiveness of its evaluation criteria by looking only at the universe of all stocks would end up not evaluating the large caps very well, since the performance difference between good and bad microcaps is much, much larger than that of large caps. Instead, it must be maximally effective for many different size levels.
It favors criteria with the widest spread between good and bad, not criteria with the highest upside. It should inform investors of the likelihood of their stock picks succeeding or failing, not just their likelihood of succeeding.
It maximizes, within reason, the number of metrics used. This makes investors feel safer and more covered, and will definitely produce better and more nuanced results.
It includes rankings for many stocks that I won't invest in. Some people favor stocks with extremely low liquidity; I steer clear of those, setting my lower limit at stocks with a median daily dollar volume of $40,000 to $50,000. Other people like large caps; I avoid them. But I want to include low liquidity and large-cap stocks in my evaluation system anyway, since a lot of Seeking Alpha readers are interested in them. Unless, that is, you feel that this is unnecessary.
It can't rank everything on the same criteria. Financial and real estate companies, for example, can't be ranked on the basis of unlevered free cash flow to enterprise value. I may offer rankings for REITs, utilities, limited partnerships, and royalty trusts sometime in the future (I do have a decent REIT ranking system in place right now, but it requires quite a bit of refinement). But these stocks have to be evaluated on quite different criteria than the ones I use, and I haven't yet figured those out.
Part VI: Top And Bottom-Ranked Stocks
Excluding stocks with low liquidity, REITS, utilities, MLPs, and royalty trusts, here are the companies that would get a rank of 99 or 100 today:
A10 Networks (ATEN), Amgen (AMGN), Arcos Dorados Holdings (ARCO), Avianca Holdings (AVH), Bank of New York Mellon (BK), Bassett Furniture Industries (BSET), Bayer (OTCPK:BAYRY), Cambium Learning Group (ABCD), Canon (CAJ), Computer Task Group (CTG), CSP (CSPI), Danaos (DAC), Fiat Chrysler Automobiles (FCAU), Forward Pharma (FWP), Fujitsu (OTCPK:FJTSY), Global Ship Lease (GSL), GlobalSCAPE (GSB), Hardinge (HDNG), Heidrick & Struggles International (HSII), Honda Motor Co. (HMC), Humana (HUM), Hurco Companies (HURC), Hyster-Yale Materials Handling (HY), Intermolecular (IMI), JPMorgan Chase (JPM), Kulicke and Soffa Industries (KLIC), Luminex (LMNX), Magna International (MGA), Marchex (MCHX), Mind CTI (MNDO), Mitsubishi UFJ Financial Group (MTU), Nevada Gold & Casinos (UWN), Novo Nordisk (NVO), Otelco (OTEL), Pfizer (PFE), Plumas Bancorp (PLBC), Points International (PCOM), Prudential Financial (PRU), PT Telekomunikasi Indonesia (TLK), RCM Technologies (RCMT), Resources Connection (RECN), Sony (SNE), Tenneco (TEN), Xcerra (XCRA), XO Group (XOXO), Zix (ZIXI), and Zynga (ZNGA).
I don't really want to name all the overvalued stocks that get ranks of 0 or 1 for fear of turning people off, but I'll just say that three of them are Cannabis Sativa (OTCQB:CBDS), Riot Blockchain (RIOT), and Tesla (TSLA).
Part VII: Feedback
I have some questions for you. Please reply in the comments.
Does my stock evaluation service seem worthwhile - something you'd actually pay for? If not, do you have any modifications to suggest?
I'd like to offer this service on Seeking Alpha's Marketplace if I can get enough followers and if there's enough interest. Alternatively, I could start my own stock evaluation website. Do you have a preference? How much would you pay for such a service?
Does giving each stock a score between 1 and 100 make more sense, or would you prefer letter grades from A+ to F?
Would the scores need to be broken down by value, quality, growth, and other factors, or would one overall score suffice? Are there other ways you'd like to see the score broken down?
Are there other performance charts you'd like to see? For example, for large caps only? By ventile rather than by decile? I'm afraid I can't go back beyond 1999 as that's as far back as I have data. (The data I get, by the way, is from Compustat via Portfolio123, and it's top-of-the-line.) Are there other strategy backtests you'd like to see? A backtest that covered only small caps and microcaps or invested in fewer stocks would sport a higher CAGR, for instance, but might have higher turnover too.
Does including stocks with very low liquidity make sense? If not, what kind of cutoff should I use?
Would you be interested in scores for REITs, utilities, MLPs, and/or royalty trusts? Or is what I'm offering enough?
If you want to know my score or grade of a particular stock, just ask. For now, at least, this service is free!
Please, please let me know your thoughts in the comments section below. I want to tailor this service to you, my readers. And if you're really interested, tell your friends to follow me - I can't offer the service on Seeking Alpha until I have a lot more followers than I do now.
Disclosure: I am/we are long BSET, CTG, FWP, GSL, HDNG, HURC, RCMT, TST, UWN. I wrote this article myself, and it expresses my own opinions. I am not receiving compensation for it. I have no business relationship with any company whose stock is mentioned in this article.
Editor's Note: This article covers one or more microcap stocks. Please be aware of the risks associated with these stocks.